This article may contain *affiliate links. Please see our affiliate disclosure for more details
Welcome back, everyone. Today we will be looking at another very good affiliate program in the food delivery/subscription box niche.
Food delivery has really skyrocketed in recent months due to world events and should be a long term sustainable option for people who want to build their business in this niche.
It is going to get very crowded very quickly, both in terms of the sheer number of affiliate programs and the number of bloggers looking to take advantage of this niche.
Not is the time to start if you are considering jumping into this niche and Sun Basket could be a great affiliate to consider for your website. Let's take a look at the numbers and see if the affiliate program is as good as the company behind it.
There Is Just Something About Owning Your Own Business. Being Your Own Boss. Building Something From The Ground Up With Your Own Hands. Especially When It Is This Easy To Get Started.
---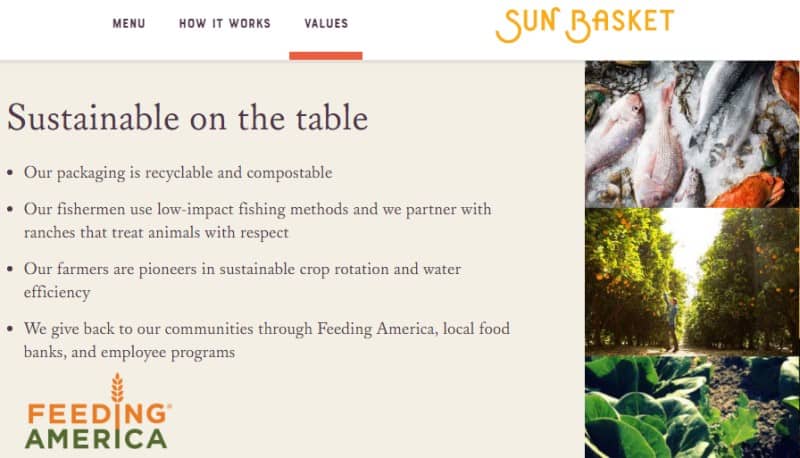 How Is The Sun Basket Affiliate Program
Affiliate Commission: $20 Flat Fee
Tracking Cookie: Up To 30-days
Niche: Cooking/Food
Application: Join Here
Affiliate Network: ShareASale
The commission and cookie are based on the information found in the Sun Basket ShareASale profile at the time of writing. Be sure to double-check the terms when you join the affiliate program.
---
What Is Sun Basket
Sun Basket Is a meal plan subscription service dedicated to giving you the best farm to table food options delivered right to your door. The specilize is creating healthy, custom recipes that you can easily make in 30-minutes or so.
They deliver their meals weekly. Customers can cancel suspend their subscription at any time which is a great point to add into your promotional material as an affiliate marketer.
The Sun Basket Affiliate Program Commission
The commission offered by the sun basket affiliate program is a very nice $20 flat fee for all new referrals that you make through your affiliate links.
It is becoming common practice for subscription-based services to offer a flat free upfront their affiliate partners and not a percentage or a recurring commission.
You can still find some recurring commission-based affiliate programs but they are getting a little bit more difficult to come by. That is especially true for the subscription box space as the majority of the now offer Flats fees instead of requiring commissions.
That being said a $20 upfront fee for the sun basket affiliate program is not a bad deal at all. If you get 5 sales a day that's $100 a day which is well on your way to turning your Niche site into a full-time business.
this lapse fee structure is interesting because there are certainly pros and cons to it. It really comes down to what the percentage of ternative would have been. while I still prefer percentage commission I do kind of like getting the payment right up front and then not having to worry about whether your customer cancels subscription or not in the future.
 It really comes down to personal preference but the flat fee commission isn't something that should dissuade you from considering using Sun Basket as your affiliate program for a food or Diet Niche site.
The Tracking Cookie Duration
The cookie duartion for this affiliate program is a standard 30-days. Or more specifically up to 30-days as their affiliate page states. I like to see at least a 30-day tracking cookie for all my affiliates. Some fall short but most of the time 30-days is a good number to look for.
For a subscription service like Sun Box the 30-day duiration is more thn enough. While longer is always better you won;t really need super long duration cookies unless you are promoting high-ticket items or affiliates with a very high return rate for customers.
Sun Basket Products
The products that you will be promoting for any affiliate program or the most important part of that affiliate program. It's not the commission it's not the tracking cookie it's not the conversion rate. It is the products that you are going to recommend to people.
The reason for this is because the products are the only part of the affiliate programs that the consumer is going to see for the most part. You were going to recommend the product and they're going to decide whether or not to purchase that product. If you recommend the product and it is a bad product they're going to blame you and not the affiliate program.
So it is imperative to pick affiliate programs with products that you are comfortable with promoting.  In the case of Sun Basket, you have a wide range of meal plans that you can promote made with high-quality ingredients that should be very easy to promote.
They're going to be popular with your customers and they should be of the highest quality that you won't have any qualms about promoting their products.
Here are just a few of the types of meals that you can promote that fit into some very specific dietary plans.
Paleo 
Carb-Conscious 
Gluten-Free 
Lean & Clean 
Diabetes-Friendly 
Chef's Choice 
Vegetarian 
Pescatarian 
Mediterranean
As you can see they have a wide variety of options for just about any diet. What this means for an affiliate marketer is that you can use this affiliate program for a wide variety of niches.
for example, if you are a paleo diet Niche website. You can promote this meal plan Service as they have a great option for the Paleo diet. Likewise, if you're a pescatarian Niche blog you could promote their pescatarian meal plan.
And the list goes on and on they have all kinds of dietary meal plans as well as Regional meal plans and meal plans that deal with specific health issues like a diabetic specific meal plan that would be a great option for a Blog dedicated to helping people manage their diabetes.
Can You Make Money With The Sun Basket Affiliate Program?
There is, of course, no guarantee that any affiliate program is going to make money for you. You need to put in the work to create the content is going to drive the traffic to your affiliate links and then get a high enough conversion right to really start making a good amount of money.
So nothing is guaranteed but you can position yourself to maximize your potential as an affiliate marketer by choosing the best affiliate programs.
And the best is what the Sun Basket affiliate program really looks like. When you dig into it they have a good commission which is great for the affiliate marketer they also have a reasonably long tracking cookie which is going to help boost those conversion rates.
But most importantly they have some very popular and very good-looking product that you can be around to promote to your audience members.
Sun Basket Has everything in place to be the Cornerstone of your affiliate marketing strategy for a diet website or a food delivery website or a subscription box website as well.
The possibilities are vast for making a good amount of money with this well put together affiliate program.
---
The Bottom Line
Overall I think that this is a fantastic affiliate program. They have a nice commission with a very good tracking cookie and they have some outstanding looking products for you to promote in just about any Niche where a meal plan or meal service subscription wood be useful.
These are pretty extraordinary times and food delivery is going to be one of the biggest breakout and niches in the near future, I think. It was always moving towards more mainstream acceptance but with the current world events it has exploded into almost a necessity at this point.
And companies like sun basket who have been operating for years or there to fill in the need that is going to arise.  Can only do you get to help people with their food needs and recommend good high-quality products for them to eat you also get to make a little bit of profit off of it for yourself and help grow your online business.
Sun Basket looks like a win for everyone
Thanks for stopping by and have a good day.
Don't go it alone. Get the best learning tools and community to help you build your online dream. Check it out here.