This article may contain *affiliate links. Please see our affiliate disclosure for more details
Hello Hello. Welcome back. Today we are taking a look at some of the best affiliate programs for anyone operating or thinking of building a computer niche website. These computer affiliate programs range from hardware components to custom rigs all the way down to the individual cables you need to complete your DIY computer build.
These affiliate work for general computer niches, enthusiast computing, and gaming, as well as a general technology blog and, are a great alternative to the ever-decreasing commissions offered up by Amazon associates.
Lets get into it…
There Is Just Something About Owning Your Own Business. Being Your Own Boss. Building Something From The Ground Up With Your Own Hands. Especially When It Is This Easy To Get Started.
---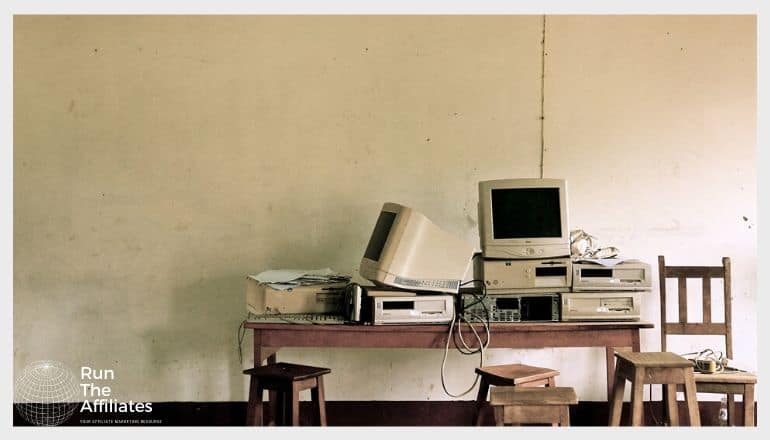 Check Out These Computer Affiliate Programs
---
Newegg Affiliate Program
Commission: 1%
Tracking Cookie: 7-days
Auto-Approval: No

NewEgg could be used as solely a computer parts and hardware affiliate program due to their immense selection of computer products. They also sell fully built computer rigs as well as the software to go with them. All of this makes Newegg one of the more well-rounded affiliate programs for a computer niche website. You can check out a more in-depth look at the Newegg affiliate program right here.
The affiliate commission for the Newegg affiliate program is pretty low. They only give you 1% commissions on qualifying sales which is well below the minimum that I like to set for myself and for the affiliate programs that I use. You can still make money with this low of a commission it's just going to take quite a bit more traffic and the products you do so need to be a little bit higher price.
The tracking cookie is decent at 7 days but ideally, you would like to see something closer to 30 days. So looking at it as purely an affiliate program this is not a great deal for the affiliate marketer, however, the Newegg store and brand are well-respected and certainly worth promoting if you can justify the lower affiliate terms.
---
Refurbees.com Affiliate Program
Commission: 5%
Tracking Cookie: 90-days
Auto-Approval: No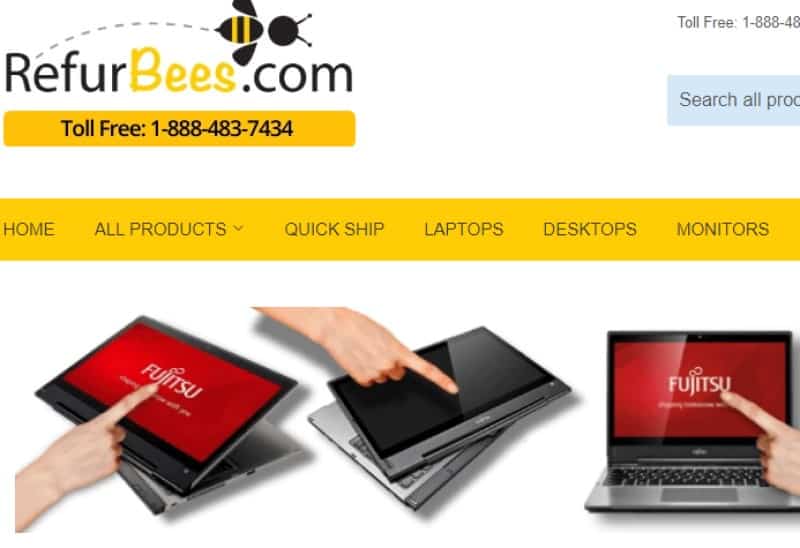 Join The Refurbees.com Affiliate Program Here
Refurbees.com is an interesting affiliate program they deal with used and refurbished computer products like laptops and tablets that you can promote to your audience if they want a lower-cost alternative for their Computing needs.
The best thing about these refurbished products is that they are usually very well maintained. In a lot of cases, they're almost as good as a brand new one and should be popular on a Computing Niche site because they are more accessible to a wider range of people.
The tracking cookie is 90 days which is outstanding for this type of Philip program. A lot of these products are going to cost well into the hundreds of dollars even approaching $1,000 for many of them so you want as long a duration tracking cookies possible.
The commission is very reasonable at 5%. While you always want to have as high a commission as possible the Computing Niche is typically not going to give you the highest commissions that you can find. This is because there's a lot of overhead dealing with these computer hardware products or products like tablets or laptops where there are very thin margins in the best of times.
---
NZXT Affiliate Program
Commission: 3.5%
Tracking Cookie: 15-days
Auto-Approval: Yes

Join The NZXT Affiliate Program Here
NZXT Is an online store that has a huge variety of custom-built PCS, computer accessories, and computer hardware. This is very much an affiliate program for computing enthusiasts and in particular Gamers that want high-end PCS put together for them.
I also have a good amount of refurbished PC components that it can be a cheaper option for your readers and give you a good variety of price ranges that you can promote on your computer Niche website.
The tracking cookie is 15 days which is a little bit low for this type of affiliate program. These computers are going to run well into the thousands of dollars and you want as much time as possible to promote the product and still get credit for the cell. 15 days is really pushing the lower bounds of what is necessary for these types of high-ticket items.
It means you'll have to be a little more conscious of the type of content you place is affiliate links in you were going to want to find buyer intent keywords and use them for this actually program.
The commission is 3.5%. As I mentioned a couple of times in this article the overhead for the computer hardware and accessories is pretty significant so getting anything above 3% is going to be a very good option for an affiliate marketer in the space. The price of the product makes a 3.5% commission a little bit more palatable but you are going to need a good amount of traffic to make it really worthwhile.
---
Nvidia Affiliate Program
Commission: 2%
Tracking Cookie: 45-days
Auto-Approval: No

Join The Nvidia Affiliate Program Here
Nvidia is a huge name in computer hardware and AI development. They are particularily known for their line of Geforce graphic cards but their AI business is starting to take center stage. This makes it a great affiliate pgroam for gamining niches, general computing niches and even AI centric niches.
The tracking cookie is a solid 45-days which is great for their high-ticket items like the video cards. The commission is 2% which is on the low end even for the computing niche.
You will need a good amount of traffic to get the most out of the 2% commission but it might be an option for some more established computing sites that need a video card vendor in their affiliate stable.
---
HP Affiliate Program
Commission: 2%
Tracking Cookie: 30-days
Auto-Approval: No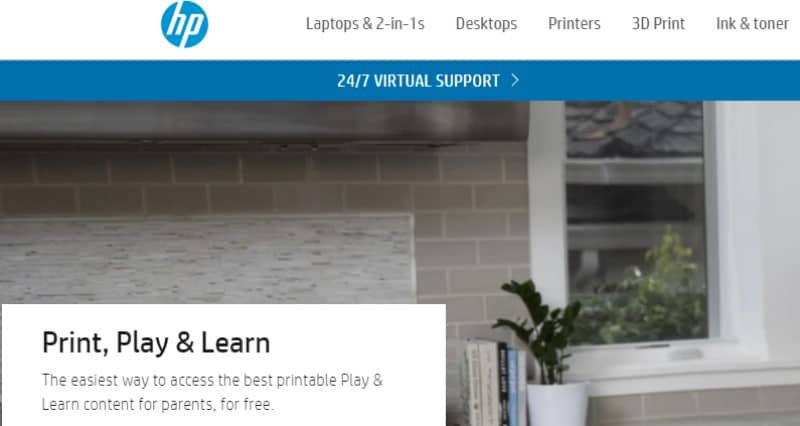 HP really need no introduction. It is one of the preemminent computing companies in the world. Chances are you have seen an HP advertisment or have own one of their products.
They are know for thier printers laptops and prebuilt computers. This mean they would work quite well for a general comupter niche website but maybe not as well as an enthusiast computer niche site.
The tracking cookie is 30-days. About average for an affiliate program but ideally you want something longer since alot of HP products are high-ticket items running well over $1000 dollars.
The commission is only 2%. This is low but not unexpected for computer hardware. Many affiliate will give you no commission for these types of products so a 2% commission doesn't look half bad.
Join The HP Affiliate Program Here
---
Cables.com Affiliate Program
Commission: 11%
Tracking Cookie: 30-days
Auto-Approval: No

Join The Cables.com Affiliate Program Here
Here is an interesting partner program for anyone in the computer niche. Cables.com does just what the name implies. They sell every conceivable cable for your computer, laptop TV, and just about anything else.
This is not the affiliate you think of first when you are looking at computer partner programs for your website but it is an invaluable one that can work alongside some of the more hardware-focused affiliates.
In addition to being a pretty unique affiliate, they offer a fantastic commission in their 11% affiliate rate. The reason it is much higher than the hardware affiliates is that the overhead is going to be considerably less for cables and wiring that it is for hard drives and video cards.
The tracking cookie duration is plenty long enough at 30-days. They are not any really high-ticket items from this affiliate so a month is plenty of time to do your business.
---
Blair Technology Group Affiliate Program
Commission: 10%
Tracking Cookie: 30-days
Auto-Approval: By County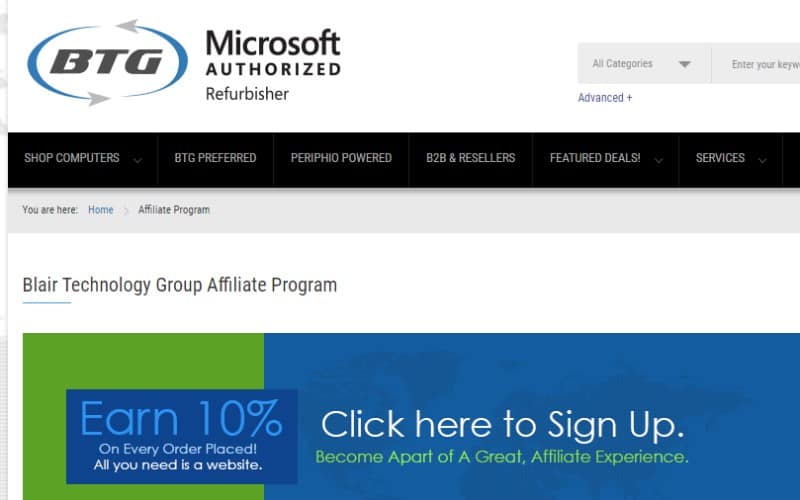 Join The Blair Technology Group Affiliate Program Here
Blair Technology Group is a Microsoft Authorized refurbisher of computer and technology products. They have products ranging from full-tower computers to laptops and chrome books. They are one of the largest Microsoft Certified Refurbishers in the Us and have to adhere to strict guidelines in their refurbishing efforts so you can promote them with confidence.
They refurbish the most popular brand name equipment. Here are just some of the companies.
Apple
Dell
HP
Lenovo
IBM
Toshiba
Acer
Refurbished hardware suppliers tend to have a better set of affiliate terms than the brand new hardware suppliers. As a result, Blair Technology Group is offering their affiliate Partners a full 10% commission on qualifying purchases made through your affiliate links.
A double-digit commission anywhere in the computer hardware space is very good and it must be taken seriously. Anyone in the computer Niche should really consider this affiliate program or at the very least take a good long look at it to see if it makes sense for your particular business and audience.
The tracking cookie is a standard 30 days which is going to be decent for this type of filler program although there are some high ticket items that might require a little bit more time and that could cost you a bit in conversion rate.
---
MichaelElectronics2's Affiliate Program
Commission: 2%
Tracking Cookie: 90-days
Auto-Approval: Yes

Join The Michael Electronics2's Affiliate Program Here
MichaelElectronics2's, or ME2, is an online computer source that aims to be your one-stop-shop for all your computer and computer hardware needs. They have a full array of laptops, tablets, desktops, and all in one PC's as well as all the accessories you will need for your computer.
This is a great alternative to Amazon associates as they sell the biggest name brands like MSI, Nvidia, HP, Lenovo, and much more.
The tracking cookie is rock solid at 90-days. This is great because it gives your audience plenty of time to decide on the purchase including those high ticket items that usually take a bit longer to purchase. The commission is only 2%, a little low but understandable given he overhead and thin margins on computer hardware.
Finally, ME2 offers auto-approval through their ShareASale profile making it a great option for even the newest of computer blogs or websites.
---
CESDeals.com Affiliate Program
Commission: 10%
Tracking Cookie: 45-days
Auto-Approval: Yes
Learn More About Here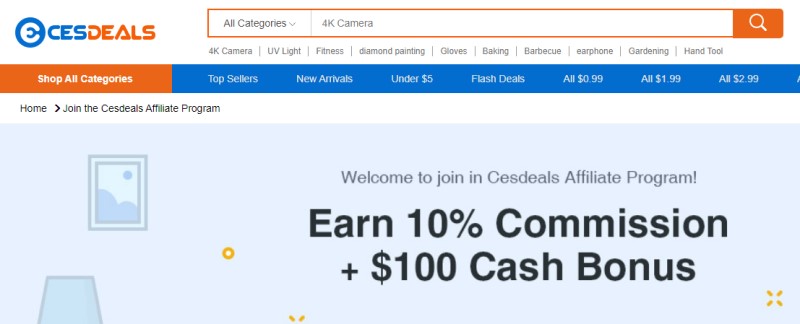 Join The CESDeals.com Affiliate Program Here
CESdeals has an extensive colection of computer hardware and products as well as a huge selection of more general consumer electronics making it a great option for more general tech blogs.
The commission is a solid double digit commission weighing in at 10%. This makes it one fo the more appealing affiliate commissions on our list. The 45-day cookie should be plenty long enough to get make a sale and keep your conversion rate high.
CESdelas also has an auto-approval on its ShareASale profile. New websites and blogs can take advantage of this partner program without having a ton of traffic which is nice for newer sites.
---
MemoryC Inc. Affiliate Program
Commission: 3%
Tracking Cookie: 30-days
Auto-Approval: No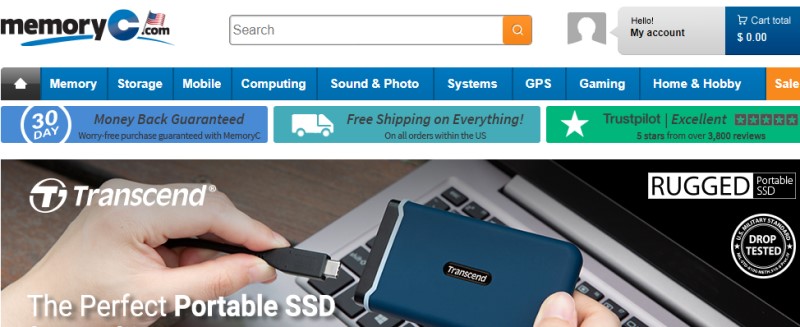 Join The MemoryC Inc. Affiliate Program Here
Memory C.com focuses on memory both portable and fixed but they also have a decent selection of consumer electronics and computer accessories that you can promote on your niche site.
The commission is 3% and the tracking cookie is a 30-day duration. Both are acceptable for this affiliate given the slim margins for these types of products.
This affiliate would make a great option when paired with a larger computer hardware supplier that can fill in the gaps when needed.
---
Wrapping Up Computer Affiliate Programs
All good things must eventually come to an end and that is where we find ourselves right now. At the end of this wonderful list of computer affiliate programs that you can use to help expand the monetization options and build the online business of your dreams that is going to give you the financial freedom, you need in tough times and Good Times alike.
I think these affiliate programs work best for computer-specific Niche websites but you could also use them for gaming websites or more General electronic websites.
Keep in mind that if your computer site consists solely of reviews and is going to be very tough to rank in the search engines so you'll need to find alternative forms of traffic.
However, if you are generating helpful informational content and implementing these affiliate links into that content you should do very well for yourself and there are plenty of avenues that you can approach to get the traffic you need to be a successful online entrepreneur.
Don't go it alone. Get the best learning tools and community to help you build your online dream. Check it out here.
Thank you for visiting and have a wonderful day.