This article may contain *affiliate links. Please see our affiliate disclosure for more details
Hello Hello. Welcome back, everyone. Let me take this moment to thank you for stopping by and checking out our article today. In this episode, we will be taking a deep dive into the Koa Coffee Plantation affiliate program and answering a few fundamental questions about this affiliate program.
Can You Make Money With The Koa Coffee Affiliate Program? The Koa Coffee Plantation Affiliate program is a great way to monetize your coffee-related content. They have everything you need for a successful affiliate program.
In this article, we will review the commission and tracking cookie as well as take a quick look at some of the products you can expect to promote with this coffee affiliate program. In addition, we will check out some niche ideas and ways to maximize your conversion rate with the Koa Coffee affiliate program.
There Is Just Something About Owning Your Own Business. Being Your Own Boss. Building Something From The Ground Up With Your Own Hands. Especially When It Is This Easy To Get Started.
---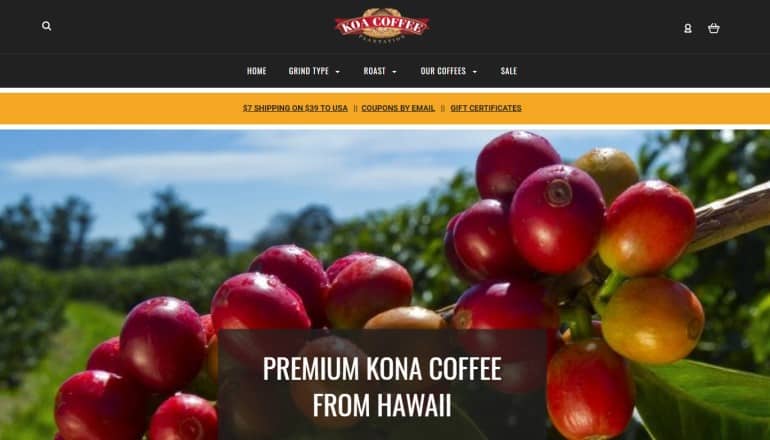 A Closer Look At The Koa Coffee Affiliate Program
---
A 10%-20% Commission Is A Great Place To Start
10% is a solid commission for just about any affiliate program that sells physical products. 10% is where the commission starts for Koa. They offer a base 10% that can rise to a whopping $20 commission if certain criteria are met (be sure to get the exact criteria when you sign up).
10% is great. 20% is a game-changer. With a decent conversion rate a 20% commission can translate into a full-time income. 10 or so sales, a day can really generate an impressive income through this affiliate program.
Even part-time, just making 2 or 3 sales a day and generate a sizable amount of income for what is essentially a side-hustle for many people. The flexibility that a 10-20% commission gives you is huge and well worth looking into if you can benefit from this affiliate program.
The Tracking Cookie Duration is 45-days
45-days is a good tracking cookie duration to have at your disposal. 30-days is about the standard duration tracking cookie so this gives you a sizeable increase on the standard.
The individual products at Koa Coffee Plantation are not high-ticket items individually, but sales can go well over a hundred dollars as people tend to buy multiple bags of coffee.
The point is that for these types of prices the 45-day cookie works great and even gives you a nice return day cushion in case someone wants to buy some more coffee through your affiliate link.
---
The Koa Coffee Plantation Products
Koa Coffee focuses on Hawaiian coffee, specifically Kona coffee. They don't have a huge selection of coffee like some larger warehouse type retailers but they have specific high-quality coffees that you can promote with confidence.
Here are some of the Coffees that you have to choose from when you are promoting their products.
Peaberry Coffee
Grande Domaine Kona Coffee
Private Reserve Kona Coffee
Swiss Water Decaf Kona
Estate Kona Coffee
Dark Roast
Medium Roast
Whole Bean
Ground Coffee
As you can see they pretty much cover all the basic types and grinds of your typical coffee shop. These products are pretty specific to Hawaii so this affiliate would work best for a Hawaii coffee niche website but can do just fine in a more general coffee niche website as well.
The Best Niches For Koa Affiliates
It goes without saying that a coffee niche website is going to be the best place for this affiliate program. Coffee is their business. But a general coffee site can get swallowed up pretty quickly so I thought it would be good to focus on some micro-niches where this affiliate can really flourish.
Kona Coffee Niche
Island Coffee Niche
Hawaiian Coffee Niche
General Hawaiian Niche Site
Volcanic Coffee Niche
All part of the coffee niche for the most part but much more focused on a smaller section of that vast niche. (With the exception of a general Hawaii niche site which is about all of Hawaii not just eh great coffee.)
---
What I Like About The Koa Coffee Affiliate Program
Where to start. There is so much to like about this fantastic affiliate program. Obviously the commission is going to catch the eye of just about anyone looking for a coffee affiliate program.
Even the lowend commission is fantastic but if you can get it up to that 20% range then you have a great opportunity to make some real money with this affiliate.
I like the tracking cookie as well, anything over 45-days is going to help boost your conversion rates by giving people more time to decide on a purchase and giving them more return days should they decide to buy more coffee.
Finally, the products are great. I enjoy a good cup of Kona coffee and have tried Koa coffee on a few occasions. It is pretty good and reasonably priced. I think that Koa is right near the top of Kona coffee retailers out there.
What Could Be Better
I am not a huge fan of the Koa Coffee website. It just feels a little sluggish to me and the hero image that you are greeted with is a bit to big and uninspired.
The look of a website can influence ou conversion rate at times but in this case, I think it will be pretty neutral for the most part. It won't swing your conversion rate too far in either direction, I just personally think its not a great looking website.
But other than that this is one of the premier coffee affiliate programs out there and can also double as a general Hawaii affiliate program if you are in the Hawaiin travel or culture niches.
---
The Koa Coffee Affiliate Program Bottom Line
Commission: 10%-20%
Tracking Cookie: 45-days
Auto-Approval: No
Affiliate Niche: Coffee/Hawaii
It is great.
That is the bottom line for the Koa Coffee affiliate program. It has everything you need to make a great affiliate program. The only thing left is to see how well your audience likes their products. All the great commission and products do mean much if your audience simply does not respond to their product.
Chances are, however, if you have a coffee audience then they will enjoy this coffee and you can earn a nice income promoting Koa Coffee on your niche site. I would probably use it alongside a couple of other affiliates because they do have a rather limited product selection.
You want to have as many options as possible. But the Koa Coffee affiliate program is one that every coffee niche website entrepreneur should consider for their affiliate strategy.
Don't go it alone. Get the best learning tools and community to help you build your online dream. Check it out here.
Thank you for stopping by and I hope everyone has a wonderful morning, noon or evening.