This article may contain *affiliate links. Please see our affiliate disclosure for more details
Bamboo is starting to make its way into the mainstream and I don't just mean as houseplants or decorations. Bamboo is one of the most renewable resources out there and  can be used to make all sorts of household items.
From underwear and socks to bedding and bath towels bamboo is it's taking its claim as the fabric of the future. And one of the biggest companies out there that are pushing bamboo is Cariloha.  So today we are going to take a look at the Cariloha affiliate program and see if it's something that you can fit into your affiliate marketing strategy and use on your bamboo Niche website.
Hello everyone, Welcome back. Mike here and I hope you are having a wonderful day and  you are ready to dig into this affiliate program and answer the question can you make money with the Cariloha affiliate program.
Let's get to it and take a look at the commission, the tracking cookie, products, and more from this versatile bamboo affiliate program.
There Is Just Something About Owning Your Own Business. Being Your Own Boss. Building Something From The Ground Up With Your Own Hands. Especially When It Is This Easy To Get Started.
---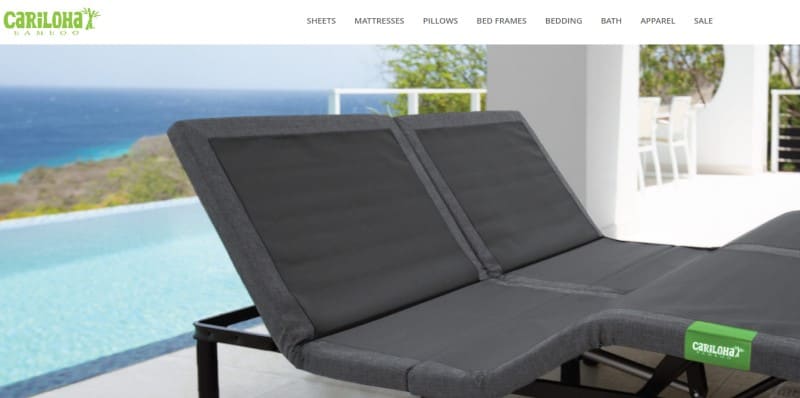 A Closer Look At The Cariloha Affiliate Program
Cariloha is a retailer of a wide range of products made from bamboo fibers. Bamboo is sustainable and earth friendly way to make these prodcuts in large part because bamboo grows so quickly as is much easier to replenesh that wool or cotton.
Here is what they have to say about it on their website…
By turning self-replenishing bamboo fields into luxuriously soft, earth-friendly bamboo fabrics, Cariloha offers an exclusive collection of bedding, apparel, activewear, bath goods, and more made from soft, cool, clean and green bamboo.

Cariloha Bamboo
---
The 6% Affiliate Commission
Let's dive right into the commission. It is a solid 6%. Well this may not look as good as you would like it it is a very good Commission at this point in time. What we've been seeing in affiliate marketing is the commissions going down and down. This is especially true of the biggest affiliate marketing program out there, Amazon Associates.
In the past, the 6% commission offered by Cariloha might not have been enough to draw your attention away from Amazon Associates. But now that Amazons commissions have been brought down to between one and 3% the 6% commission offered here begins to look more and more generous.
So if you are in an inch thick can benefit from any of these bamboo products it is going to be a good idea to at least consider using this affiliate program over Something like Amazon Associates. You might see a drop-off in conversion rates but it would need to be a massive drop because the Amazon commissions are so low at this point.
The 30-Day Tracking Cookie Duration
The tracking cookie for this affiliate program weighs in at 30 days. This is pretty much the industry standard for tracking cookies at this point. 30 days is perfectly fine for the vast majority of affiliate programs out there.  well you always want the longest tracking cookie possibly can get most of these super long tracking durations are reserved for your very high ticket items where the purchaser would need more time to decide on making that purchase. 
With that said, the price of some of their products does run well into the hundreds of dollars and there are even a couple of high ticket items in the form of their bed frames that could use a longer duration cookie. But for the majority of their products, the 30 days should be just fine.
Cariloha Products To Promote
Cariloha has a wide range of products for you to potentially promote on your Niche website. There are plenty directions that you can take their product line both within your chosen Niche and if you choose to expand to other related niches.  here's an idea of some of the products and categories that you we'll be promoting  with this affiliate program. Bearing in mind these are all bamboo products.
Bamboo Face Masks
Towels
Bath Sheets
Hand Towel Sets
Robes
Bedding
Sheets
Pillowcases
Socks
Underwear
Activewear
T-shirts
Apparel For Both Men And Women
As you can see there is a wide range of bamboo products that you can promote from this website. You can get a good look at the types of products you will be promoting on the Cariloha Bamboo website. All these different product types and product categories make this a very diverse and versatile affiliate program for a wide variety of niches.  Let's take a look at some of the best niches for this affiliate program right now.

Best Niches For This Affiliate Program
The  number of different niches that you can use this affiliate program for  add quite a bit of value to the overall affiliate program. It means that if you add a new category or a new set of content to your Niche site you can continue to use this affiliate program if they have the products.
So if you are a bamboo pillow website and you decide to expand  to offer content on bed sheets or on bathroom Goods or any of the other home decor items that they have you can continue to use the affiliate program that you've already build a relationship with and that your audience is already comfortable using.
General Bamboo Website
Bamboo Apparel Niche
Underwear Niche site
Bedding And Sleepwear Niche
Bathroom And Home Decor
What I Like About The Cariloha Affiliate Program
The biggest thing that I like about this affiliate program is the diversity of the products that they offer. Not only do they have sleepwear and underwear made from bamboo but they also have bath towels and bedsheets and pillowcases. So it opens up a wide range of possibilities and makes it so that you can incorporate related topics into your content without having to introduce your audience to a brand new affiliate program.
In addition, there's nothing really terrible about this affiliate program. The commission is solid, if unspectacular. The tracking cookie should be just fine for most affiliates.  Overall it's a very good-looking fill it program and one that you should consider if you are in any of the niches that it touches upon.
This partner program is also part of the Avantlink Network which is one of the larger affiliate networks out there. Independent affiliate programs can be just great most of the time but occasionally will run into one that doesn't pay out on time or has issues that really bog your business down. I always like to look for Affiliates that are part of a large and well-respected affiliate Network and that is exactly what Avantlink is.
And one last thing I'll touch on is the look of their website. I find it to be very clean and easy-to-navigate which is a huge Advantage for an affiliate marketer. People have gotten used to the sort of Amazon experience. They go they search for something they find it that buy it they leave.  So you don't want your affiliate Partners to have a really busy website that's difficult to get around on.  It's one of the smaller more overlooked things but it's pretty important to maximize your conversions.
What Could Be Better
Everything looks pretty great for this affiliate program. So I don't have much to complain about. The one thing that I would say is that the 6% commission could stand to be a little bit higher. It's not a problem and it's a fairly generous commission but you always like to see something north of 10% if at all possible.
I'm not familiar enough with the bamboo need to know what type of overhead they have on their products and whether or not a 10% Commission would really be feasible. But I always like to point out a commission anytime it's less than 10%.
---
The Bottom Line
Commission: 6%
Tracking Cookie: 30-days
Auto-Approval: No
Affiliate Niche: Bamboo Products
Affiliate Network: AvantLink
Join The Cariloha Affiliate Program Here
That wraps up our look at the Cariloha Affiliate Program. It is a pretty impressive affiliate program and one in the bamboo Niche which is an up-and-coming Niche that a lot of people are going to start taking notice of in the near future.
I think this is one of the growing niches out there and one that is underrepresented in affiliate marketing in general. There are a few bamboo affiliate programs out there but not nearly as many as you would expect for something that is prime to take off like it is.
What this means for the affiliate marketer is that now is the time to strike. Get in before the hype build, your content before all the competition gets in there, plant your flag first and do it best and you got a good chance to succeed with this affiliate program.
Don't go it alone. Get the best learning tools and community to help you build your online dream. Check it out here.