This article may contain *affiliate links. Please see our affiliate disclosure for more details
Car audio is a big business. Some of these sweet sound systems run well into the 10's of thousands of dollars. So it makes sense that there is a great opportunity for affiliate marketers to jump into the car audio niche and start making a little extra cash or even full-time living. To do that you are going to need the finest car audio affiliate programs in the land.
Hello everyone and welcome back to the site. My name is Mike and I will be your guide through our journey into the wonderful world of car audio affiliate programs. These partners will make great additions to any general car niche website but are particularly suited to niche sites dedicated to car audio and any related niches.
So let us start our look into the commissions, cookies and products that you will benefit from with these outstanding car audio affiliate prgoram ideas.
There Is Just Something About Owning Your Own Business. Being Your Own Boss. Building Something From The Ground Up With Your Own Hands. Especially When It Is This Easy To Get Started.
---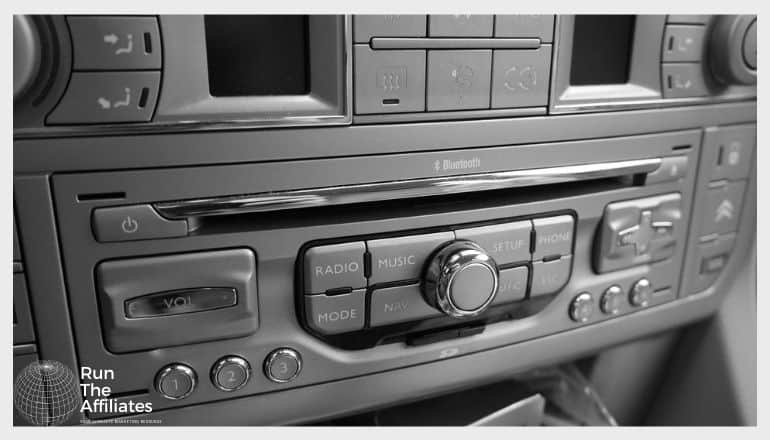 Check Out These Car Audio Affiliate Programs
---
Drive-In AutoSound Affiliate Program
Commission: 4%
Tracking Cookie: 30-days
Learn More About Drive-In AutoSound Here
Auto-Approval: No
Affiliate Niche: Car Audio
Join The Drive-In AutoSound Affiliate Program Here

While our focus for this list is on the car audio products offered by Drive-In AutoSound, they do have quite a few other products that fit nicely in with a more general automotive niche site. Here is a quick look at some of those other products and categories.
CAR AUDIO
REMOTE START & SECURITY
WINDOW TINT
TRUCK
JEEP
CAR ACCESSORIES
Moving on to the commission and the tracking cookie. They are both pretty decent. The 30-day tracking cookie should be suffiecient for most affiliate marketers out there although a longer duration would be nice given that many of their products are what I would consider high ticket tiems running hundreds, even thousands of dollars in price.
The 4% commission is decent, as mentioned. but it is very much at the low end of what you want in an affiliate marketing program. Anything lower than 4% and you would need to consider passing on the affiliate partner but at 4% it just scrapes by.
---
Cadence Sound Inc. Affiliate Program
Commission: 4%
Tracking Cookie: 30-days
Auto-Approval: No
Affiliate Niche: Car Audio/Accessories

Cadence Sound Inc. is an audio company with a great selection of car audio equipment that will slot nicely into your top 10 lists and single reviews as content for your niche site. They have products in other areas of audio equipment as well making this a good option for a general stereo niche site as well.
Here is a look at some of the audio categories they have available…
CAR AUDIO
MARINE
PRO AUDIO
POWERSPORTS
MOTORCYCLE
The tracking cookie is your standard 30-day duration which should be ok for this affiliate, although some of the prices would benefit from a bit longer tracking cookie duration. Some of their products run upwards of $700 dollars and it is those types of items that really need a longer duration to maximize your conversion potential. That said the bulk of your sales will come from the lower-priced gear, of which there is plenty to promote.
The commission is 4%, which is on the lower side of what you want from an affiliate partner, but the commission in car audio seem to be on the lower side to begin with. 4% should still be good for most affiliate provided the conversion rates are reasonable.
---
Second Skin Audio Affiliate Program
Commission: 10%
Tracking Cookie: 90-days
Auto-Approval: No
Affiliate Niche: Soundproof Auto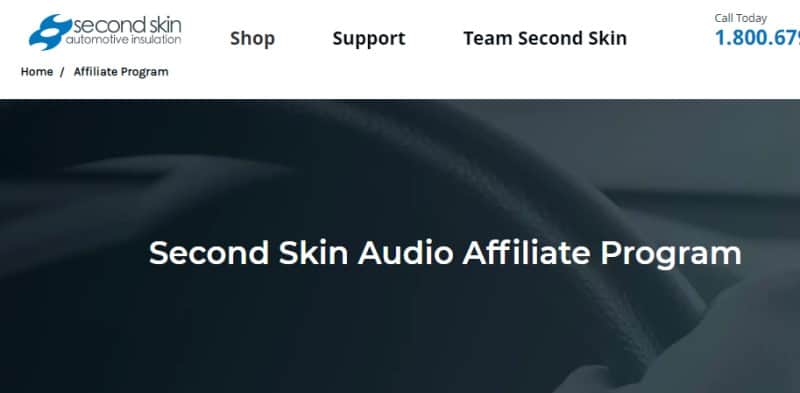 Second Skin Audio is a soundproofing and automotive insolation comapny that can add a little diversity to your typical car audio parnet programs. The appeal is going to be a little bit less that general car audio equipment so you might want to pair this with a couple other affiliate programs to cover as many product types as possible, but Second Skin Audio will bring a lot to the table.
The affiliate terms for this partner are among the best in the car audio Niche. A large part of that is because you're dealing with insulation and soundproofing equipment instead of the amps and speakers of the more General audio equipment. The tracking cookie duration is 90 days which is more than to promote your products and still get the sale and should have a positive impact on your overall conversion rate.
The 10% commission is fantastic and one of the first times that we are seeing a double-digit commission in the car audio space. the good commission is somewhat balanced out by the very Niche nature of the products they sell but anytime you see a double-digit commission you really need to take it seriously and look into the affiliate program to see if it can benefit you in any way.
---
DS18 Affiliate Program

DS18 has an incredible selection of audio equipment for your cars. They have options specifically for Jeeps, Powersports, and marine audio as well. Here is what they have to say about their audio euipment.
DS18 has the freshest of all car audio lineups. We listen to our customers' feedback and keep-up with all the new industry trends and demands.

DS18 Website
The commission and the cookie are particularly good for this affiliate program. They offer a 45-day tracking cookie which is a bump up from thestandard 30-days that we frequently see across all affiliate niches.
The commission is the ost interesting thing however. They start at 8% with the possibility of running up all the way to 12%. The 8% alone is very good for this niche but the 12% range makes it one of the best car audio partners out there as long as your audience is on board.
---
World Wide Stereo Affiliate Program
Commission: 3%
Tracking Cookie: 30-days
Auto-Approval: No
Affiliate Niche: Audio/Stereo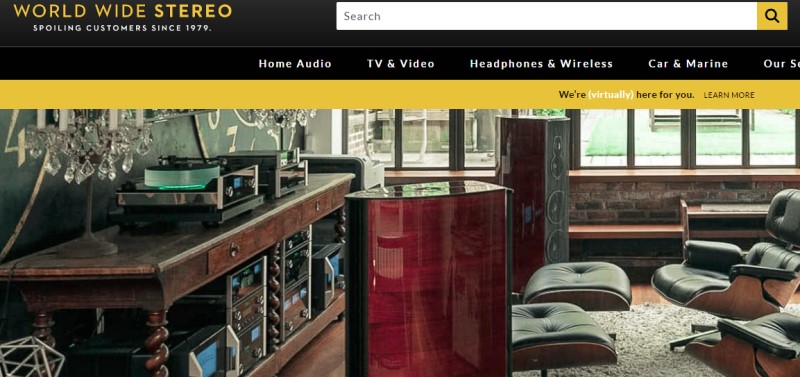 World Wide Stereo is a stereo and audio store that has been around since 1979 and has smoothly transitioned into the digital realm. For our purposes, we want to focus on the car audio part of their catalog, but any general audio affiliate would do well to take a look at what they have to offer as well.
Here is part of their product lineup that you can expect to promote when you join their affiliate program…
Car Stereos
Car Stereo Amplifiers
Car Equalizers
Car Speakers
Car Subwoofers
Car Sound Treatment
Car Speaker & Subwoofer Accessories
A 3% commission is rough. You will need a very good conversion rate and a steady source of traffic to really make this type of commission work. The upside is that World Wide Stereo has a good reputation and a long history so that a high conversion rate might be attainable.
However, I would recommend waiting until you have an established website and consistent traffic before deploying this affiliate program as part of your affiliate strategy. The tracking cookie is 30-days and should be ok, but they have a lot of high ticket items that could benefit from a longer duration tracking cookie.
---
Scosche Affiliate Program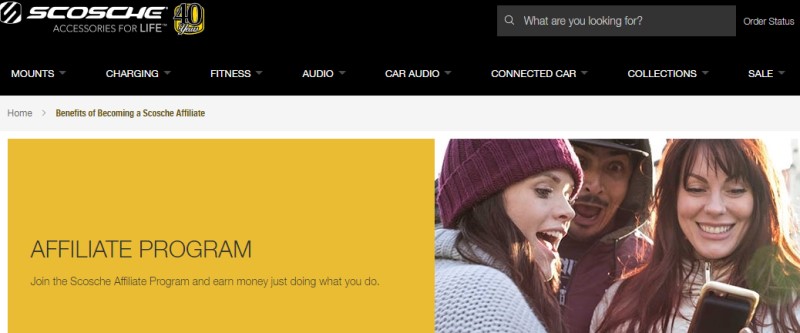 Scosche is a company that has been dealing with electronic and audio solutions for 40 years. They have adapted well the in the online world and would make a great affiliate for a car audio niche website but they could also be used on just about eny audio or elecronics niche website out there. For our purposes I want to focus on the car audio offerings that they have. Here is a brief look at what you can expect to promote from their product catalog.
Dash Kits
Speaker Adapters
Speakers
Amplifiers
Subwoofers & Enclosures
Bluetooth & FM Transmitters
Integrated Touchscreen Dash Kits
Interfaces
Qi Wireless Vehicle Specific
Amp Kits
There is a slight discrepancy with the commission for this affiliate. On their affiliate page, here, the commission ranges from 10% to 14%. However, on their CJ.com profile, it is set at 8%. I am using the 8% number for the purposes of this article but be sure to clarify what commission you are getting when you signup for this affiliate program. The tracking cookie is set at 30-days, rounding out a very solid and versatile affiliate program for your car audio niche site.
---
DBS Car Audio Affiliate Program

DBS Car Audio has a wide selection of car audio parts many of the most popular brands. From Amplifiers to speakers, cars to Powersports they have a ton of products that will fit into any car audio or general audio niche site. They have a nice clean website and one that should not be an issue for an affiliate marketer sending them to their site.
Unfortunately, there was very little info about the terms and conditions of their affiliate program. They did not list the commission or the track and create duration so you'll have to sign up and talk to their affiliate manager to get the full picture of this affiliate program. They have the products and the affiliate commission and tracking cookies should be good enough to consider using them for one of your affiliate partners.
---
Sonic Electronix Affiliate Program
Commission: Not Listed
Tracking Cookie: 1-day
Auto-Approval: No
Affiliate Niche: Audio Equipment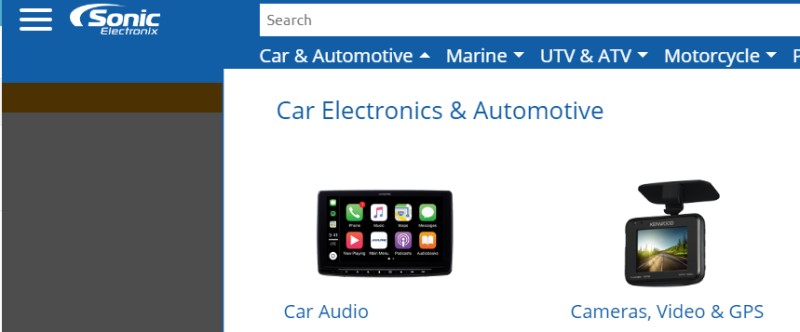 Sonic Electronix has a nice selection of car audio equipment that you can promote on your niche site. Here are some of the categories of products that you will be able to promote.
Car Stereos
Car Speakers
Car Subwoofers & Boxes
Car Amplifiers
Installation Parts
EQs & Sound Processors
Audio Packages & Bundles
In addition they have products for ATV, MArine, Motorcycles and more making this a very useful affiliate for more general audio niche sites or even ones specific to marine audio or Powersports audio.
The tracking cookie is only 1-day, which can be a real problem. It means that you want your affiliate links from this partner to be in the most buyer intent heavy content that you can possibly create and even then you might miss out on some sales because the cookie is so short. The commission was not listed so be sure to ask about it when you sign up.
I would leave this affiliate to only the most experienced affiliate marketers who know exactly how to get the most out of these very short duration cookies.
---
The Big Finish
That brings us to the end of our look at these car audio affiliate programs. I'd like to thank you for taking the time to read the article and hopefully you have found a partner program that is going to suit your particular business plan.
Car audio is an interesting Niche. It's obviously part of the larger Automotive Niche which can be very very competitive but it is a super competitive Niche on its own. And it's a very difficult one for new people to get into because a lot of the products are going to be promoting our high-end stereo equipment. Many of these products can run well into the thousands of dollars making it very difficult for someone without a lot of authority in the niche to convince people to buy those products that they are recommending.
So my advice for anyone just jumping into the car audio Niche is to focus on informational type posts about specific parts of car audio. Whether it's the wiring or setting up your speakers or how the speaker works, these are all going to be great ways to start building your content and building your Authority before you start posting York monetize reviews and the monetize top 10 lists that are ultimately going to bring in the money.
Some niches you can just jump right in two. if you're going to start a website about coffee then you're not going to run into as many problems because the products are promoting heart 10 $20 bag of coffee. If someone doesn't like cup of coffee on your recommendation then is $20 out of pocket and they may never come back to your site. It's not really that big of a deal.
Conversely, if you recommend a $3,000 audio system for someone's car they buy it on your recommendation and get it installed and they end up hating it that is going to reflect bad on your expertise. so you want to make sure that you're on solid footing before you start promoting these very high ticket items within the car audio Niche.
The great thing about this car audio affiliate programs is they do have a wide range of products for a range of prices. So you can pick and choose some less expensive audio equipment and promote those through your reviews and your top 10 list and build the trust of your audience without trying to sell these huge high-ticket items.
That's all I have for you today I'd like to thank you all for it stopping by and as always have a wonderful day.