This article may contain *affiliate links. Please see our affiliate disclosure for more details
I think you could make these chicken coop affiliate work for a few different niches to be honest. The most obvioous would be any niche site dedicated to raising chickens
You could also work it into a survivalist website teaching people how to create their own food supply or a woodworking niche site could be a great place to use some of these affiliates.
The sure thing is that there are not going to be a whole lot of affiliates dedicated to chicken coops so you will want to use them alongside other affiliate programs. I am surprised I found as many as I have for this very specific niche.
If you are a woodworking niche site adding one of these chicken coop affiliate programs to your woodworking affiliate programs would be a great idea and a way to expand your monetization options.
These are plenty of possibilities, but for now lets have a look at these chicken coop affiliate programs and see if one might work for your niche site.
There Is Just Something About Owning Your Own Business. Being Your Own Boss. Building Something From The Ground Up With Your Own Hands. Especially When It Is This Easy To Get Started.
---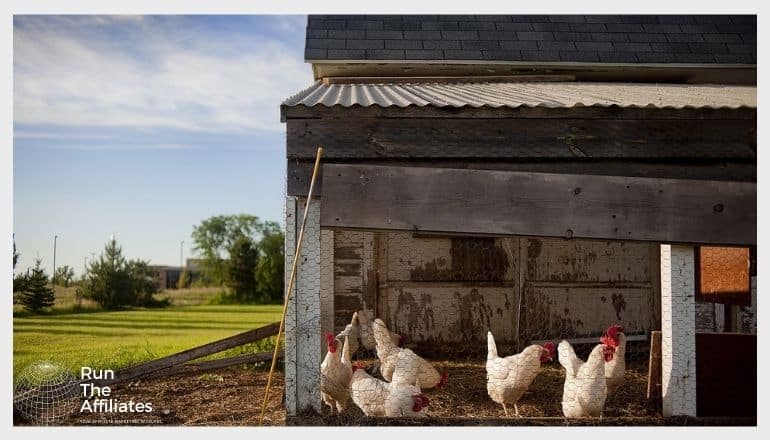 A Closer Look At Chicken Coop Affiliate Programs
---
Chicken Coop Outlet Affiliate Program
Commission: 5%
Tracking Cookie: Not Listed
Auto-Approval: No
Affiliate Niche: Chicken Coops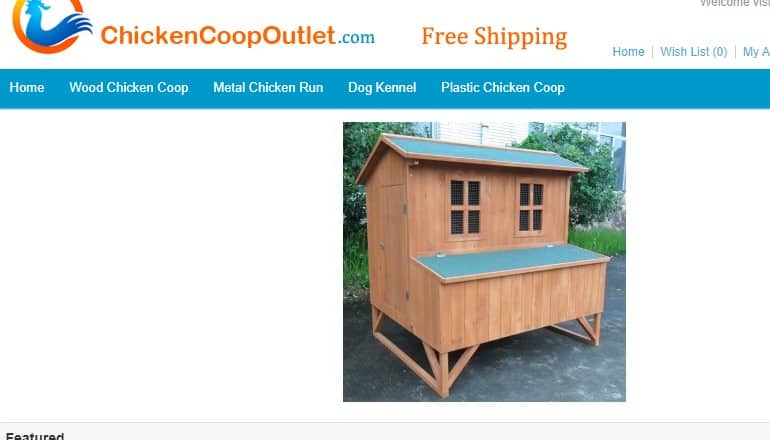 Chicken Coop Outlet has a wide variety of wood, metal, and plastic chicken coops and runs for you to promote on your niche site. This affiliate fits in great for people who want to raise chickens or a niche site that is focused on raising chickens.
These coops are not cheap. They are pretty close to what I consider high-ticket items with many of their products pushing close to the $500 dollar mark.
They do have some lower-cost alternatives but you will mostly be dealing with products that cost multiple hundreds of dollars so you will need to have a good relationship and trust with your audience to get the most out of this affiliate.
I think the cost of the products makes it tough for a new website or an affiliate beginner to really get the most out of this affiliate but you can always start getting the feel for the Chicken Coop Outlet partner program on you are accepted, even if you are not making a huge amount of sales, to begin with.
I cannot find a lot of information about the tracking cookie duration for this affiliate program There's nothing about on their affiliate page Which is not uncommon for some of these independent affiliate programs.
It's often just left out of the affiliate information because most people don't seem to be really interested in the tracking cookie or understand how valuable a long duration one can be.
So be sure to ask about it when you join our affiliate program. Given the price of some of their products, you are going to want as long a tracking cookie as possible in order to maximize your conversion potential with this affiliate program.
The commission offered up by this affiliate program is a 5% commission on qualifying sales made through your affiliate links. This is a pretty standard affiliate Commission.
I personally like to see commissions around the double-digit mark for physical product partner programs but 5% is going to give you a decent return on time invested and it's much higher than you would get from Amazon Associates for example.
---
Green Garden Chicken Affiliate Program
Commission: Up To $100 Flat Fee
Tracking Cookie: 60-days
Auto-Approval: No
Affiliate Niche: Green Living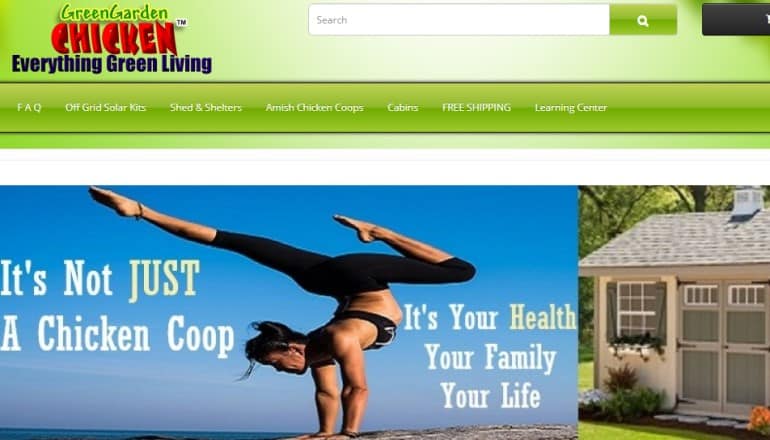 Green Garden Chicken Has a lot more to offer than just chicken coops but it is there Amish chicken coops that we want to focus on for this affiliate list. They have an incredibly solid collection of all different types of chicken coops for you to promote.
Here are just some of the types of chicken coops that you can expect to promote when you join this affiliate partner.
Fully Assembled Chicken Coops
2-4 Chickens
5 or more Chickens
Large Chicken Coops
20 or More Chickens
Walk-In Chicken Coops
Chicken Supplies
They also have sother products like off the grid solar panels, shelters and sheds and even cabins. When you put it all together this is a great chikcen coop affiliate but an even better prepper or survivlist affiliate program.
This affiliate owuld be a great way to start incorporationg chicken coops n to your survivalist niche site, but it could work perfectly fine for a chicken focused niche site as well.
The tracking cookie duration is 60-days. Notmally this would be a great tracking cookie duration and it works ok here but some of their chicken coops are high-ticket items. Some of them run close to $4000 dollars and one listing is over 6 grand.
These are not cheap and you will want as long as possible on your tracking cookie to make sure you have time to make a sale and still get credit for the commission.
The commission itself is a flat fee that can go all the way to $100 dollars. You will need to ask about the scaling commission to make sure you get what you deserve for each sale you make.
I would not recommend this affiliate to a new marketer. The cost of these chicken coops is very high even on the low end and you will need to have a good relationship with your audience and a lot of trust in order to maximize an affiliate program like this.
If yo have an established chicken or survivalist site and you are look for a good chicken coop partner to try then this might work for you, but beginners should probably steer clear.
---
Chicken Coop Plan Affiliate Program
Commission: 70%
Tracking Cookie: 60-days
Auto-Approval: No
Affiliate Niche: Chicken Coops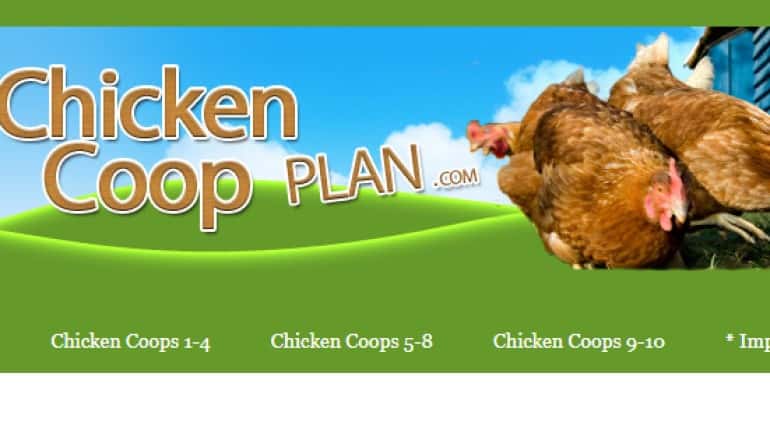 The first thing you'll probably notice is that the commission is enormous for this affiliate program. It is not uncommon to find 50, 60, or even 70% commissions for all digital products like this one.
Once you've created the product there's very little overhead that you need to worry about there are no storage or shipping fees people simply by the chicken coop plans and then print them out and do as they will.
The affiliate commission is 70%. While it looks great, these digital-only products are typically much more difficult to sell as an affiliate marketer than a physical product. People are often very skeptical about these types of products because Mini 8 digital products have had a sordid past.
So it is up to you as the affiliate marketer to investigate these types of programs and decide whether or not you're comfortable promoting them on your website. Whether this one is going to work for you is entirely based on the makeup of your audience and whether or not they want a product like this.
That said if you can get a good conversion rate with this type of digital product then you can do very well for yourself and you only need a few cells a day to really make a good return on your investment of time promoting this product.
This affiliate partner is part of the Clickbank Affiliate Network so you will need to be a member of ClickBank in order to promote this product. Signing up for ClickBank is Free.
Since this is hosted on the ClickBank Network, typically have a 60-day tracking cookie or most of their products unless they have changed it recently. I don't believe that to be the case assume that you have 60 days or you're trying to get duration but always ask them when you join just to be sure.
---
A Couple More Chicken Coop Options
Since we are a little short on affiliate program specifically designed for chicken coops I thought I would add in a couple more options that are much more General. The two of them going to discuss here are the Lowe's affiliate program and Amazon Associates.
These are huge affiliate programs that don't specifically cater to chicken coops but they do have chicken coop options as well as building materials that you can use to build Chicken Coop so they do make sense for this specific Niche.
It is probably a good idea to have these affiliate programs regardless of whether or not you find one of the specific Chicken Coop Affiliates to your liking. These huge Warehouse affiliate programs are going to function as a safety net for your affiliate business.
Anything that you can't find on these small specific affiliate programs you almost certainly find on these huge Warehouse partners and you can send your audience there if they need something that you can't find on the smaller partner program website.
You can check out my review of the Lowe's Affiliate program Here and get more info on Amazon Associates here.
The Big Finish
That brings us to the end of our look at these Chicken Coop affiliate program. Typically when I'm researching these list I like to find at least 10 affiliate programs to put on here for you guys to consider for your niche site. That is not always possible with a lot of these small images, like the chicken coop Niche.
So we only have a couple of options on here that is specifically designed for chicken coop niches. What I would recommend in this case is to see if one of these affiliate programs works for your website and then add it with Affiliates from a broader Niche vet can work alongside your chicken raising niche.
Woodworking is a great example of one that works perfectly with a chicken raising or chicken coop Niche website. You can promote the wood and building materials needed to make a chicken coop instead of promoting the pre built chicken coops which are very expensive.
This way you keep the price down and it enables you to create content around building the chicken coop itself. If you can come up with a series of videos or articles that give you a step-by-step instruction on how to build a chicken coop then you really just need a power tool or woodworking or some other type of Craftsman affiliate program to really build your Niche site around.
And then of course you can add in the expensive pre-built Chicken Coop from some of these affiliate programs once you build a solid foundation and have a good-sized audience for your business.
I think this is a good example of a very solid affiliate marketing Niche that doesn't have a whole lot of affiliate program for it. This is a good way to learn how to maneuver around the lack of affiliate partners and still be able to build content for that specific niche.
With all that said, I do hope that you find one of these affiliate programs appealing to you and one that you can use with your existing this site or if you're building a new website Perhaps you can incorporate one of these affiliate programs into that new site as well.
Don't go it alone. Get the best learning tools and community to help you build your online dream. Check it out here.
Thanks for stopping by and have a wonderful day