This article may contain *affiliate links. Please see our affiliate disclosure for more details
Strap in. We are gonna find some new affiliate programs to give your new blog the buzz it needs to start making some serious income.
Have a coffee blog? Need to add to your stable of great affiliate programs? Well then, have we got you covered.
We are going to look at some affiliate programs that you can join to expand your coffee shop blog. Here are 10 of the best affiliate programs to promote on your blog.
There Is Just Something About Owning Your Own Business. Being Your Own Boss. Building Something From The Ground Up With Your Own Hands. Especially When It Is This Easy To Get Started.
---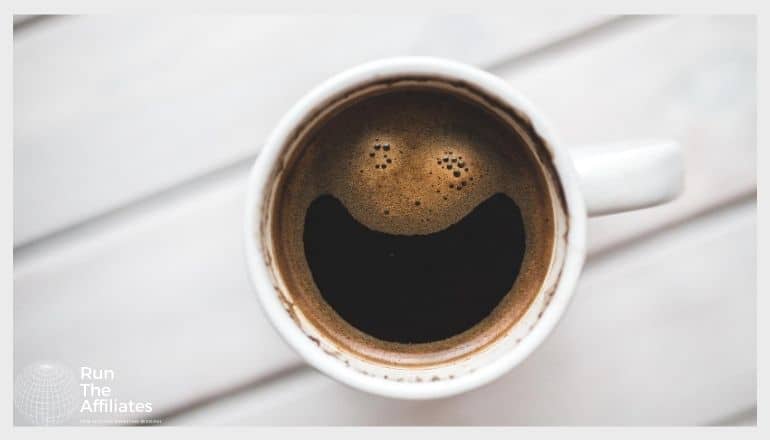 ---
Coffee Crafters Affiliate Program
Our first affiliate program for a coffee blogger to incorporate into their promotional packages is Coffee Crafters. This company deals with the sale of green coffee beans and commercial-grade coffee roasters. This is not a typical affiliate program for every coffee blog.
But if your blog deals with coffee production on some level this might be a great addition to your blog.
A very unique and interesting affiliate program for a few bloggers. This program does not seem to be affiliated with any affiliate network.
What is the Commission?
Coffee Crafters offers a 15% commission for all sales on their website. This is a pretty good commission for this type of affiliate, retailers tend to have lower commissions that some affiliate marketers that sell digital products.
Given the price of these coffee roasters that 15% commission will give the affiliate marketer a huge commission for their blog through the promotion of these products. The roasters range in price from over 3000 dollars to around 8500 dollars depending on the model.
A wide assortment of repair and replacement parts round out the offerings from Coffee Crafters. These parts cost hundreds of dollars as well making this an intriguing and potentially lucrative part of a coffee blog.
How Long is the Cookie?
Coffee Crafters give a 30-day tracking cookie to their affiliates. Given the expensive nature of their products, this is a particularly short tracking cookie. It might still be worth having but for products that cost multiple thousands of dollars 30 days is not a lot of time to decide for the customers.
The Wrap-up
This is a very narrow affiliate program. Most coffee blogs won't really have a need to join this one. However, if your blog dabbles into coffee production or starting your own coffee business. Then this would be a great addition to your stable of affiliate partners.
---
Nespresso Affiliate Program
Nespresso is a household name in espresso machines and in coffee capsules. Any coffee blog would benefit from having them as part of their affiliate partner arsenal. The coffee makers they sell are quite expensive and make for good review content.
The coffee capsules come in a ton of flavors that make them another great candidate for review content. They have a great selection of coffee accessories and mugs that an affiliate can promote on their blog. The amount of potential content alone makes it worth having them as an affiliate partner.
The Nespresso Affiliate Program is part of the Viglink Affiliate Network. Viglink was recently acquired by Sovrn, so what the branding will be going forward is unknown, best to check both sites until its resolved.
How Much Do They Pay?
The Nespresso Affiliate Program offers between 6% and 10% for commissions on their products. This is a fairly standard, albeit low, commission for big-name retailers. They simply don't have to offer more since they have such great brand recognition.
However, given the popularity of the brand and the price of some of the coffee machines, this is not a terrible commission by any means. Would we like it to be closer to 15%? Of course. But such is the reality of affiliate commissions in the retail space these days.
Cookie or Not?
There was no information to be found on the duration of the affiliate programs tracking cookie. The Viglink site was having problems when I attempted to join the affiliate program to try and gather the information. So it will be edited at a later date, once it can be determined what the cookie length is. Until then I will count it as a con in the final review.
The Wrap-Up
A good affiliate to have in the stable, especially if you write about coffee equipment along with the actual coffee itself. The low commission is somewhat made up for by the pricey nature of the coffee machines and the amount of coffee that people drink daily.
That being said the limited information on the affiliate program from such a big company makes it feel like an afterthought. Strange.
You can sign up for the Nespresso Affiliate Program Below:
URL:https://www.viglink.com/merchants/91046/nespresso.com-affiliate-program
---
Mr. Coffee Affiliate Program
Mr. Coffee is another brand name maker of, well coffee makers. They have been around forever, 1970 to be exact, and are a very popular brand. Chances are you have been to many restaurants that use this brand of a coffee machine.
Mr. Coffee is part of the Jarden Consumer Solutions Affiliate Program hosted by the CJ Affiliate Network. Signing up for this program gives you access to other products owned by this company such as Crock-Pot® and others.
This is a great coffee affiliate to have. Great name, great products. A wide variety of products to choose from. Mr. Coffee really ticks all the boxes for a very good affiliate program. At least from the product side of things, let's look at the commission and see if it still stacks up.
What's my Cut?
The commission for Mr. Coffee is up to a cool 10%. For a retailer of this notoriety, that's not a bad deal. As mentioned before it is just about standard for retail commissions to be 6 to 10% in this day and age, so no huge complaints there.
With the cost of many of the coffee machines offered by Mr. Coffee, the 10% commission should be enough to justify devoting a decent amount of content to the promotion of their products given the potential rate of return for doing so.
How Long Do I Have?
Mr. Coffee offers a 30-day tracking cookie for its affiliate program. This is, again, unfortunately, the standard cookie length for many retailers these days. To the point where you are shocked if you see anything over 30-days, and completely dumbfounded when you see anything approaching 90-180-days.
It is the affiliate marketing world we live in.
The Wrap-Up
A good Commission, a decently average cookie and a huge selection of high priced, very popular, name brand coffee makers. This is an absolutely great affiliate program. I am going to knock off about half a star for the cookie length but overall this is a must-have for any coffee blogger.
You can sign up for the Mr. Coffee Affiliate Program Below:
URL:https://www.mrcoffee.com/affiliates.html
---
Volcanica Coffee Affiliate Program
Volcanica has been in business for over 14 years. They sell coffee from various volcanic regions from around the world. This makes them a fairly interesting affiliate partner with a built-in selling point due to the uniqueness of their coffee brands.
They have a staggering amount of coffee from all over the world, from Bolivia to Hawaii to Sumatra. The sheer number and diversity of their offerings should make it a no-brainer for any coffee blogger to include this affiliate in the blogging plans.
The amount of content that you could generate from this amount of products is nothing to sneeze at either. Reviews and taste tests and looks at the regions where the coffee originates could make for 100's of articles for your readership. This company has the product side of things covered.
Volcanica Coffee Affiliate Program is part of the ShareASale Affiliate Network.
The Cut?
Volcanica offers an introductory commission of 15% to a new affiliate for the first 45 days they are associated with Volcanica. The commission then levels off to a more than fair 10%. That's a flat 10% not up to 10% or anything like that. Great Products and a good commission. What else?
Well according to their website their average basket size (the size of an average sale) is around $85 dollars. That is a great number for a retail affiliate in the coffee niche and one that any coffee blogger should try and take advantage of.
Great Cookie
To top it all off the Volcanica Affiliate Programs offers its partners a very nice 90-day cookie. For a retail affiliate program, this is absolutely wonderful. It is plenty of time for your audience to decide on if and what to buy and then do so at their leisure.
You rarely see cookies this long, so it's always a good idea to get in on these affiliate programs when you see them.
The Wrap-Up
Volcanica offers a splendid affiliate program. It really does tick all the boxes. A great product selection, interesting product backgrounds to center content around, good avg sales, great commission, and a remarkable tracking cookie there is really nothing not to like about this affiliate program.
You can sign up for the Volcanica Affiliate Program Below:
URL:https://www.volcanicacoffee.com/
---
Cafe Britt Affiliate Program
Cafe Britt has a pretty extensive array of coffees for sale. While their stocks are not the largest we have seen they have some unique blends from some of the best coffee producing countries in the world like Guatemala and Peru among others. This hives their coffee a nice diversity.
In addition to their coffee, they offer a pretty extensive array of gourmet chocolates and candies. Including chocolate-covered fruit and coffees.
This adds a little more value to this affiliate for a coffee blog since you can easily promote their candies to your audience as well as the coffee products.
Cafe Britt Affiliate program is part of the Commission Junction Affiliate Network.
What is the Commish?
Cafe Britt offers a reasonable 8% commission on sales from its website. While not anything spectacular it's not terrible and it covers most of the products on their site. The added value of sweets on sale at Cafe Britt lessens the somewhat low commission by adding more and different products to the mix.
An 8% commission is just about as low as you can go, some drop to 6 and even 4% but you have to decide if it is worth your time as a blogger to promote one brand over another and if a 10% commission coverts as well as a 6 or 8% commission then there is really no choice to be made.
Therefore, while you want to sign up for a great many of these affiliate programs the real decision is how much time do you devote to their promotion. That can only be answered by the individual blog since each audience is different and may prefer one thing over another.
Best Thing to do is an experiment with various types of content promoting each affiliate and see which ones get the most traction and conversions and then really push that brand. That's about the only way to be sure which is going to perform best for you and your blog.
Cafe Britt claims a 5% conversion rate, which is pretty good and an average sale size of $100 which is very good. These two factors help mitigate the commission and the upcoming tracking cookie to make this affiliate about average, or maybe a little above.
Average Cookie
30-days. Seen it before and I can almost guarantee you'll see it again in this list. It is going to be the standard tracking cookie for quite a few retail affiliate programs so strap in. It is what it is and there is not a whole hell of a lot that can be done about it at this point.
The Wrap-Up
Another nice looking affiliate program. A decent commission with some interesting products, including candies. An average tracking cookie of 30-days. This is a good affiliate to have but not one I would push to the top of my list unless you have an audience that loves Cafe Britt coffee.
The avg sale size and conversion rates help with the overall appeal of this affiliate but, not enough o push it past some of the other affiliate programs on this or some of our other lists.
I would use this affiliate to supplement my content when there is not a whole lot to write about. Reviews of their coffees and of their candies could add a little more value to the program but overall its just bang on average.
You can sign up for the Cafe Britt Affiliate Program Below:
URL:https://www.cafebritt.com/affiliates-program
---
Sudden Coffee Affiliate Program
Sudden Coffe is a little bit different than most of the other affiliate programs on this list. As far as I can tell it is a unique way to handle instant coffee. Now, this might be a tough sell for many coffee bloggers but if the product is good you can definitely work out the best way to promote it.
They only have the one type of product, the sudden coffee itself and I think I saw a coffee mug on their site but that's about it. So you really have to promote the heck out of their coffee.
While this affiliate may take a little finesse to work with, they don't have a ton of products which means that only a few articles will suffice for a field test of its earning potential.
It's definitely worth a try not the least of which is coming up next, the commission percentage.
The Sudden Coffee Affiliate Program uses the ShareASale Affiliate network.
Yep, That's the Number.
So here is why you should really consider promoting this brand of coffee if you like it and your audience likes it. The commission is 50%.
That is unheard of for a retail product. They really need to get the word out for their product and from the looks of it, they are willing to make minimal profits for now.
This is great for an affiliate marketer provided the product is good. I am not a big fan of instant coffee but maybe some of your audience likes it and this would be a great thing to promote to them.
It is a very low-risk endeavor since its only one product to write about and will not be very time-intensive.
That Yummy Cookie
Sudden Coffee offers a 60-day cookie is the standard tracking length, however upon verification of your affiliate link being actually placed that number doubles to 120-days.
That's right a 120-day cookie for this affiliate partner. An Absolutely Fantastic tracking cookie.
You rarely see a tracking cookie this long but there is a reason for this. This seems to be an up and coming company with a new proprietary way of making their product so they need affiliates to push their products that is why the affiliate terms are so favorable to the blogger.
The Wrap-Up
This is a pretty decent affiliate program in regard to its terms for the blogger or affiliate.
But the single product is instant coffee which is going to be a tough sell for a coffee blog. But if you can manage it the 50% commission is a great incentive to try and make it work.
You can sign up for the Sudden Coffee Affiliate Program Below:
URL:https://www.shareasale.com/shareasale.cfm?merchantID=76891&source=SuddenCoffeeWebsite
---
The Coffee Shopping Network Affiliate Program
The Coffee Shopping Network has a huge selection of coffee-related products and a wide range of coffee brands and flavors for a coffee blogger to choose from.
This affiliate is more a retail hub for coffee supplies as opposed to a company with its own brand of coffee.
Maxwell House, Folders all the big names are here and ready for sale. Along with a variety of NESPRESSO® capsules and K-CUPS®.
Along with filters and everything else you need to make a cup of coffee including a selection of coffee makers.
A good affiliate to have for the more mundane types of things that a coffee drinker may need and a quick way to replace some brand name coffee items quickly. But that's about it.
The Coffee Shopping Network uses the ShareASale Affiliate Network for their affiliate program.
What's the Commission?
It's only a 5% commission. Its not terrible but it is at the lower end of what you want from an affiliate partner.
The Cookie is 60-days so that's nice. Your readers have 60 days to buy something so you get a nice 5% commission.
The Wrap-Up
Their products are not unique, they sell the same stuff as other wholesalers, so there are no unique content opportunities associated with this program. Their commission is average.
You can sign up for The Coffee Shopping Network Affiliate Program Below:
URL: Sign up Through the ShareASale Interface
---
1st in Coffee Affiliate Program
1st in Coffee has a wide variety of coffees from a large number of coffee producers. These include whole bean, ground, and single-serve coffee for the affiliate marketer to promote.
They are not really unique but should provide you with a little extra content potential.
The big draw for 1st in coffee is their coffee equipment. They have an absolute ton of it. Page after Page of Espresso Machines Coffee Makers grinders and everything else under the sun.
They even have refurbished machines, which could tempt someone looking for a lower-priced alternative.
Given the price of these machines, it is a great idea to add these guys to your affiliate marketing repertoire.
Many of these machines run well over 1000 dollars and could produce some nice commissions for a coffee blogger willing to promote them. It is a great chance to make some decent returns.
Commission
The commission is 7%. But the average sale in their ShareASale statistics is a whopping $940 dollars.
So the low percentage can be forgiven with a sale size like that. It's a tough sell to be sure, but this is what bloggers were built for, making the tough sale and helping someone out in the process.
The high dollar items alone make this affiliate marketing program a good selection to add to a bloggers' stable.
Cookie
The cookie is up to 90-days. What the up to means is unclear but probably after a few sales, it will reach the max.
So this is a pretty decent cookie especially given the expensive nature of the products they sell. These do not impulse buys and a potential customer will need time to think about it.
The Wrap-Up
This is a great affiliate program to pick up just for the high priced products. The cookie is good and the commission isn't the best but the wide selection of coffee equipment is really something to sink your teeth into. Content from the reviews alone would be quite remarkable.
You can sign up for The 1st in Coffee Affiliate Program Below:
URL:https://www.1stincoffee.com/affiliates
---
True Coffee Affiliate Program
True Coffee sources their coffee beans from small farms and hand selects them in order to make the best coffee they can.
They roast their beans every Tuesday in order to maintain than the fresh-roasted flavor that they try and imbue in every bag of coffee they sell.
So this company has a unique bent that could be good for some extra content on your coffee blog.
They have their own branded coffee that you can promote and if it's liked amongst your audience you could push it up in the promotion rankings in order to sell a little bit more of it.
They have quite a few varieties of coffee to promote and a couple of pieces of equipment, grinders mostly.
But all in all, it looks like a very good selection of products and a potential for a good amount of content to promote the products with.
So this brand has a lot going for it and a lot to talk about in your content. But whats the commission?
That's a Nice Number
The good news it's 25%. Yep 25% commission for this brand of coffee. That is an exceptional return of time invested in promoting this affiliate program.
Rarely do retail commission go this high for commodities like coffee but here we are. Its a very good deal and one worth take a serious look at promoting heavily.
The Cookie?
Their cookie is only 30-days so its about average but the overall package is still good. Now some important things to note here.
This company has only been on the ShareASale network since October 2018. That's not a red flag or anything it just means they are probably new. Or at least new to affiliate networking.
But it also explains the incredibly high commission, they need affiliate marketers to get out there and push their products.
What this means in practice is that the 25% promotion rate may not be, and probably won't be, permanent. Just something to keep an eye on down the line.
The Wrap-Up
So the pluses far outweigh the negatives here. Yes, the commission could go down and probably will over time.
But as an affiliate, you really don't lose anything if the commissions and conversions start to drop you simply pull back on promotion and move to something else. Or try and salvage what you can by trying a different tactic.
You can sign up for The True Coffee Affiliate Program Below:
URL: Sign up Through the ShareASale Interface
---
Black Out Coffee Affiliate Program
Black Out Coffee has some of the darkest and strongest coffees around, at least according to their website.
They are brash and bold and put a very patriotic American twist on their products which could be a boon or a bust depending on your core audience so choose this affiliate carefully.
But stylistic choices aside product is unique and interesting and should be good for some content and audience interaction.
They also have quite a bit of branded gear from mugs and hats to shirts and apparel.
One varies cool thing about this company is that they have ways of supporting US troops deployed overseas. So customers can choose to donate when they purchase items.
The Commission
The commission from Black Out coffee is a great 15%. Making it one of the better affiliate commission we have found in this niche.
This should make an affiliate marketer happy to see a number like 15% as it really makes the allocation of time for the promotion that much easier.
What about the Cookie?
A standard 30-day cookie. Also, this is a relatively new affiliate program so the commission rate is quite likely to go down at some point once this brand becomes more established.
But for now the cookie is looking good and the program is starting to shape up nicely.
The Wrap-Up
An overall great program. A good commission, decent cookie, and some really unique products and vibe coming from the company.
The care package to soldiers overseas aspect is a nice addition and one that will make you feel good about promoting.
You can sign up for The Blackout Coffee Affiliate Program Below:
URL:https://www.blackoutcoffee.com/pages/affiliate-program
---
The Big Wrap Up
There you have 10 affiliate programs for the coffee blogging niche. Most of them are worthwhile a few maybe not so much.
But any of them can work depending on your audience and what they really want. As a blogger your there to help the readers and I know most of you are great at what you do.
So get out there, pick some affiliates that you believe in and promote their products by helping your readers figure out what is best for them.
Affiliate marketing is about helping first and foremost, the sale is a reward for a job well done helping your readers.
Don't go it alone. Get the best learning tools and community to help you build your online dream. Check it out here.
Thanks For visiting And Have A Wonderful Day
---