This article may contain *affiliate links. Please see our affiliate disclosure for more details
You have just started your brand new sneaker blog. You have some content, a few articles of quality content.
Now its time to start monetizing your content and for that, you are going to need some great affiliate programs. You can check out our list of 10 great sneaker partner programs for a wider look at the niche.
But for this review, we are going to focus on only one affiliate program. The Sneaker World Affiliate Program in particular.
Let's see how it stacks up to other partner programs in the sneaker niche and see if it is worth your time to consider it for your overall affiliate strategy.
There Is Just Something About Owning Your Own Business. Being Your Own Boss. Building Something From The Ground Up With Your Own Hands. Especially When It Is This Easy To Get Started.
---
The Sneaker World Commission
So the first section of this review is going to be the commission. I'm just going to get it upfront and out of the way because that is really what most people look for when they are deciding on what affiliate program to use.
The sneaker world affiliate program offers up to a 10% commission on all qualifying purchases.
I think they include exclude sale prices from some of their commissions so you need to check on that just to be sure you're going to get a commission for a sale.
Other than that the commission is pretty good anything in double digits is great for a physical product.
They do have a variable structure so you need to make sure that you were going to get the maximum amount for each purchase.
This is something you can discuss with their affiliate manager or their support staff.
You want to find out exactly what commission goes with what product or if it's a performance-based commission that will increase the more sales that you make.
---
The Tracking Cookie
Sneaker World offers its affiliate partners a standard 30-day tracking cookie. This is a good tracing cookie for the types of sneakers and apparel that Sneaker World offers.
You always want to as long a tracking cookie as possible especially if the products you are promoting are high-ticket items.
Most of the products on Sneaker World are under $250 dollars which makes the 30-day tracking cookie a reasonable duration for most of your promotional material.
When the majority of the products you intend to promote get higher than $250 dollar then you really want to find affiliates with longer duration cookies in order to get the most amount of time to make a sale and get a commission.
You Might Also Be Interested In…
---
What Products Does Sneaker World Offer?
It may sound silly, but the actual products that you were going to promote are something that a lot of new affiliate marketers often overlooked.
They go right for the commission and see how much money they're going to make without really checking out the broader picture in terms of the affiliate program.
It's important to look at what products are going to be offered and in the case of Sneaker World, they have some of the biggest brand names in sneaker and fashion World.
You have Nike and Adidas and any other Big Brand that you can think of. We know inherently that the products are going to be high quality because they do come from such reputable brands.
So, in this case, it's not that much of an issue to do a little research on what Sneaker World is selling.
Your readers are going to be very familiar with the products they offer and you won't need to do any additional promotion or information about the brands because they already have a working knowledge of what you're going to be promoting.
With all that said Sneaker World does tend to focus on the latest trends so your content will need to be updated pretty regularly to stay ahead of the products that they are selling.
This also gives you ample opportunities to craft new and relevant content with every changing trend which is great for a blogger. You do not want to run out of stuff to write about.
---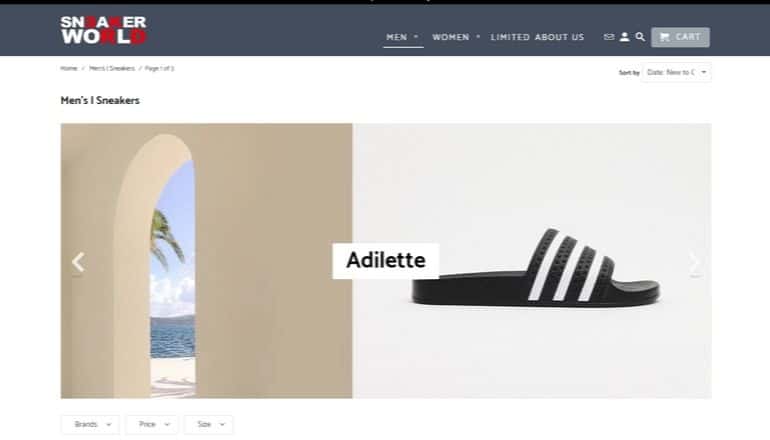 Popularity Of Sneaker World
I think it's important not to overlook the popularity of the company or store or brand behind the affiliate program that you are looking to promote.
An affiliate partner doesn't necessarily have to be an incredibly popular or well-known brand.
But be aware that if it isn't you're going to need to do a little extra work in order to get people comfortable enough with that brand or company in order for them to start making purchases through it.
If you use an affiliate program like Amazon people are going to instinctively know the brand and be comfortable with because most people use Amazon for one thing or another when they shop online.
So when you're confronted with an affiliate program like sneaker world you need to build confidence in your readers that this company that you're promoting is up to par with what they expect when they go online to buy something.
It's not as daunting as it might sound you simply need to craft some content about the company itself.
Instead of just writing a bunch of articles on shoes and sneakers and fashion, add in some informational articles about the history of the company and any charity or good works they do in a community or what the company is all about.
You'll find that people gradually become more comfortable with the company and in turn, you will start to see more conversions as your readers grow in confidence with what Sneaker World has to offer them.
---
Best Niches For Sneaker World
The niche selection for Sneaker World is pretty straight forward. It's mainly sneakers and fashion but there might be some fun micro-niches that it makes sense for as well.
One niche that I don't think it works well for is anything sports-related. Unlike many other sneaker partner programs, Sneaker World is much more focused on the latest trends and fashions than sports in general.
Sneaker Blog
Activewear Fashion
Shoes
Sport Clothing
Lifestyle Blogs
---
Alternative Affiliate Programs
There are dozens of options for sneaker and fashion affiliate programs that you can choose instead of Sneaker World.
I am only going to include 3 of the best replacements in this review but if you want more sneaker affiliate to choose from check out our article on 10 good ones to try. You can find it here.
Footlocker
Footlocker is a large chain of sneaker outlets that supply similar products to what Sneaker World has to offer. They have similar term with Sneaker World being slightly better.
The real difference is with the overall feel of the store and their reputation. Footlocker comes across as a very corporate entity. It is a place you take your kids to in the mall to get new basketball sneakers.
Sneaker World has a different vibe to it. It is hard to put into words but you will recognize the difference when you go to their website.
The type of sneaker or fashion blog you are building will go a long way to determining which partner is right for you and your readers.
Finish Line
Finish Line is very similar to Footlocker and has the same mall vibe associated with them. If that is appealing to your audience then they may be a better choice than Sneaker World.
You can check out my full review of the Finish Line Affiliate Program if you want a more direct comparison between the two partner programs.
However, the affiliate terms are pretty subpar compared to the ones that Sneaker World is offering.
Amazon Associates
Anytime you're going to be promoting these kinds of popular consumer products you always wanted to take a look at Amazon and see how their affiliate terms stack up against the affiliate program that you were planning on using.
A basic rule of thumb is that if the commission is relatively close to Amazon then you just want to use Amazon because it is so familiar.
However, I urge you not to overlook the tracking cookie that you get from some of the smaller affiliate programs.
For example, the 30-day tracking cookie that you get from sneaker world is going to result in a lot more conversions than the 20-hour cookie the Amazon offers.
So even if the commissions are the same you need to look at the entire partner program and make a decision based on a few different criteria and not just what the commission looks like.
---
The Bottom Line
That brings us to the end of our look at the Sneaker World affiliate program. This is actually a pretty good affiliate program to have if you were in one of the relevant niches that we discussed earlier.
You get a better commission than you would at Amazon but you sacrifice some of the notoriety and volume of products that Amazon typically has.
There's also a level of comfort that most consumers have with Amazon at this point and you'll have to build that up on your own with sneaker world Because it's not going to be as well known.
Also, keep in mind that this is more or less a European store all their products are denominated in euros so is your marketing from another place around the world you might have to see if they shipped to where you the majority of your readers are going to come from.
Other than that everything looks great the commission's good track and cookies okay and the products are top-notch and they presented in a very nice-looking store with kind of a modern edge to it which may be great for your blog depending on what angle you're taking in the sneaker Niche.
Whether this affiliate is right for you is something you're going to have to decide for yourself.
Just remember you want to try and focus in on two or three partner programs so that you can build trust between your readers and the affiliate that you're going to be sending them to.
You don't want to just have a ton of them and every article has a different affiliate and you're sending your readers all over the place.
Don't go it alone. Get the best learning tools and community to help you build your online dream. Check it out here.
I hope you enjoyed the review and I will see you next time.
Thank you for stopping by and have a wonderful day.
---