This article may contain *affiliate links. Please see our affiliate disclosure for more details
Welcome to my review of Emris International. If you're here reading this review then you are probably researching this MLM company so that you can start building your own CBD based business.
What is Emris International? Emris International is a CBD-based network marketing company that you can partner with to resell their products at a profit and earn a commission for the difference. They also offer various compensation packages for getting other people to sign up underneath you in a typical MLM fashion.
And you have come to the right place. We will get you squared away with all the info you need to make a reasoned decision about your future business.
Whenever you are thinking of spending money on something like this, "do your own research". A motto to live by.
If that's the case and you are well ahead of the curve because CBD is only going to continue to grow and grow as it gains more mainstream adoption and clear regulations from various agencies around the globe.
You want to get in on the ground floor of the CBD business and you think that Emris International might be the perfect place to do so.
Read on to check out the full review of Emris International and find out if it's something that you might like to join in order to start your own CBD based business.
I am going to give you a couple of alternatives to MLM marketing that might make more sense to you and utilize the internet much more in your business.
There Is Just Something About Owning Your Own Business. Being Your Own Boss. Building Something From The Ground Up With Your Own Hands. Especially When It Is This Easy To Get Started.
---

The Emris International Review
Here's a quick overview of the entire review in case you just want to check out a brief look at the overall MLM opportunity.
Emris International
Variable
---
A Brief History Of Emris Int.
Emris International is a very new CBD-Based direct marketing company that was started in 2019.
The company is focused on a handful of CBD products including supplements and CBD oil drops. They also have a few non-CBD Supplements to choose from.
You can find a list of the other founding partners here.
---
The Products From Emris
Emris International Offers a small selection of various CBD products that you can purchase and then resell at a profit.
These products involved your basic CBD oils and Vitamins that you can find at a wide variety of CBD stores these days.
The point is there's nothing really unique or interesting about their product selection and they only offer a very small selection of products compared to some of the other online retailers of CBD products.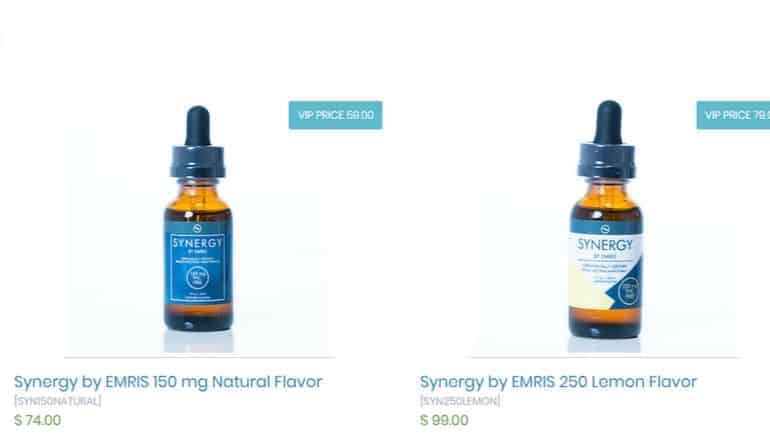 As far as I can tell there's only about a half-dozen products that you can resell. And the prices are way way too high.
Emris Claims that their products are that much better than the other CBD products on the market but the price is prohibited.
The price of these products is so important because you have to purchase them first before you can resell them as an MLM partner with this company.
You'd have to sell it at a pretty significant markup to even begin to make a profit on them and that's only if you can convince people to pay well above market price for the same products they can get elsewhere.
Just for comparison, you can check out the prices of similar CBD oils like these at Pure Kana(source).
150mg CBD Oil Dropper is $79 dollars From Emris International
300mg CBD Oil Dropper is $54 Dollars For Pure Kana
The Pure Kana Price is much more in line with what you would find just about everywhere else. Twice the amount of CBD oils at around 2/3rds of the price.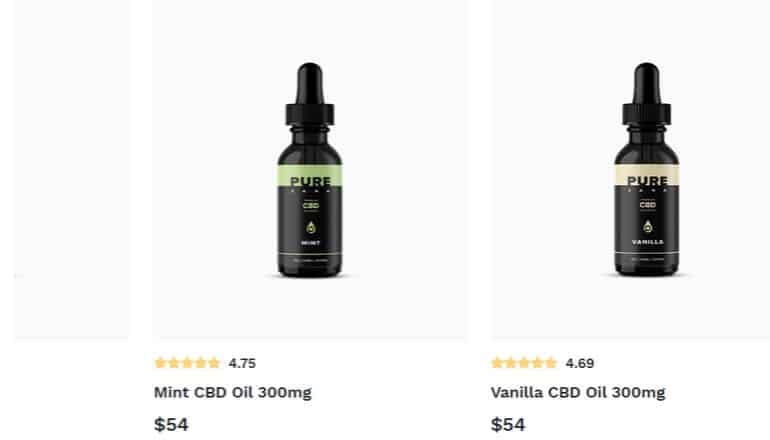 ---
Cost To Join The Program
The direct marketing term for becoming a partner with Emris International is a Brand Ambassador. Essentially you are paying them money for the opportunity to resell their products with one of three packages available.
These packages are as follows and you are required to choose one when you sign up as an ambassador.
Basic Starter Pack = $49
Business Builder Kit = $199
Legacy Builder Kit = $499
Each Kit comes with a variety of "helpful" items that will get your MLM business up and running.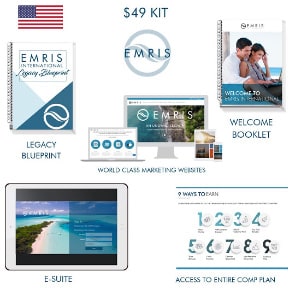 You certainly get more items as you move up the price range but just how useful everything is is certainly up for debate.
The higher-priced kits seem to come with a few bottles of their CBD oil and that is the only difference as far as I can tell.
---
The Emris Compensation Plan
There are 9 possible compensation income streams from Emris International. I'll dive into each one but the main way to make money with Emris is through reselling their products at a 20% markup.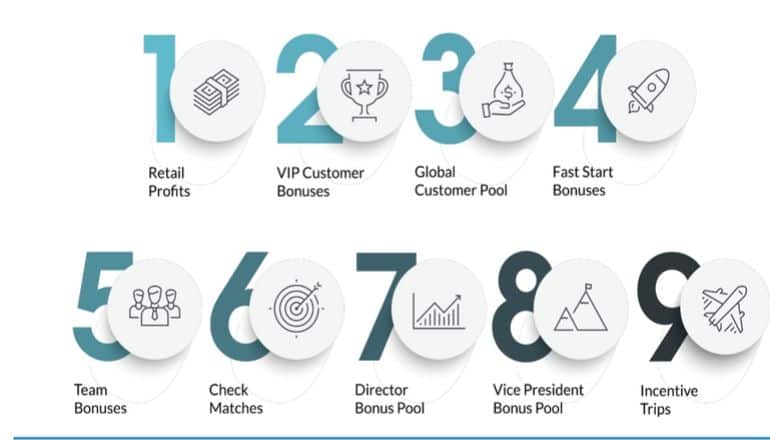 Retail Profits — This is the most straightforward compensation plan that Emris offers. You buy their products at a 20% discount and then resell them. Essentially earning a 20% commission minus any shipping or handling fees.
VIP Customer Bonuses — If your customers sign up to be a VIP member then you get a 10% commission on your commissionable volume.
Global Customer Pool — This is an incentive-based community pool that pays out to brand ambassadors every 4 weeks based on their performance for that period.
Fast Start Bonuses — You get a bonus for everyone you sign up to be an ambassador if they buy the more expensive business or legacy builder kits.
Team Bonuses — You can earn residual income from your sales organization that you build by enrolling new members. This forms the shape of a pyramid.
Check Matches — These are essentially ranked that you can acquire based on your overall performance with Emris. The higher the rank the more compensation you receive and you get a small bonus from your downline enrollees as well.
Director Bonus Pool — Another aspect of the ranking system. The director has 4 ranks that have an increasing number of shares earned every 4 weeks. The shares act as a percentage for the bonus pools.
VP Bonus Pool — Same as the director bonus pool but for the 4 ranks of vice-presidents. The numbers of shares increase with each rank.
Incentive Trips — It is unclear how you would make money with these trips but they offer corporate getaways for their ambassadors.
Those are the 9 compensation plans. But really your most reliable way to earn money is by reselling their products at a premium and earning the 20% commission.
There are better ways to earn a commission from promoting someone else's products. And you don't have to buy the products at all.
This is where the whole MLM business really falls apart. You rely on weird compensation and pyramid plans to earn a reasonable amount of money.
The reality is that you can find many CDB affiliate programs that will offer you around a 20% commission without all the hassle and creepiness of a direct marketing company.
---
Is Emris A Good Business Opportunity?
Let's just get it out of the way right here. Emris is a legitimate business and certainly not a scam. But the question is "Is it a good business opportunity?"
The answer to that is no, in my opinion. There are just too many hoops to jump through for an MLM company like Emris International.
There are many modern alternatives to Network marketing that require less upfront cash and far less hassle when trying to sell the products and recruit new people to join your network.
Emris International: The Good
There is not a whole lot to write home about with this MLM company but it does have a few good points.
Good Availability In Most Countries
The Products Are Decent And In Line With Similar Offerings From Other Companies
Emris International: The Bad
The con's for Emris International are pretty common. You will find that most MLM's suffer from these basic issues.
Tiered Compensation Is A Pain
MLM's Have A Very Low Success Rate
The Compensation Plan, In General, Is Pretty Poor
The Emris Products Are Very Expensive
Affiliate Marketing Is Much Better
---
An Alternative To Emris And MLM's
Network marketing and MLMs are a tough way to make a living. With the rise of the internet and the rise of affiliate marketing, MLM has become a little bit redundant and frankly a little bit pointless.
You can certainly make money with MLM type businesses. But it is unreliable and only the top direct marketers are going to make a living doing it. There are plenty of Multi-Level Marketing horror stories(source).
Why buy up all these products and have to store them and sell them physically and ship them wherever they need to go.
You could simply promote the same type of products with an affiliate link get roughly the same commission and not have to worry about all the logistics of dealing with the products and customers.
And that's what affiliate marketing does for you really.
You integrate the affiliate links into your content on a website or YouTube channel and receive a commission when someone purchases it through those links.
It's much simpler than an MLM and the profit potential is much better because you're not relying on getting other people to join under you so that you get a portion of their commissions and fees as well.
You probably asking yourself "affiliate marketing sounds great how do I do it".
That's the tricky part it is not a super-easy way to make money. It certainly isn't a get-rich-quick way to make money.
The concept is very simple but it requires quite a bit of work on your part to get your website or other content delivery systems up and running.
Affiliate marketing also takes quite a bit of time to get rolling so you going to spend the first few months really creating content to generate the traffic you need to get people to your affiliate links and your promotional products.
The good news is there are ways to learn affiliate marketing that make it much easier and help you avoid all the pitfalls that new marketers tend to fall into.
The best thing about affiliate marketing is that it is relatively inexpensive to get started.
You need a website and a domain and some optional training. I love using Bluehost for my hosting solutions, you can find out more here.
You can start your own online business for under $100 dollars without ant training and around $3-500 with a complete suite of training tools.
---
Some CBD Affiliates To Consider
If you decide to go the affiliate marketing around there are quite a few affiliate programs that you're going to want to look at for your CBD-based online business.
I put together a list of a few great affiliate programs in the CBD Niche that you can take a look at and I want to highlight a particular one right now.
Joy Organics Affiliate Program
One of the best CBD Affiliates that I've come across is a company called Joy Organics.
You can check out my full Joy Organics affiliate program review right here and see if it might be a better option for you if you decide to go the affiliate marketing route instead of direct marketing.
They offer a 25% commission on all qualifying sales through your affiliate links and have many of the same products and much more variety and supply of those products than Emris International does.
Plus you don't need to buy the products beforehand. You simply promote them and ley Joy organics store ship and deal with the customers.
You also might want to check out my look at the 10 best CBD oil affiliate programs that you can promote on your website in order to earn affiliate commissions.
---
Final Thoughts On Emris International
And that brings us to the end of our to look at the Emris international network marketing company. As far as network marketing goes Emris seems to be a pretty above-board company.
But their compensation structure and the cost of their products is really out of whack with what you would expect from a normal consumer product.
I just don't see the point in just type of marketing business anymore. Having to deal with all the inventory and all the customer headaches and everything else that comes along with an MLM is just silly in this day and age.
CBD is a great niche to get into. The oils have a variety of uses(source) and the industry is expected to grow in the coming years.
Affiliate marketing is a much better alternative and simply a better way to make money online.
I hope you found my review of Emris International to be helpful and if you decide to go into business with them or start your own affiliate marketing CBD business I wish you the best of luck.
Don't go it alone. Get the best learning tools and community to help you build your online dream. Check it out here.
---
Thank you for visiting and, as always, have a wonderful day.