This article may contain *affiliate links. Please see our affiliate disclosure for more details
Hello there everyone. Michael here and I would like to welcome you to our look at the Butcher Box affiliate program. This subscription box service could be a great addition to a cooking or grilling website provided they offer some great terms for all you hardworking affiliate marketers out there.
So let's take a look at the commission and the tracking cookie and the products that you're going to be promoting from this food delivery affiliate partner.
There Is Just Something About Owning Your Own Business. Being Your Own Boss. Building Something From The Ground Up With Your Own Hands. Especially When It Is This Easy To Get Started.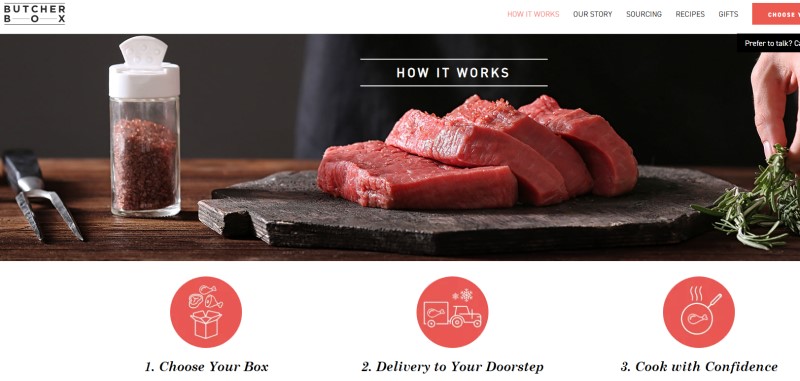 A Look At The Butcher Box Affiliate Program
Affiliate Commission: Up To $20 Flat Fee
Tracking Cookie: 30-days
Niche: Food Delivery/Cooking
Application: Join The Butcher Box Affiliate Program
Affiliate Network: ShareASale
The Butcher Box affiliate program will be a great addition to any cooking, grilling, or food services style niche blogs. Having a solid subscription box service for your affiliate strategy is good for any niche if you can find one.
In order to maximize the Butcher Box partner program, you have to get the traffic and conversion rates that will form the foundation of your passive income business. Affiliate marketing training is the best way to invest in your burgeoning affiliate marketing business.
---
The Butcher Box Affiliate Program Commission
The commission is pretty standard for these subscription type affiliate programs. It is a flat fee of up to $20 for new customers. ideal you would like to see a percentage commission for these types of subscription services because that would mean a recurring income for your passive income business.
The reality is that recurring income through percentage commissions on subscription Services is going away in the affiliate marketing space. You can still find them in some niches but a lot of the time you are just going to get a flat fee Upfront for signing up a new customer.
That's not a bad thing. $20 for each customer is a wonderful flat fee. If you get five of those a day then that is a $30,000 a year business. Getting five a day is not as easy as it might sound but it is definitely achievable and it makes the overall affiliate program that much more appealing because of the good commission that is on offer here.
The Tracking Cookie Duration
The tracking cookie duration for the Butcher Box affiliate program is pretty standard. It comes in at 30 days from the time a potential customer clicks your affiliate link.
I say the 30 days is standard because that is the duration that is most common among most of the affiliate marketers out there.
For most affiliate programs, including this one, 30 days is long enough to make sure that you get the commission from those clicks when someone does buy something through your affiliate links.
In general the higher the price of the product that you're promoting the longer the duration cookie you want because you want as much time as possible for people to make up their mind and still earn your commission.
For Butcher Box, you're not dealing with really high ticket items so 30 days is going to be just fine for most affiliate marketers out there. However, this is one of the more expensive subscription boxes out there because high-quality meats are pricey. so the 30-day tracker is a welcome sight.
The Products Have To Be Solid
As weird as it may sound sometimes the products that you're promoting are what gets overlooked when deciding on which affiliate programs to use for your business.
A lot of times new affiliate marketers will simply look at the commission and make the bulk of their decisions based on that commission number.
But make no mistake about it the product is the most important aspect of an affiliate program for your audience. The commission doesn't matter to your readers. The tracking Cookie doesn't matter to your viewers. The conversion rates that you did for all your affiliate programs make no difference to the people that are reading or watching your content.
They have come there to purchase a product that you recommended and if that product is no good then they are going to blame you.
Ideally, you want to have the products in hand to review and to get a good feel of what they're all about before you go and promote them. that's not always the case so you want to do as much research about the products as you can.
Here are the main options that your audience can choose from when purchasing a Butcher Box Subscription box.
Custom Box
The Mixed Box
The Beef & Pork Box
The Beef & Chicken Box
The All-Beef Box
The products and the ingredients look top-notch but you're never going to know for sure until you take these products and present them to your specific audience. Some audiences are just not going to be receptive to all affiliate programs. And you never going to know until you run some tests with it.
But from my point of view, which is on the outside looking into this meat and Grilling niche, The products look like the I would be interested in purchasing if I were a novice coming into this space.
But that could just be my inexperience with this particular niche. You're going to be the expert in a niche where this affiliate program is going to be useful and that's going to be your tasks in determining just how well this affiliate program will work for you and your specific audience.
Conversion Potential Of The Butcher Box Affiliate Program
When you look at all the various aspects of an affiliate program they all need to add up to a partner that's going to have a good amount of potential. Otherwise, you just wasting your time slapping it into your content and hoping that it resonates with your audience.
In order for I feel the program to really fulfill its potential, it has to have great products it has to have a good enough cookie that you're not losing sales because the tracking cookie is too short, and it needs to have a good enough commission that you were actually going to get paid for the time you put into it.
In addition to all that the affiliate program and their products need to resonate with your specific audience. It does you no good to push an affiliate program with a Great Commission if that affiliate program does not convert with your audience.
The only way to know what the actual conversion rates of an affiliate program are is to run some tests with it on your website and integrated it into your content to find out exactly what type of reaction it gets from your specific readership.
But before you even integrate it to see what the conversion rate makes sure that there's enough conversion potential to make it worth your while.
Because this is the important part if you are integrating affiliate programs that don't really have high potential you are wasting time and energy because you could be integrating affiliate programs that are going to convert better and have more potential to convert better.
So just make sure that every affiliate program that you choose has the basic criteria of a good tracking cookie, good products, a decent Commission and you should be just fine in giving them a test on your content.
---
The Bottom Line
That will just about wrap up our look at The Butcher Box affiliate program. When you first look at it this affiliate program might seem like it doesn't have a specific Niche that it fits into. I guess technically there is a meats niche, but I think that would be a little bit too limiting in the long run.
It's certainly possible to build a niche around various meats and how to cook them but I think the bigger play here is using this affiliate program in conjunction with grilling or barbecuing Niche. Or a cooking Niche. Or a food delivery style blog.
The great thing about it is that the affiliate program itself is pretty good. The tracking cookie the commission and the products that you're going to be promoting all look to be very good and should serve you well on your passive income blog.
Don't go it alone. Get the best learning tools and community to help you build your online dream. Check it out here.
Thanks for visiting and have a wonderful day.