This article may contain *affiliate links. Please see our affiliate disclosure for more details
If you are in a niche that teaches people how to build or expand their businesses then have I got a great affiliate partner for you today. The Wrike Affiliate Program.
They might be a great addition to your affiliate strategy and help generate even more income for your business. If the affiliate program is good enough that is.
Can You Make Money With The Wrike Affiliate Program? There is no doubt that you can make money with Wrike using affiliate marketing. They offer outstanding commissions, solid tracking cookies, and a good product that will benefit almost any business.
I will be looking solely at the affiliate marketing side of this program and not the product itself. I have only dabbled in the Software as a service type niches in the past so I will only focus on the affiliate program aspect.
You will need to decide the effectiveness of the app offered by Wrike to see if it fits into the overall strategy for your online business.
Let's get to the review.
There Is Just Something About Owning Your Own Business. Being Your Own Boss. Building Something From The Ground Up With Your Own Hands. Especially When It Is This Easy To Get Started.
---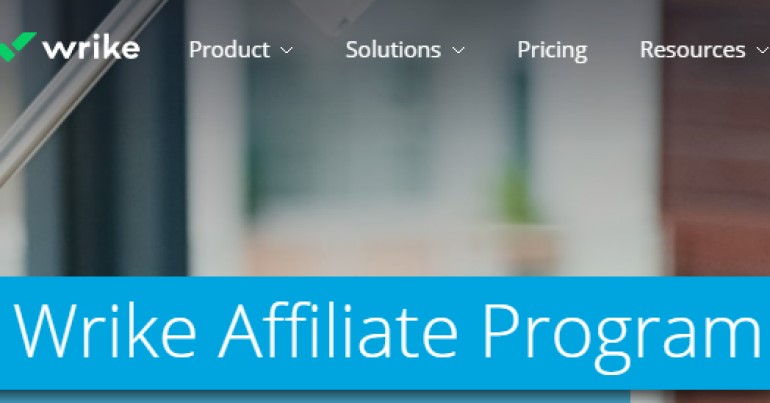 ---
What Is The Wrike Affiliate Program
The Wrike Partner program is a referral program that allows content creators to monetize their content with affiliate links from the Wrike program.
When a potential customer clicks on your affiliate link and makes a purchase you receive a flat fee commission. Affiliate marketing is one of the most popular ways to make money online.
Affiliate Commission: $100-$300
Tracking Cookie Duration: 90-days
Auto-Approval?: No
Affiliate Niche: Business/SAAS
Join The Wrike Affiliate Program Here
---
The Flat Fee Commissions
The flat fee commissions offered up by Wrike are absolutely fantastic. They vary depending on the type of subscription that the customer buys but they are all very generaous and can generate a full time income with just one or 2 a day.
These are upfront one-time commissions. That means no recurring commissions for you but given how high the flat fees are this is an exceptional commission even at the low end.
Let's start with the lowest tier commission. This is the commission for anyone who signs up for the Wrike Professional Plan. You get a $100 dollar flat fee commission for anyone that purchases this plan.
Next up is the commission for the Wrike Business Plan. This subscription pays out a $200 dollar flat fee commission to the affiliate marketer. The cost of the app is a bit more expensive for this option as you might expect. Still it doubles the commission over the Professional plan.
Last up is the commission for the Enterprise plan. This is the most expensive plan they offer and you will need to contact them to get a price for this option. The commission is $300 dollars if you get a subscription through your affiliate links.
Enterprise options typically have the least appeal so I would not expect to sell to many of these but if you can manage one every now and again it can be a great boost to your online business.
Any way you cut it you are getting a fantastic commission. I would recommend focusing on the Professional plan for the majority of your content. The professional plan is going to have the broadest appeal and you might even get some upgrades to the other plans.
The enterprise plan might seem like the most enticing to promote because of the massive commission but you are really limiting your audience to larger business and shrinking your overall pool of potetnial buyers.
Ultimately it is up to you how to spend your time promoting this affiliate. And given the huge commissions you will be rewarded no matter what direction you coose.
The Tracking Cookie Duration
The tracking cookie duration is set at 90-days. This is exactly what you want to see as an affiliate marketer. The Wrike product is not an incredibly expensive product but it definitely benefits from a longer duration cookie like the one on offer here.
Longer duration cookies are important as the price of the product increases. These are going to be major purchases and you really want to give your audience as much time as possible to decide on that purchase.
Kudos to Wrike for giving a solid tracking cookie as it can be overlooked by so many other affiliate partners.
---
What To Expect From The Wrike Partner Program
Wrike is a popular project collaboration app that allows businesses large and small to optimize their workflow and increase collaboration between their team or teams on a given project.
This is not your typical affiliate marketing products. You are not prompting birdfeeders on Amazon here. Wrike is a SAAS app that is going to benefit most businesses out here if you are able to promote it properly.
Promoting high-level business apps like this is not for the faint of heart. If you do not know your stuff then you will be found out pretty quickly.
They have a free vesrion of their app for small teams, the benefits are paired down as you would expect.
After that there are 3 paid versions of the app, as follows.
Professional
Business
Enterprise
The profession is the lowest cost option and the enterprise is the highest. In fact you will need to contact Wrike to get a price for the Enterprise version.
I would guess that the bulk of your sales and promotion will revolve around the busineess plan as it is going to have the most appeal for the vast majortiy of businesses.
But promoting the other two options will help generate a little more income as the commission are quite a bit higher. It will be up to you to balance out the services and choose where to spend time promoting each one.
---
Best Niches For Wrike
The best niche is going to be a little bit tricky. The product itself can benefit business across all manner of industries and niches and help your teams collaborate in a more effecient manner.
However, the promotion of Wrike is probably better left to niches that are directly about building business and using SAAS and applications to better manage those businesses.
Basically you really want to be in the a business building type niche to really get the most out of this affiliate partner. It is a
---
The Bottom Line TLDR
Affiliate Commission: $100-$300
Tracking Cookie Duration: 90-days
Auto-Approval?: No
Affiliate Niche: Business/SAAS
Join The Wrike Affiliate Program Here
That wraps up our look at the Wrike affiliate program. There is a lot of potential here. The commission structure is fantastic and the product is going to be a benefit to most online businesses of varying sizes.
The only issue is how you promote their project collaboration app. This is pretty high-level business stuff, so you will need to really understand what they offer and be able to convey that understanding to your audience if you hope to take advantage of this excellent affiliate partner.
I would recommend this affiliate program for experienced affiliate marketers or someone in the business niche who has a really solid grasp of the service offered by Wrike.
Don't go it alone. Get the best learning tools and community to help you build your online dream. Check it out here.
Thanks for visiting and have a wonderful day?