This article may contain *affiliate links. Please see our affiliate disclosure for more details
I would like to welcome you all back to the site and I hope you are all having a wonderful day today. In this article I want to focus on a supplement affiliate program that can be used to help broaden your affiliate strategy for a nutrition or supplement based Niche site.
The athletic greens affiliate program is what we will be discussing and this is a single product affiliate program. They have their Athletic Greens nutritional supplement for you to promote and nothing else. Given that this might be a great option to add to an existing affiliate site or to start your Niche site out by building content around athletic greens.
You are going to almost certainly want to expand pass just athletic greens because it is just the one product and you're going to want to build a larger broader supplement site in most cases.
That said there have been many successful Niche websites that Focus solely on a single product and if you can generate the amount of content you need around just athletic greens then you could do very well for yourself because they do offer some generous affiliate terms.
So let's take a deep dive and have a look at the athletic greens affiliate program and see if it might be something that you would consider adding to your affiliate strategy.
There Is Just Something About Owning Your Own Business. Being Your Own Boss. Building Something From The Ground Up With Your Own Hands. Especially When It Is This Easy To Get Started.
---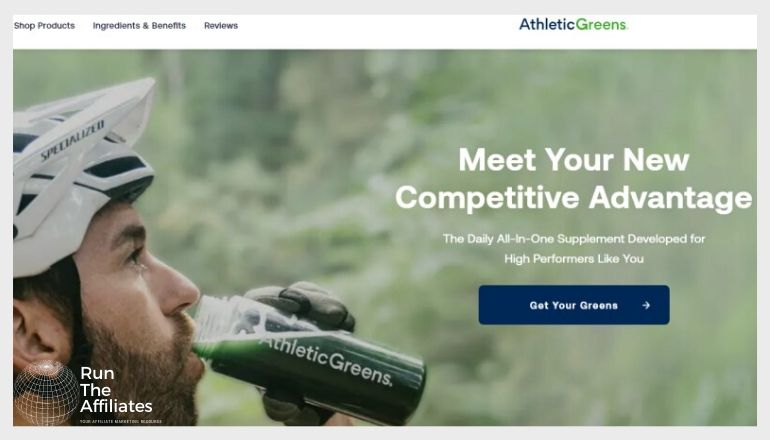 A Closer Look At The The Athletic Greens Affiliate Program
---
The Athletic Greens 20% Commission
The commission is probably the first thing you're going to notice about the Atheltic Greens partner program. a 20% commission always stands out. It's not an uncommon commission percentage for the supplement niche as they tend to have pretty high commissions across the board.
But that doesn't mean it's not a welcome sight to see. Commissions always seem to be going down for affiliate marketer so it's nice to see something as high as 20% for at least some of the niches out there.
When you combine the 20% commission with the price of their products which typically run between 70 and $110 you can see that making it a full-time income with our affiliate program is something that's very possible.
With just five or 10 sales a day you could easily make 100 or $200 a day which translates into a very nice income just about everywhere on the planet.
My advice would be to give the Atheltic Greens partner program a run-out and see how well it does with your specific audience. if it converts well then you have a real gem on your hands and one that can really start producing a good income for you.
The 45-day Tracking Cookie
Athletic Greens offers a very competetive affiliate marketing tracking cookie for their affiliate parnters. The duration weighs in at 45-days giving you a full month and a half to promote their products and stillg et credit for a commissions.
The 45-day tracking cookie is welcome becuase the Athletic Greens supplement cost $97 dollars for a one time purchase and $77 as part of a subscription plan, the travel pack option is also over $100 for a one time purchase.
So, while these are not high ticket items they do cost a decent amount of money and your audience is going to need a little time to decide on that purchase making the 45-day duration pretty generous for the affiliate marketer.
The Athletic Greens Products To Promote
The Athletic Greens Affiliate Programs Is very much a single product affiliate program. They have the athletic green powder and that is their product. They have a couple of options on how they deliver it and one is a big package and the other is several small travel packages.
But essentially it is the exact same product, Just with different Packaging. There are benefits and issues with single product affiliate programs.
The benefit is that you only have one product to promote. So you can really dive into that product and build all your content around that single product.
The downside is that there probably is not going to be a huge amount of content that you can create around this single product and if this product is not popular with your specific audience than the entire affiliate program goes to waste.
That is why I think that single product affiliate programs, like Athletic Greens, are best served as part of a larger overall affiliate strategy. Instead of having your entire website about athletic greens you build a category and maybe 15 to 30 pieces of content directly related to Athletic Greens and use it as your own Micro Niche site on your larger website.
This strategy works out really well especially if you have multiple single product affiliate programs you can essentially build an ecosystem around each product and place it side-by-side with others on your website.
How To Make Money With The Athletic Greens
Either a traditional blog or a YouTube channel would work well using this affiliate program. I think it might be possible to build a website around this product specifically but the ceiling would be pretty low I feel.
I think I would do as thorough a review of the Athletic Green product as possible and then build informational content that links into that big foundational review. That way all the traffic coming from each of the smaller informational articles is going to feed right into the monetized Athletic Green product review.
This affiliate program would work best when combined with other nutritional supplement Affiliates and products so that you can build a more robust website or YouTube channel.
With that said I think you need to include quite a bit of informational content onto your website or your video channel, because you were going to run out of contact quite quickly if all you do is review their single product.
You can go into detail about it and explain what the ingredients are in how they work and all that but eventually that content pool is going to dry up. So I think I brought her supplement base Niche website is probably the way to go. and then simply incorporate this affiliate program into that content where it's applicable.
In addition to using the Athletic Greens affiliate program, you might want to think about bringing in other supplement Partners to help build out your content offering and make you our website a little bit more robust.
---
The Bottom Line
Commission: 20%
Tracking Cookie: 45-days
Auto-Approval: No
That brings our look at the athletic greens affiliate program to a close. This is a fantastic affiliate program for anyone in the nutrition or supplement Niche. It would also do very well in a green living type niche or any health Niche wear a vitamin supplement drink would be necessary.
So it fits into quite a few different niches specifically in the overall health industry but you could probably fit into some other smaller niches as well.
The commission and the tracking cookie are fantastic and should serve any affiliate marketer well. The products themselves or something that each individual affiliate marketer is going to have to take a look at and see how well they'll fit in with their specific audience.
With all that said this is a great opportunity for an affiliate marketer to add a single product affiliate program to their fill of strategy and maybe Branch out into this type of nutritional supplement if possible.
The only downside is that it is a single product affiliate program and you are probably going to want to combine it with a bigger supplement affiliate program like a GNC or a Vitamin Shoppe partner program. But it can do quite well on its own with the right amount of content and reasonable expectations.
Don't go it alone. Get the best learning tools and community to help you build your online dream. Check it out here.
Thank you for stopping by and have a wonderful day.