This article may contain *affiliate links. Please see our affiliate disclosure for more details
Welcome back to the site. I hope everyone is doing very well today and I thank you for stopping by and reading this particular article. Be sure to check out some of our other articles while you're here and enjoy the stay.
Today we are going to focus on a hobby/drones/RC vehicle website that has a good affiliate program hosted on the Avantlink Network. In addition, it would work great for general toys, models, trains, or rocketry types of niche sites.
Can You Make Money With The Amain Hobbies Affiliate Program? You certainly can make money with the Amain Hobbies partner program, They have a wide array of products that can fit into a variety of blogging niches and they have some pretty good affiliate terms to boot that make it a good alternative to Amazon Associates as well as a fine affiliate program in its own right.
Now I want to take a look at the individual aspects of is an affiliate program and kind of give you an idea of why this is such a good affiliate program  For the hobby niche in general and particularly for RC vehicle niches or drone Niche website.
There Is Just Something About Owning Your Own Business. Being Your Own Boss. Building Something From The Ground Up With Your Own Hands. Especially When It Is This Easy To Get Started.
---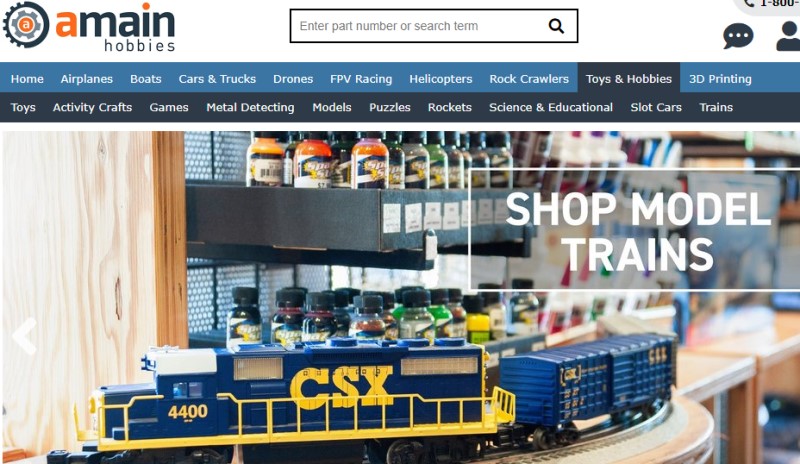 Let's Take a Look At The Amain Hobbies Affiliate Program
---
The Amain Hobbies 5% Commission
The commission for any affiliate program is not the most important aspect of that affiliate program. I know that flies in the face of traditional thanking an affiliate programs but you have to set aside the commission and take a look at the affiliate program as a whole.
The products are probably going to be the most important aspect of it and will get into those a little bit later in the article but don't choose your affiliate programs based solely on the affiliate commission.
With that said affiliate commission is a very important aspect when it comes to monetizing you are affiliate Niche website.
In this case, the a-main hobby partner program offers a 5% commission on qualifying sales made through your affiliate links. This is a very solid commission for the types of products that you're going to be promoting.
You will find much higher commission rates with digital products and some other types of physical products but the drones & RC vehicles that you were going to be promoting from A Main Hobbies are going to have quite a bit more overhead and push the ultimate commission down a bit.
That being said if you were to use Amazon Associates for these types of products you would only get it between 1% and 3 % so you can see how much of a boost you get from using Amain Hobbies as your primary affiliate program for a drone or remote control vehicle Niche website.
The 30-day Tracking Cookie
The tracking cookie is probably the most overlooked part of an affiliate program. But it is a very important heart of any partner program. If you want to learn more about what a tracking cookie is and how it works you can check out my article on the subject right here.
For the Amain Hobbies partner program the tracking cookie is a standard 30 days. This means that someone that clicks on your a-main hobbies affiliate link has 30 days to make a purchase and still gives you the opportunity to earn a commission from that click.
The reason the attract and cookie is important is because the longer the tracking cookie the better chance you have of converting a sale. so you want to try and find affiliate programs with decently long tracking cookies and the 30-day tracking cookie offered by this affiliate program will do just fine for most affiliate marketers out there.
A Brief Look At The Amain Hobbies Products To Promote
When looking for an affiliate program to promote on your Niche website the most important aspect of that affiliate program must be the products that you choose to promote.
The products are the only aspect of the affiliate program that your readers and your audience are going to see and it is those products that they are going to purchase on your referral. So if the products are not the of the highest quality then you are going to eventually a road your trust that you have built with your Audience by promoting products that are not that great.
So be sure that you take a good hard look at the products you intend to promote and get your hands on as many of them as you can so that your reviews will be from a first-hand perspective.
With something like AMain Hobbies, it's going to be tough to get your hands on every single one of the products because they are quite expensive and there is a variety of different products in different niches.
So what you want to do is find the most relevant products to your specific Niche and get those products as much as possible so that you can write good relevant reviews about them.
Here is a quick look at some of the products that you can expect to promote with this affiliate program
RC Airplanes
RC Boats
RC Cars & Trucks
Drones
FPV Racing
Helicopters
Toys & Hobbies
Games
Rocketry
These are just some of the main categories that you can choose to promote the products within. As you can see there's a wide variety of different niches that you could use this affiliate program for.
They have products in the Drone niche which makes us a very viable option as a drone affiliate program.
They also have quite a few remote-controlled Niche options. So if your website focuses solely on remote control cars you can use this affiliate program and promote specifically those products and accessories related to RC cars.
The same can be said for RC airplanes or RC boats as they are separate micro niches in the larger RC industry.
They also have a decent selection of rocketry products that you can use if you're in need of an affiliate program for your rocketry Niche website.
How To Make Money With The Amain Hobbies Affiliate Program
I think the best way to incorporate the Amain Hobbies affiliate program into your content is through a traditional website or blog. This gives you the most freedom to delve into various different types of content that goes further than just doing reviews of their products.
Don't get me wrong reviews are going to be very important part of your overall monetization strategy of your Niche website but you want to make sure that you have a variety of content types.
I recommend having about 60% of your content beat informational type of content. This can be simple stuff like how to change the battery on an RC Car to more advanced content like how to clean your drones or RC Vehicles without damaging the electronics.
For this type of content, you don't really want a saturated with affiliate links but you do want to enter link it with your review content and your top 10 list type of content.
It is in these reviews and the top 10 list content where you were going to want to put your Amain Hobbies affiliate links. This is really how you're going to generate revenue with this particular affiliate program.
How well it converts is going to depend on the type of content you put your links in and the quality of that content. The conversion rate will also be determined by how will your audience respond to the Amain Hobbies website and its products.
Is affiliate marketing you can only do so much to recommend these types of products, ultimately it's going to be up to your audience to decide whether or not they want to make a purchase.
---
Where To Sign Up For The Amain Hobbies Partner Program And The Wrap Up
---
The Amain hobbies affiliate program Is a rock-solid option for anyone operating in the general Hobby affiliate niche. But it is a particularly good option for drone niche websites as well as remote-controlled vehicle Niche sites.
It really is there broad product selection that really sets this affiliate program ahead of many of the others. When you add in all the other aspects of this affiliate program from their quality hobby products the decent Commission and tracking cookie you get a fantastic option for your Niche website.
This is a particularly crude alternative to Amazon Associates if you are looking to replace them after their repeated lowering of commissions for their affiliate Partners.
That is all that I have for you today. thank you for visiting and have a wonderful day.
Don't go it alone. Get the best learning tools and community to help you build your online dream. Check it out here.