This article may contain *affiliate links. Please see our affiliate disclosure for more details
Hello and welcome back to the site. I hope everyone is doing well. Grab a cup of tea sit back and let's take a look at some more great affiliate marketing resources that you can use to build or expand your online business. Today I thought I would take a look at some bonsai affiliate program ideas.
The bonsai niche is a relatively small, but very popular, subset of the gardening industry. So there are going to be some overlap with more general gardening affiliate programs.
While there is only a small number of bonsai affiliate it is a good idea to pick at least one that has a dedicated focus on bonsai tree growing and care. Hopefully, these bonsai affiliate programs will give you some options that you can use as alternatives to Amazon Associates and ultimately give you better commissions and tracking cookies for your bonsai niche blog.
There Is Just Something About Owning Your Own Business. Being Your Own Boss. Building Something From The Ground Up With Your Own Hands. Especially When It Is This Easy To Get Started.
---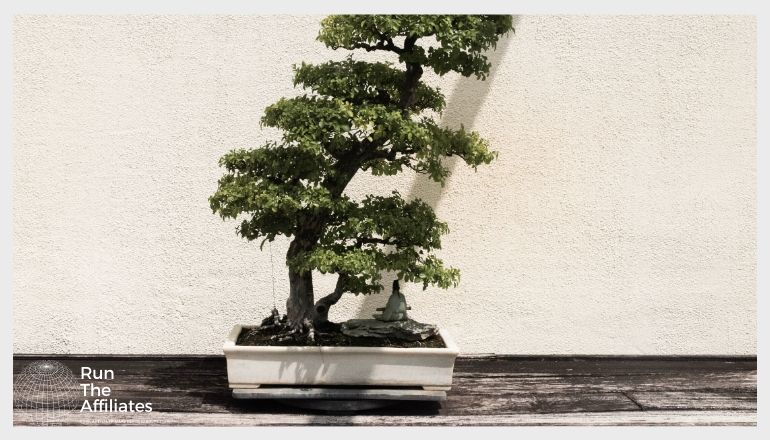 Check Out These Bonsai Tree Affiliate Programs
---
Bonsai Boy Of New York Affiliate Program
Commission: 20%
Tracking Cookie: 30-days
Auto-Approval: Yes
Join The Bonsai Boy Of New York Affiliate Program Here
Bonsai Boy Has a pretty extensive selection of various bonsai trees and the related accessories. They even have artificial bonsai trees if you just are looking at them as home decor instead of something for the gardening niche.
Here are a few of the types of bonsai trees you can expect to promote through this affiliate program.
Juniper Bonsai Trees
Flowering & Fruiting Trees
Outdoor Evergreen Trees
Outdoor Deciduous Trees
The tracking cookie duration is the standard 30-day tracking cookie. This is going to be just fine for this affiliate program as I would not consider many of their products to be high ticket items where you would need a super long tracking cookie duration.
The commission really stands out for this affiliate program they offer a staggering 20% Commission on qualifying cells made through your affiliate links. It is extremely rare to find a 20% Commission on physical products. You see it all the time when you're dealing with digital products in affiliate marketing, that's just not the case with physical products.
You'll still need to run some tests to see how this affiliate program resonates with your audience but you really cannot ignore a 20% Commission at the very least you should give it a good test run to see how well it does.
The last thing I want to mention about this affiliate program is that they do have an auto approval process through their share sale profile. This means that you don't have to have a ton of traffic coming your site in order to sign up with them and it gives you a good opportunity to start to monetize some of your content even if you're just starting out.
---
Eastern Leaf Inc. Affiliate Program
Commission: 5%
Tracking Cookie: 30-days
Auto-Approval: No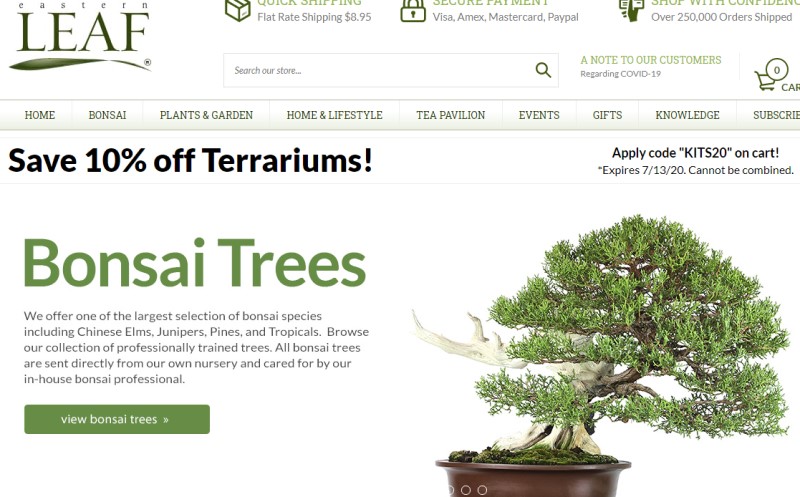 Join The Eastern Leaf Inc. Affiliate Program Here
Eastern Leaf's main focus is on the bonsai trees and the accessories for those trees. But they do have a very interesting array of products that are related to bonsai and East Asian culture. They even have a selection of herbal teas that you can promote as and accompaniment to your bonsai niche products.
The tracking cookie duration is a standard 30 days. None of the prices on the Eastern Leaf website really Venture into that high-ticket item category so the 30-day tracking cookie should be just fine for most Affiliates out there.
The commission is 5% which is a touch on the low side, however at the time of writing we are sing affiliate marketing get hit pretty hard with the current events of the world in 2020. So depending on weather and you're reading this thing could be getting better or worse, who knows.
The point is a 5% commission is not anything to turn your nose up at or anything to dismiss out of hand as it might have been a couple of years ago.
The options have slimmed up quite a bit and while you can get super high commissions with some other affiliate programs, it's a good policy to take a hard look at these types of affiliate programs that are offering 5%.
Then see how well they convert with your specific audience. A high converting 5% commission is much better than a low converting 15% Commission.
---
Lowes Affiliate Program
Lowes Is one of the biggest names in Home and Garden Products. This is an affiliate program that you were going to want to use as your broad General gardening affiliate program that has some bonsai products available through their website.
The beauty of a huge store like Lowe's is that the affiliate links are site-wide so even if they go looking for bonsai accessories and end up buying fertilizer for their front yard you'll still get a commission.
The downside is that it's a bit more impersonal than some of the smaller affiliate partners that are dedicated solely to the Bonsai Niche.
The tracking cookie and commission information that was available on the CJ. Com affiliate network was only for Lowe's Canada. They are a 1-day tracking cookie and a 2% Commission.
The application on the Lowe's website sends you to Commission Junction and makes no mention of being only available in Canada so when you sign up just be sure to ask about the affiliate terms to make sure you get the proper commission and tracking cookie duration.
At the time of writing a lot of affiliate programs were going online and offline given the current events impacting the economies of the world right now. So depending on when you are reading this the US-based affiliate program could be back and available by then.
---
Wrapping Up Bonsai Tree Affiliate Programs
That brings us to the end of our look at these Banzai affiliate programs. I have to admit when I started doing research for this article I thought that we would find at least six or seven viable affiliate programs for the Banzai Niche but that was just not the case.
We found two very good ones and of course, I added Lowe's in at the end because I felt like I needed to put another option in there and they do have a good selection of bonsai trees and accessories.
There are quite a few other Bonsai affiliate programs if you search for them online but they did not seem very good. A lot of times the affiliate Pages were just kind of boilerplate stuff and it didn't really look that great.
So if none of these bonsai affiliate programs really work for you I recommend going for the larger gardening affiliate programs. Lowe's is a good example of that. but there are many other gardening Affiliates out there that will have at least some Bonsai products that you can promote on your Bonsai Niche site.
I think the most surprising thing about there being so few dedicated Bonsai partner programs is that it is a very popular niche. There are books and magazines and all types of media dedicated solely to bonsai and many places around the US, in particular, have Bonsai clubs that teach people how to properly trim and care for their trees.
So it is a little bit surprising to see only a couple of good Bonsai affiliate programs available for affiliate marketers. Especially given how popular gardening is with affiliate marketing in general.
The best advice I can give is to try and find the best products that fit into your Bonsai niche and promote them regardless of the type of affiliate program that you are using. If Lowes has the products you want to promote then by all means use Lowes instead of one of the smaller affiliate programs.
And keep in mind that there are always affiliate programs popping up from time to time and I'm sure there will be a wider selection of bonsai Affiliates in the future. If I find any more I will certainly add them to this list so check back often.
Don't go it alone. Get the best learning tools and community to help you build your online dream. Check it out here.
Thank you for stopping by and have a wonderful day.