This article may contain *affiliate links. Please see our affiliate disclosure for more details
Magazines. Yep they are still around and are still quite popular both in print and in their online forms. The great hing about magazines is that there are thousands of them for every little hobby and interest you could think of. And that makes them great for affiliate marketers working in every little niche out there.
Hello everybody and welcome back to the site. You picked a great day to join us because we have an incredibly versatile list of affiliate programs for you today. Magazine affiliate programs can fit just about anywhere and typically have very generous affiliate commissions to boot.
So let us dive into some of the best magazine affiliate partners that you can join right now to help boost your earnings online and build a sustainable passive income online for years to come.
Start Building Stunning Content For Your Niche Website. Start Your Free 30-day Trial Of Canva Pro Today. Make Your Brand Unforgettable.
---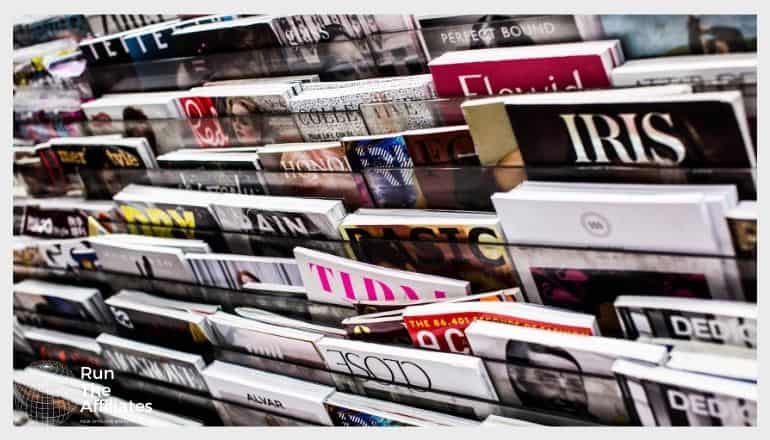 Check Out These Magazine Affiliate Programs
---
College Subscription Services LLC Affiliate Program
Commission: 20%
Tracking Cookie: 60-days
Auto-Approval: By Country
Affiliate Niche: Magazine Subscriptions

College Subscription Services is one of the largest magazine subscription affiliates out there right now. They have options for a huge variety of magazines across a multitude of affiliate niches. You can pick and choose the specific magazines that you want to promote that fit neatly into your affiliate niche or you can build a niche around magazines in general and work with the whole website.
For example, lets say you are building a woodworking niche website. You could choose some of their popular woodworking magazines to promote on your niche site alongside some of the tools and blueprints that are prevalent in other woodworking affiliate programs. Here are a few of the woodworking magazines that they offer.
Popular Woodworking
Woodworker's Journal
WOOD
Family Handyman
Popular Mechanics
And this is just one niche. Sports niches, entertainment niches, arts and craft the list goes on and on for this affiliate. Good for just about every niche out there in some form or fashion.
College Subscription Services offers a phenomenal affiliate commission for their affiliate partners. They give you a 20% commission on qualifying sales made through your affiliate links. It is an amazing commission and one that can really help you build a great foundation for your niche site especially given the popular magazines that they have to offer.
The tracking cookie duration is outstanding as well. They offer a 60-day duration for their affiliate partners giving you a full 2 months to promote their magazine subscriptions and still get credit for the commission. It really rounds out the affiliate program well. It really has no weaknesses as an affiliate program at all.
Finally, College Subscription Services offers an auto-approval option on their ShareASale profile in some regions. I know the U.S. has auto-approval but you will have to give it a try if you live in other regions to see if you are eligible. Auto-approval makes it easy for even new websites to get started with this affiliate and start building a relationship between their audience and the affiliate program.
Recommended:  Learn How To Build A Passive Income Online With Affiliate Marketing
---
Magazine-Agent.com Affiliate Program
Commission: 40%-45%
Tracking Cookie: 90-days
Auto-Approval: No
Affiliate Niche: Magazine Subscriptions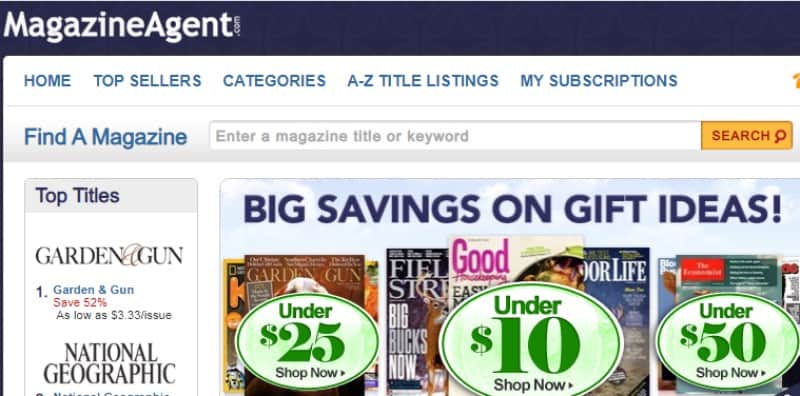 Here are some of the categories that Magazine Agent has magazine subscription options in. Plus you could break each one of these down into smaller more focused categories if you need to apply them to smaller niches.
Pets
Arts & Crafts
Automotive
Business
Celebrities
Computers
Cooking
Hobbies
Interior Design
Fashion
Beauty
Health & Fitness
History
Home & Garden
Photography
Religion & Spirituality
Science
Nature
Sports
Travel
The affiliate terms are some of the best in just about any niche out there. They are incredibly generous to their affiliate partners making it hard to not consider them for your niche site, whatever niche you happen to be in. The tracking cookie duration is a full 3-months. That means you have 90-days fromt he time someone clicks your link to make a sale and still get a commission.
The affiliate commission is even better. They offer a base rate of 40% and it can rise up to 45%. This is the type of affiliate commission that can be the foundation for your entire business. It can generate a fiull time income with a good traffic flow and a good conversion rate. It is worth your time to run some tests with it just to see if it might work for your website.
Getting the highest affiliate commission is going to some doing. Here is the fee schedule for this affiliate. You need to reach these sales numbvers in a month to get the 45% commission
$0 to $25,000 — 40%
$25,000.01 to $50,000 — 42.5%
$50,000.01 and up — 45%
Overall I cannot stress enough just how good this affiliate program is. If even one of their magazines fits into your niche then I would recommend given them a try just to see if you can get some value out of their generous affiliate terms.
---

MagazineBargains.com Affiliate Program
Commission: 20%
Tracking Cookie: 60-days
Auto-Approval: Yes
Affiliate Niche: Magazine Subscriptions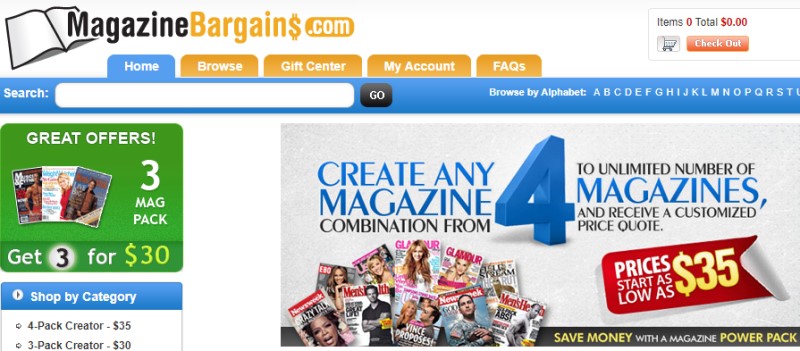 MagazineBargains.com is a website that offers discount magazine subscriptions. They have a large selection. They also have the option to bundle subscriptions for some great discounts. They have many of the most popular magazines across a wide variety of niches.
The affiliate terms are very nice but there are some discrepancies depending on where you sign up. On the affiliate page of their website, they quote the commission as 20% and the tracking cookie as 60-days. However, their ShareASale profile only offers a 5% commission and a 45-day tracking cookie. Be sure to ask about the commissions when you join to make sure you are getting the most out of this affiliate program.
They do offer an auto-approval through ShareASale making is a breeze for anyone to sign up including brand new websites looking for their first affiliate partner.
---
Discountmags.com Affiliate Program
Commission: 5%-18%
Tracking Cookie: 60-days
Learn More About Discountmags.com
Auto-Approval: Yes
Affiliate Niche: Magazine Subscriptions
Join The Discountmags.com Affiliate Program Here


Discountmags.com is another great option for a magazine affiliate that has a huge selection of magazines and highly reduced prices. You can almost always find at least one magazine that will fit into your niche even if you are operating in a small micro-niche.
The tracking cookie is set at 60-days giving you plenty of time to promote their magazines and still get credit for making the sale. The commission is 18% making it one of the better affiliate commissions in this niche.
There is a bit of a discrepancy with their commission, however. Their website states 18% while their ShareASale profile only quotes a 5% commission. Be sure to ask about it when you join to make sure you get the best commission for yourself.
There is also an auto-approval option available on their ShareASale Profile. For a more in-depth look at this affiliate program check out my overview of the Discountmags.com affiliate program.
---
Magazines.com Affiliate Program

Magazines.com touts itself as the "#1 authorized online retailer for magazines". It also has some of the biggest discounts for its magazine subscriptions and a selection of magazines that span scores of niches and interests. It would make a great addition to just about any niche site that you could think of.
Here are just a few of the categories they have for their magazines
Pets
Antiques & Collectibles
Entertainment
Arts And Crafts
Photography
Fashion
Business
Health & Fitness
Music
History
Politics
Comic Books
Hobbies
Computers
Gardening
Cooking
Religion
Science & Nature
Education
Sports & Recreation
Inside each of these categories are dozens of smaller niche periodicals that you can promote for a variety of niche websites. It just depends on how dep you want to dig.
The affiliate terms are pretty good for this partner, but they are a little bit lower than some of the others on our list. They offer a 30-day tracking cookie, which will work just fine for these types of products. The commission is just over the double-digit threshold and weighs in at 10%. Solid all-around terms but nothing spectacular for a magazine affiliate program.
---
Magazine Values Affiliate Program
Commission: 12%
Tracking Cookie: 60-days
Auto-Approval: No
Affiliate Niche: Magazines

Magazine Values has thousands of subscriptions for you to promote on your niche site. If you dig a little deeper and look past the mainstream magazines you will find some subscriptions that are perfect for just about any niche site with the Magazine Values affiliate program.
Here are some of the magazines that you can promote in addition to the huge mainstream magazines. These are a good example of some of the niche magazines that work in specific niches.
Archeology
Animal Wellness
Motorhome
Scientific American
Hemmings Muscle Machines
There are hundreds more that work for very specific niches and are a great addition to anyone's affiliate marketing niche websites.
The tracking cookie is a fantastic 60-days and the affiliate commission is 12%. Both of these are going to be very good for most affiliate marketers and should garner a lot of consideration for anyone looking for a magazine affiliate.
---
Magazine Subscription Club Affiliate Program
Commission: $3.50 Flat Fee
Tracking Cookie: 30-days
Auto-Approval: No
Affiliate Niche: Magazine Subscriptions

Magazine Subscription Club is a little bit different than some of the other affiliates on our list. They offer magazine subscriptions starting at $1.65 per month and you can add magazine, Swap Anytime or Cancel Anytime, making this a true subscription service above and beyond the typical magazine subscription.
Looking through the products they offer you will find tons of niche magazines from bird watching to home decor and much more. The ability for you audience to customize their magazines is a great promotional tool for your affiliate niche website. It gives the power over to the consumer to choose exactly what they want.
This is a subscription service so it should be no surprise that they offer a flat fee commission. Recurring commissions for subscription box type affiliate programs are becoming rarer and rarer. They offer a $3.50 commission for their affiliate partners. It is not the highest commission but it should work pretty well as long as this affiliate is not meant to be the main income source for your niche site. The tracking cookie is a standard 30-days.
---
Engaged Media LLC Affiliate Program
Commission: 15%
Tracking Cookie: 15-days
Auto-Approval: Yes
Affiliate Niche: Magazines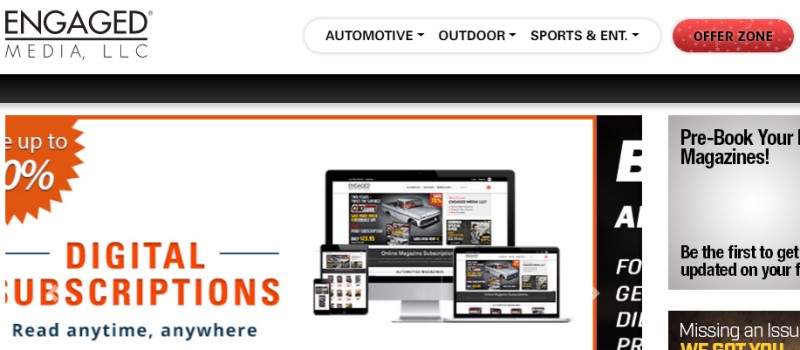 Engaged Media focuses on outdoor, auto, and sports magazines. Street Trucks, Diesel World, and Knives illustrated are among the magazine they offer. You will not find Vanity Fair Or Time among their offerings making this particular magazine affiliate a bit narrower in its potential offerings.
The upside is that the niches that Engaged Media has in their magazine subscriptions are some of the most passionate around. So while the overall pool of potential customers might be smaller those customers will be more likely to get one of the magazine subscriptions if your content is on point.
The tracking cookie is only 15-days which is a little lower than I typically like to see, but it should work just fine for most affiliate marketers out there. The commission is a robust 15% that should serve you well if you can get the conversion where they need to be.
Lastly, Engaged Media offers an auto-approval process through its ShareASale profile. These are niche magazines but if you can find a place for them on your niche site they can really add a nice new layer of monetization to your niche site and provide you with great topics of interest for your audience.
---
Magazine Deals Affiliate Program
Commission: 5%
Tracking Cookie: 45-days
Auto-Approval: Yes
Affiliate Niche: Magazine Subscriptions

Magazine Deals shares an affiliate program with Subscription Addiction. When you sign up for one through ShareASale you will be an affiliate for both. For our purposes, we want to focus on the Magazine Deals part of the affiliate program. This is another solid magazine subscription website that has a wide selection of magazines for tons of niches.
The 5% commission is a little bit lower than many others on this list and is a bit of a disappointment but it should still work very well if you can find magazines that fit your niche. The tracking cookie is solid at 45-days and should provide you with plenty of time to get the affiliate link click and make a sale while still getting credit for your commission.
They also have an auto-approval option on their ShareASale profile so you can sign up even if your brand new and get started with this affiliate program.
---
Magazine Line Affiliate Program
Magazine Line has a wide array of magazines from mainstream periodicals to niche magazines that support a number of hobbies and interests. It is similar to other programs on our list and you will need to run some tests to find out if this is the one for your business.
Some of the big hitters that they have on offer include:
The Economist
Sports Illustrated
The New Yorker
Cosmopolitan
People
The commission starts at 5% but they offer up to a 30% commission on sales made through your affiliate link. If you can get to the highest tier, this an affiliate you must consider if you can fit it into your niche. The tracking cookie duration is 10-days, which is a little short but short function ok for your niche site.
---
The Big Finish
That brings us to the end of our look at these fine magazine affiliate programs. Many of these partners offer the same magazine at similar prices. Choosing the one that is best for your affiliate business is going to make the difference in how well they perform. Pick one that you are comfortable with and run some tests to see how it performs with your audience. Things like the layout of a website can make a difference when everything else is similar.
Most of all you want to try and find the oone that converts best with your specific audience and then you can start to weigh the commission to make a final descicion on which one works for you. I recommend settling on a single magazine affiliate so that you have some consistency when you send your readers there to choose their magazines.
While magazines can be a niche unto itself the vast majority of affiliate marketers are going to pick and choose the magazines that are most relevent to their niche and promote those through these magazine partners. I think that is probably the best way to deploy these affiliates, but if you can makje a magazine specific niche site work then you have a good number of solid affiliates to choose from.
If you want to maximize your affiliate business and learn the best techniques and training to get your business up and running quickly or expand your existing business to new heights then check out this affiliate training resource.
I wish you the best of luck and thank you for stopping by to day. See you again soon.