This article may contain *affiliate links. Please see our affiliate disclosure for more details
Welcome Welcome. You have arrived just in time to read my musing on some of the best baby clothing affiliate programs out their right now for you to add to your affiliate strategy.
The entire baby niche is no joke, it is one of the most competitive niches around, but with competition comes money. Baby niches are among the most lucrative as well. It is so broad that there are dozens of micro-niches to focus one.
Baby clothes is one such niche. If you are looking for a more general set of baby product affiliate programs, you can check out our article here. These focus specifically on baby clothes and fashion.
There Is Just Something About Owning Your Own Business. Being Your Own Boss. Building Something From The Ground Up With Your Own Hands. Especially When It Is This Easy To Get Started.
---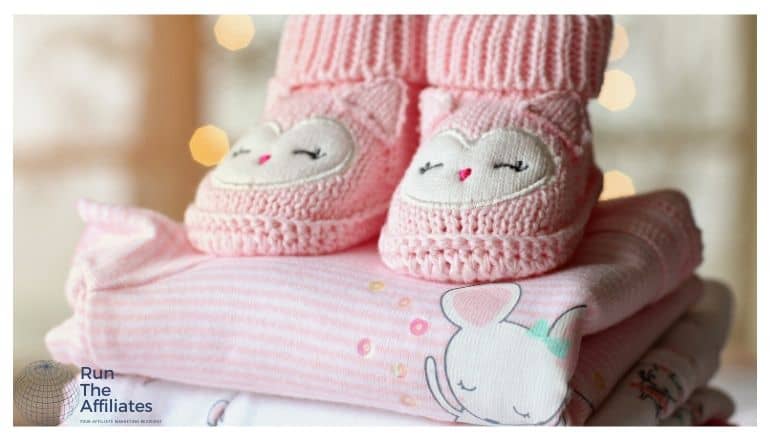 Check Out These Baby Clothes Affiliate Programs
These baby clothing affiliates will work great for a fashion website, a kid's clothing website or a general baby website as well as a baby clothing specific niche site. They are pretty versatile in that regard.
You can even deploy these affiliate other baby-related niche sites if they make sense.
Being versatile is important in affiliate marketing as you want to capture as large an audience as possible. Affiliate marketing training can help you achieve those goals faster and more efficiently.
---
New Baby Chic Affiliate Program
Commission: 25%
Tracking Cookie: 30-days
Auto-Approval: Yes

New Baby Chic Has a decent selection of baby clothing products. They also have maternity outfits as well as matching clothes for the entire family. This affiliate program could be used for parenting websites as well as baby specific websites.
The affiliate terms are where this partner program really takes off. The tracking cookie duration is standard enough. They offer a 30-day duration for their track and cookie. It's nothing exciting or exceptional but it gets the job done very well.
Where this affiliate program really stands out is in the commission category. They offer a 25% commission for their affiliate partner.
This is an incredible Commission in this Niche. You don't often see commissions this high for physical products. For digital-only products, you definitely see commissions at this range and much higher.
But for the baby clothing, this is probably going to be the best affiliate commission you're going to find. Important to keep in mind that the commission is not the end-all-be-all of affiliate programs.
If this program doesn't convert with your specific audience than the 25% commission is worthless. So run some tests and see if you can get it working for your readers and then you have a very good opportunity to make some real money with this affiliate program.
As an added bonus this affiliate program offers auto-approval through their ShareASale profile page. If you are a member of the ShareASale network then you can join and get started with New Baby Chic right away.
---
Little Me Affiliate Program
Commission: 8%
Tracking Cookie: 30-days
Auto-Approval: No

Little Me has clothing options for newborns and toddlers. They have bibs and blankets as well as onesies and bodysuits for the little ones.
The tracking cookie duration is a standard 30-day tracker for this affiliate program. It should be plenty long enough to get the clicks you need and still have time to get those conversions that you earned.
Of the commission is a very nice 8%. While it's not quite up to the double-digit commissions that really like to see 8% is still solid and will give you a nice return on your time invested if you choose to promote this affiliate program.
---
Finn And Emma Affiliate Program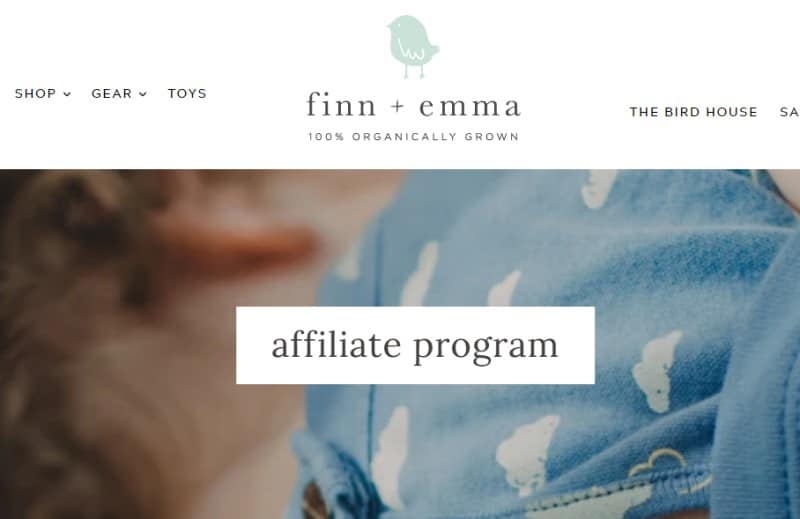 Finn And Emma is a well-known and well-respected baby clothing line that uses 100% organically grown products for their clothing.
They should be relatively easy to promote given their reputation and environmentally sound product techniques, it will also give you some good content built around their business and products.
They also have a small selection of baby toys and accessories, like rockers and swings but the focus is very much on their clothing lines.
Finn And Emma offer some pretty strong affiliate terms for their affiliate partners. This is really a well-done affiliate program that should be a pleasure to promote for just about everyone.
The tracking cookie is 90 days. That is three full months to get the conversions from any clicks on your affiliate link. You want your tracking cookie to be as long as possible because the longer it is the better chance you have of making conversions and in some cases getting repeat business.
As a basic rule of thumb, you want the tracking cookie longer in proportion to how much the products are promoting cost.
The more expensive the product the longer you want the cookie to give your audience more time to consider making a large purchase.
For this particular affiliate program, it's not as big of a deal because these baby clothes aren't really high ticket items.
Moving on to the commission, we find a very solid 10% on offer from this affiliate program. I will never complain about a double-digit commission. Anytime you can get something in the double digits or close to it you're in good shape as an affiliate marketer.
It's simply up to you to get the conversions to make the most out of that double-digit Commission.
So when you put it on together the great brand name, the wonderful products and the outstanding affiliate terms you have a very appealing affiliate program for the baby clothing Niche.
This is not one that you want to overlook. Give it a chance and see how well it converts with your audience and I think you'll find that it will work well for most baby niche websites.
---
Art And Eden Affiliate Program
Commission: 5%
Tracking Cookie: 30-days
Auto-Approval: No

This partner has tons of sustainably made clothing for children and babies. They have a lot of creative prints including many animal prints that you can promote on your website.
They use low-impact dyes and organic cotton for their clothing which are great points to touch on when you are promoting their products.
Here we find another standard 30-day tracking cookie. You really can't complain about a tracking cookie this long it gives you plenty of time to promote their products and still get a good commission out of it.
The commission, on the other hand, let you down a little bit. It's still a pretty good commission at 5% but it's not the best in this Niche and it falls behind many of the others on this list.
However, if you can't get this affiliate to convert really well with your specific audience than the 5% commission will be just fine for earning a nice income with this partner.
---
Paper Cape Affiliate Program
Commission: 20%
Tracking Cookie: 90-days
Auto-Approval: No

Paper Cape has a very nice selection of baby clothing tops, bottoms, pajamas, and dresses. They also have some clothing options for kids that are a little older as well. The products look good and should easy to promote especially with their great affiliate terms.
The commission is really exceptional with this affiliate program. A full 20% payout for affiliate sales made through your affiliate links is something else. If it converts well you can make this your primary affiliate for much of your baby clothing content.
The tracking cookie is nothing to scoff at either. A 90-day duration is one of the best cookies in the entire baby clothing niche and will make that 20% commission even more effective.
---
Little Lentil Affiliate Program
Commission: 15%
Tracking Cookie: 90-days
Auto-Approval: No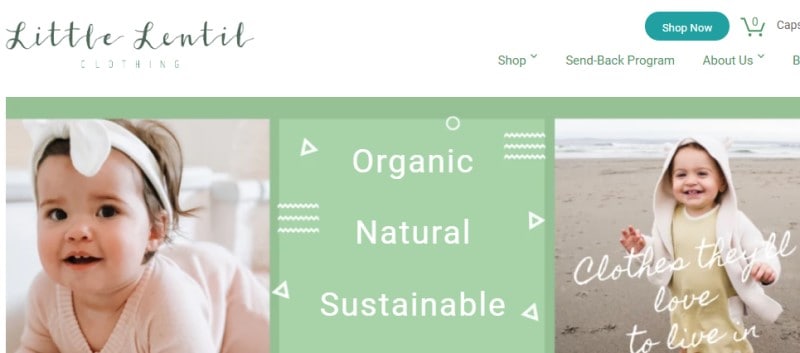 Organic sustainable baby clothes are the order of the day at Little Lentil. Promoting their products is a bit easier given their environmentally friendly approach. See how they do with your specific audience.
The Little Lentil Affiliate Program offers up some nice affiliate terms for their partners. You get the benefit of a 90-day tracking cookie duration to give you plenty of time to promote their products and earn your commission without having to worry about the cookie running out before you make a sale.
The commission is among the best in the niche. At 15% is close to double and even triple some of the others on our list and far more than anything you can expect from Amazon or other big-box retailers.
---
Kissy Kissy Affiliate Program
Commission: 8%
Tracking Cookie: 30-days
Auto-Approval: No

Kissy Kissy is another good option for and baby niche, whether you are focused on just baby clothing or your need a baby clothing affiliate for a more general baby niche website.
A solid 8% commission and a standard 30-day cookie are what is on offer from the Kissy Kissy affiliate program. These aren't spectacular affiliate terms but they are very good and should serve you well should you choose to promote this affiliate partner.
---
Giggle Affiliate Program
Commission: 8%
Tracking Cookie: 30-days
Auto-Approval: No
Join Giggle Affiliate Program

A great option for a baby or toddler clothing affiliate program. They have tons of baby sleepwear and clothing as well as a small selection of nursery furniture and baby gear.
Solid affiliate terms are the order of the day for the Giggle affiliate program. A standard 30-day tracking cookie and a solid 8% commission will work well if you can get the conversions where they need to be.
---
Melijoe Affiliate Program
Commission: Up To 10%
Tracking Cookie: 30-days
Auto-Approval: No
Melijoe Is a baby clothes supplier that can work for not only a baby clothes Niche website but any website in the overall baby or parenting niche.
It's a good option if you need something that works specifically with baby clothing and you want to pair it alongside maybe a more General baby product affiliate program.
The affiliate terms on offer from this particular affiliate program are pretty solid. They give you a full 30-day tracking cookie to make yourselves and get your commissions.
The commission itself is up to 10% so you're going to need to find out exactly what the criteria are to get that maximum commission that you deserve.
---
The Bonnie Mob Affiliate Program
Commission: 15%
Tracking Cookie: 45-days
Auto-Approval: No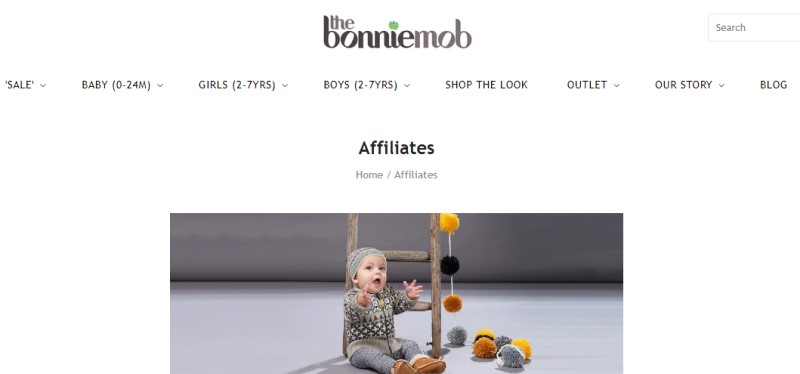 The Bonniemob Has a good selection of baby clothes for infants after 2 years old. And then they have some good clothing for toddlers and young children up to about seven years old.
So not only is this a good baby clothing affiliate you could use it for a parenting blog that goes up to around seven or eight years old.
The affiliate terms for this partner program are pretty good and in line with a lot of the other affiliate programs in the baby clothing niche.
They offer a rock-solid 45-day tracking cookie. This is a little bit better than the standard 30-day but you probably won't notice much of a difference because these products aren't really high ticket items that you're going to be promoting and the 45-day cookie is going to be plenty long enough.
The commission is exceptional. They offer a 15% commission for qualifying sales through your affiliate links.
It's not the highest affiliate Commission on our list but it is up there in anytime you get into the 15 to 20% range you have got a really good opportunity of making some serious money if you can get it converting well.
---
Maximize These Baby Clothes Affiliate Programs With Project 24
So you picked out a few of these baby clothing affiliate programs that you think you're going to be great for your baby Niche website.
But what now?
Now comes the hard part. Now you have to get the traffic to your affiliate links so that you can start getting conversions and earning an income with these wonderful baby clothing partner programs.
There are numerous ways to generate traffic to your Niche website. You can use SEO with search engine traffic, you can try pay traffic, you can use YouTube and Pinterest and Instagram and Twitter to try and drive traffic to your website.
It's a lot to learn and it's a lot to keep track of. If you want to make it as efficient and stress-free as possible I recommend investing in a little bit of affiliate marketing training whether you're just starting out or whether you're trying to expand and create a Better Business.
Wrapping Everything Up
That brings us to the end of our look at these baby clothes affiliate programs. This is a versatile bunch of partner programs that can really expand your baby Niche website or a more General fashion website into new directions.
With those new directions come new opportunities to monetize your content with these affiliate programs.
So I hope you find something on this list that will add to your overall business strategy and really make your baby Niche website that much more viable and that much broader in terms of the content that you can provide your readers.
Don't go it alone. Get the best learning tools and community to help you build your online dream. Check it out here.
Thanks for stopping by and have a wonderful day.