This article may contain *affiliate links. Please see our affiliate disclosure for more details
Starting a blog is no small feat. It takes time and patience and a great deal of work to get it up and running. A tennis blog is no different. You need to love the sport, know the sport and appreciate its finer qualities to write your blog about it.
But once you have all that accounted for. What then? Well, then it is time to monetize your blog and make a nice income writing about tennis. The sport you love. The best way to monetize this niche is through affiliate marketing and for that you are going to need some top-notch affiliate programs.
So here we go. 10 of the best tennis affiliate programs for your consideration. From equipment to training to local lessons I have tried to put together a diverse set of partner programs that you can use for your tennis blog. In addition, I have put together a brief overview of the tennis niche in general after the partner programs.
There Is Just Something About Owning Your Own Business. Being Your Own Boss. Building Something From The Ground Up With Your Own Hands. Especially When It Is This Easy To Get Started.
---
Dicks Sporting Goods Affiliate Program
A huge chain of sporting goods stores. They have an enormous selection of sporting equipment and apparel. And one of the best selections of tennis equipment, rackets, balls, and shoes as well as apparel specific to tennis. The affiliate terms for the Dick's Sporting Goods affiliate program are all over the place. The commission depends on what product you promote and get the sale for. You will need to check for each product when you go to promote it. It starts at around 3% for many products.
This might be a bit tedious trying to figure out what products to promote. Even within individual niches, like tennis, there is some variation. The cookie is also not available so be sure to ask about it when you sign up. It is one of the biggest sporting goods retailers in the USA. They cover just about every sporting and sporting apparel niche. The only issue is if they are worth the hassle over Amazon or another large retailer. If it converts it is a great addition to your affiliate arsenal.
---
Tennis Point Affiliate Program

Tennis Point is a tennis-specific online sports store. If you need it to play tennis you will find it here. From rackets and balls to shoes and apparel, they have it all for you to promote to your readers. They carry the biggest brands and names in tennis so you can promote their products with confidence.
The tracking cookie for the Tennis Point partner program was not readily available so be sure to ask about it when you sign up for their program. The commission, on the other hand, is a pretty decent 9%. Not the greatest, but anything approaching double digits is definitely worth your time.
An all-around good tennis store.  Much more focused than some of the general sports goods stores.  These specific stores can sometimes convert better than a big warehouse store.  So be sure to have a couple of these types of partners at the ready.  Plus they offer a pretty very nice commission percentage.
---
Tennis Mind Game Affiliate Program

This product teaches you how to deal with the mental aspects of tennis. From pre-match jitters to the ups and downs of a game, set, or match. The idea is to strengthen your mind and mental strategies to focus on the task at hand.
It is a very interesting and unique approach to tennis training.  And will add some good diversity to your affiliate partners of it fits into your tennis micro-niche. Tennis Mind Game is a digital product so the commission is sky-high.  A full 70% commission for anyone who purchases through your affiliate links.  The cookie is not available so be sure to ask when you sign up.
The commission is great, that's the biggest reason. The product is fine if it converts for your audience. There is a money-back guarantee that you can use to alieve some of the fears about an all-digital product.
The other big issue is that Clickbank products sometimes get a bad rap. Often times it is deserved but it makes promoting them a little trickier. But you can work around that perception most of the time if the product is actually decent.
---
iTPA Affiliate Program

The International Tennis Performance Association or iTPA is a leader in tennis-specific sports science.  They are leaders in performance, education, and certification for the sport.  You can be a certified tennis trainer or performance instructor among many other types of certifications.
This is a pretty unique partner to have and fits very well into the tennis coaching and training micro-niches as well as the youth tennis micro-niche.The cookie information for iTPA was not readily available so be sure to ask about it when you sign up for their partner program.  The commission, on the other hand, is outstanding.  They offer a 25% commission to their partners.  This makes their partner program one of the best on this list.
It adds a great deal of diversity to your affiliate line-up. Having a place where your readers can go for certifications related specifically to tennis is a great partner to have. Plus their commission is wonderful making it that much easier to justify promoting them.
---
Sports Memorabilia Affiliate Program

One of the best memorabilia partners available for any sports niche. There are a few others you can try, but the product selection and diversity are unrivaled for SportsMemorabila.com. They have plenty of tennis-related items that you can promote and earn nice commissions off of.
Speaking of commissions…
You get a very nice 12% commission from this partner program. One of the better commissions available for the tennis and sports niche. The tracking cookie is also pretty good. It weighs in at 30 days, giving you plenty of time to close the sale.
A memorabilia affiliate is a must-have for any sports niche and tennis is no exception. You can get some high-ticket items to promote with this type of partner and you get some unique and interesting products that you can build a little bit of content around. Throw in the good cookie and great commission and you have an outstanding partner for your tennis blog.
---
Play Your Court Affiliate Program

Play Your Court offers a wide variety of tennis programs, lessons, and leagues. Your readers can book time locally with Play Your Court and you will receive a commission for your efforts. It is a pretty unique offering as far as partner programs go. They have enough lesson types and programs that you can promote in your content and really generate some interesting articles and discussions.
The terms for this partner program are pretty good. Play Your Court offers an outstanding 90-day tracking cookie making it one of the best in the niche. They take a different approach to their commission structure, however. Instead of the traditional percentage commission, they give their partners a $15 dollar flat fee for all qualifying referrals.
Their terms make it a good affiliate to promote, but their products are the real draw here. Getting a commission for someone booking a local tennis lesson is a great addition to your affiliate programs. It is unique and very forward-thinking.
---
Mansion Tennis Affiliate Program

Mansion Tennis is an online retailer of tennis gear. They also stock some products for other sports, mainly racket-based ones. They have a pretty good selection. Of particular interest is the equipment section where your readers can pick up some high-ticket items like ball machines.
The affiliate terms for Mansion Tennis are pretty standard. You'll receive a 5% commission on all sales through your affiliate link. The tracking cookie is your standard 30 days. Even though the commission and cookie are not spectacular there is still some good value in this partner. They have a pretty good range of products and some unique ones to boot. There is a lot to like about this partner. Give it a try and see if it converts.
---
On Court Off Court Affiliate Program

On Court Off Court sells a huge selection of tennis training equipment. Some of it is really unique and adds a good amount of value to the overall partner program. They have your standard ball machines and training videos. But they also have products like the sweet spot trainer and automated serving machines.
Some of this equipment could be classified as high-ticket items ($1000+) which are great for affiliates. The affiliate terms are pretty standard for On Court Off Court. The tracking cookie is 30 days, a good cookie but not a great one. The commission is 6%, again good but not great. Still solid numbers for the program, however.
A good tennis retailer with a lot of training equipment and tennis training aids.  The commission and cookie are pretty average but their great products and high-ticket items more than make up for the lower commission.  What's not to like about this affiliate?
---
Do It Tennis Affiliate Program

Do It Tennis is an online sports retailer that focuses mainly on tennis. They carry all the major brands and have a huge selection of tennis gear, apparel, and equipment for your readers to purchase.
Their selection alone makes this a candidate for your primary affiliate partner for any blog in the tennis niche. When you add in their affiliate terms this might be the premier partner for a tennis blog.
Do It Tennis offers some pretty great terms for their affiliate partners. Starting with the 90-day cookie. This duration is 3 times the average and a great option to have as an online marketer. The commission is nice as well, weighing in at a solid 10%. I love seeing any commission in double figures. Even more impressive when the partner sells physical products like Do It Tennis.
One of the best partners in the entire niche. Great products with a huge selection of them. Great commission and a great tracking cookie. This is a great partner that should be used for a tennis blog if at all possible.
---
Tennis Fitness Affiliate Program
Tennis Fitness offers high-performance training programs for your readers. These are designed to transform your body into what is needed for top-level tennis. They have a variety of online training programs.
But the really unique thing about this program is that you can buy in-person training. It is a fairly narrow micro-niche and the appeal of the product is not going to be universal. But the programs are quite pricey and their affiliate terms are pretty great.
Speaking of those partner terms… Tennis Fitness has the best tracking cookie in the tennis niche and one of the best ones in all of affiliate marketing. They give you a full 365 days to make a sale. All partner programs should be like this. It is great to see.
Not to be outdone, the commission is fantastic as well. They offer their partners a full 40% commission for all qualifying sales. Put together this might be the best set of terms for any partner program on this list.
The cookie and commission are the main reasons they are both great, but the products make it a worthwhile partner to promote. It may have a narrower appeal than some of the other affiliates but if you can get it converting you have a real gem here.
---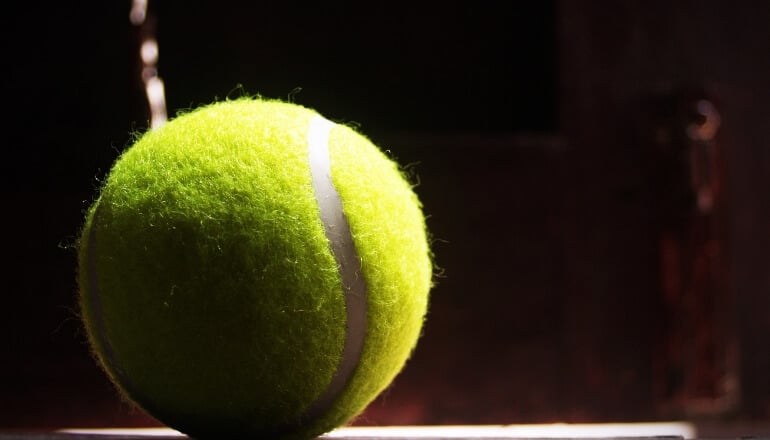 Intro To The Tennis Niche
Tennis is a fantastic niche. It is one of those sports that anyone can play. Whole communities get together for tennis programs. Regardless of age or sex people love to play tennis with friends. Even, maybe especially, if they are no good at it.
Therefore, this niche has a much broader appeal than most other sports niches. You can appeal to fans of professional tennis to casual hitters and all the way down to youth players looking to join the sport. The micro-niches, in particular, are plentiful and profitable.
Let's take a look at the tennis niche starting with a little keyword research using our Jaaxy keyword tool.
Tennis Keyword Research
As always, I like to start with the main topic as the first keyword to look at. You won't be targeting this keyword but it acts as a proof of concept about the health of the overall niche. You want 2-3k searches a month in Jaaxy ideally for a good micro-niche.
Although there are many with less that is extremely profitable.

No surprises here. The volume is outstanding and the competition (QSR) is far too high to target this keyword, especially as a new blog. But we know that the overall health of the niche is great and you can easily find some viable micro-niches.
Let's move on to the real keywords. The longtail keywords. These are the basis for all your content. They will drive traffic and are excellent for new blogs to get SERP rankings. The first example is "head graphene radical pro tennis racquet".
This is a very specific longtail keyword. Typically the best kind of keyword. But let's break it down a little bit. Head is the company that makes the racquet and graphene is the material.
Also, note the spelling of "Racquet". You will find some searches and keywords that spell it "Racket". It means more keyword opportunities, either spelling is technically correct.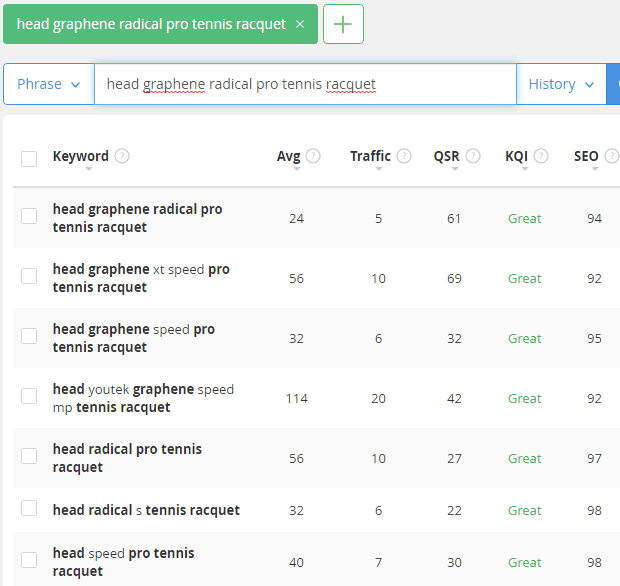 The results are phenomenal. You get 3 or 4 different versions of Head tennis rackets, each one can be reviewed and turned into great content. The traffic is good and the competition is very low. This is great to see such specific keywords with a decent amount of buyer intent.
In the last example, I am going to target an informational keyword. It is important to build information content and not just have a bunch of reviews. So the keyword here is "tennis coaching equipment". Let's have a look.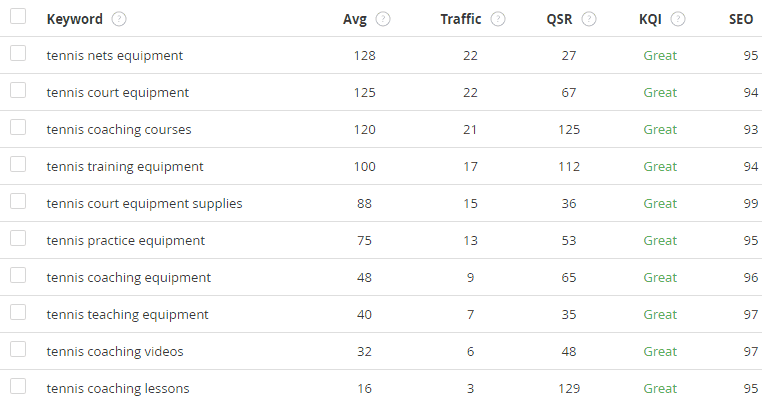 Yet another remarkable keyword. The targetted keyword is pretty good by itself. But just look at the other options that research gave us. Training equipment, practice equipment, coaching videos, and the list goes on and on. That is easily 5 or 6 strong keywords to craft some great content around.
A month's worth of content ideas from a single bit of research. But in order for that research to really shine through you are going to need to target a micro-niche when you are just starting out in the tennis niche.
Let's take a look at some micro-niche ideas right now.
Micro-Niche Ideas For Tennis
Here are 4 ideas for your tennis blog. The great thing about using a micro-niche to start your new blog is that you can avoid much of the competition when you are just starting out. This is crucial for a new website since you will not be taken seriously by the search engines over the more established sites.
I chose 4 pretty diverse micro-niches as examples but there are dozens of others that you can focus on and start a great tennis blog from them. Find one that suits your interests and that you will enjoy writing about a few times a week.
Tennis Coaching
This is another great niche for tennis or really any sport. If you can put together great content that helps coaches get the most out of their players then you will have a great audience to draw from.
If you are able to bring a unique and interesting perspective to coaching tennis then that impact will be magnified. This is a little tougher niche to work in. Your information must be top-notch and you cannot afford questionable techniques or strategies. Your research will be incredibly important, especially if you focus your coaching on the youth game.
Professional Tennis Tour
This micro-niche is great for anyone that wants to put their own unique perspective on one of the professional tours. Focus on the men's or women's game or both is your thing you can manage the work. This is a really great micro-niche to start in if you are well versed in the players and overall tennis being played currently on tour.
You don't necessarily want to compete with big sports outlets and just right match recaps and the like. But you can add them in with your own take on things. It works very well for many other sports niches. You'll find numerous examples both in print and on youtube for all types of sports. Tennis is no exception and would make a great sports blog.
Tennis Equipment
The tennis equipment micro-niche encompasses far more than just rackets and tennis balls. Though those two things might make up the bulk of your content there are tons of other products you can target for this niche.
Nets and shoes and apparel all the way up to hats and visors. Then you can add in the training equipment. Some of it, like tennis ball practice machines, are quite expensive and can really bring in some great commissions.
Tennis Rackets
If we take the previous micro-niche and break it down even further you will find that a blog dedicated to solely tennis rackets has the potential to generate some great traffic and ultimately some good profits.
Rackets might be the only tennis equipment space large enough to have its own micro-niche. The great thing about starting with rackets is you can easily expand into other areas of tennis equipment and build your blog that way.
The Big Finish
A look at the tennis niche and some great partner programs for it. While tennis might not have the fanbase of the NFL or global soccer, check out our list of great soccer affiliates here, it is still a great blogging niche. The advantage it has over most other sports is that people of all ages tend to play it regularly.
This gives you a chance to draw an audience of people who are not typically sports fans. Hopefully, you have found our list of tennis affiliate programs useful. There are many others you can choose from so pick the ones that convert best for your specific audience. When you combine your great content with some of these partner programs then you will start to see the real power of blogging and affiliate marketing.
Don't go it alone. Get the best learning tools and community to help you build your online dream. Check it out here.
---
As always, thank you for visiting, and have a great day.