This article may contain *affiliate links. Please see our affiliate disclosure for more details
I think it's important to dig a little deeper when you're looking for affiliate programs for your blog.
If you can find those little diamonds in the rough did you can promote, you can really personalize your blog a little bit more than just using one of the major affiliate programs like Amazon.
That is not to say that there is anything wrong with using simply Amazon for your affiliate programs.
But when you can find a great program the may be off the beaten track a little bit you were going to get better commissions better affiliate terms in general.
You also have a chance of finding a company, like Patagonia, that really has a great background and history as a company and something that you can promote with confidence and stand out from the pack a little bit.
You can find more information and sign up with the Patagonia Affiliate program here.
This is going to be a full review of the Patagonia affiliate program. This review only focuses on the affiliate program and not Patagonia itself as an online retailer.
If you are looking to get the best out of the Patagonia affiliate program and create your own affiliate marketing business.
There Is Just Something About Owning Your Own Business. Being Your Own Boss. Building Something From The Ground Up With Your Own Hands. Especially When It Is This Easy To Get Started.
---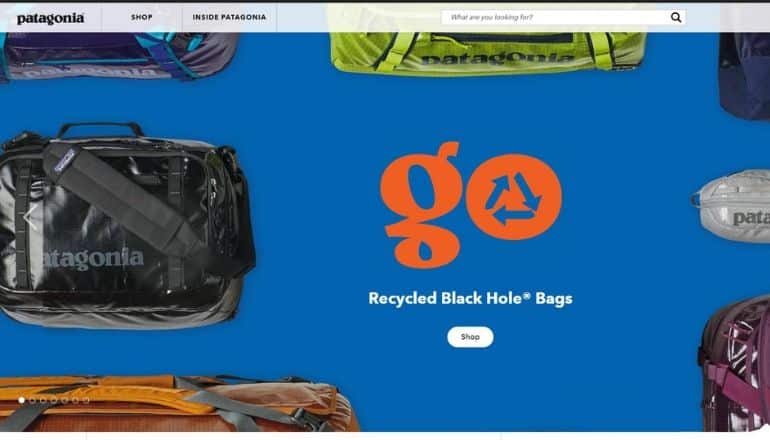 A Quick Look At Patagonia
Patagonia is an online retailer of a wide assortment of Outdoor and adventure sports clothing. They're dedicated to building the best quality products that they possibly can while also causing as little harm to the environment as possible.
It's this concept of using their business to protect nature that really sets their products apart from any of the other potential partner programs that you could use in the space.
They also allocate 1% of all their sales to Environmental and Grassroots organizations dedicated to protecting our planet's natural resources.
This type of backstory is fantastic for an affiliate marketer as it can really be used to humanize the company behind the products that you're promoting.
Promoting a company that actually does good can really make you feel comfortable promoting them and make your readers comfortable about using their products and purchasing their products.
---
Products Offered By Patagonia
Patagonia has its own lines of clothing for men, women, and children. They are among the most well-made products in the space.
In addition to clothing, Patagonia has a robust selection of packs and bags that round out their extensive product offerings.
Overall, you cannot go wrong with their product line-up. It is going to be a great addition to any affiliate strategy across a wide variety of blogging niches.
Another thing to look for when choosing an affiliate program is the overall price of the products that you going to be promoting.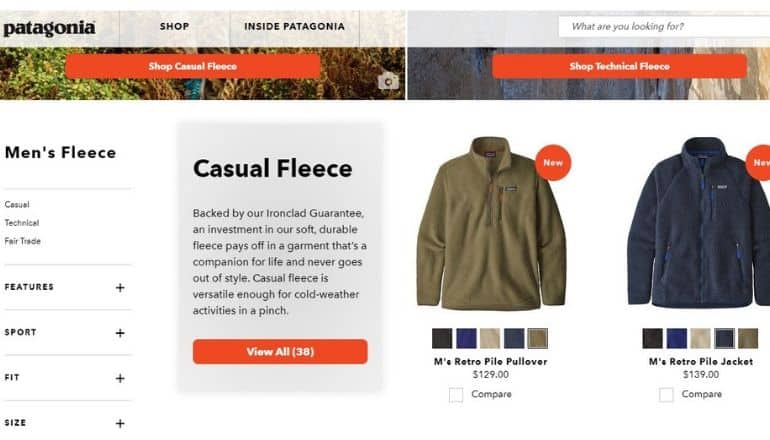 Ideally, you want a wide range of prices so that you can have products available for as many income levels as you possibly can.
However, you really want to have a few products that are over $100 and are very popular. This is where the majority of your commissions are going to come from.
So with Patagonia $100 sale would get you $8 in commissions. That's actually pretty good and it's about double what you could expect from the same amount at Amazon.
That doesn't mean you want to ignore the lower-priced products you just want to make sure that you balance it out and have us a little something for every economic level.
An 8% Commission
Maybe the most impressive thing about the Patagonia partner program is there very generous sales commission.
They offer a full 8% commission for all qualifying sales through your affiliate links. Given that their products are physical retail products anything approaching double digits is going to be a very welcome sight.
And while this just slightly falls short of double digits, 8% is still an outstanding return for your time in promotion with this partner program.
---
The Patagonia Tracking Cookie: 60-days
Just as impressive is there very good commission is the Patagonia partner programs tracking cookie duration.
There's been a shift in recent years to shorter and shorter tracking cookies, and 30 days seems to be the standard for most of the smaller partner programs.
However, Patagonia has decided to go with a very robust 60-day track and cookie. This duration gives you plenty of time to make yourself and still get credit for the commission wants your readers to decide to make a purchase.

Tracking cookies are often overlooked when deciding on it an affiliate program. But longer cookies equal more conversions.
There's no way around it. You want to find affiliates with the longest cookie decorations you can whenever possible.
---
Popularity Of Patagonia
Patagonia is a fairly popular outdoors and action sports online retailer. They are well-known and respected in the action sports niches but might not be that well-known for a mainstream audience.
Patagonia is most popular in Vermont and Montana. Something to keep in mind when deciding on what content to create for the affiliate program.
There are bigger outlets that you can use for your outdoor or adventure sports blog, but Patagonia is definitely one of the best clothing suppliers for any blog in one of these niches.
---
Good Niches For Patagonia Affiliate Program
Patagonia Fits nicely into a wide variety of blogging niches. Their extensive lines of Outdoor Clothing make it easy to find something for your audience regardless of what type of Outdoor Adventure Sport Niche you're blogging in. Patagonia searches tend to spike during the holidays, making it somewhat seasonal.
Here are just a few of the niches and micro-niches that you might be able to get the most out of this partner program with.
Surfing
Hiking
Skiing
Fishing
Climbing
---
Alternatives To This Partner Program
Because of its broad appeal and wide range of products Patagonia is going to run into quite a few alternatives that you can use for your affiliate programs.
Patagonia isn't the biggest name in the space really although their products are fantastic and well-made.
They do make the same type of product as some brand name manufacturers and these are the types of affiliate and partner programs that you're going to have to look at when deciding which partners are going to be best for your specific audience.
So here are three alternatives that you can use instead of Patagonia. You probably going to recognize these names because they are huge name brands and large retail stores that have a pretty big imprint in the mainstream.
Bass Pro Shops
REI
Dicks Sporting Goods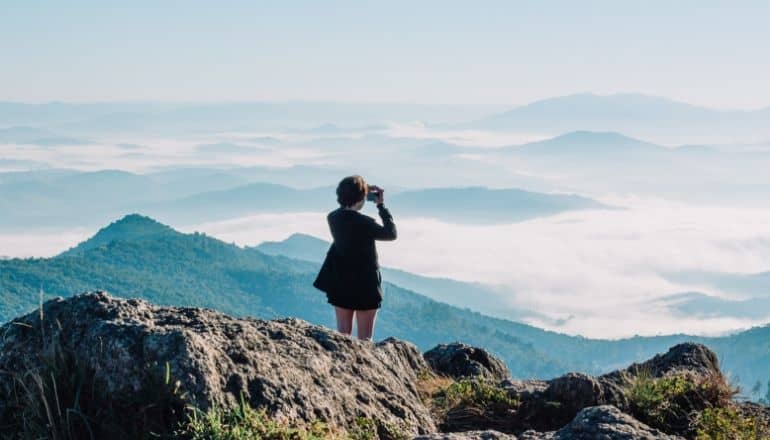 ---
The Bottom Line
Patagonia is a very good company to promote on your blog. Their affiliate program is well worth your time and the affiliate terms that come with it are pretty good.
I would recommend this partner program for just about any outdoor blog or adventure sports blog that needs a clothing supplier.
Of course, conversion rates are the biggest issue. If it converts for your specific audience then you have a great partner program to promote.
If it doesn't convert then you'll have to find something else and move on to that as quickly as possible.
Given the great products, the good affiliate terms, and the history of the company itself, this should be an easy partner to promote to your readers and should result in some good commissions and conversion rates.
Don't go it alone. Get the best learning tools and community to help you build your online dream. Check it out here.
Thanks for visiting and have a wonderful day.