This article may contain *affiliate links. Please see our affiliate disclosure for more details
Is water really an affiliate marketing niche? It seems like it probably shouldn't be, but the reality is that water is big business now. As a result there are plenty of opportunities to make good money in the water niche and there are scores of water affiliate programs out there looking for a great partner to help their business get more popularity.
Hey there everyone. Michael here and today we are going to be taking a look at one such water affiliate program in the form of the Klean Kanteen affiliate program. Sustainable reusable water and beverage containers is a huge part of the water niche at this point and only looks to grow bigger as more people try and limit their plastic use world-wide.
Klean Kanteen provides the environmentally-conscious affiliate marketer with a great option for promoting these types of beverage containers. The real question is can you make money with the Klean Kanteen Affiliate Program? In other words, does the affiliate program they offer live up to the quality of their products?
That is what we want to dive into with this article. We will take a look at the tracking cookie, the commission, a quick look at the products(this isn't a product review however), and some affiliate marketing niches that would benefit most from this partner program.
There Is Just Something About Owning Your Own Business. Being Your Own Boss. Building Something From The Ground Up With Your Own Hands. Especially When It Is This Easy To Get Started.
---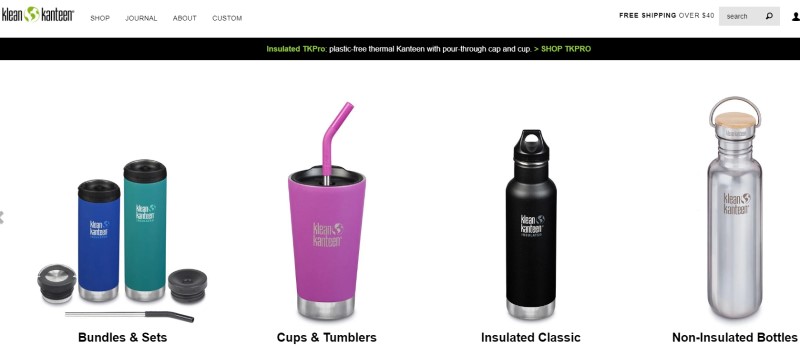 A Closer Look At The Klean Kanteen Affiliate Program
Klean Kanteen specializes in environmentally friendly water and beverage containers as well as related accessories like stainless steel straws and insulated options. They would make a great addition to any affiliate line-up in need of green beverage solutions or general environmentally sound water options.
---
The 10% Klean Kanteen Commission
"Solid" is how I would describe the Klean kanteen affiliate Commission.  It's a double-digit commission weighing in at 10%. I have long said that anything in double digits is a great commission for a physical product distributor.  Digital products you're going to see sky-high commissions well above 50% but for these physical products based niches, 10% is going to be a great return on your time invested.
The 10% commission is going to give you the option of using this affiliate program front-and-center in a lot of your different content. Because it is a double-digit commission it makes it so that even smaller average sales are still going to produce a good return for each affiliate link click.  
What this means is that with a 10% commission, 10 or 15 sales a day can translate into a full-time income for many people around the world. That's not to say that the commission is the most important aspect but you always want to have a decent commission to go along with the products that you were going to be promoting.
The Tracking Cookie Duration
The tracking cookie for this affiliate program is a standard 30-days. There are not really any high ticket items that warrant a super long tracking duration, so 30-days should be just fine. I would describe it as average, nothing to get excited about but nothing that is going to negatively affect your conversion rate really.
Klean Kanteen Products
Klean Kanteen is much more than just a water bottle affiliate. They have reusable stainless steel beverage solutions for all types of drinks and almost any temperature. They also have quite a few accessories and storage solutions that would work well on many different niche websites.
Here is a look at some of the products they have to offer.
Insulated Bottles
Non-Insulated Bottles
Kids Bottles & Sippy Cups
Cups
Tumblers
Caps and Lids
Steel Straws
Food Canisters
As always you will want to examine the products as carefully as possible to make sure they meet your criteria of the types of products you want to promote on your website. You are the expert in the niche and everything you promote must meet your seal of approval and no one else.
The Best Niches For This Affiliate Program
Because of their product variety, Klean Kanteen can be used for a large selection of niches above and beyond the obvious water niche. Here are a few that I think can work on their own or as part of a larger site that includes a variety of related micro-niches.
Baby Products Niche
Baby products is a huge niche and a very competitive one. You have no shortage of baby product affiliate programs and Klean Kanteen might not be at the top of your list if you are looking to add a new one to your affiliate stable. However, they have a nice selection of reusable sippy cups that would fit nicely into an eco-friendly baby product niche site.
Coffee Mug Niche
Coffee Mugs is a great micro-niche of the very competitive coffee niche. It can work well as a niche on its own but it is a must-have category for a coffee niche site. These stainless steel insulated offerings from Klean Kanteen will add a bit of variety to the classic coffee mugs that you might already be promoting on your coffee niche site.
Sustainable Water Bottle Niche
This will be the most popular niche for the Klean Kanteen product line. It fits in perfectly with the move away from plastics in both water bottles and plastic straws. You are going to want a sustainable water bottle affiliate for almost any sub-niche related to water and water security.
Reusable Straws Niche
This is a bit of a stretch as a niche of its own. You could make it work but you would need a lot of traffic since these types of products are not very expensive. Still the competition for a reusable straw niche site might be pretty low and you could really build something special with it. It is also a great category to add to an existing water niche site.
General Kitchen Niche
Reusable and sustainable cups and mugs aren't just for the outdoor or hiking niches. They are becoming a part of everyday life and building a section devoted to them on a general kitchen niche site is a great way to expand your niche site in somewhat unexpected ways opening up a whole slew of content possibilities.
What I Like About This Affiliate Program
There is a lot to like about the Klean Kanteen affiliate program. It has a solid tracking cookie and a very nice double-digit commission. The products look high quality and there is quite a variety of different products to promote.
It can fit into a decent number of niches and micro-niches which makes it that much more valuable and it has a well-thought-out website that is easy to navigate and nice to look at.
Then you start adding on the environmentally sound products and causes that they are working for and you have yourself a well-rounded company that you can promote with confidence in addition to the solid affiliate terms that will benefit your affiliate business. It's a win-win all the way around for this partner program.
What Could Be Better
I don't have any complaints about this affiliate program. It looks to be solid all the way around. I always try and nitpick at least one thing that I would like to see improved but I just couldn't find anything. The only way this is not a good affiliate for you is if your audience simply does not like the Klean Kanteen brand for whatever reason. Other than that you have yourself a very solid water affiliate program to use on your niche site.
---
The Bottom Line
Commission: 10%
Tracking Cookie: 30-Days
Auto-Approval: No
Affiliate Niche: Water
Affiliate Network: AvantLink
That wraps up our look at what is a fantastic affiliate program, in my opinion. If you can fit them into your overall affiliate strategy you have a great new monetization option. It works for a variety of niches and it makes a great alternative to Amazon Associates due to its massive commission difference.
You always want to find these smaller affiliate programs if they make sense for your business because they typically will have much better terms and can provide a lot more for you and your affiliate marketing business over the huge affiliate programs. Plus affiliate programs are free to join, so always experiment with them to find the best ones for you.
Klean Kanteen won't work for everyone in every niche, but for many people, it could be the difference between getting a 1% commission from Amazon and a 10% commission from Klean Kanteen. That is the difference between success and failure for a lot of affiliate marketers out there.
Don't go it alone. Get the best learning tools and community to help you build your online dream. Check it out here.
Thanks for visiting and have a wonderful day.