This article may contain *affiliate links. Please see our affiliate disclosure for more details
I would like to take a moment to welcome everybody to the website. I hope everyone is doing well and I thank you for taking some time out of your day to stop by and check out our latest articles. 
Today we are going to be taking a look at the LARQ affiliate program to see if it might benefit some of you affiliate marketers out there who need a water bottle affiliate with a little bit of Technology built right in.
That is exactly what you're going to get with this partner program. It fits right into a water bottle or water purification Niche website almost perfectly and gives you an additional way to monetize your website with their forward-thinking water bottle products.
So let's dive into this affiliate program and find out if the entire package is something that might be beneficial for your online business.  Is the commission up to par? Is the tracking cookie acceptable?  Are the products themselves high-quality and something you'd be proud to promote?  Let's find out.
There Is Just Something About Owning Your Own Business. Being Your Own Boss. Building Something From The Ground Up With Your Own Hands. Especially When It Is This Easy To Get Started.
---

A Closer Look At The LARQ Affiliate Program
---
The 8% Affiliate Commission
The commission For this affiliate program is 8%. It is a very solid commission although it does Falls just slightly short of that double digit commission range that I always try and seek out if it all possible.
But 8% should be just fine for most affiliate marketers and you always want to balance out the commission with the quality of the products and the overall quality of the affiliate program. You never want to base your decision to use an affiliate program solely on the commission alone.
At 8% you should do quite well given the overall price of the products. They tend to run up around $100 so even just 10 or 15 sales a day is going to be enough to generate a really nice income for a water Niche business.
The Tracking Cookie Duration
The tracking cookie duration offered by the LARQ affiliate program is a standard 30 days. For just about any affiliate program 30 days is going to be just fine and it is typically the standard tracking cookie duration that you're going to find more often than not.
I think it's particularly important that you do get a full month to promote LARQ products. the reason for this is that their water bottles are not inexpensive. Their movement line of water bottles cost around $79 while they're traditional insulated LARQ water bottle cost around $95.
While these are not high ticket items they do cost quite a bit and that extra time for the tracking cookie will be put to good use while people decide on whether or not they want to pay around $100 for a high-tech water bottle.
A Quick Look At The LARQ Products
At its heart, LARQ is a single product affiliate program. They sell a self-cleaning water bottle that purifies the bottle every couple of hours through UV-C led lights. It is a pretty novel concept and one that could really generate some great content around how it all actually works.
They do have a couple of variations on their LARQ water bottle but it is essentially the same product in a lighter more mobile version. The only issue with a single product affiliate is that if it doesn't resonate with your audience you really have nowhere to go with that particular affiliate program.

I don't really see it as being a problem with LARQ however. Chances are if you are interested in using them as an affiliate your audience will be on board as well since it is such a specific product to promote. It also comes in various colors for a little variety.
Niche Ideas For The LARQ Affiliate Program
Given that there's essentially only one product for this affiliate program, your choice of niches where this would be effective is going to be pretty Limited. The most obvious Niche is going to be anything that centered around water, water purification, or water bottles.
However, you could fit this particular water bottle into a technology Niche because of the way that it uses LED lights to purify the water. I think you could also use it in some running niche websites if you are looking for a water bottle to promote to runners. 

I think they're also might be an opportunity here to promote the LARQ water bottle two hikers or campers because it is fairly convenient although it might be a little bit too small for longer hiking trips,
That's going to be up to the individual website owner to determine the utility of this affiliate program.
One other niche that I think this will work for is a green product style niche website. Replacing plastic water bottles with something like the LARQ water bottle is a great option for a green website.
What I Like About LARQ Affiliate Program
There is a lot to like about this affiliate program. The tracking cookie is pretty good, the commission is decent as well, although I'm going to nitpick it in the next section of this article.
But overall this looks to be a fantastic affiliate program.  It is hosted on the AvantLink affiliate Network which is always a plus.
When you have affiliate programs that are hosting on these large networks you get an extra feeling of security knowing that you are going to be paid what you're owed, when you're owed.
The products themselves look to be very interesting and something that can really add a lot of potential content to your water bottle Niche site or any Niche site that involves water or water purification.  These types of Niche sites are becoming very popular these days as well.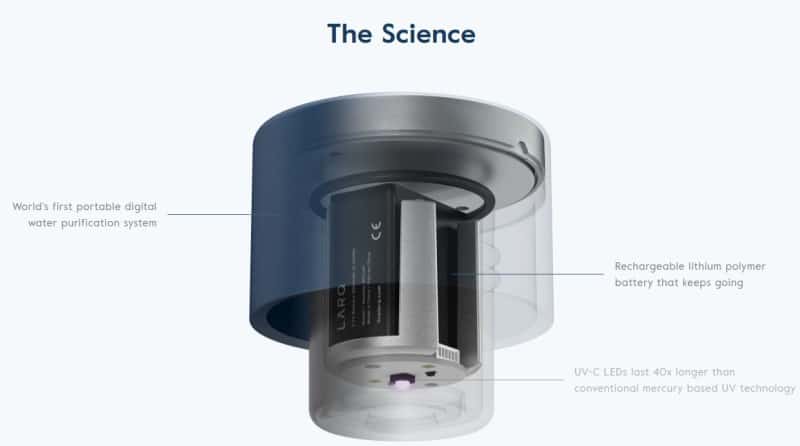 I also like the look of the website. It's very modern and very sleek. It is a pretty fast experience and it gives you a great idea of the technology behind their water bottles. So anyone coming to their website will have a firm understanding of what their product does when you refer them to their store.
I think this is an important aspect that sometimes gets overlooked. With these tech-heavy products you're going to need a bit of an explanation.
Part of that is done through the affiliate marketers content but once they get to the store where they are going to make a purchase having a little bit of extra information is always a good thing and certainly adds to the value of this particular affiliate program.
Overall, the LARQ partner program looks to be a great addition to anyone who is operating in a relevant Niche for this affiliate program. Solid all the way around.
What I dislike About It
My only real complaint is that the commission is slightly below that double digit threshold. This really isn't a negative. Each company has to evaluate the overhead and costs of their business and then decide on an affiliate commission.
8% might be the most they could reasonably offer their affiliate partners. But I like to nit-pick sometimes and really a 2% difference in commissions is all I could come up with.
It looks to be a great affiliate program for water niche affiliate marketers.
---
The Bottom Line
Commission: 8%
Tracking Cookie: 30-days
Auto-Approval: No
Affiliate Niche: Water/Green Technology
Affiliate Network: Avantlink
Join The LARQ Affiliate Program Here
That brings us to the end of our look at the LARQ affiliate program.  this is an impressive affiliate program that works for a decent number of niches.
It's not as versatile as many other affiliate programs out there but if you are in one of these specific niches where this affiliate program will benefit you, it will give you a great new monetization option.
Reusable water bottles and green Niche affiliate programs are becoming increasingly popular as people want to move away from Once use plastic products that are doing a lot of harm to the environment.
It's an increasingly popular Niche and one that is going to benefit from affiliate programs like the one from LARQ.
I think this affiliate program works great alongside other water affiliate programs. I think it differentiates itself enough with its high-tech products to where you can create an entire campaign around this single product.
It will generate a good amount of content that will help Drive referrals in addition to your regular content.  so it's not an either-or proposition with the LARQ affiliate program it's one that you can add to an existing website and reap the benefits for years to come.
The LARQ affiliate program looks to be a great option for your niche site and your affiliate marketing business.
That is all I have for you today thank you for stopping by and have a wonderful day.
Don't go it alone. Get the best learning tools and community to help you build your online dream. Check it out here.