This article may contain *affiliate links. Please see our affiliate disclosure for more details
You have taken your first step. You have taken your first step to building your own passive income website in the guitar niche. The first step is always the toughest. You made the decision that you're going to give this a real honest try to build your own passive income business.
You have come to the right place to find the affiliate programs that are going to help you build that business and start earning a nice profit with it. Read on to find out about these 10 outstanding guitar affiliate programs that will get you started.
Be sure to read to the end for a look at what exactly you need to factor in when deciding on which guitar affiliate programs you want to use for your website.
There Is Just Something About Owning Your Own Business. Being Your Own Boss. Building Something From The Ground Up With Your Own Hands. Especially When It Is This Easy To Get Started.
---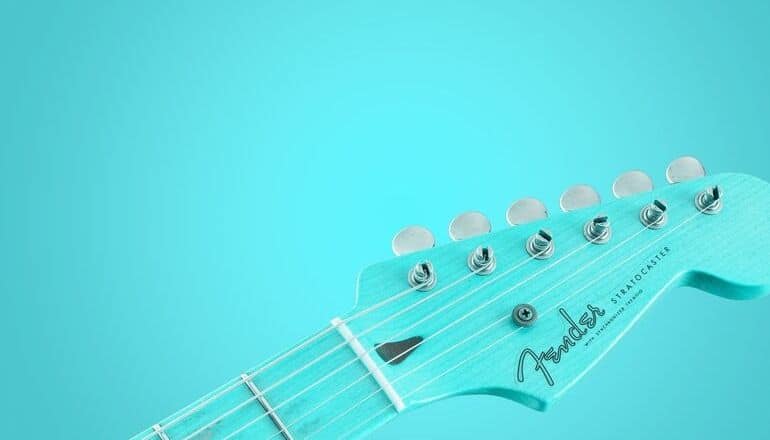 You can use the wonderful guitar affiliate programs on a dedicated guitar blog or youtube channel, but they can work equally as well on a more general music site or a string instrument sub-niche website or blog.
Now that you have some great guitar affiliate program ideas you just need to create the content and drive traffic to your affiliate links. With a little affiliate marketing training, you can get started on that today.
---
eMedia Affiliate Program
Fender Affiliate Program
Glarry Affiliate Program
Guitar Center Affiliate Program
Infinite Guitar Affiliate Program
Joe Bonamassa Affiliate Program
Learn And Master Affiliate Program
Loog Guitars Affiliate Program
Musician's Friend Affiliate Program
Tom Hess Affiliate Program
---
5 Factors For Guitar Affiliates
When deciding on which guitar affiliate program you going to use for your website.
There are a number of factors that you want to consider when implementing these partner programs into your overall affiliate strategy.
I usually break it down into five categories when looking at a partner program.
These categories are typically the commission, the tracking cooking, conversion rate, the product quality, and the overall reputation of the brand or affiliate partner that you are going to promote.
Depending on the niche each one of these factors has a different weight because of the nature of the products that you might be promoting.
For the guitar niche conversion rate, product quality, and commissions are probably the most important factors that you want to look at.
Reputation is probably going to be a problem with the guitar since there are some very recognizable brands that are very trusted.
The tracking cookie is going to be important but not as important for most of the sales with an exception that I'll get it too in the tracking cookie section.
So let's dive into these five factors so that you can get a good idea of what you need to look for when choosing a guitar affiliate program.
The Commission For Guitar Affiliate Programs
The commission is what most affiliate marketers are going to focus on when choosing an affiliate program.
It is an incredibly important part of the overall partner program's affiliate terms.
But it does need to be balanced out with the other factors that I've listed here in order to get the best guitar Philip programs for your specific audience.
You never want your commission to be too low that it makes it completely ineffective.
I recommend something above 4 or 5% as the minimum that you want to go with the commission.
But you don't want to take an affiliate program and start promoting it just because it has a high commission.
You need to look at the other factors to make sure that the products are good and that it's going to convert with your specific audience.
Because without great products in the great conversion rate the commission does not matter because you're not going to be making any sales.
$0 of a 50% commission is still $0.
A lot of times many new affiliate marketers will just be focusing on the commission and it is more often than not to their detriment.
This is because the products that they happen to be promoting may not be of the highest quality.
This issue is a little bit less in the guitar necks because you're dealing with a lot of big brand name hugely popular brands.
It still is something you need to look at especially when you are dealing with the guitar training videos that give huge commissions but maybe aren't the best videos to promote because there's not a whole lot of content.
So be sure to check on the products before you commit to any affiliate program just because of the commission.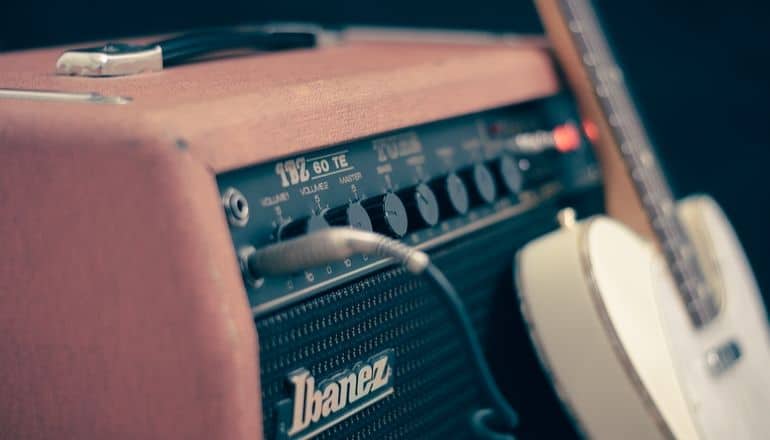 Why The Tracking Cookie Is Important
The tracking cookie is one of those factors that is often overlooked for most affiliate programs.
But for guitar affiliate programs I think it's particularly important because of the price of some of the guitars that you're going to be promoting.
For a lot of the accessories, the track and cook it really doesn't matter anything over 7-days is going to be fine.
This is because most of the accessories like strings, tuners, and other small accessories a relatively cheap in price and people are going to have to think about it for very long before they make the purchase.
Where the tracking cookie duration really comes into play as for the higher ticket items.
That's your guitars, you're guitar amps, and you're guitar cases for the most part.
With the guitars being the most expensive item that you're probably going to promote.
When you have expensive items like this typically over three or four hundred dollars then you want a longer cookie duration to give your readers enough time to consider making the purchase and then having enough time to still get your commission.
30-days is about standard for this type of Niche but you always like to see longer durations and we have a couple of excellent tracking cookie decorations on this list of the guitar affiliate programs.
High Quality Guitar Products Are A Must
The quality of the products you intend to promote is an integral part of any of these guitar affiliate program.
The funny thing is they're often overlooked or put on a secondary level behind the commissions and conversion rates.
But the products that you are promoting in this particular instance the guitars and the accessories for guitars are the reason people are coming to your site.
They want information about this equipment that you were going to promote.
So it really has to be the best products that you can possibly promote in order to retain the trust of your particular audience.
Whether you are promoting guitar strings, the guitars themselves, or the guitar training videos, the products you promote must be of the highest quality.
Don't promote second rate guitar products just because you might get a higher commission.
You will whittle away your trust and goodwill with your audience very quickly if you are constantly promoting bad products.
Thoroughly Research any products that you intend on promoting on your web site, YouTube channel or any other medium that you are intended to create content for.
Even the guitar affiliate programs here on this list are going to need to be researched even further before you deploy them as part of your affiliate strategy.
They are simply suggestions that I found to be good quality but they may not be great for your specific audience. Always use your own research and intuition when making decisions for your business.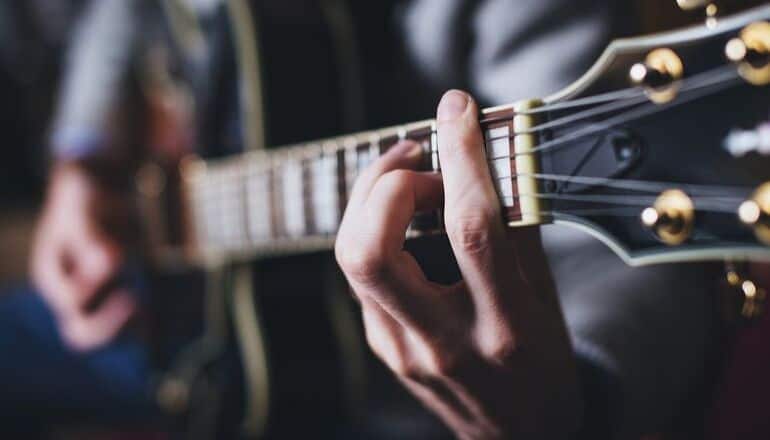 Brand Recognition Is Important For Guitar Partner Programs
Another interesting factor that I like to look into when choosing an affiliate program is the reputation of the brand or vendor that I'm going to be promoting.
The most products this isn't going to be an issue because you'll be promoting famous guitar brands or famous amp brands and they're going to be very well known in the community.
The one place you do want to be careful with reputation is among the guitar training video affiliate partners.
We have a few of those on the list and they have great commissions and usually all-around great affiliate terms but you need to look into him to make sure that they are going to be providing a good service that is worth the money that you're asking you are readers to pay.
I think the ones on this list are going to be a problem at all especially something like Legacy learning which is a very popular and very well-known training service that's partnered with some big names in the guitar industry.
It's just something that you want to look at and do a little research into so that you know that you're promoting a company or brand that is really going to reflect well on you and your website as much as you're going to reflect on their brand
Conversion Rates Need To Be High
Conversion rate is going to be an important factor for any affiliate program especially in the guitar niche.
A lot of times the product that you going to be promoting is going to be pretty expensive so you can expect to have a slightly lower conversion rate than some other niches.
Especially if you're focusing on promoting the guitars themselves some of those can run these lands of thousands of dollars and are considered high ticket items which bring the conversion rate down even farther.
You still want to have a decent conversion rate. Here's the problem with trying to figure out what that conversion rate is for you.
It is very much specific to your audience. You can get a general idea from the affiliate programs sometimes.
They will often give you a kind of general of conversion rate, but oftentimes this is a little bit of an optimistic or cherry-picked number.
The only real way to find out the conversion rate is to run tests on that particular partner program. Put the affiliate links in your content and see how well it works for your specific audience.
If you find one that converts really well but has slightly less commission you going to want to stick with that affiliate program.
The conversion rate is one of the most important factors in Guitar affiliate programs. and if you find one that gives you a great conversion rate you're going to want to hang on to that.
That doesn't mean you have to focus solely on that affiliate program but you want to keep the ones with greater conversion rates.
---
Closing Thoughts On These 10 Guitar Affiliate Programs
That brings us to the end of our look at these 10 wonderful guitar affiliate programs that you can join and use right now to help build your passive income guitar website.
Now it's just up to you to create the great content that's going to bring in the traffic that's going to get the clicks on your affiliate links and ultimately going to result and you earning a full-time income from doing something that you absolutely love.
Don't go it alone. Get the best learning tools and community to help you build your online dream. Check it out here.
Thanks for visiting and have a wonderful day.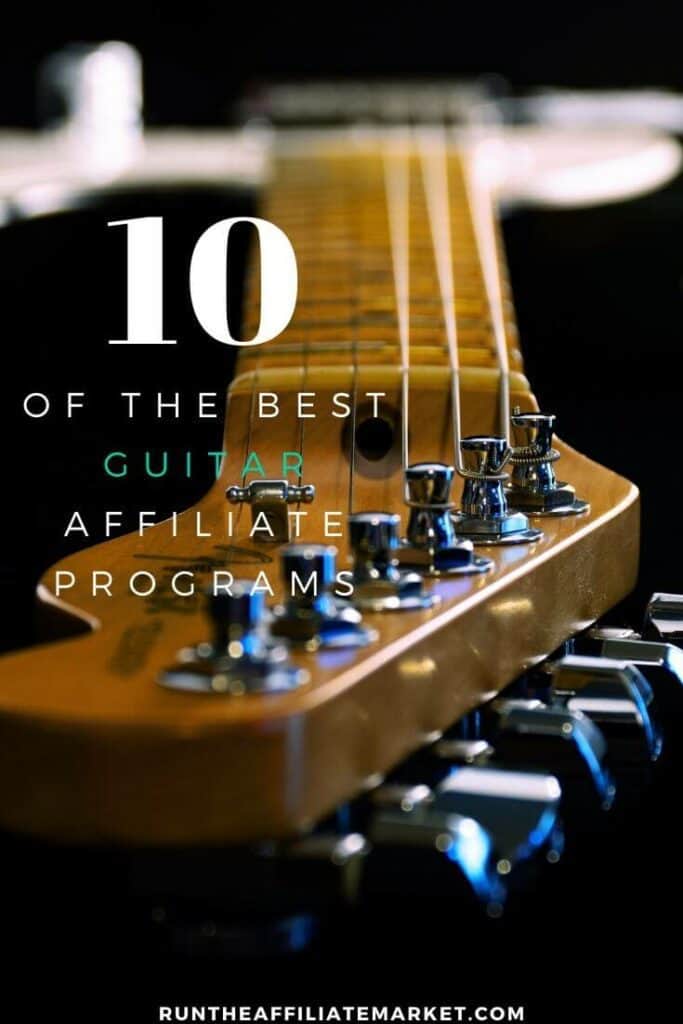 ---