This article may contain *affiliate links. Please see our affiliate disclosure for more details
Hello everyone and welcome back. Today I wanted to take a look at a promising audio affiliate program that fits squarely into the gaming niche.
The Turtle Beach affiliate program could be a great option for all your gaming audio and headphone related affiliate needs.
I will take a look at the commission and the tracking cookie to see if they add up to a viable affiliate partner. What niches would work best for this affiliate and what to expect from this affiliate when you join up will also be touched upon.
Ultimately the goal is to find out if Turtle Beach is an affiliate partner that you can use to enhance your online business or if it is one you might want to pass on. Let's find out.
There Is Just Something About Owning Your Own Business. Being Your Own Boss. Building Something From The Ground Up With Your Own Hands. Especially When It Is This Easy To Get Started.
---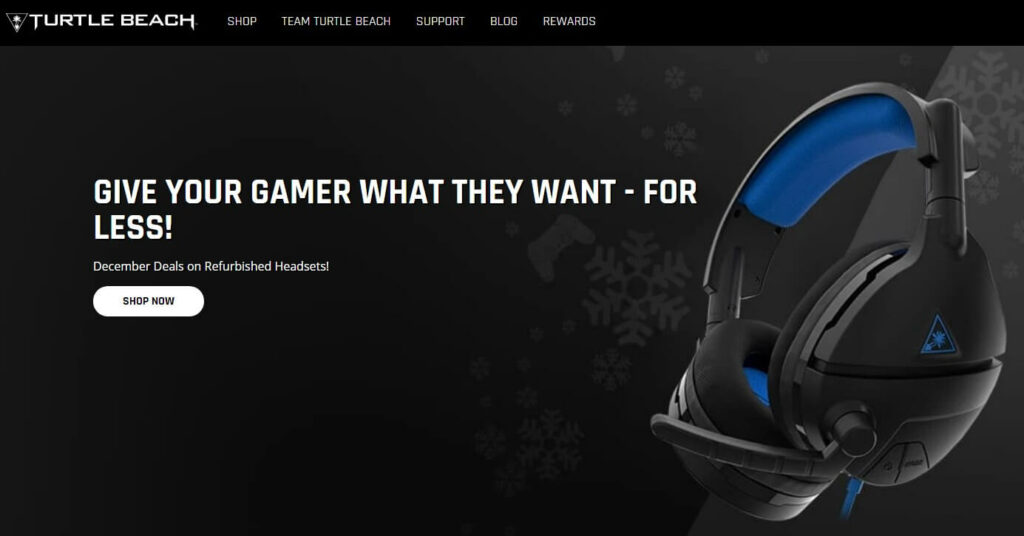 ---
What Is The Turtle Beach Affiliate Program?
The Turtle Beach Affiliate Program is a referral program for the Turtle Beach website. It is free to join and is hosted on the CJ.com Affiliate Network.
This affiliate program is designed to allow content creators to monetize their content by adding Turtle Beach affiliate links to that content and ultimately having their audience members use the links and make a purchase resulting in a small commission for the affiliate marketer.
Affiliate marketing is one of the most lucrative and popular ways to make money online. Many of the biggest companies have an affiliate program of some type.
Affiliate Commission: 4%
Tracking Cookie Duration: 30-days
Auto-Approval?: No
Affiliate Niche: Audio
---
The 4% Commission
Let's talk about the commission for Turle Beach. They offer a 4% commission on all qualifying sales through their affiliate links. Basically a qualifying sale is one that is not returned or canceled or anything along those lines.
Now 4% might not seem like a huge commission and it isn't. It is pretty middle of the road when you look at it from a general niche perspective. However, in the gaming niche, where Turtle Beach firmly fits, 4% is not all that bad.
It is'nt great but it is decent and sits right on the edge of what I consider a viable commission for an affiliate martkeer.
3%-5% is really as low as you want to go. Even Amazon Associates offers 1%-4% for most of its products. So this is in line with the biggest affiliate marketing partner out there.
The most important thing to remember is that the commission is only part of the affiliate equation. You must have good products to promote and have a good conversion rate within your audience or the commission doesn't matter.
A 4% commission that converts is better than a 20% commission that doesn't. Keep that in mind for all the affiliate programs you intend to join for your online business.
The Tracking Cookie Duration
The tracking cookie offered by Turtle Beach is pretty standard. They give their affiliate partners a 30-day tracking cookie duration.
This means that you have a full month after someone clicks on your affiliate link and makes a purchase and still gets a commission for your promotional work.
30-days is a solid duration and one that will not have a negative effect on your conversion rate for the most part.
Very short duration tracking cookies can be a problem at times but you won't have to worry about that with this affiliate partner.
---
How To Make Money With The Turtle Beach Partner Program
Making money with the Turtle Beach partner program is pretty straightforward. You will want to craft content based around their products and audio related informational products.
Dropping an affiliate link or two into info content is a good way to add a little more value to that content from an affiliate marketers perspective. Just be careful not to overdo it. For info content one or two affiliate links is enough.
The main way to make money with this partner is to include it in buyer intent content. For example, a list of the "10 best headphones for RPG's" could easily incorporate some of Turtle Beach's products and by extension your affiliate links.
There are plenty of places to add a Turtle Beach affiliate link in most buyer intent content as long as you feel that their products belong there.
Don't force a specific product or brand in just because you like the affiliate terms, be sure that you are comfortable promoting their products to your readers.
---
Best Niches For Turtle Beach
Turtle Beach products can work across a pretty wide array of niches. Even though their products are designed for Gamers, making gaming the ideal niche for this affiliate, they have use cases well beyond just gaming.
In fact, you can use their products for just about any audio niche if you feel they are a quality product for that niche. Streaming niches, E-sports niche, gaming niches, music niches, guitar niches, really any niche that requires high-quality headphones could benefit from the Turtle Beach partner program.
It will be up to you to determine how well they fit into your niche and how well they will resonate with your specific audience. You are the boss after all and the big decisions always come down to you.
---
The Big Finish TLDR
Turtle Beach is a huge name in gaming audio and one of the better gaming affiliate programs out there right now. If you are operating a gaming website and need a solid gaming audio/headphone affiliate then this might just be the one for you.
The 4% commission and 30-day tracking cookie are solid if not spectacular. They are on par with most of the other affiliates in the gaming niche as the commissions tend to be a little lower in this particular area of blogging.
Even those outside of the gaming niche might find some value in this affiliate of they need a vendor of high-quality headphones for their niche site. Experiment with it and see how well it does for a niche outside of gaming.
Overall this is a solid addition to your affiliate marketing strategy. I would use it alongside other affiliates as the products are limited to headphones and audio gear. Put it alongside a gaming or esport affiliate program for almost any gaming site and you have yourself a solid foundation for a successful gaming niche site.
Don't go it alone. Get the best learning tools and community to help you build your online dream. Check it out here.
Thanks for visiting and have a wonderful day.