This article may contain *affiliate links. Please see our affiliate disclosure for more details
Greetings everyone and welcome back to another look at a fantastic affiliate program that you can use on your Niche website to help generate the kind of income that you need to make your business successful.
The program in question is the Banyan Botanicals Affiliate Program. While it is primarily an Ayurveda, I think you'll discover that it can be used in a wide variety of niches because of its broad array of products.
It also makes an outstanding alternative to Amazon Associates because it's tracking cookie and commission are light years ahead of Amazon.
 So let's dive in and check out the aspects of this affiliate program that make it such a desirable partner to have for your Niche website.
There Is Just Something About Owning Your Own Business. Being Your Own Boss. Building Something From The Ground Up With Your Own Hands. Especially When It Is This Easy To Get Started.
---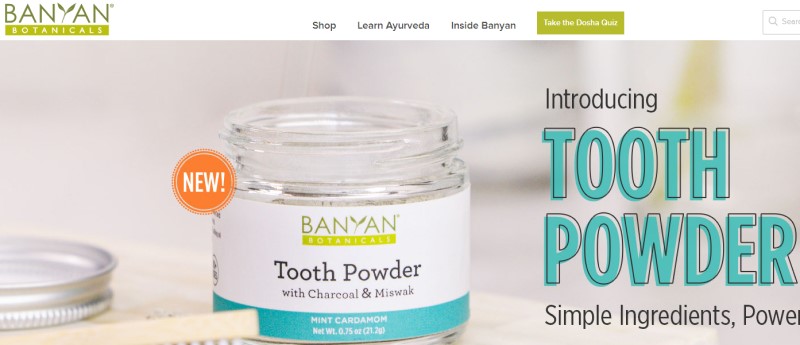 A Closer Look At The Banyan Botanicals
---
The Banyan Botanicals Commission
Let's talk about the commission for the Banyan Botanicals Affiliate program.  It is robust 20% for a qualifying sounds through your affiliate link.
It is not often that you see a 20% commission for a physical product affiliate program. And when you combine it with the Fantastic cookie that we're going to get into in the next section this becomes one of the best affiliate programs out there for not only ayurvedic websites But a whole host of other niches as well.
It's important to balance the commission with the other aspects of the affiliate program. You don't want a Great Commission with a bunch of terrible products that no one wants to buy and they want people that do buy them send them back.
So it has to be a balancing act. The great thing is that with the Banyan Botanicals affiliate program we seem to have the best of both worlds. You have high-quality products that are going to fit well into your Niche websites as well as one of the best commissions you were going to find anywhere.
If these products resonate with your audience and you can get a good conversion rate then this is the type of affiliate program that can form the foundation of your entire online business. You always want to have backup plans but the affiliate should be front-and-center if you can work it into your overall affiliate strategy.
The Tracking Cookie Duration
The tracking cookie duration is phenomenal for the Banyan Botanicals partner program. They offer a full year. 365-days for your tracking cookie. It is the type of remarkable affiliate cookie duration that can really bump your conversions into the stratosphere.
A cookie this long really takes a lot of the frustration out of an affiliate program. Missing out on commissions because your affiliate cookie runs out is not very fun.
A lot of the time you won't even know about it because there is no way to track non-sales. But with a 365-day tracking cookie duration, you can assume that anyone that wants to make a purchase has plenty of time to earn your commission.
The Banyan Botanicals Products To Promote
One of the most important aspects of any affiliate program is the products that you were going to promote. These are the products that your audience is going to purchase and if they are not high-quality products then your audience is going to be very upset with you because you're the one who recommended him.
Fortunately, it doesn't look like it's going to be an issue with this affiliate program because these are some very good-looking products in a wide variety of niches.
We will get into which niches work best for this affiliate program in the next section but it's nice to see an affiliate program with such a wide range of different products that you can promote.
It means that you can expand your content in all different directions but still tie it back to the Ayurveda lifestyle that this affiliate program works best for.
Just to reiterate real quick never Overlook the products that you're going to be promoting. The products are the consumer-facing part of an affiliate program and they must be very good if you expect to get a good conversion rate and make a good amount of money with your affiliate marketing business.
Here are a few of the product categories that you can expect to promote on your niche website from this affiliate.
Beauty
Cleansing and Detox
Digestive Health
Energy
Hair Health
Heart Health
Immune Support
Hair Health
Heart Health
Bulk Herbs
Syrups and Sprays
Oral and Nasal Care
You can check out the Banyan Botanicals Products on their website here.
What Niches Work Best With Banyan Botanicals?
While Banyan Botanicals is primarily an Ayurveda lifestyle website, it can be used as an affiliate partner across a wide range of niches. Given the spectacular affiliate terms, it might be worth it to add it to your affiliate strategy if you can fit it in.
Here are some niches that might benefit from this partner program
Herbal Niche Websites
Ayurveda lifestyle
Supplement Niche
Skincare
Beauty
Herbal oils
General Health And Well-Being
Hair Care
And many others
As you can see this is a versatile affiliate with a lot of different niches where this could be a great option. Even if you only add in an Ayurveda category onto an existing site where it makes sense this affiliate could be a great boon to your niche site.
The last thing I'm going to add about the niches that this affiliate program works well and is that if you are in a health and fitness-related web site then ranking on Google becomes a little bit more difficult because of their E.A.T policy.
Basically it's going to take a little bit longer for you to build trust and Authority with a Health Website than it would for some other affiliate niches.
---
The Bottom Line On The Banyan Botanicals Partner Program
Just To Recap
This is one of the best affiliate programs out there. Full stop.
The commission is outstanding, the tracking cookie is the best around and the products are popular and should covert well.
It is a great affiliate program. When you throw in the huge selection of products that work across a wide number of different niches, this becomes a desirable affiliate program for a whole lot of niche blogs.
If you can fit it into your niche blog and your audience responds well to it there is no reason not to give it a run-out and see if it lives up to expectations. I cannot recommend this affiliate program enough.
Don't go it alone. Get the best learning tools and community to help you build your online dream. Check it out here.