This article may contain *affiliate links. Please see our affiliate disclosure for more details
Hello everybody and welcome back. Today we are going to be taking a look at a very specific little niche in the larger arts and crafts niche. We are talking about wreaths and wreaths making. Wreath making falls squarely into the arts and craft niche, while a more general site dedicated to wreaths as decorations would be a good subject of a niche home and garden niche site.
Can You Make Money Selling Wreaths Online With Affiliate Marketing? There are plenty of opportunities to make money with wreaths. Using affiliate marketing you can promote not only the wreaths themselves but the training and materials to craft them, giving you plenty of opportunities at monetizing a wreath niche website.
Lets take a longer look at some of the aspects of building a wreath niche site as well as some ideas for content to get the traffic you need.
There Is Just Something About Owning Your Own Business. Being Your Own Boss. Building Something From The Ground Up With Your Own Hands. Especially When It Is This Easy To Get Started.
---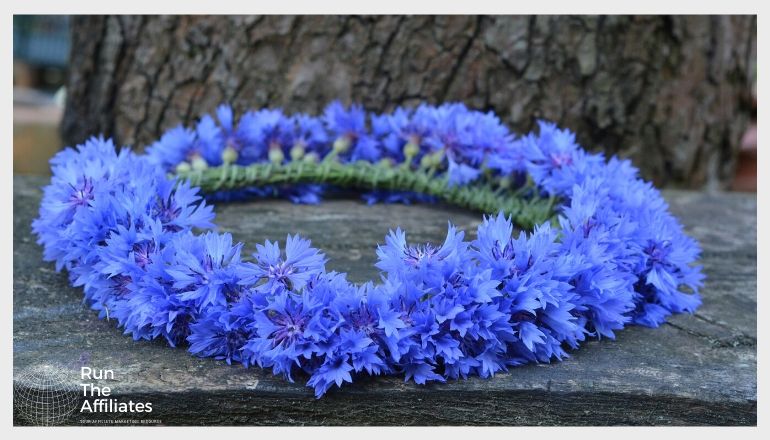 A Closer Look At The Wreath Niche For Affiliate Marketing
---
Starting Your Wreath Niche Blog
Starting a new business is never easy, even online. And it is important that you treat your affiliate niche blog as a business. If you think of it in those terms you will be much more likely to see it through and build it into a truly passive income business.
Here are some aspects of a wreath blog that you will want to consider when building your website. Web hosting, the wreath micro-niche you want to start in, and even choosing a domain are things that will help make sure your business is a success.
Google Trends
Google Trends is a great tool for checking on the viability of any affiliate ncihe that you are thinking of building your website in.
Here is a look at wreaths in general to give us an idea of how well this niche might do.
It is important to know how to read this chart. You see a huge spike around the holidays. That means that the traffic and searches during this period goes way up. About 4x from the looks of things.
What is important to not is that it is incredibly steady the rest of the years. So while wreaths certainly get a seasonal spike they are a viable niche year round with solid engagement for the entire year.
Micro-Niches For Wreaths
Wreaths are a pretty micro-niche to begin with so it might be a little difficult to niche down much further and still reatin the type of traffic that you need to really make a full-timeo income from this endeavor.
However, if you are only doing a side hustle then niching down might be a great idea. Here are a few ideas of where you can focus your content.
Wreaths For Holidays
Wreaths Made From Specific Materials
Seasonal Wreaths
Wreath making Tutorials
Keep in mind that any micro-niche can be expanded into other areas of wreaths and wreathmaking once you start to grow your business.
Web Hosting And Domains
If you really want to get serious about your online business you are going to need a website and a domain name. The domain is basically your business address online. You want it to be memorable without being too long.
Something as simple as Jane's Wreath Making would work as a title for your niche site and a decent domain as well. When searching for a domain always try and get the dotcom version of the URL, they seem to do better overall. Domains typically cost around $15 dollars a year.
On the web hosting side of things you want speed and uptime over everything else. Web hosting is the first investment that you are going to need to make for your online wreath business. Typically you can get good hosting for less than $5 a month.
When you add it together you have just started your own online business for less than $100 dollars. An brick and mortar business would costs hundreds of thousands just to get it off the ground.
I Find Bluehost to be the best web hosting for your niche blog. But there are dozens if not hundreds of options available, choose one that meets your budget and does what you need it to do.
---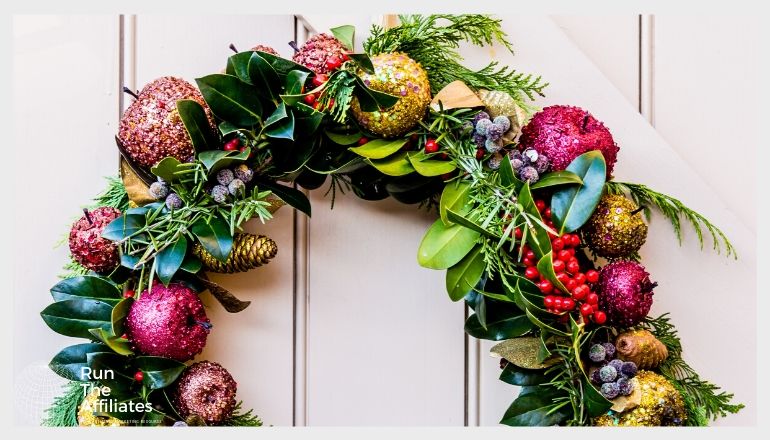 Wreath Blog Content
There are a few staple tpyes of posts that are great for just about any niche and work particularily well for general arts and crafts and specifically the wreath niche. Let's take a look at some of these types of posts.
Reviews And Top 10 Posts
Review posts and particularly top 10 posts are great as money pages. This is where you want to funnel your traffic to get the best chances at a sale. All of your informational content should have links to these types of posts whenever relevant.
For a wreath niche blog, there are plenty of opportunities to use reviews and list posts for your content. "Top 10 Wreath Ideas For The Holidays" or a review of a particular brand of wire mesh for making a wreath from scratch. The possibilities are endless.
Just keep in mind that you only want about 50% of your posts to be these types of reviews or lists and even 50% might be a bit high. Try and balance your informational posts with the review posts to give your site a nice balance and keep it informative while still providing a good income level.
Informational Posts
Informational posts are going to make up the bulk of your content on a niche site. In the case of wreaths, it can be anything from the best materials to use to a history of specific wreaths or why they are popular around the holidays.
Really anyhting that is interesting and informative and that people are searching for is fair game for info posts. The length is going to be determined by the subject so don't worry too much about word count as long as you get all the infomation in the post.
Typically your informational posts won't have a tons of affiliate links in them. What Info posts will have is a lot of great helpful information and a lot of links to other pages on your site including your money pages, the lists and reviews.
The balance between information pts and money posts is important as well. You don't want a whole website of just reviews. You need to add value with your info posts and themove your readers on to your list and review posts.
Pictures And Videos
One last Thing I want to add is that pictures and videos are incredinbly important for your content. If you are making a wreath for your niche site, then why not film it, even if its just on a smartphone. You can always turn it into a youtube video later if you want to expand out that way.
And always try and use your own photo's for your content. Not only do search engines like Google and Pinterest love original photo's but it helps you avoid any copywright issues and makes yor overall site much more enticing to your visitors.
---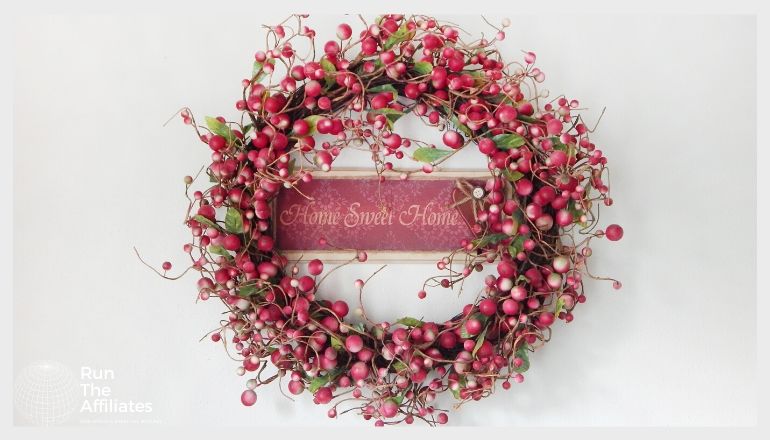 Monetize Your Wreath Niche Blog
We are going to look at the 3 main ways to monetize a wreath niche blog. These are pretty standard across all niches with some slight variations depending on the viability of info products in a given niche, for the wreath niche info products are a very good option once you get yourself established.
Affiliate Marketing With Wreaths
Affiliate marketing is going to be the most lucrative way to monetize your niche website, at least in the beginning. You won't have the traffic to really generate a lot of ad revenue. Affiliate marketing is pretty simple you just find an affiliate program that you and your audience like and place links into your content.
Then you wait for traffic to get to your website and click those affiliate links and then buy some wreaths or wreath making items. Simple. Simple but not easy. The trick is getting the traffic and getting the clicks you need to build a sustainable business.
That falls squarely on your shoulders. How much traffic and how well that traffic converts are determined by your content and your research into keywords and relevant topics in the wreath niche. Then is on to the affiliate programs themselves.
Wreath Affiliate Programs
There are not a whole lot of wreath specific affiliate programs out there. The reason for this is that wreaths fall into the arts and craft niche which covers a wide range of artistic endeavors including wreath making supplies. You can also use affiliate programs designed for home decor if you find some with wreaths for sale.
A good affiliate program to check out is the Trendy Tree Affiliate program. They offer a lot of great wreath-making products and have a lot of good information for someone new to the wreath niche as well.
You can also check out our arts and crafts affiliate program list to see if any of them would fit your business model.
Advertising
Advertising is the simplest way to monetize your website. You simply join an ad network like Adsense and place adverts on your niche site. It is very passive but you will need quite a bit of traffic to make a decent amount of money off of it. 5 to 10 dollar EPM (earnings per thousand page views) is pretty standard and attainable.
Advertising is typically a good way to add an additional monetization layer to your website alongside affiliate marketing, although advertising in some specific niches, like financial niches, can be the sole source of income and a very lucrative one at that.
Informational Products
Infor products have the potential to be a huge earner for some affiliate websites. It really comes down to the niche to determine their overall potency. For a wreath niche site, info products are very viable.
An informational product detailing how to craft dozens of unique wreath designs for every occasion would do very well in this niche and increase your revenue quite well provided the product was of the highest quality.
---
Yes You Can Make Money With Wreaths
That brings us to the end of our look at the wreaths niche and how to leverage affiliate marketing to build your passive income business online. It will be a lot of work and you will need to start cranking out that content as soon as possible, but you can do it.
One thing I want to leave you with is that affiliate marketing can be just the starting point. Eventually, you can create your own wreaths link them on your site and sell them that way. Etsy would be a great place to sell them and you can send traffic from your wreath niche site to your very own wreaths.
It forms a nice little ecosystem around your brand that can really accelerate your growth and your passive income potential.
So I wish you the best of luck on your journey and hope you have a wonderful day…
Don't go it alone. Get the best learning tools and community to help you build your online dream. Check it out here.
---