This article may contain *affiliate links. Please see our affiliate disclosure for more details
Hello everyone. Michael here. Today I am bringing you some of the best Wiccan and witchcraft affiliate programs that you can use right now to help monetize your occult or witchcraft niche website.
Occult websites are becoming more and more popular as more people look for their spiritual enlightenment outside the confines of mainstream sources. Getting information on witchcraft and Wicca has always been the biggest problem but with the internet that has all changed.
Now you can monetize your passion and knowledge for all things witchcraft and make a little extra money doing what you love. On to the affiliate…
There Is Just Something About Owning Your Own Business. Being Your Own Boss. Building Something From The Ground Up With Your Own Hands. Especially When It Is This Easy To Get Started.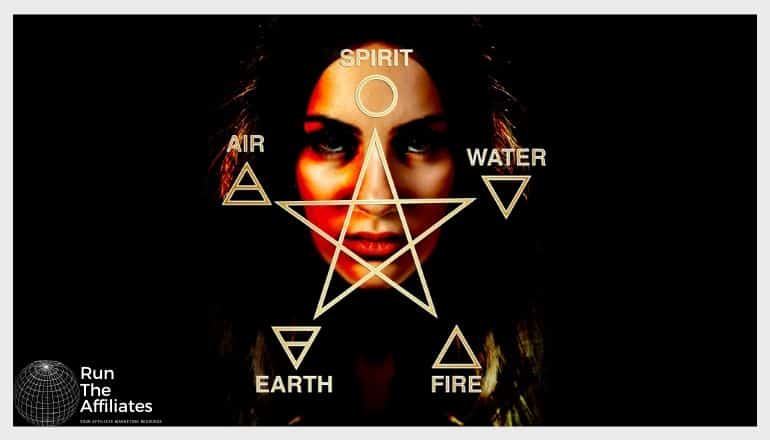 Check Out These Wiccan And Witchcraft Affiliate Programs
There are plenty of sub-niches in the larger occult and witchcraft niches that you can focus on with these affiliates.
Whether is witchcraft and Wiccan fashion and clothing or maybe a website dealing with herbalism, you can find something here that might help.
To get the most out of these witchcraft affiliate program you are going to need to get the best traffic and conversion rates possible. Affiliate marketing training help maximizes both traffic and conversions and can be the difference between success and failure.
---
The Witches Box Affiliate Program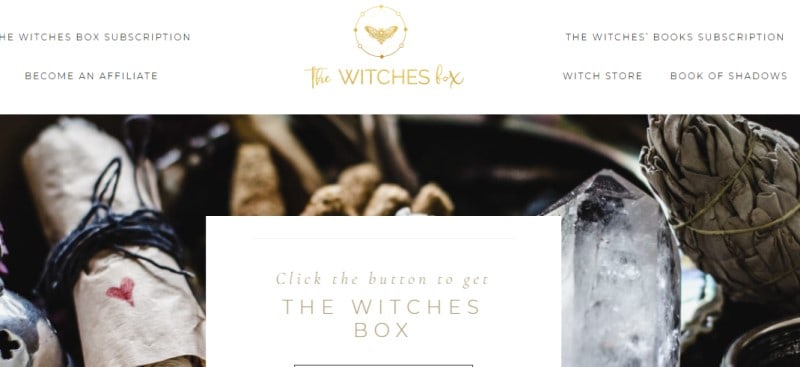 The Witches Box is a subscription box based around all things witchcraft and the occult. These curated subscription boxes are popular for just about every niche out there and witchcraft is no exception.
These boxes come each month filled with rituals and spells, apothecary and other occult accessories. They also have a book subscription that delivers 2 books a month with information on witchcraft and related topics.
The tracking cookie duration was not available at the time of publication. Ask about it when you join up to be sure you have a decent tracking gap for your affiliate marketing endeavors.
The commission is solid at 10%. A percentage commission on a subscription box is always a welcome sight. Just double-check to make sure you get recurring commissions for promoting their products.
---
The Violet Vixen Affiliate Program

Violet Vixen has a wide selection of corsets, clothing, and accessories that fit very well into the witchcraft and Wiccan niches. It is always good to have at least one clothing affiliate for the witchcraft niche because the look and personality is a big part of the overall witchcraft community.
The affiliate terms are pretty good as well. They offer a 30-day tracking cookie and a 10% commission for all qualifying sales through your Violet Vixen affiliate links.
It will come down to how well this affiliate resonates with your audience to determine just how effective it is. But everything is in place to make this a great option for Wiccan and witchcraft clothing and accessories for your niche blog.
---
Arcane Trail Affiliate Program

Arcane Trail Offers a wide variety of products for people interested in witchcraft mystical and magical niches and other spiritual supplies and accessories.
They have clothing and accessories and even some home decor items. Any of these products would fit well into a witchcraft Niche website especially for the aesthetic look of the products.
The tracking cookie duration was not available on their affiliate program webpage so be sure to ask about it when you sign up, although for this type of filler program the duration usually isn't that big of a deal as long as it's a decent length.
The commission is rock's on 10%. You can make some really good bank with double-digit commissions and Arcane Trail has you covered in that regard.
---
Black Magic Witch Affiliate Program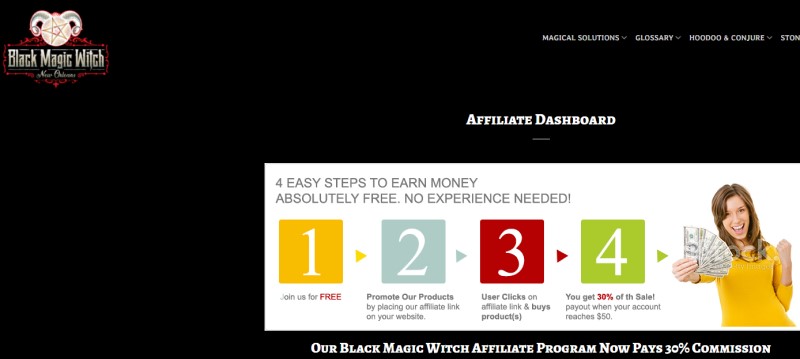 This vendor has a good-sized and pretty diverse selection of products based around Witchcraft, paganism, Wicca, and other occult niches.
They have pocket stones, amulets and pendants, altar supplies, bags and pouches, books and journals and a lot more that I can list here.
This is a good source for a lot of your occult products and one that ever witchcraft niche site should at least consider.
The tracking cookie was not available so be sure to ask about it when you sign up for the Black Magic Witch affiliate program. The commission is 30% according to their affiliate page.
That commission is extraordinary and almost too good to be true. If it converts for you this affiliate is one of the highest commission in the niche.
---
How To Learn Magic Affiliate Program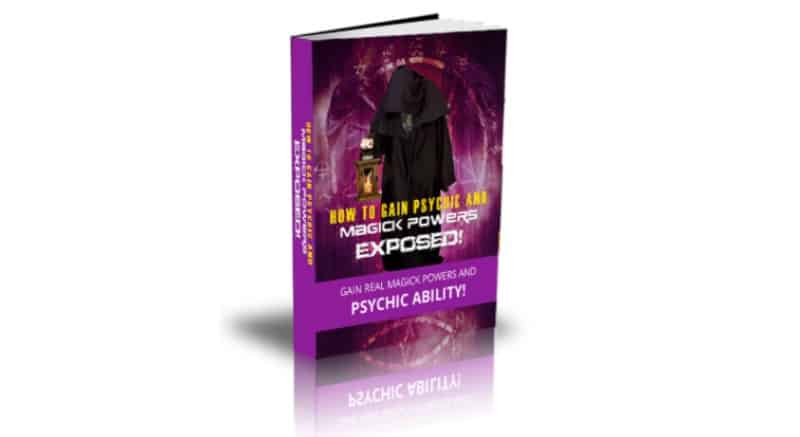 How To Learn Magic is a digital-only product available through ClickBank. This affiliate is a single product program based around the e-book "The How To Learn Magick & Psychic Powers Exposed".
These digital-only e-books are pretty hit or miss. They either convert well with your audience or practically not at all. Run some tests to see how they do with your specific audience.
The tracking cookie should be 60-days due to it being a ClickBank hosted affiliate but it is not listed explicitly so ask about it when you join up.
The commission is a massive 75%. This is to be expected for these types of digital-only products as they don't have the same overhead as physical products, but they tend to be a bit more difficult to sell as well. It is worth it to run some tests just from the great commission on offer.
---
Witch Flame Botanica Affiliate Program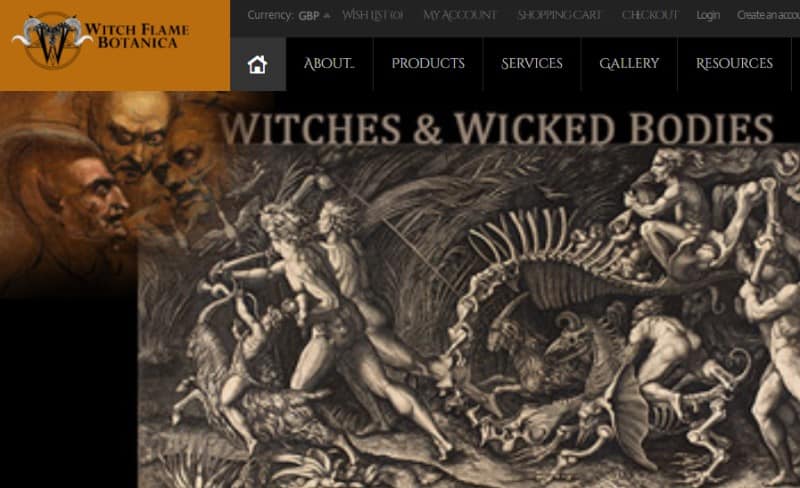 Witch Flame Botanica has a good selection of rituals and spells, candles, botanicals, wands and many other accessories that you will want to promote on your Wiccan or witchcraft niche website.
The commission is a decent 5%. It is not the highest commission on our list but it should be ok if you get a good conversion rate.
The tracking cookie information was not readily available at the time of writing so be sure to ask about it when you are accepted into this affiliate program.
---
Starwest Botanicals Affiliate Program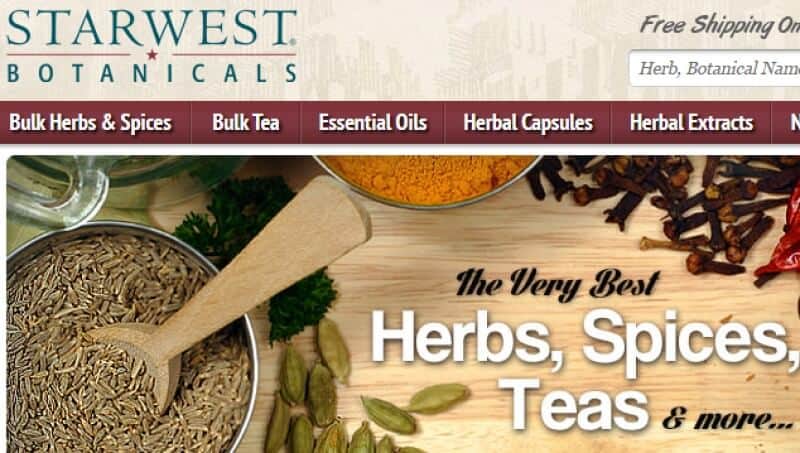 Starwest Botanicals is a little bit outside the box for a witchcraft affiliate program. This is a store that sells bulk herbs and spices and may not be the first place you look when searching for an affiliate program in the Witchcraft niche.
So this is going to have much less of an appeal for many of the occult websites out there but it may work if you need a lot of these herbs and spices for any rituals.
It's certainly an affiliate program that you should consider if you do need any of their products because it's one of the best out there. Personally I buy a lot of herbs from them for tea and I've always found them to be a great source of these products.
The affiliate terms for Starwest Botanicals are fantastic as well. they offer a 60-day tracking cookie duration which gives you plenty of time to promote their herbs and still get the credit for the commission.
The commission itself is fantastic. They offer a 15% commission on qualifying sales through your affiliate links. a double-digit commission is great when you get into the 15% or more range you have a really special affiliate program that you must take seriously and run some tests to see how well you can get it converting.
if you can get this affiliate program converting any good level then it can be the Cornerstone of your entire affiliate marketing business.
---
The Pyramid Collection Affiliate Program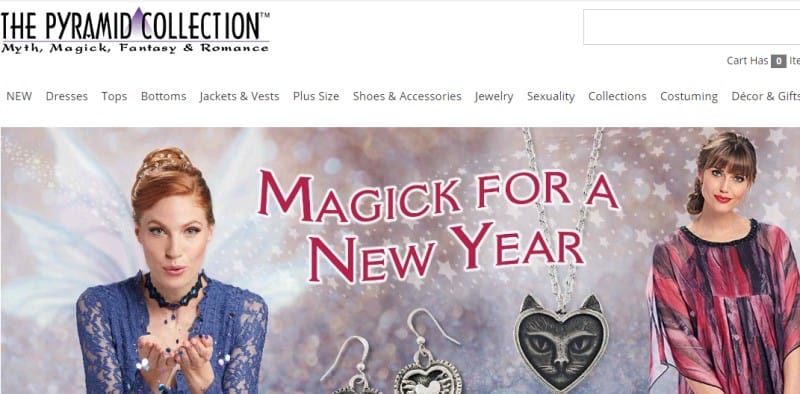 The Pyramid Collection is a web-based store that specializes in a variety of fashion and clothing. They have steampunk and fantasy clothing and of course witchcraft and Wiccan clothing and accessories, which is what we are interested in for the purposes of this article.
While it is not solely dedicated to witchcraft fashion it should be a good addition to any niche site with a focus on witches, Wicca, and the occult.
The company behind the Pyramid Collection is called the Potpourri Group so look for them when you go to sign up for this partner. They have a few other stores that you can promote as well for a variety of Niches.
The commission is a standard 5% and the cookie is 15-days. These are decent affiliate terms but they are not overwhelming. The cookie should not be a problem and the commission can work with a good conversion rate.
---
All Wicca Affiliate Program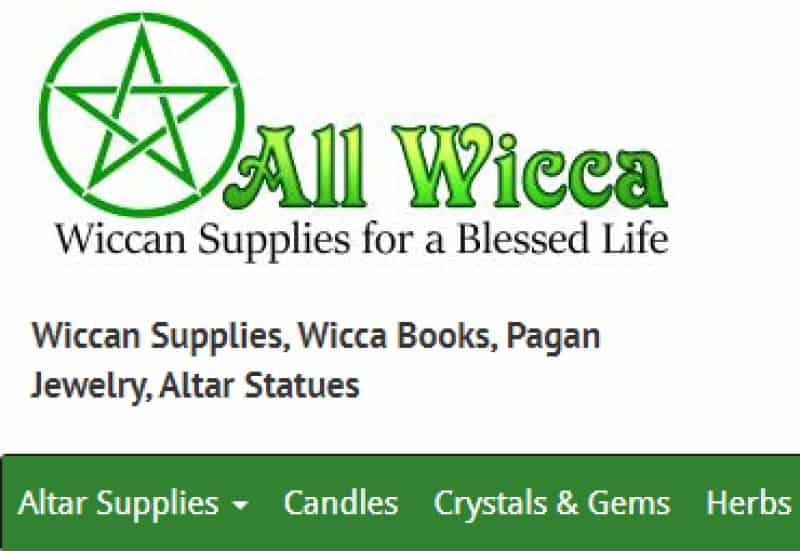 All Wicca has a great selection of Wiccan Supplies like candles, gems, crystals, herbs, and oils for you to promote on your Wiccan niche website.
They also have Wicca Books, Pagan Jewelry and other alter supplies that will fit well into witchcraft, Wiccan or occult niche sites.
The tracking cookie was not listed on their site so make sure you ask about it when you sign up. The commission for their affiliate partners is a very solid 8%.
With a good enough conversion rate, an 8% commission can really be the basis for a good passive income website. This is a solid all-around affiliate program, in my opinion.
---
The Big Finish
That brings us to the end of our look at these wonderful Witchcraft and Wiccan affiliate programs. This Niche might seem Whimsical to a lot of people but the people who practice these Arts take it as seriously as any other religion or philosophical way of life.
If you are going to dive into the Witchcraft Niche you need to understand that it must be taken seriously by you as the creator of the content or you will simply not resonate with the audience.
the truth is if you're just looking to make money from affiliate marketing there are much better niches than Witchcraft. And this is where you need to be really involved with the community in order to get the most out of your passive income website.
You can still earn money with it but it's not something that you just pick up and start slapping affiliate links and hope to make a bundle of money with it.
Maximize Your Witchcraft Affiliate Programs
Now that you have your witchcraft affiliate programs you're going to want to start crafting content so that you can Implement these affiliate links and start earning a little bit of profit. as you start to build traffic your profits will grow your conversion rate will probably get better and your commissions will definitely start coming in more frequently.
This is all part of maximizing your affiliate programs. You want to place your links in reasonable places in your content. You don't want to just Spam witchcraft affiliate links all over your content you need to place them strategically and wisely.
It's not an easy thing to do. it's as much an art as a science I'm trying to figure out the best way to deploy your affiliate links. But it is imperative that you learn how to best use your affiliate programs and how to craft the content that is going to draw the traffic into those affiliate programs.
Once you learn the best content to create to maximize your conversions you will be well on your way to a passive income for you and your family.
Don't go it alone. Get the best learning tools and community to help you build your online dream. Check it out here.
Thanks for visiting and have a wonderful day