This article may contain *affiliate links. Please see our affiliate disclosure for more details
Hey everyone, Michael here. Can adding a crystal to water really benefit one's health? I'm afraid I don't have the answer to that but people are paying big money to find out. And that's where you come in with your crystal healing niche blog.
To get the most out of that niche blog you going to need some Crystal healing and Crystal Water affiliate programs that you can use to build your passive income.
So let's take a look at these fantastic affiliate partners that are going to help you build your own affiliate marketing business.
There Is Just Something About Owning Your Own Business. Being Your Own Boss. Building Something From The Ground Up With Your Own Hands. Especially When It Is This Easy To Get Started.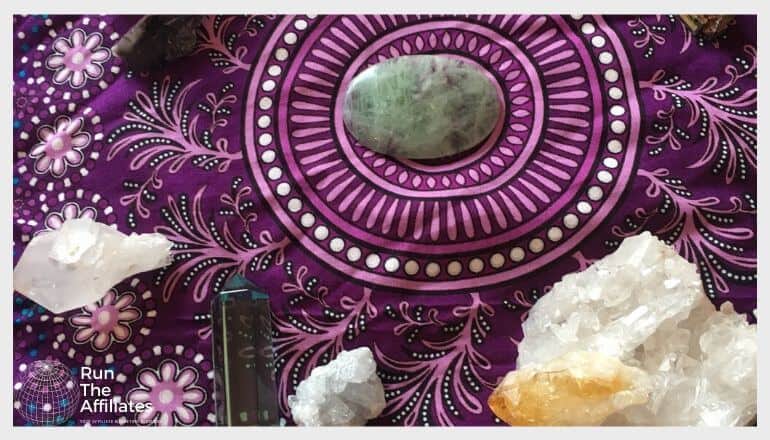 Check Out These Crystal Healing And Crystal Water Affiliate Programs
Crystal healing or Crystal Water affiliate program is designed to allow content creators in the crystal healing and Crystal Water niches to monetize their content by placing affiliate links into vet content.
When someone clicks on one of these Crystal Water affiliate programs and purchases something the affiliate marketer gets a small commission from that.
Affiliate marketing for this Niche works great whether or not you have a blog or a YouTube channel or an Instagram presence as long as you can get people to your affiliate links these affiliate programs can work for you.
Finding these Crystal healing affiliate programs is just the first step in building a passive income website. You need to get the conversions and you need to get the traffic to your affiliate link.
The best way to do that is to invest in a little bit of affiliate marketing training that can really help smooth the way to your online business.
---
Live Jiva Affiliate Program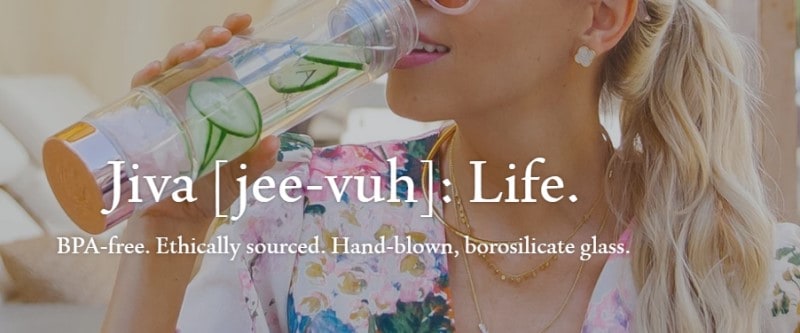 Jiva offers impressive crystal water bottles that you can promote on your niche blog. They only have a few bottles and crystal kits to choose from so this is probably best deployed and a secondary affiliate program. But the products look great and are around $100 dollars making them an awesome product to promote.
The affiliate terms are pretty great for this partner. They offer a 60-day tracking cookie and an excellent 10% commission on qualifying sales through your affiliate links.
If the products resonate with your audience and you can get a good conversion rate then this will be a great addition to any affiliate arsenal in the crystal energy niche.
---
Zen Jewels Affiliate Program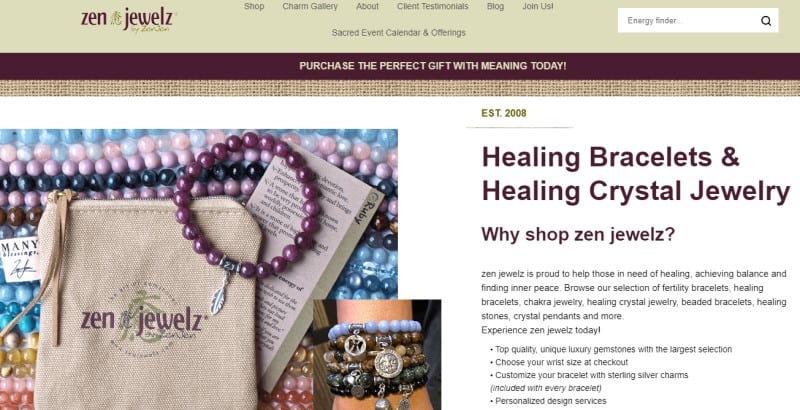 Zen Jewels Have a wide range of healing bracelets and healing crystal jewelry that you can promote to your crystal energy Niche audience. This company has been around since 2008 and have a pretty good reputation of providing some great healing jewelry options for their customers.
The tracking cookie is a little low at 14 days but it should not be a problem for these types of products. Ideally, you would like it to be at least 30 days but you can make it work with this slightly shorter cookie duration.
The commission is a standard 10% Commission. double-digit commissions are always great and if you can get a decent conversion rate than a 10% commission will be more than enough to provide a good solid passive income for yourself.
---
Gem-Water Affiliate Program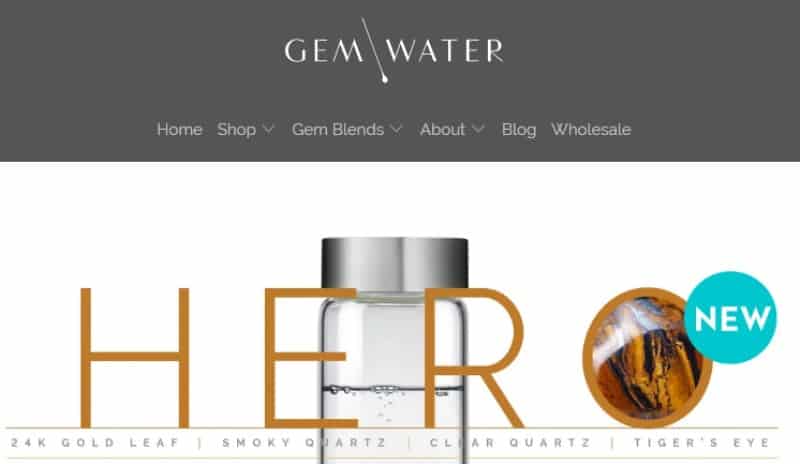 Gem-Water Has an extensive selection of BPA-free gem water bottles For you to promote on your website. They have a whole range of different gyms and gym Blends that you can use in your promotions as well.
They also have some very interesting Crystal straws that you can promote as well. as well as some Crystal Pet bowls. These are water bowls for your dogs or cats that have a crystal in the center of them so that they can benefit from the crystal healing just like you can.
The big takeaway here as that this affiliate program has a ton of stuff for you to promote and it's all right within the crystal energy or Crystal healing niche.
This is probably the most robust affiliate program that I have on this list and its one that you really need to consider if you are in this Niche because it does have such a wide range of products for your audience.
The commission and the cookie are pretty standard fare for this partner. They offer a 30-day tracking cookie which should be plenty for building a good conversion rate and the 10% commission means you will make a nice chunk of change for each sale you make.
---
Soji Energy Affiliate Program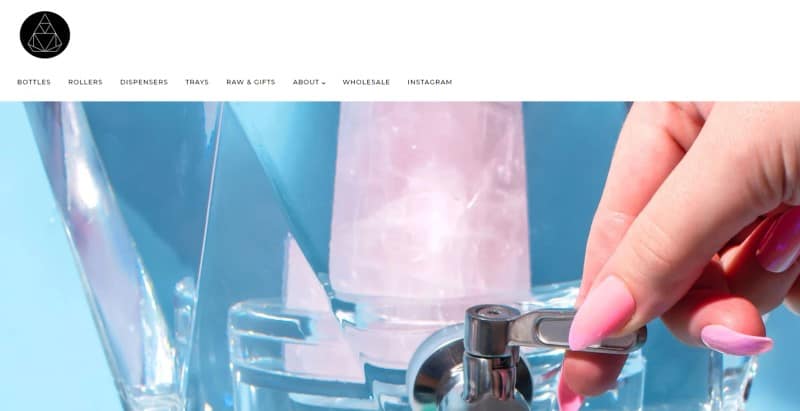 SoJi Energy Has a good selection of Crystal water bottles, Crystal rollers, and other products that fit nicely into the crystal healing niche. One interesting thing is their crystal water dispensers which Look fantastic and can provide you with the same force of water that you get from their bottles.
These dispensers are very much high-end items running well over $300 each. Promoting these can really turn a great profit with just an average conversion rate.
The commission for this affiliate product is only 5%. It's not a terrible commission but you typically want to see something a little bit higher. However, it's not always possible and you can make these lower the Midland commission's work well if you can get a good conversion rate with your specific audience.
One thing that will help boost that conversion rate is their fantastic tracking cookie. It is a full 180 days according to their ShareASale profile and that will give you plenty of time to make a sale and get the commission that you deserve.
Another added benefit of this affiliate program is that they offer an auto-approval process through their share sale profile. That means that even brand new websites can get involved and start earning commission even with very little traffic as long as you can get those conversion rates.
---
Crystal Healing Shop Affiliate Program

This affiliate program fits nicely into the Crystal healing niche and they have a great selection of related products that you can promote to your audience.
The product side of things is pretty locked down, unfortunately, the affiliate program isn't up and running just yet. The link takes you to a coming soon page.
If you are in the crystal healing or crystal water niche then this is one you will want to keep an eye on if they ever start-up their affiliate program.
---
Lotus Living Group Affiliate Program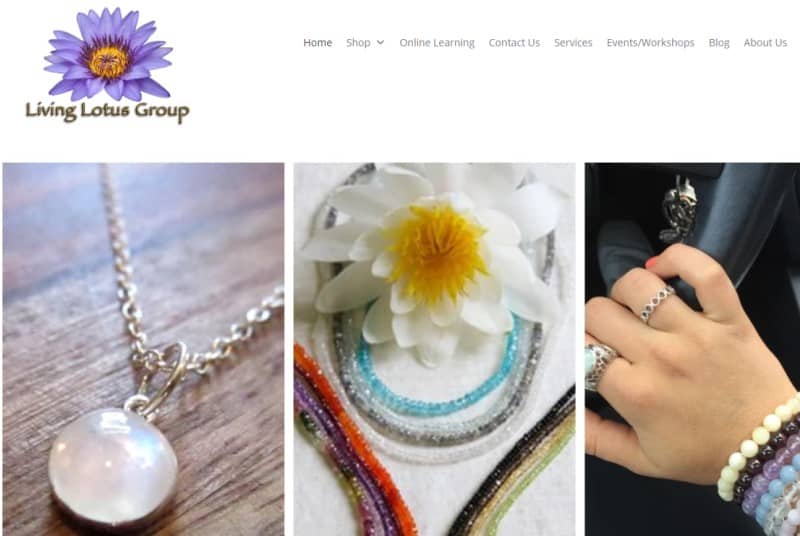 Lotus Living Has a good selection of gemstones and other Crystal healing related products that you can promote to your audience but they also have a very nice selection of online learning and digital products like e-books related to this niche. It's nice to have a little bit of diversity in your affiliate programs and this one certainly gives you that.
As far as the affiliate terms go for the Lotus Living affiliate program they are pretty spectacular. The tracking cookie weighs in at a mass of 90-days which is going to give you plenty of time to make those sales after someone clicks on your affiliate links.
It's great seeing these long-duration tracking cookies because they directly help buff up that conversion rate by giving people more time to consider the purchase.
That brings us to the all-important commission. It starts off great and gets even better. The commission is based on the type of product that your readers purchase when they use your affiliate link.
It starts at 10% for most of the physical products and goes all the way up to 50% for a lot of their digital products like ebooks and other related digital products.
When you have a tiered situation like this you want to make sure you're not pushing the high commission stuff just for the sake of pushing it.
Make sure that it's something that your audience once and then you can promote it reasonably but don't neglect the physical products as they are typically going to have a higher conversion rate than the all digital products.
---
Sivana Affiliate Program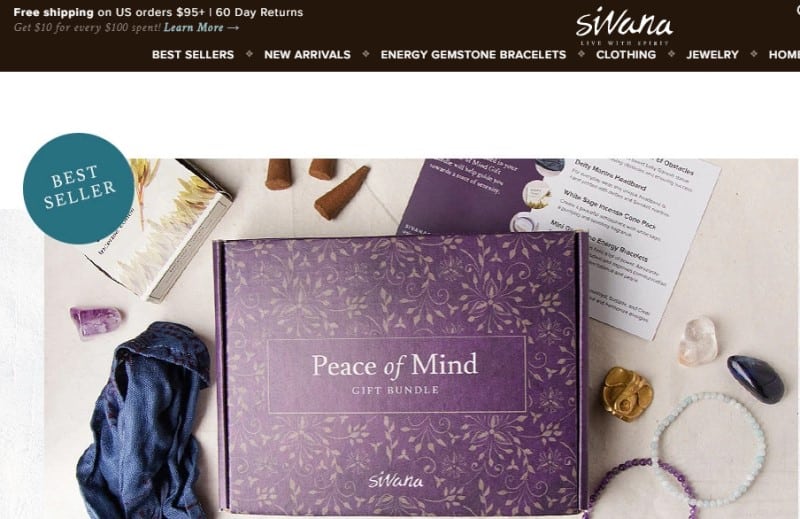 Sivana has a huge selection of healing energy crystals that you can promote on your Crystal water or Crystal healing Niche website. The list is really extensive of their individual crystals they also have energy gemstone bracelets clothing gifts and other types of jewelry that you can recommend in your content.
This affiliate program is also a very charitable one so you can use that in your promotion because it really does help humanize the company behind the affiliate program. They also have an extensive gift bundle that you can choose to send to your friends and family.
These gift bundles are always great for a little bit of extra Commission because people will be picking them up not only for themselves but for their loved ones on the holidays, birthdays, Etc.
What really makes this an outstanding affiliate program for any Crystal healing Niche blog is the Fantastic commission that's on offer here.
They offer a 20% commission on qualifying sales through your affiliate link. It really does not get much better than that. How long that type of commission is sustainable for these products I don't know so you want to try and get in on it as quickly as you can and maximize your profit potential that way.
The tracking cookie is a full 90-days which is outstanding for this type of Philly program. There's really nothing not to like about the Sivana affiliate program. It is one of the best in the crystal energy niche.
---
The Big Finish
That just about wraps up our look at the Crystal healing and Crystal Water affiliate programs that you can deploy in your Niche blog to help boost up your earnings and generate the passive income you're working towards.
This is an up-and-coming niche that is looking to grow in the next few years. Now is the perfect time to jump into the Crystal Water niche and start building a catalog of related content that is really going to help drive traffic and sales to your affiliate links.
Maximize Your Crystal Healing Affiliate Links
That really is the key to getting the most out of your niche site. You have to maximize the traffic and conversion rates of your affiliate links.
Where you place your affiliate links the type of contents you place your Crystal affiliate links in is going to really determine how well they convert and how much money you can make off them.
The affiliate program itself is also going to play in that conversion rate and you need to match the right affiliate programs with your specific audience in order to maximize those Commissions.
investing in a little bit of affiliate marketing training can go a long way to helping you not only create the right content that's going to drive sales but get the right kind of high converting traffic that you need to really make a great income online.
Don't go it alone. Get the best learning tools and community to help you build your online dream. Check it out here.
Thanks For Visiting and have a wonderful day