This article may contain *affiliate links. Please see our affiliate disclosure for more details
Hello there everybody and welcome back. Today we are going to get pretty specific in our search for affiliate programs for your niche site. We are going to try and find the best lipstick affiliate programs for you. These are cosmetic and make-up affiliates that tend to cater more to lipstick and lip care than your more general make-up affiliate programs.
There will be some cross over of course and some of these lipstick affiliates will have products that fit into broader beauty niches. But I thought it would be interesting to see how far down we could niche and still find a reasonable amount of affiliates.
So let us see if we can't find you some great lip care and lipstick affiliate programs for your niche blog. And hopefully, expand your monetization options in the process.
There Is Just Something About Owning Your Own Business. Being Your Own Boss. Building Something From The Ground Up With Your Own Hands. Especially When It Is This Easy To Get Started.
---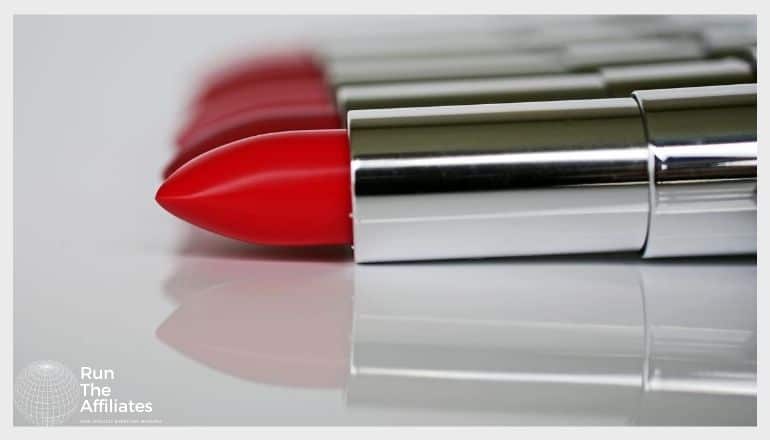 A Closer Look At These Lipstick Affiliate Programs
---
Red Apple Lipstick Affiliate Program
Commission: 10%
Tracking Cookie: 30-days
Auto-Approval: No
Affiliate Niche: Lipstick

Red Apple Lipstick makes gluten Free, vegan, cruelty free lipstick that works perfectly and doesn't irritate most peoples skin. Here are some of the product categories you can expect to promote through the Red Apple Lipstick Partner program.
Lipsticks
Lip Gloss
Lip Liner
Rallye Balm
Exfoliate Stick
Lip Brush
The tracking cookie for this affiliate program is a standard 30 day duration. I really consider 30 days to be the minimum that I really like to go on most affiliate programs. Some of the larger ones can get away with much shorter of tracking cookies but I really like to see at least 30 days for a typical affiliate program. So it's nice to see that the Red Apple lipstick affiliate program has a good solid tracking cookie that's should help your conversions Stay High.
The commission is equally solid. It is a double-digit affiliate commission weighing in at 10%. There is really nothing to complain about when you get a 10% commission. These types of affiliate programs with a double-digit commission can really start to generate a lot of income if you can get the right type of traffic moving through your content.
LipBar Affiliate Program

LipBar produces a line of vegan, cruelty free lipstick and cosmetics that you can promote with a clear conscious since they use the highest standards to make these products. Cruelty free make-up is a must these days and one that will enhance your affiliate business by bringing the people what they want.
Liquid Matte
Lip Gloss
Lipsticks
Lip Liner
They do have more general cosmetics as well but the lip products are really what we want to focus on for the purposes of this list. The cookies are site wide so even if they pick up some products other than lipstick you will still get a commission.
The tracking cookie duration is 30-days which should work incredibly well for most affiliate marketers out there. These price ranges on the LipBar website are not what I would call high-ticket items so the 30-day cookie should serve you pretty well. The commission was not readily available so be sure to ask about it when you sign up.
---
BabeBox Affiliate Program

BabeBox is a cosmetic subscription box service that is technically not solely a lipstick affiliate program but I always like to include a subscription box for every niche and this one works well for lipstick or general beauty niche website. BabeBox sends 4 to 6 full-sized cruelty-free cosmetic products each month They even have a free trial to boot so you can promote that as well.
The tracking cookie for this affiliate program weighs in at a rocks on a 30-day. This gives an affiliate marketer a full month to promote their products and still get credit for making that referral. The BabeBox subscriptions not what I would classify as a high-ticket item, so there's really no need for a much longer tracking cooking in 30 day. New paragraph.
The commission for the BabeBox affiliate program is decent but nothing really spectacular. It is a $6 flat fee for each new subscription that you bring in through your affiliate link. This is a one-time fee for each new subscription so don't expect to get a recurring Commission on this subscription box. The non-recurring commission seems to be the root that's most subscription boxes are going these days so this is not really that out of the ordinary.
---
Two Chicks And Some Lipstick Affiliate Program
Commission: 50%
Tracking Cookie: Not Listed
Auto-Approval: No
Affiliate Niche: Cosmetics

Two Chicks And Some Lipstick Is a little bit different than most of our other Affiliates on this list. Instead of focusing on selling the lipstick and other beauty products himself this affiliate's product are training courses designed to get you the look you want with your lipstick and your makeup.
Typically these digital courses are little bit more difficult to sell and take a little bit more promotion since you're selling training essentially instead of a physical product. But the upside is that they typically give you a much higher commission than a physical product does.
Speaking of that commission it is a very robust 50% commission on sales of their courses. The course is typically run around $97 so you can Bank about 48 bucks or so per sale. So while the conversion rate might be a little bit lower the commission and potential  income really outweigh any of the downside. 
It's really going to come down to how well this training program resonates with your specific audience and whether or not they are ready to pay money for training on how to get various Looks with their makeup.
---
Spoiled Lips Affiliate Program

---

Petite 'n Pretty Affiliate Program
Commission: 5%
Tracking Cookie: 30-days
Auto-Approval: No
Affiliate Niche: Cosmetics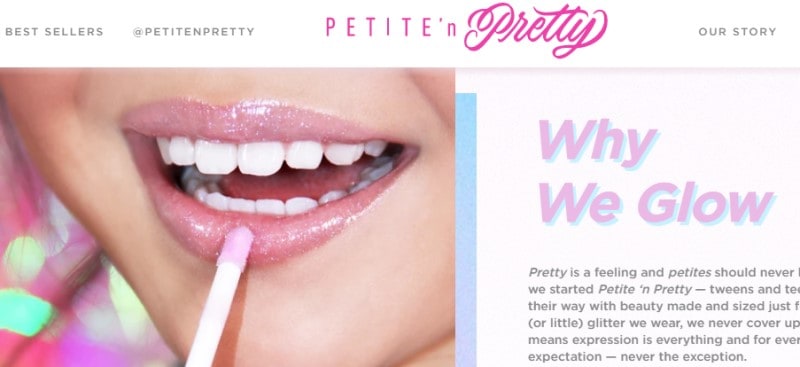 The affiliate commission and tracking cookie are both respectable for this lipstick partner program. The commission is 5%, decent but not extraordinary. The tracking cookie is the standard 30-days. These are not the type of terms you can build a huge business around, I think this affiliate works best alonside an affiliate with a double digit commission.
Ultimately this affiliate will be at the mercy of your audience. If the love what Petite 'n Pretty have to offer then the 5% commission can turn over some pretty nice profits but if the reception is lukewarm or worse then you will need to move on pretty quickly.
---
Liquid Courage Cosmetics Affiliate Program
Commission: 15%
Tracking Cookie: Not Listed
Auto-Approval: No
Affiliate Niche: Lipstick

Liquid Courage Cosmetics is a small lipstick shop that has a small but interesting set of lipsticks. The only real downside with this affiliate is that they don't have a huge selection of products. They have the following categories with a few dozens of individual lipsticks.
MATTE LIPSTICKS
MATTE LIQUID LIPSTICKS
In addition, they have some lipstick packs and collection but their product line is relatively small. It means that the appeal will not be as broad as a warehouse cosmetics store that has everything for everyone. But with the right promotion and content, you can use this smaller more intimate feel to your advantage.
The commission is very generous for anyone using this affiliate program. It is pegged at 15% for qualifying sales made through your affiliate link and, to be honest, it does not get much better than that in the lipstick or, indeed, the overall beauty niche. I could not find any information on the tracking cookie duration so be sure to ask about it when you sign up for this partner program.
---
The Big Finish
That wraps up our look at these lipstick affiliate programs. Truth be told you can use these affiliate programs in a general Makeup or beauty Niche site just fine. I just think it's interesting that if you decide to Niche down and make a beauty sites solely about lipstick you can do so and have a good many options for your affiliate Partners if you choose to do that.
Small is always a good place to start and then you can build your beautyness sign out from there. If you start with just lipstick and then move on to maybe buy makeup or foundations or blush or anything else that is a common part of the beauty routine when it comes to makeup.
So I hope you found something here that you can use to help expand your monetization options on your beauty or lipstick Niche website. Remember these Affiliates are going to work for everybody somewhere going to be great for specific audiences While others might not work out as well. It's up to you to choose which ones you want to promote and then see how well they work with your specific audience and how they work with your specific needs.
In the end you'll definitely find one that works well for you and you can start moving forward and expanding your content to meet the needs of those affiliate programs.
Don't go it alone. Get the best learning tools and community to help you build your online dream. Check it out here.
Thank you for stopping by and have a wonderful day.