This article may contain *affiliate links. Please see our affiliate disclosure for more details
So you have decided to put together a hockey blog.  Hockey is such a wonderful sport and the internet will be a better place now that it has your voice promoting and teaching this wonderful game. Sure would be nice to earn a little bit of money doing something you love.  A great place to start is with affiliate marketing.
Maybe you have already started monetizing your hockey blog.  You picked up Amazon and just have to settle for their 20-hour cookie and terrible commissions.  Well, that is not the case.  Amazon is fine but they have forgotten how they got so big.  Through word of mouth from affiliate marketers just like you.
The good news is you don't have to settle.  There are dozens of hockey partner programs that still respect the work you do on their behalf and are willing to give you a nice commission for your troubles.  I have put together this list of the best hockey affiliate programs for your approval. I hope you find something that works well for you.
There Is Just Something About Owning Your Own Business. Being Your Own Boss. Building Something From The Ground Up With Your Own Hands. Especially When It Is This Easy To Get Started.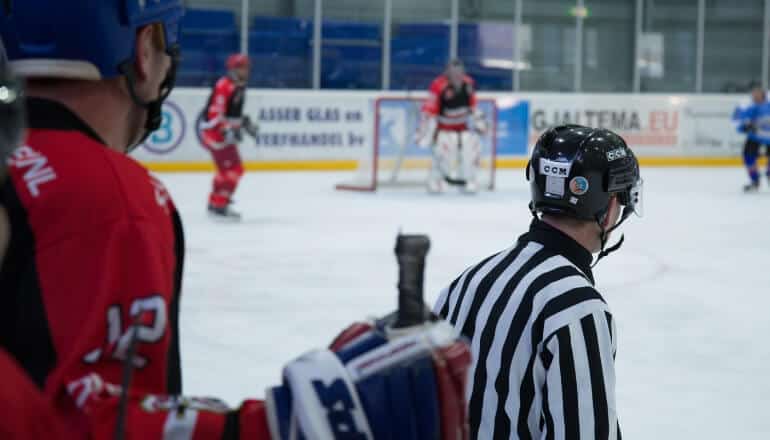 What Are Hockey Affiliate Programs?
Hockey Affiliate Programs are revenue-sharing programs designed to allow content creators to monetize their hockey-related content. When a potential customer uses an affiliate link and then makes a purchase the affiliate marketer earns a small commission. All of this happens on the backend and the prices of the items stay the same with our without the affiliate marketer in the middle.
Hockey is a great blogging niche. You have the hockey affiliates ready to go now you just need to put in place a good traffic and conversion strategy to maximize your affiliate earnings.
---
HockeyShot Affiliate Program
Company Name: HockeyShot
Application: Sign Up Here
Affiliate Network: AvantLink
Sales Commission: 7%
Tracking Cookie: 90-days
Niche: Sports
Auto-Approval?: No

HockeyShot is an online retailer of hockey equipment. This is not replica jerseys or ball caps. This is the gear you need to train at hockey. And they have a ton of it.
The product selection and diversity is outstanding. Anything you need to get your players on the ice is here to purchase. Whatever you need to get better at, they have a way to do it.
If we take a look at the categories of products that you could promote on your hockey blog, we find something for every aspect of the game. If you focus on shooting, then they gave dozens of pieces of training equipment for your readers to choose from. Shooting pads, radar guns, synthetic tiles that mimic the feel of ice.
It is all here.  And that is just shooting.  Passing, goalkeeping, stickhandling, skating, and even physical training regimens are on offer from this partner program.  The amount of content you can generate from promoting and reviewing their robust line of products is seemingly never-ending.
The Affiliate Terms
HockeyShot offers its partners a very nice 7% commission for all qualifying purchases made through your affiliate links.  This retailer sells physical products so the commission on offer is very welcome.  Amazon would give you about 4% for the same gear and basically the same prices to your readers.
The tracking cookie is fantastic.  The average tends to be around 30-days and Hockeyshot gives you a full 3 times that.  The 90-day tracking cookie offered by this affiliate partner will give your readers plenty of time to make a decision and ultimately make a purchase while still giving you a commission.
The Wrap-Up
I would call this partner a must-have for anyone in the hockey training or coaching micro-niche. It works well for youth hockey blogs as well. They have good commissions and a great tracking cookie.
But it is their product selection that really stands out. Their training and skills equipment is not always readily available on bigger sites like Amazon. This adds an incredible amount of value to this smaller partner program.
The only downside is that they are not a well-known website.  At least not outside of the hockey niche.  So people might be a little hesitant to use their website.  It will be up to you to convince your readers that they are a good, safe alternative to huge e-commerce sites.
---
Pure Hockey Affiliate Program
Company Name: Pure Hockey
Application: Sign Up Here
Affiliate Network: AvantLink
Sales Commission: 8%
Tracking Cookie: 45-days
Niche: Sports
Auto-Approval?: No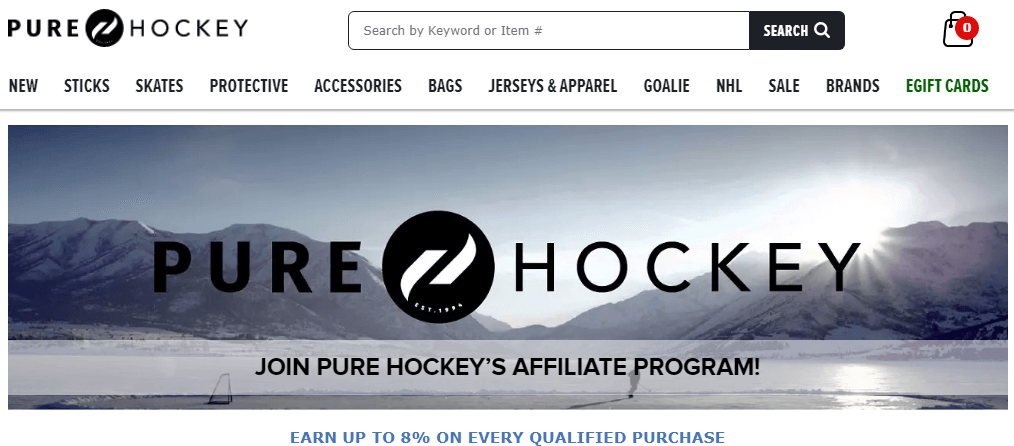 Pure Hockey is a pretty conventional hockey retailer.  They carry a very nice variety of hockey equipment and apparel. They also have a decent selection of licensed NHL gear for your readers to consider.  It makes this partner program a pretty well-rounded one and depending on your micro-niche this could be used as a primary affiliate.
At Pure Hockey, you will find a great selection of sticks, skates, and protective gear for all ages.  They have their stock easily categorized in youth, adult, and senior levels making it easy to find what you are looking for.  More importantly, it gives you the opportunity to easily target specific age groups with your promotion and find the appropriate gear for that age group.
This might seem trivial but always look at the layout of a store or website that you are going to promote and make sure it is easy to navigate and find products in. The NHL gear on offer is pretty good but it seems like an afterthought to the main products that Pure Hockey is selling.
If you are writing a hockey coaching blog, or training blog or a blog for youth hockey players then this is a great partner to have. If your blog is more focused on the NHL or College hockey there may be better alternatives to promote. Ones with a more robust selection of licensed gear.
The Cookie And The Commission
The cookie is 45-days. Longer than the standard, but I always like to see more in this regard. Still, 45-days is pretty good for this type of retailer. The products are pricey but not expensive and 45-days should be plenty of time for your readers to make a decision on their purchase and get you a nice commission.
Speaking of that commission… Pure Hockey offers a very nice 8% commission for all qualifying sales.  We use Amazon as the baseline and they are around 4% for most items.  So double Amazon is fantastic. 
It is also a pretty high commission for these types of products.  Due to the overhead of shipping and storage of physical products, commissions tend to be lower for this type of store. Anything approaching double-digit commissions is quite nice.
The Wrap-Up
Pure Hockey is a very good partner to have for a hockey blog. They have a great selection of hockey equipment with w well laid out website. They offer great commissions and an above-average cookie.
The biggest downsides are they are mainly a hockey equipment retailer. They do have some licensed apparel but not as much as a dedicated store. And they have the same problem most of the smaller partners run into and that is the trust factor.
You are going to have to help your readers out with that, everyone is comfortable with Amazon, not as much with smaller retailers. Especially these very specific ones that they may have never heard of before.
---
NHL Shop Affiliate Program
Company Name: NHL Shop
Application: Sign Up Here
Affiliate Network: ShareASale
Sales Commission: 6%
Tracking Cookie: 7-days
Niche: Sports
Auto-Approval?: No

NHL Shop is probably going to be an affiliate program you are going to want to have for most hockey niche blogs.  Especially if your focus is on professional hockey.  But youth hockey blogs, training hockey blogs, and everything else will benefit from the association with such a big brand.
Every team, every player. All officially licensed. Regardless of what sport your niche is in you always want to have the official store of the professional league as part of your affiliate marketing strategy.
The Affiliate Terms
The commission is a decent 6 percent. It is a little bit more than what you would get from Amazon. Given the size of the partner, this is a reasonable amount for the commission.
The tracking cookie is pretty poor. At only 7-days you need to make sure that your readers are ready to buy when they click the link. Still much better than Amazon but I consider anything less than 30-days to be way too short.
The Buzzer
An absolute must-have for your hockey site.  Even if it is just to have the NHL Store On your sidebar.  Depending on your hockey micro-niche you might not ever build any content around anything in the store.  But the terms are a little less than spectacular but they are decent and as mentioned this can be a pretty passive partner program to use.
On the other hand, if your micro-niche is built around hockey apparel, for example, then the NHL store will be invaluable to your content and promotional strategy. Having the official store of your sports league on board is a great way to promote those products as an alternative to Amazon.
---
Steiner Sports Affiliate Program
Company Name: Steiner Sports
Application: Sign Up Here
Affiliate Network: ShareASale
Sales Commission: 9%
Tracking Cookie: 7-days
Niche: Sports
Auto-Approval?: No

Steiner Sports is a sports memorabilia company that has a great selection of hockey-related products and items.  I always like to have a memorabilia partner program for any sports niche blog.  The potential high ticket items and unique content that you can draw from their collectible offerings are well worth it.
In the case of Steiner Sports I think this partner fits the best with a hockey blog because of their great product selection.  There are others that you can try and you will probably have some success with them but Steiner is my choice at this point.  Remember that the stock of collectible stores is ever-changing so they may have something one day and it is gone the next.
The Affiliate Terms
The commission is an outstanding 9%.  Closing in on double figures is always great to see.  When you add this to some of the high-ticket items that Steiner sells the commission looks even better.  The cookie is lackluster, however.  It weighs in at only 7-days.  While this is not terrible these do not impulse buys and I would like to see something closer to 30-days.
The Wrap-Up
Always try and get one sports collectibles affiliate for your sports blog.  Even if you just tuck a banner on the sidebar it is worth it to have. The commission for this one is very nice, but the tracking cookie is a letdown.  They have wonderful products for just about any hockey niche blog.  I think you'll be very satisfied with the results.
---
Skates Guru Affiliate Program
Company Name: Skates Guru
Application: Sign Up Here
Affiliate Network: ShareASale
Sales Commission: 3%
Tracking Cookie: 120-days
Niche: Sports
Auto-Approval?: No

As you might expect from a store called Skates Guru, they specialize in all things ice skates.  They have a huge selection of skates for all types of skating.  But for our purposes, we are going to focus on their huge selection of hockey skates.  They have everything it seems like.  If you need to buy some skates this is the place to do it.
As an added bonus they have quite a bit of skating apparel as well.  This includes a decent amount of protective gear for your hockey playing readers as well as some general skating apparel like wool undergarments and compression socks and clothing.  All in all, this is a great place to promote if your readers need skates.  If only the commission were better.
The Commission and The Cookie
Unfortunately, the commission is quite low at only 3%.  This is a big dissapoi8ntment but there are few other places that have such a focus on skates.  So it still makes the list just for its great selection of a very niche product.  The tracking cookie, on the other hand, is outstanding.  Skates Guru offers a full 120-days cookie for their partners.
Why Promote Skates Guru?
The products are the biggest reason to promote this partner.  The commission is disappointing.  The tracking cookie is outstanding.  Don't instantly dismiss an affiliate just because it has a low commission. It is important but it is not the end all be all of affiliate marketing.  Give them a try and see if you can get that huge tracking cookie duration to convert for you.
---
CoolHockey Affiliate Program
Company Name: CoolHockey
Application: Sign Up Here
Affiliate Network: ShareASale
Sales Commission: 7%
Tracking Cookie: 15-days
Niche: Sports
Auto-Approval?: Yes

Need a licensed hockey jersey?  Cool Hockey might just be the place for you.  They have a huge selection that you can customize with your own name or get a replica jersey with the name of your favorite player on the back.  Youth or adults, they have a jersey for all ages.  You will find jerseys for every NHL team as well.
In addition, they have a huge selection of vintage and throwback jerseys that can fetch a decent price and earn you a nice commission.  They are also great for generating some interesting and unique content.  You can also get some jerseys for your dog if you want.  This adds a nice bit of value to the overall value of the partner program.
The Affiliate Terms
The commission offered up by Cool Hockey is a decent 7%. A pretty nice commission for this type of affiliate partner. Of course, you want it to be a little higher but this is not bad.
The cookie is a little below average as well. At only 15-days it is about half the standard tracking cookie duration. Not a huge deal but a bit disappointing.
The Wrap-Up
The tracking cookie is a little low. The commission is pretty good, however. But it is the jersey selection that really sets this partner apart from the rest. Plus you can get one for your puppy which is always a great thing to have.
---
Perani's HockeyWorld Affiliate Program
Company Name: HockeyWorld
Application: Sign Up Here
Affiliate Network: ShareASale
Sales Commission: 5%
Tracking Cookie: 45-days
Niche: Sports
Auto-Approval?: Yes

HockeyWorld has a great selection of customizable jerseys and gear for your hockey team.  These are not licensed jerseys to show off with, these are for playing the game.  So this partner program is great for any hockey niche blog dedicated to training or coaching or any other niche where you need real hockey equipment.
They have tons of it and quite a diverse selection.  Hockey sticks and jerseys.  Protective gear, helmets, gloves skates, and everything you need to kit out your goalie. As a little bonus, they also have roller hockey and lacrosse gear.  While not really that important it can add to a few extra commission dollars if someone decides to pick some of that stuff up.
The Affiliate Terms
The tracking cookie offered by Hockey World is a better than average 45-days, anything over 30-days is great for an affiliate program.  The commission is a bang on average 5%.  This is about as low as you want to go for most partner programs.  You can go a little lower for some specific partners but 5% should be the goal.
The Wrap-Up
The commission is right on the border of being too low to really be worth it but it is still acceptable. The cookie is very good and the products are outstanding. This could easily be your go-to hockey equipment affiliate when you take everything they offer as a whole.
---
Hockeytraining.com Affiliate Program
Company Name: Hockeytraining.com
Application: Sign Up Here
Affiliate Network: Clickbank
Sales Commission: 5%
Tracking Cookie: 60-days*
Niche: Sports
Auto-Approval?: Yes

Hockeytraining.com is a digital product hosted on the Clickbank affiliate network. These types of products are always hit or miss. Run a few tests and see if this training solution is something that your audience is going to be receptive to. The affiliate terms are very average. Only 5% for digital products is well below what it should be but there is not much else in the way of hockey training.
---
SuperChexx Pro Affiliate Program
Company Name: Innovative Concepts in Entertainment, Inc.
Application: Sign Up Here
Affiliate Network: ShareASale
Sales Commission: $75 Flat Fee
Tracking Cookie: 15-days
Niche: Sports/Games
Auto-Approval?: No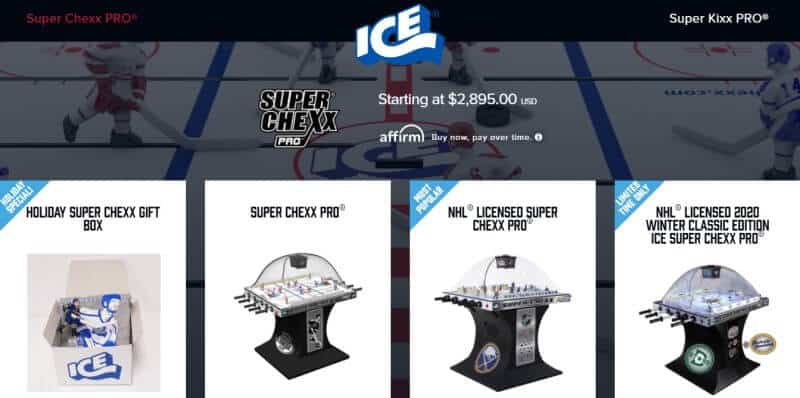 Innovative Concepts sells some of the most impressive hockey table games you are likely to find. These are high-end high-ticket items that you can promote on just about any hockey or tabletop game website.
They are as impressive and customizable as they are expensive. You will have to work hard to get a sale from these types of high-ticket items but it is always good to try.
The SuperChexx Pro Affiliate Terms
The tracking cookie is a little bit shorter than I would like, especially given that these hockey tables cost thousands of dollars. 15-days is just not going to be enough time for many people to justify making a purchase like this. High-ticket items like this need a 90-day cookie at a minimum and we just don't get anywhere near that here.
The other issue with the affiliate terms is the commission. It is a $75 dollar flat fee. It is a nice chunk of change for your promotional efforts. But I have to go back to the price of the product. They are huge for many of their hockey tables and even a 5% commission would have been better.
Having said that these are well-made tables that most likely have a very high overhead. So they are probably giving you a fair deal with the flat fee.
---
A Brief Look At the Hockey Niche
As we take a look at the Google trends for Ice hockey we see a definitive seasonal pattern. This happens with all sports for the most part, although American Football and Soccer have a pretty good presence year-round.
So what does this seasonality mean for your passive income business?
You will want to put out more content in season and less content during the offseason.
Tailor your content to the seasonality. During the offseason topics should be about player movement and team previews, for example.
Expect a dip in affiliate sales and traffic during the off-season. Fewer searches mean less traffic.
Spend the off-season developing content for the busier times for your hockey blog. Have evergreen content ready to go at the start of the season when the interest is high and around the playoffs when interest peaks.
Even very specific hockey micro-niches are going to feel this seasonality. Youth hockey, for example, will dip out of season with everything else. So while you might not be directly tied to NHL or NCAA hockey your hockey blog will still feel their impact.
Hockey Domains
Choosing a domain name is not as crucial as it used to be. In the past you would want your domain to be as niche as possible, sometimes including the types of products in the URL that you intend to promote.
Nowadays you want it to be as broad as possible to give you some wiggle room in case you want to expand. It is your content that will dictate how much of the hockey niche you work with. Start small with a couple of categories then expand out as much as you are comfortable with. And try not to alienate your audience in doing so.
Here are a few tips for picking a domain for your hockey blog
Try and pick something memorable if possible
Always try and get the .com suffix
Don't use dashes in the domain is possible
Keep it as short as possible, you want people to remember it and be able to type your domain quickly
As broad as possible within the hockey niche if you intend to expand. Narrow it down if you just want to make a small micro-niche blog
Hockey Micro-Niches
There are probably hundreds of hockey micro-niches that you could leverage for your passive income hockey blog. Even if you focus on just one micro-niche you could make a nice side income.
Here are a few hockey sub-niches that could really be lucrative with a little elbow grease.
Hockey Sticks
Hockey Gear
Fan Blogs For Specific Teams
Youth Hockey
Hockey Training
How To Play A Position Specific Blog
Monetizing Your Hockey Niche Website
Affiliate marketing is going to be the big player here for your earning potential, at least at the start. The hockey affiliate programs on our list can go a long way to making a nice income for you online.
But there are a couple of other ways that you can earn some money with your hockey niche blog. The two main ways other than affiliate marketing are advertisements and informational products.
Advertising On A Hockey Blog
This one is simple. Join an ad service and put a few ads on your site. You won't earn a lot early on with limited traffic. In fact, I would argue not to put ads on until you hit around 2 or 3k page views a month.
You can easily run into trouble if you get shady clicks with low traffic and you only get one shot at AdSense, they ban for life. There are other options that you can look into but Adsense is by far the biggest player in online advertising.
Create A Hockey Info Product
Informational products are a pretty advanced way to monetize your hockey website. They take some know-how and usually a decent-sized investment to make them professional and something people want to buy.
But they can be the biggest earners on your entire website with a little time and energy.
The first thing to consider is that you need to be established with your website. 18 months is a good place to start thinking about an info product if you have a decent amount of traffic. Year 2 or 3 is probably a better choice, however.
Deciding what to create is going to be up to you and the needs of your audience. Training videos on how to play a position would be great for a youth hockey or hockey training blog. Just be sure they are well made and worth whatever you decide to charge for them.
---
Final Thoughts On The Hockey Niche
There we are.  10 great hockey affiliate programs that you can use as an alternative to Amazon. As always you are going to have to do a little experimentation to find the best-converting partners for your specific audience.  These are simply the 10 that I found to be the best all-around and added a little diversity to the partner programs.
Keep in mind that you really only want to use 2 or three especially when you are just starting out.  Try and figure out what you need to promote and what converts best for your hockey blog and work your way from there. I wish you the best of luck with your new hockey blog and hope you turn it into a successful online business.
Don't go it alone. Get the best learning tools and community to help you build your online dream. Check it out here.
---
Thanks for visiting
As always have a wonderful day.