This article may contain *affiliate links. Please see our affiliate disclosure for more details
Hey There Everyone, Michael Here and today I am bringing you some of the best drawing affiliate programs out there right now. Sketching and drawing is an incredibly popular sub-niche of the very lucrative art industry.
There will probably be some overlap with general art affiliate programs, but the focus will be mostly on the drawing and sketching side of art blogs.
Let's have a look and find something that will jump-start your passive income business.
There Is Just Something About Owning Your Own Business. Being Your Own Boss. Building Something From The Ground Up With Your Own Hands. Especially When It Is This Easy To Get Started.
---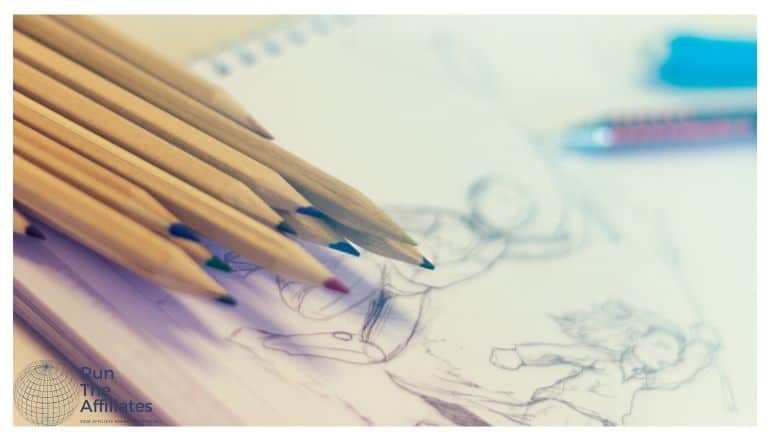 Check Out These Drawing Affiliate Programs
Drawing makes a great blogging niche. It lends itself well to visual media like Youtube, Pinterest, And Instagram but will also work great as a traditional blog with a lot of training and how-to tutorials.
You can do very well financially with a drawing blog as well as help people learn to draw. It's a great feeling all the way around really.
Now that you have some great sketching and drawing affiliate program ideas you just need to create the content and drive traffic to your affiliate links. The right Affiliate marketing training can get you started or take your existing blog to new heights.
---
Arteza Affiliate Program
Commission: 15%
Tracking Cookie: 90-days
Auto-Approval: No

Arteza has a wide variety of art products for you to promote on your general art or drawing specific website. For our purposes of this article, we are going to focus on their extensive collection of drawing materials.
Regardless of the drawing discipline that is at the heart of your niche blog, Arteza will have the products and materials you need. This is one of the best general art affiliates you are going to find. In addition to the great products for you to promote they treat their affiliates well with generous affiliate terms.
They offer a 90-day tracking cookie duration which is fantastic for this type of affiliate. It gives you plenty of time to promote their products and rack up the sales to get those all-important commissions.
Speaking of the commissions, you will find that Arteza has one of the best commissions around. They offer a 15% commission on sales through your affiliate links.
Finding commissions this lucrative is pretty touch for a physical product affiliate program so it is something you really need to considered when choosing a drawing affiliate program.
---
Blick Art Materials Affiliate Program
Commission: 10%
Tracking Cookie: 15-days
Auto-Approval: No
Join the Blick Art Materials Affiliate Program

Blick Art is one of the bigger art supply brands. This is their main store and they have a great assortment of art products and drawing supplies in particular.
You want at least one of these large art supply stores for any art niche website. They offer more than just what is needed for the drawing niche and are a great asset to have in your affiliate marketing strategy.
For a brand this big the commission is quite generous weighing in at a solid 10% for sales through your affiliate link. The tracking cookie is fine at 15-days, although I typically like to see at least 30-days for an affiliate program.
---
Secrets To Drawing Affiliate Program
Commission: 50%
Tracking Cookie: Not Listed
Auto-Approval: No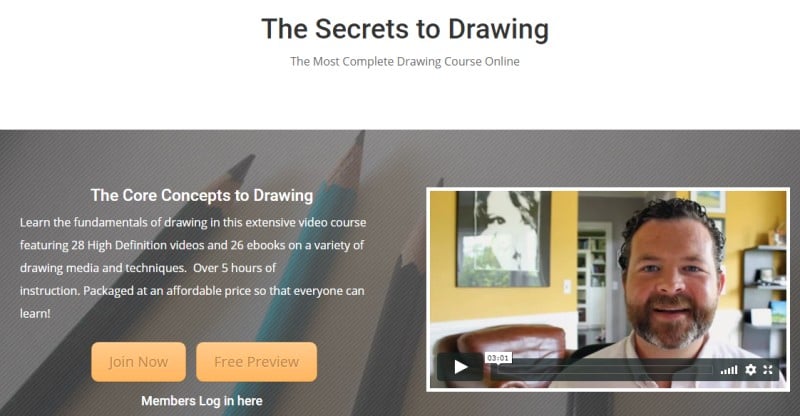 This is an online course designed to teach you everything you need to know about drawing. There are scores of videos and ebooks that lay it all out for you and it would fit great into any drawing blog affiliate strategy.
The tracking cookie information isn't listed but this is hosted on the Clickbank affiliate network which typically gives you about a 60-day duration, which is great.
The commission for this drawing training program is massive. The 50% commission is going to really give you a great profit potential if you can get a good conversion rate.
Conversions are going to be the issue with this affiliate. Typically you need a little extra care in your promotion when recommending digital products.
---
The Crafters Box Affiliate Program
Commission: 10%
Tracking Cookie: 30-days
Auto-Approval: No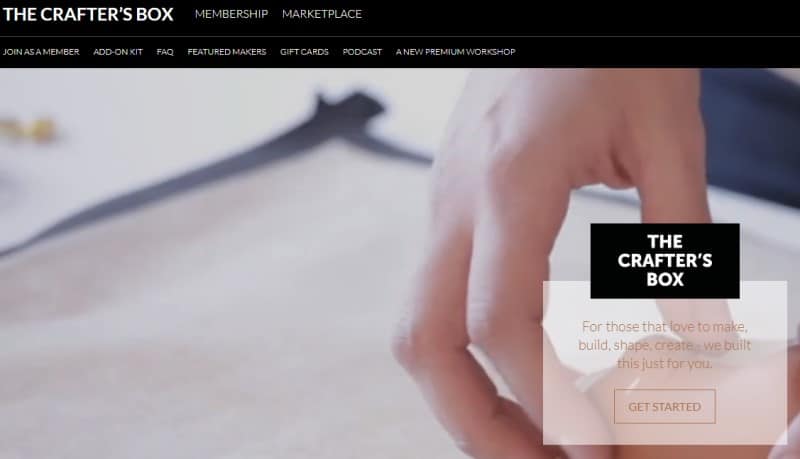 This subscription box affiliate is more of a general arts and crafts affiliate program although their boxes will have some drawing related items in them from time to time. The reason I put it on our drawing list is that I think it is important to have a subscription box for any niche if at all possible.
The terms are pretty good for a subscription box service. You get a standard 30-day tracking cookie and a superb 10% commission on new subscribers through your affiliate links. You should get a recurring commission but be sure to double-check to make sure.
These terms are listed on their ShareASale profile and differ from the ones on their website.
---
Utrecht Affiliate Program
Commission: Up To 10%
Tracking Cookie: 1-days
Auto-Approval: No

Utrecht Art has an extensive supply of drawing supplies including pens, pencils, charcoal, drawing ink and drafting supplies. It makes it a great option for both general art affiliate programs and drawing specific niche blogs.
The tracking cookie is not that great for this affiliate program. The quoted duration on their CJ.com profile is only 1-day. That means that you need to have your affiliate links in content that has a very buyer intent focus.
It is workable but you will want to pair it with another affiliate with a longer duration cookie if you choose to promote this partner.
The commission is a little bit better. It is listed at up to 10%, make sure to ask to find out how to get the max commission.
---
From Sketch To Oil Painting Affiliate Program
Commission: 75%
Tracking Cookie: 60-Days*
Auto-Approval: Yes

From Sketch To Oil Painting is a single product affiliate program based around a digital e-book. This affiliate program is going to have a pretty limited appeal because it is digital-only, but if you can get it to convert well with your specific Audience it can be a real earner for your online business.
This is a ClickBank hosted product so the tracking cookie is probably around 60 days although they don't explicitly lay that out in their affiliate profile. Either way, you don't really need a long-duration cookie for these types of ebook affiliate programs.
The real draw this affiliate program is the massive 75% commission that they offer for each sale of their ebook. These really super high commissions are pretty common among digital affiliate programs, especially ebook programs.
The reason for this is you only have to write the book once and then you can copy it for free and send it out to whoever pays for it. So you invest upfront and then you have very little overhead moving forward.
---
Mister Art Affiliate Program
Commission: 10%
Tracking Cookie: 30-days
Auto-Approval: No

Mister Art Has been around since 1996 and was the first online Art supply store. It is a general art affiliate program but it does have an extensive collection of drawing and sketching products that you can promote on your Niche blog.
It has all the products that you would expect from a drawing affiliate program like inks and pens and different types of paper and other accessories that are needed for drawing and sketching.
The affiliate terms are pretty standard. They offer a nice 30-day duration tracking cookie. This is going to give you plenty of time to promote their products and still get a commission.
And speaking of those commissions they are very nice as well. They weigh in at 10%. It is always great to see double-digit commissions especially for these drawing affiliate programs That offer physical products.
---
Wrapping Up These Drawing Affiliate Programs
That just about brings us to the end of our look at these wonderful drawing affiliate programs. Whether you are starting a drawing specific Niche site or just adding a separate drawing category to your general art blog one of these affiliate programs might be just what you need to help generate that extra income from your affiliate marketing business.
Many of these affiliate programs have other categories within the art niche but they are on this list because they have a very robust amount of drawing products for you to promote on your drawing specific website.
Drawing is a fantastic visual art that can really work well as both a Blog and as a Pinterest or YouTube affiliate marketing business. The best way to go about it would probably be to create tutorials showing the drawing process on YouTube and then breaking them down into how-to articles for your website.
What this does is start to create your own ecosystem that promotes your overall brand. So you can have one person come to your website from your YouTube videos and you can send people to your YouTube videos from your website and you have your own little drawing Empire that you can use to generate the passive income that you need.
Maximize Your Drawing Affiliate Programs
You were going to want to try and maximize that passive income as best you can. Learning affiliate marketing is not an easy thing to do especially trying to rank your articles and videos on YouTube and on search engines.
It's a daunting Prospect at times for experienced affiliate marketers and for beginners it can be downright soul-destroying. But with a little help, you can succeed.
Don't go it alone. Get the best learning tools and community to help you build your online dream. Check it out here.
Thanks for visiting and have a wonderful day.