This article may contain *affiliate links. Please see our affiliate disclosure for more details
Hello Everyone, Welcome Back. Today we are going to be looking at some of the best dental affiliate programs that can be used for a wide variety of passive income niches. If you are building out existing oral health or general health websites or if you are just looking to get into this competitive niche there are some great affiliate options for you here.
Dental health is not for the faint of heart because it is competitive and is troublesome to rank on google. The good news is that these dental affiliate programs are that they can be deployed in less competitive and easier niches. These affiliate programs do not include dental insurance programs as that is its own list altogether.
There Is Just Something About Owning Your Own Business. Being Your Own Boss. Building Something From The Ground Up With Your Own Hands. Especially When It Is This Easy To Get Started.
---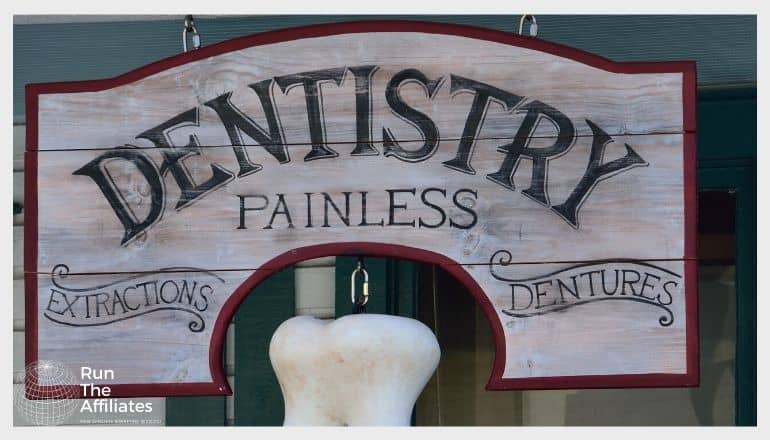 Check Out These Dental Affiliate Programs
Oral health and dental affiliates programs can work for a variety of different niches. General health niche sites, focus sites for men's or women's health, parenting sites with categories for oral health, and the list goes on. There are hundreds of opportunities to use these dental affiliates outside of the traditional niches.
The bottom line is that they can form the foundation of your online business for a variety of different niches. Start building that secure passive income today.
---
OraCoat Affiliate Program
Commission: 5%
Tracking Cookie: 90-days
Auto-Approval: By Country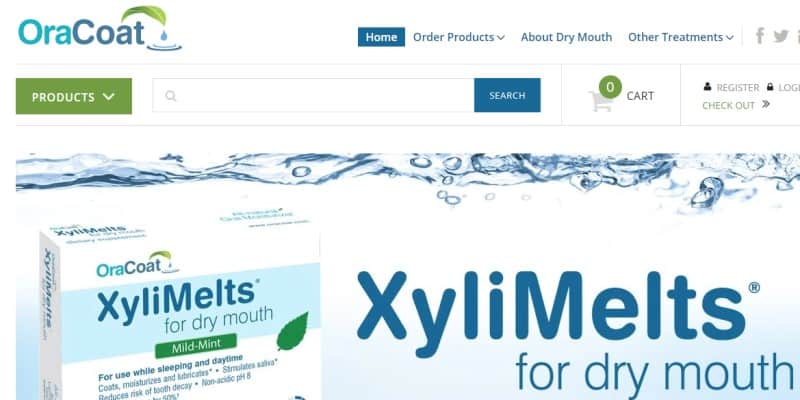 OrCoat's main product, XyliMelts for dry mouth moisturizes the mouth and helps keep your mouth comfortable for hours. But they also have gum and tooth gel built on the same principles of moisturizing your mount. While their product selection might be a little limited they are a good affiliate to consider for any oral health or dental blog.
The 5% commission offer by this affiliate is decent. Not great, not terrible but right in the middle. It will come down to the products and how much your audience likes them to determine whether the 5% commission is going to be enough to make it worth your while to promote their products.
The tracking cookie is fantastic, however. They offer a 90-tracking cookie duration. That gives you 3 months to promote their products, get the clicks on your affiliate links and still get a commission at the end of it. It's a good deal.
One last thing to add about the OraCoat affiliate program is that they offer an auto-approval process through their ShareASale profile. This makes it easy for newer affiliates to sign up and start building that affiliate foundation without having to have a ton of traffic when your website is brand new.
---
Impressive Smile Affiliate Program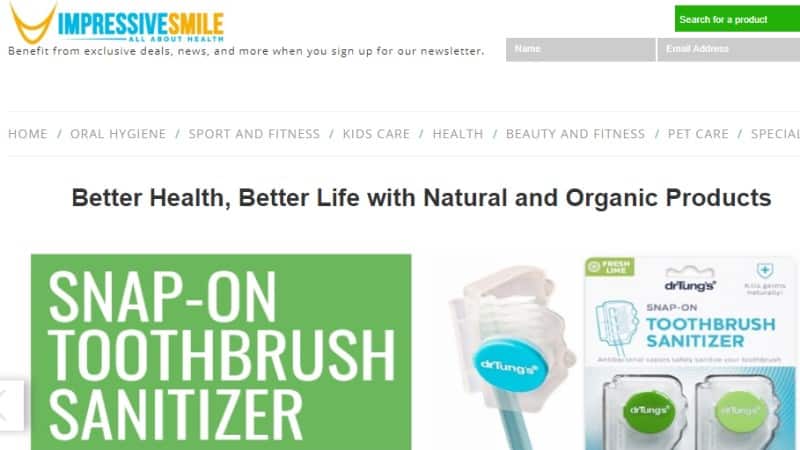 Here are just a few of the oral health categories and products that you can expect to promote when you join the Impressive Dental Affiliate Program on your niche site.
Dental Repairs
General
Gums
Teeth
Tongue Cleaners
Gums Mints
Denture Care
Oral Care Kits
Oral Pain Relief
The affiliate commission for this partner is pretty great. They quote the range between 10% and 20%. 10% is a good commission if you can get it up to the 20% range then you have a foundational affiliate program that you can build your entire niche blog around.
The tracking cookie is fantastic at 60-days. A full 2 months to promote your affiliate links in your content and still get credit for the commissions only enhances the appeal of this particular affiliate program.
If you are a member of the ShareASale affiliate network then you can get auto-approval for this affiliate program. This is a great option for new niche sites that don't have a lot of traffic yet.
---
Toothy Grins Affiliate Program

The Toothy Grins Store is focused mainly on the Hydro Floss Oral Irrigator as well as all the accessories and add-ons you would need for these types of products. that makes it a very specific type of affiliate that is only going to work well on content dedicated to these types of oral irrigators and cleaning systems.
The tracking cookie is the best you will find. It is a lifetime cookie meaning your cookie does not expire unless the user clears their cookie presumably. This is the holy grail of affiliate marketing, especially if the customer keeps coming back for more purchases.
The commission is outstanding as well. They offer a 12% commission for qualifying purchases through your affiliate link. When you combine this with the lifetime cookie you can really start to see the potential of this affiliate program.
One to consider for any dental or oral health website or as part of a larger niche site where oral health could be a good category.
---
Easy Dental Quotes Affiliate Program
Commission: $10
Tracking Cookie: 30-days
Auto-Approval: No

Easy Dental Quotes is a bit different from the other entries on our list. They do not sell dental equipment or toothpaste or anything of that nature. Instead, they are focused on finding affordable dental care.
Just as the name implies they can help anyone find local dental care and give them a quote for their services. It is a good lead generation service to partner with if you can get a good conversion rate for your oral health niche blog.
The tracking cookie is a standard 30-day which is great for this type of lead gen service. Typically people will use it very quickly or not at all but it is nice to have a 30-day tracking gap all the same.
As for the commission, it is a $10 flat fee. For lead gen like this the criteria for generating that commission varies. You will need to ask the affiliate manager exactly what those criteria are in order to maximize this affiliate program and get the biggest lead-gen commissions.
---
SmileLove Affiliate Program
Commission: $100 Flat Rate
Tracking Cookie: 30-days
Auto-Approval: No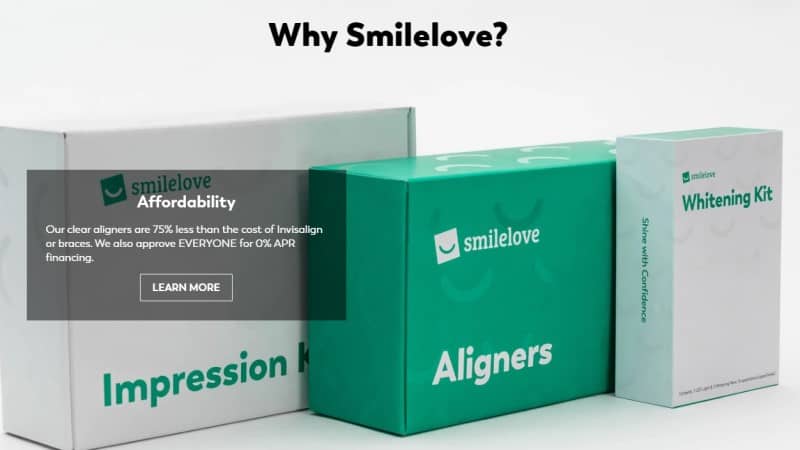 SmileLove is a bit different from some of the other affiliates on our list in that they are a high-end invisible brace supplier. This is going to limit their appeal to a very narrow niche in the oral health niche. Therefore I would only recommend this partner for an experienced and established niche site in the dental field.
The commission offered by SmileLove is a wonderful $100 flat fee for anyone who signs up for their service and meets the criteria laid out for their affiliate partners. SmileLove is part of the Refersion Affiliate Network so you will need to be a member in order to sign up. The tracking cookie duration is 30-day which is decent for this affiliate but not great.
The reason why 30-days is a little low is because of the high-ticket item prices of their services. These invisible braces can run well into the $1000s of dollars and anyone thinking of purchasing them will need a good amount of time to decide.
---
Colgate Affiliate Program
Commission: 2%
Tracking Cookie: 30-days
Auto-Approval: No

The is an affiliate for Shopsmiles by Colgate. It is a place where you can promote Colgate products for your dental niche blog. The problem with this partner is the affiliate terms.
The commission is only 2% which is too low for this type of affiliate program. You can find other places that sell Colgate products that offer better commissions. Still, I am adding it to our list because the brand is something you will want to promote on most dental, parenting, or related niche blogs. The tracking cookie is a decent 30-day duration.
---
Pro Teeth Guard Affiliate Program
Commission: 15%
Tracking Cookie: 90-days
Auto-Approval: No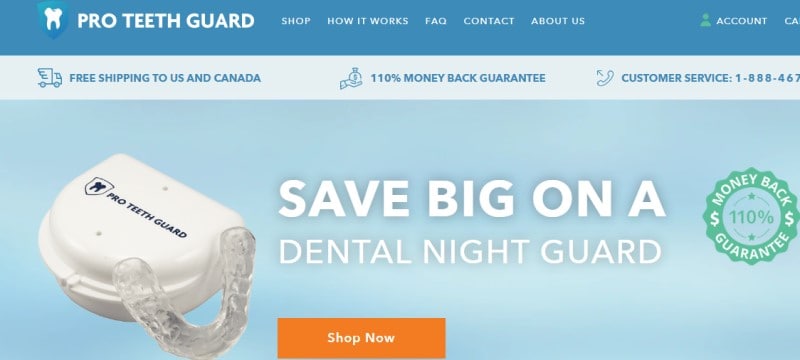 Pro Teeth Guard's main product is a dental night guard to reduce the damage of grinding your teeth at night. What I like about this affiliate is that it is very different from many of the others on our list and provides something a bit different for your niche audience.
A nighttime dental guard is going to be pretty niche but if you can create some content around the effect of teeth grinding and then offer this up as a solution for your audience is going to be a great way to incorporate this affiliate into your content strategy.
The tracking cookie is fantastic at 90-days. Their products are moderately pricey weighing in at close to $200 or so. For a price range like this the 90-day cookie is a welcome sight.
The commission is where the magic happens though. They offer a 15% commission for sales made through your affiliate links. This is incredible, especially when you consider the previously mentioned price tag. 5 or so sales a day is all you need for a full-time business.
---
SmileDirectClub, LLC Affiliate Program
Commission: $50
Tracking Cookie: 30-days
Auto-Approval: No

Smile Direct Club is probably one of the more recognizable entries on our list. They have a broad appeal and are a popular brand in the dental niche. They are focused on clear teeth aligners that can straighten the teeth of many customers.
Smile Direct Club is very much a high-ticket item with the price of its main product running close to $1900 dollars. These types of products are tricky to promote because of their price. As a result, I would only recommend this affiliate once you get a good audience base to work with and a good trust level with them.
The flat fee for a referral to the Smile Direct Club is a flat fee of $50 dollars. It is a decent flat fee but a little low considering the price of the product. It comes out to be around a 2-3% commission overall. The tracking cookie is a standard 30-days.
---
Crest White Smile Affiliate Program
Commission: 8%
Tracking Cookie: 7-days
Auto-Approval: No

This is the Crest affiliate program for their whitening products. The Whitestrips are going to be the main products that you are promoting. If you can get the conversion at a good rate then this is a great affiliate program to have. However, their products can be found at many other vendors so find one that fits your audience and gives you a good return on time invested.
The tracking cookie is only 7-days, which shouldn't be a problem because their products are so inexpensive and you won't need a super long tracking cookie to make a sale. Still, you would like it to be a little longer.
The interesting thing is the 8% commission offered by Crest White Smile. This is actually a very good commission for such a big brand name. Especially when you look at Colgate and their 2% commission rate. This makes the Crest partner program a great one to consider especially if your audience loves the Crest brand.
---
Epic Dental Affiliate Program
Commission: 15% to 25%
Tracking Cookie: Not Listed
Auto-Approval: No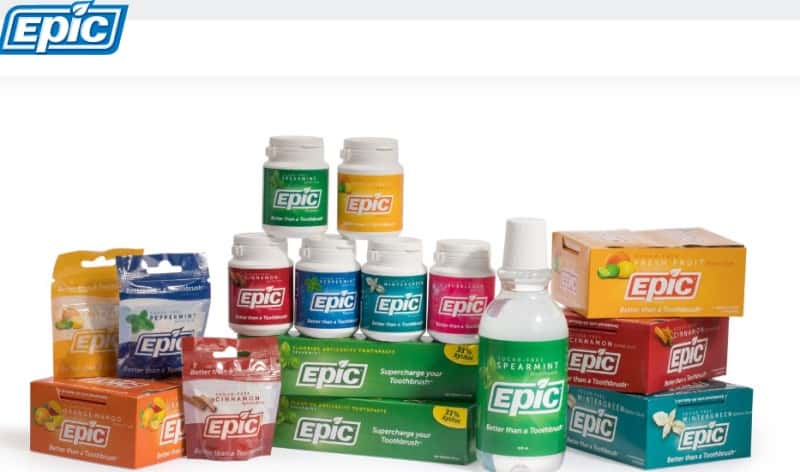 Epic Dental has a modest selection of various dental-related products that you can promote for a variety of niche websites. These are typically lower-cost daily products.
Here are some of the dental products and categories that you can expect to promote the Epic Dental affiliate program.
Dental Protection Kits
Xylitol Gum
Xylitol Mints
Xylitol Sweetener
Toothpaste & Mouthwash
The tracking cookie information is not readily available at the time of publication so be sure to ask about it when you join this affiliate program. The commission ranges from a robust 15% to an incredible 25%. Make sure to find don't how to get the max commission as it can be a game-changing percentage for your online business.
The commission really picks up the slack from lower-cost items like gum and toothpaste and can generate a good commission per sale for your business.
---
Maximize Your Dental Affiliate Programs
That brings us to the end of our look at these Dental affiliate programs. The dental or oral health Niche is a very interesting one in the world of affiliate marketing. It is incredibly competitive and it falls into your money your life category when dealing with Google searches.
That means that it's going to be very tough for smaller affiliates add to rank their websites unless they have established credibility in the dental niche.
So going head-on at an oral health Niche website is not going to be the greatest idea. It's certainly possible but you must expect it's going to take a year to a year and a half or more to really get the traction you need with the major search engines.
A better use of these Dental affiliate programs is to include them in tangential niches where they are relevant but not the focus.
So if you have a Parenting, children's product, or any kind of similar Niche that could use a dental affiliate program then that is probably the best way to deploy them early on.
Of course, if you want to take on creating a niche site dedicated to oral and dental health then these are going to be great for you but it's going to take a little bit of time to build that out.
Don't go it alone. Get the best learning tools and community to help you build your online dream. Check it out here.
Thanks for visiting and have a wonderful day.