This article may contain *affiliate links. Please see our affiliate disclosure for more details
Welcome, welcome to our Arcane Bespoke affiliate program review.
This custom clothing and accessories merchant might be just what you need to take your clothing website up a notch and start earning a little bit more passive income with your blog.
You could also use their custom products to help build your brand in whatever niche you decide you want to work it. This is a versatile merchant with a versatile affiliate program.
In this review, I'm going to take a look at each of the important factors for determining whether an affiliate program is going to be right for your specific blog audience.
And hopefully, give you a little bit of insight into whether or not this particular affiliate program is going to be right for you.
Finding the right fit affiliate programs is just the tip of the iceberg for an affiliate marketer. It doesn't mean a whole lot if you can't get traffic to those affiliate links. 
There Is Just Something About Owning Your Own Business. Being Your Own Boss. Building Something From The Ground Up With Your Own Hands. Especially When It Is This Easy To Get Started.
---
What Is The Arcane Bespoke Affiliate Program
Arcane Bespoke is an online custom apparel and merchandise retailer. They have a huge variety of fashion, clothing, accessories and more that your readers can brand with their own unique brand logos.
This is also a great place for an affiliate marketing business to help build a brand with its specific branded merchandise. Check it out for yourself on the Arcane Bespoke website(*affiliate link).
You can check out the review summary below and sign up if you like. For more information on the Arcane Bespoke affiliate program continue on to the full review.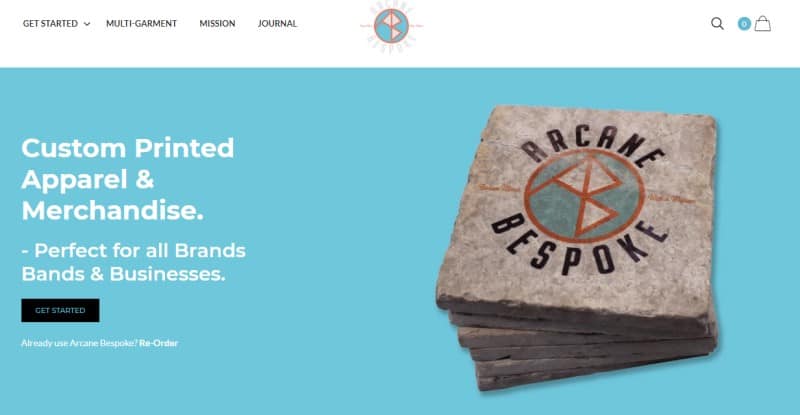 Arcane Bespoke Affiliate Program Review Summary
Commission Score – 90/100
Tracking Cookie Score – 85/100
Product Score – 80/100
Popularity Score – 70/100
Conversion Potential Score – 85/100
Overall Score 82%
---
The Arcane Bespoke Affiliate Commission
This is what I like to see from an affiliate program. Anything in the double-digit commission range for an affiliate program that deals with a physical product is great.
The 10% commission that Arcane Bespoke offers is very good for the types of products that they offer. I wouldn't consider any of their products to really be high ticket items so you're not looking at a huge commission on a per-sale basis.
But the 10% commission goes a long way to help put you in a position where you can earn good steady commissions I'll be at on smaller type purchases.
Just keep in mind that the commission is not the end-all-be-all of an affiliate program. It needs to sync up with the other aspects of the affiliate program to really maximize The Profit potential of that particular partner program.
Basically, a Great Commission with a terrible conversion rate is not going to do you any good. So make sure there's a balance between all the various factors of your affiliate programs.
Commission Score – 90/100
---
The Tracking Cookie Duration For Arcane Bespoke
Arcane Bespoke Picks up where they left off with the Great Commission. And ads in a fantastic tracking cookie.
They offer a full 60-day return for their affiliate Partners. This gives you plenty of time to promote their products have your audience click your links and still get paid because they have two full months to make a purchase and still give you a commission.
I would say the 30 days is typically the standard for most affiliate programs. So it's nice to see someone going above and beyond with this often-overlooked factor of partner programs.
Cookie Score – 85/100
---
Products To Promote From Arcane Bespoke
The affiliate terms for Arcane Bespoke are pretty good but it's the products that really matter when it comes to most affiliate programs.
If the products are good it doesn't matter what the commission is or what the conversion rate is because those products are going to be returned and you were going to lose reputation with your audience if you keep promoting bad products.
The good news is the product and services from Arcane Bespoke looks to be very good at least at a distance. You know your niche better than anyone and will have to decide if they fit your product strategy.
They offer a wide range of brandable merchandise that your readers can customize. This is going to make for some great content that you can create around their services.
Of course, it really comes down to how well these products do with your particular audience. No affiliate partner is going to be loved by everyone and there are going to be people in your audience that I'm not going to like this particular affiliate.
You just have to balance out what the majority of your audience wants and you do that through running tests with the affiliate program their products and their services to see what converts best and what people seem to like the best.
Product Score – 80/100
---
Popularity Of The Arcane Bespoke Brand
Arcane Bespoke Is not going to be the most well-known brand in the clothing industry. Before researching this review article I had never heard of them. Then again I'm not in the fashion niche.
But even inside the clothing niche, there's not a huge amount of recognition for this particular brand. That's not necessarily A Bad Thing.
The big thing about popularity with these Brands is the more popular they are the less work you have to do explaining exactly what the brand is and what they're about.
So for a relatively unknown brand like arcane bespoke you were going to have to build some content that explains who they are.
Basically the less popular or known a particular brand means more work for the affiliate marketer to get that name out there and get people to trust them enough to purchase their products or services.
In the end, what it comes down to is the affiliate marketer has to decide whether or not it's worth the time to try and build a relationship between the affiliate program and Their audience
Or if it's better to spend that time working with something that's a little bit more well-known. It's something that you'll have to figure out for yourself and with your specific audience.
Popularity Score – 65/100
---
Conversion Potential Of Arcane Bespoke
The conversion potential of any affiliate program really comes down to the audience of the affiliate marketer that's going to promote the product.
When we're looking at the potential of the affiliate program we have to take into account all the other aspects of that partner program before we ever get the to the conversion potential.
If the commission is too low then it's not worth even testing the conversion rate.
If the tracking cookie is unsuitable for the price point of the products that you intend to promote then it may be better just to pass on that affiliate program and not worry about the conversion rate potential.
But when everything lines up as it does with Arcane Bespoke it really makes the affiliate program much more appealing.
That doesn't mean it's always going to work out for your specific audience but it's one that you should definitely consider.
I think the potential is there for this affiliate program to be a real good earner for a wide variety of affiliate marketers in a wide variety of clothing and fashion niches.
Potential Score – 85/100
---
The Verdict On The Arcane Bespoke Affiliate Program
This is an incredibly solid and versatile affiliate program that you can use in a wide variety of niches. If you're in the closing Niche than you can use them to give your readers an option to create their own personalized unique branded merchandise and clothing.
If you're in the music Niche then you can use their great branding products for any type of band or music-related product that you need to create merchandise for.
If you're in the business Niche than you can use them to create brand merchandise for a whole variety of businesses from dog walkers to servers in a restaurant. Technically you could use them as part of a restaurant affiliate program strategy if you really wanted to.
It just shows how versatile this affiliate program can be in when you add that to the wonderful affiliate terms that they offer their partners it's easy to see why this is such a good affiliate program to consider for your passive income website.
Don't go it alone. Get the best learning tools and community to help you build your online dream. Check it out here.
Thanks for stopping by and have a wonderful day.