This article may contain *affiliate links. Please see our affiliate disclosure for more details
There was an idea once. To take a group of the world's best vaping affiliate programs and bring them together in hopes that they could become something more.
But it didn't really work out that way. Instead, we just ended up with a list of 10 of the best vape affiliate programs we could find and then rated and reviewed them.
Hopefully, it is pretty helpful for you because I am frankly tired of looking at vaping stuff. Especially since I quit smoking.
But for those running a vape blog or website we hope that this list will help you decide which affiliates to promote and which ones to drop.
Or maybe it will introduce you to a new outlet that can help you generate content and conversions on your ever-growing Vape Blog. If there is any doubt about the profitability of the Vaping niche, do not worry. We found over 200 viable vape affiliate programs.
Which makes sense, given the huge revenue increases that are expected in the near future for this growth industry.
Many of them with a 15% plus commission and good-looking products for you to promote on your blog. These are just 10 of the affiliate programs we came across.
As a side note. These reviews are for the affiliate programs only. We are making no judgment on the products or companies, just their benefits to an affiliate marketer.
Select the affiliate programs that convert best with your audience and start creating a content campaign around them to drive traffic and ultimately sales to your blog.
Pick some of these great Vape affiliates and get busy creating a successful blog.  Don't know where to start? 
There Is Just Something About Owning Your Own Business. Being Your Own Boss. Building Something From The Ground Up With Your Own Hands. Especially When It Is This Easy To Get Started.
---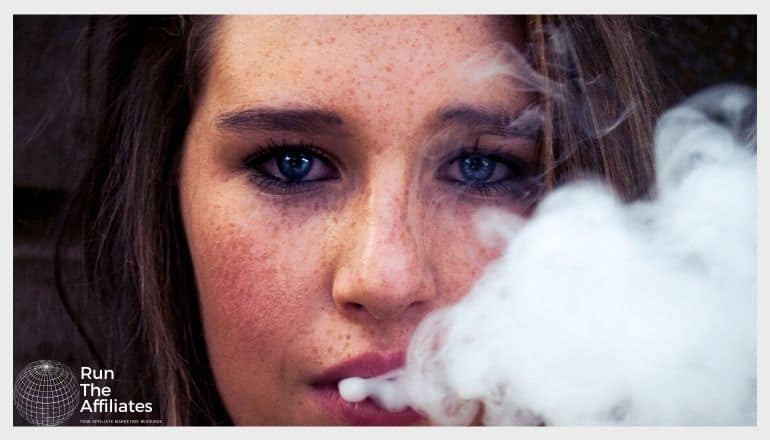 ---
Vaping.com Affiliate Program
Commission: 10%
Tracking Cookie: 90-days
Auto-Approval: No

Vaping.com is an online supplier of all things related to vaping. They carry some of the top brands in the vaping niche and have quite a selection of products.
They have a wide array of starter kits, tanks and Vape Juice for a vape blogger to promote.
They also have a nice selection of vaping devices for your readers to choose from. Popular brands like SMOK, Vaporesso, and Eleaf are well represented. All their products can be used to generate a good amount of content through reviews.
Add the huge number of flavors available and you could base your entire blog around just a few affiliate programs. Vaping.com is part of the ShareASale Affiliate Network.
What is the Commission?
Vaping.com offers a 10% commission to its affiliate partners which is pretty good for a retail outlet.
ShareASale Statistics:
A good $51.72 Average Sale
An Average Commission of $5.17
An Earnings per Click of $17.31 EPC
They also offer their partners a very good 90-day cookie.
The Wrap-Up
A great affiliate program. Good commission. Very Good tracking cookie and a wide range of vaping equipment make this a fine option to promote on any vaping blog.
---
Vape Box Affiliate Program
Commission: 12%
Tracking Cookie: 30-days
Auto-Approval: No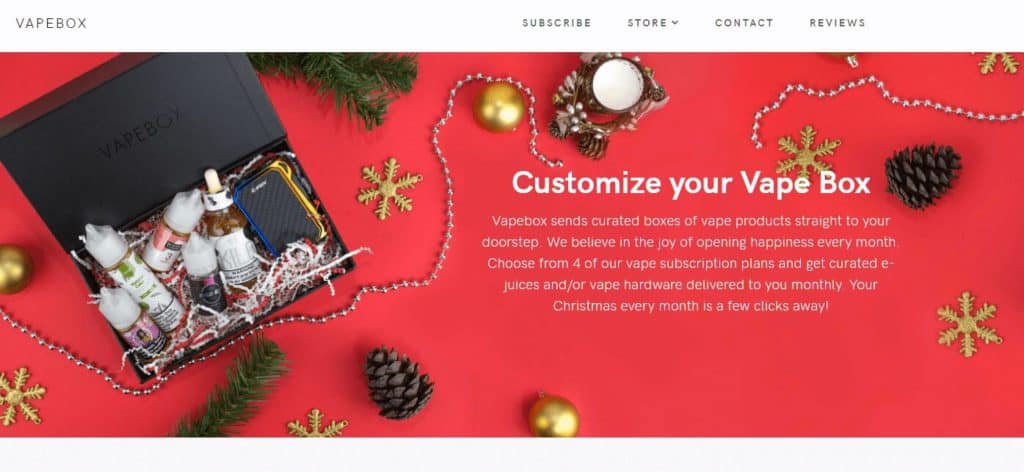 Vape box is an online Vape retailer with a huge selection of vape juices as well as starter kits, Atomizers, vape hardware, and even some salt nicotine products. But the star of the show at Vape Box is their subscription boxes.
Like a wine or spirits club, Vape Box offers you the chance to promote their monthly subscription boxes and pull in a recurring commission for your trouble. As an affiliate marketer, you should always be on the lookout for subscription-based products to bolster your affiliate arsenal.
The prices of the boxes range from 20 dollars up to around 60 dollars per month. This gives you the opportunity to promote them to a wide range of readers at various income levels. Vape Box is a member of the ShareASale Affiliate Network.
How's the Commission Look?
The commission is great at a rock-solid 12%. The cookie is your standard 30-day tracking cookie. It could be better but not a deal-breaker.
The 30-Day Statistics look pretty good as well:
An average Sale size of $46.99.

A Solid $6.15 Average Commission

A Robust Earnings per Click of $25.52 EPC
The Verdict?
Another Solid choice to promote on your Vaping blog. The subscription box alone makes this an affiliate program that just screams to be promoted. Everything else is good as well. The commission, the cookie is decent and their product line is solid. A Real Keeper.
---
Broke Dick Juice Affiliate Program
Commission: 20%
Tracking Cookie: 15-days
Auto-Approval: No
This company sells its own brand of Vape Juice. They have some pretty interesting flavors. But something seems off about their affiliate program. For one thing, it is a brand new program. It only started at the beginning of December 2018.
Another thing that is troublesome is that their reversal rate is 100%. Now that could just be a blip because the program is so young or it could be a big cause for concern.
Either way, if you choose to promote these products keep an eye on the ShareASale statistics over a longer period of time to make sure this program is good to go long term.
The last issue is they don't have much in the way of hardware, which is fine since affiliates don't get a commission on hardware. Only on the vape juice.
Broke Dick Juice is Part of the ShareASale Affiliate Network.
What About those Dollars?
The commission is 20% for sales through your affiliate links The cookie is respectable. 15-days. The stats are all over the place just like the reversal rate so check them before you jump into promoting this affiliate just to be sure.
The Wrap-Up?
I would let this affiliate mature a little bit before putting a lot of time and content behind it. Load it up on a few pieces of content and see if it converts and then wait to see if the affiliate program is worth the effort in the long run.
---
Jac Vapour Affiliate Program
Commission: 15%
Tracking Cookie: 90-days
Auto-Approval: No

Jac Vapour is a Vaping Supply shop based in the UK. It has a wide selection of everything vaping related, particularly vaping hardware.
They also have a decent selection of vape liquid for you, readers, to choose from making this an all-around good affiliate to have in your stable.
Jac Vapour is part of the Commission Junction affiliate network.
The Commission?
The commission offered by Jac Vapour is a very nice 15%. Anything in double figures is great. Anything approaching 20% makes the case for a partner program you cannot ignore. The added bonus of a 90-day tracking cookie rounds out this affiliate program.
The Wrap Up
A superb affiliate program. Good product selection and diversity. Great cookie and a generous commission. What is not to like? A great addition to any vaping bloggers' affiliate repertoire.
---
Vapor4Life Affiliate Program
Commission: 5%
Tracking Cookie: 90-days
Auto-Approval: No
Vapor4Life has a nice selection of vaping products for your blog to promote. They have their own line of products which is great for added content to your blog as you can rate and review all o the individual products as well as their other hardware.
All of the basic vaping products are accounted for and are reasonably prices making promotion fairly simple. They also offer e-cigars if your blog is looking to branch out in that direction. These batteries tend to be larger like their real cigar counterparts and may help expand your blog to new customers.
Vapor4Life is part of the Commission Junction Affiliate Network
The Commission and Cookie?
Vapor4Life offers a 5% commission for all qualifying sales referred by their partners. This is low for a vaping program. Many others on this list are well into double digits. Not a great return on time invested. The cookie duration is a rock-solid 90-days however.
The Wrap-Up
A decent affiliate program. Their proprietary brand is worth looking into if you need some new content ideas or review material.
But the low commission is really a problem for this program, especially since other affiliates in the same niche are much more generous with their payouts.
---
Central Vapors Affiliate Program
Commission: 25%
Tracking Cookie: 90-days
Auto-Approval: No
Central Vape has some vape hardware and "do it yourself" supplies, including popular brands like SMOK and Eleaf. But the star of their store is the over 150+ Vape flavors for your readers to choose from.
Each one of these flavors can be turned into a review for a seemingly endless supply of new content.
They will also replace an ejuice flavor if your readers are not completely satisfied with it. These kinds of assurances make it an easy affiliate to promote.
Another great aspect of this program is they offer their ejuice in bulk sizes.
All the way up to 500ml for some flavors and they can be customized for flavor strength and nicotine levels to suit a wide array of your audience.
The Central Vapors Affiliate Program is part of the ShareASale Affiliate Network.
What's the Cut?
Central Vapors offers an outstanding 25% commission of affiliate sales. And up to 30% on first orders by new customers.
One of the best commissions you can find for a retail partner. According to their ShareASale Profile, their tracking cookie is an outstanding 90-days.
The ShareASale 30-day Statistics look pretty good.
Central Vapors has a $27.39 Average Sale.

The Earnings per Click is a robust $67.73 EPC.

The average commission of $7.55 is a very nice payout.
The Wrap-Up
The commission is too good to pass up and the products are very good. They have a wide selection and a good amount of product diversity which can help you generate content to promote this affiliate.
Throw in the wonderful 90-day tracking cooky and you have one of the best Vape affiliates currently available.
---
DaVinci Vaporizer Affiliate Program
Commission: 20%
Tracking Cookie: 120-days
Auto-Approval: No
DaVinci Vaporizer sells high-end vaporizers and not a great deal of anything else. They have some branded apparel and a decent selection of branded vape accessories. But the main focus of Davinci Vaporizer is on the hardware itself.
And it some very impressive vape equipment. Their products make up for a lack of selection with an impressive amount of quality.
And this should be the focus of any vape blog that decides to promote its products. Emphasize the quality and craftsmanship of the vaporizer they sell.
They are quite expensive so promotion is a must. You need to explain why these products are well worth the money. And in the end, you will be rewarded with a very nice commission.
DaVinci Vaporizer is part of the ShareASale Affiliate Network.
How Much?
Speaking of which. DaVinci Vaporizer offers an incredible 20% per sale. Given the high price of these products, this could make for some impressive commissions.
And it just gets better as they offer up to a 120-day cookie for their affiliate partners.
The 30-day ShareASale Statistics are remarkable as well.
The $176.00 Average Sale is wonderful.
An incredibly robust $39.00 Average Commission.
The $150.00 Earnings Per Click is one of the Best we have seen in this niche.
The End
One of the best vape hardware affiliates currently out there. It ticks almost all the boxes.
The only downside is the limited product selection, which can narrow the potential customer field a bit. But for such a high-quality product it should not be a problem.
The Cookie and commission are both extremely generous. A Must-have affiliate program.
---
Vista Vapers Affiliate Program
Vista Vapers is a seller of all types of Vape EJuice and E-Liquids. They are one of the largest online suppliers for all manner of vape flavors.
They have some hardware but it is almost an afterthought for this store since they are focused so heavily of Vape Juice in general.
Pairing this affiliate program with a good vape hardware program would probably be the best way to deploy this particular partner.
With a quality hardware store and Vista Vapers wide flavor variety, you could really use them as a one-two commission punch.
Vista Vapers Inc. is a part of the ShareASale Affiliate Network.
What is the Cut?
VistaVapers offers up two ways to use their affiliate program. The first is a pay per lead program.
You get $2 dollars for everyone you send to their website and they sign up for a newsletter. Or you could go with the more traditional percentage-based system.
Either one is great. The commission for the percentage bases affiliate program is 15%.
A competitive commission for this program. Add to that, the tracking cookie is an above-average 90-days.
The 30-day ShareASale Stats look great.
The $35.81 Average Sale is very nice.

A good $5.29 Average Commission

A nice Earnings Per Click of $60.49 EPC
Wrapping Up
Another great Vape affiliate program. With its focus on e-juice, you'll need another hardware affiliate.
But, Vista Vapers could almost cover the entire e-juice and vape flavor part of your affiliate strategy.
Another incredibly solid potential affiliate program for you to add to your blog.
---
Misthub Affiliate Program
Misthub is a one-stop-shop for all your vaping needs. They have a huge array of e-juice flavors, devices, and batteries.
As well as tutorials on how to properly vape. The product selection and diversity is really impressive.
You always need at least one of these type of affiliate programs for your blog.
They have a general stock of products that can usually be found at different stores. But having them all in one place is a great advantage when trying to promote an affiliate like this one.
The narrower more specific affiliates can generate more content but this type of broad affiliate fills in any gaps left by your other programs.
Misthub is part of the ShareASale Affiliate Partner Network.
What's the Commission?
The Misthub program offers its affiliate partners a nice 10% commission for all qualifying sale.
Not the best percentage but one that will still get the job done and should not negatively affect the overall program. Anything in double digits is a good return of time invested in promotion.
The cookie is bang on average at 30-days. Ideally, we like to see a 60 to 90+ plus tracking window, but it is not a deal-breaker.
The ShareASale 30-day Statistics look promising as well.
The $46.24 Average Sale is pretty good.
A $4.63 Average Commission is not bad at all.
A nice Earnings Per Click of $108.72 EPC
The Wrap-Up
A good general affiliate program for a great selection of vaping equipment.
A good commission but an average cookie duration. The great product selection is probably this programs best selling point. Use it to fill in any gaps with your other affiliate programs.
---
Vaporfi Affiliate Program

Vaporfi is an online supplier of vaping devices and e-liquids. They carry many of the most popular brands in the vape industry and have a wide selection of devices accessories and e-liquids for you to promote on your vape blog.
This is another great affiliate program with a broad range of vaping related gear.
They also feature custom juice blends so your readers can mix and max whatever flavors they want for a more personalized product with over 30k flavor combinations.
They carry e-cigarettes, numerous vaporizers, dry herb vaporizers, and starter kits. They have something for just about anyone who is interested in vape products.
A good affiliate program to have in your marketing strategy.
You Get What Percentage?
Vaporfi offers an excellent 13% commission for their affiliate partners. An odd percentage but a welcome one. It gives a nice incentive to promote some of their products. Their cookie is average at 30-days.
Their ShareASale Statistics look very nice as well.
The Average Sale of $41.46 is good.
The $5.40 Average Commission is pretty solid.
A nice Earnings per Click of $103.82 EPC
The Wrap-Up
One of the best broad affiliate programs. For this type of store, the commission is outstanding.
The cookie is ok but the product selection is absolutely fantastic. From the hardware to the customizable flavors this is a very good affiliate.
---
The Big Finish
Ten very good affiliate programs for vape blogs. The industry is still fairly young and the commission percentages reflect that.
Most of the programs are well into the double digits for a commission. Whether this lasts remains to be seen, however.
For the e-liquids and juices, the commissions might hold out a bit longer but for the hardware, expect it to level off and move towards the single digits in the next few years.
Another thing you need to be aware up as a vape blogger is how will changing attitudes and legislation impact your blog.
At some point, it might become untenable but for the foreseeable future, this is definitely a growth niche for bloggers.
Hopefully, you find a few affiliates that suit your needs and convert for you.  If not we'll be doing another roundup of Vape partner programs in the near future so stay tuned.
Don't go it alone. Get the best learning tools and community to help you build your online dream. Check it out here.
---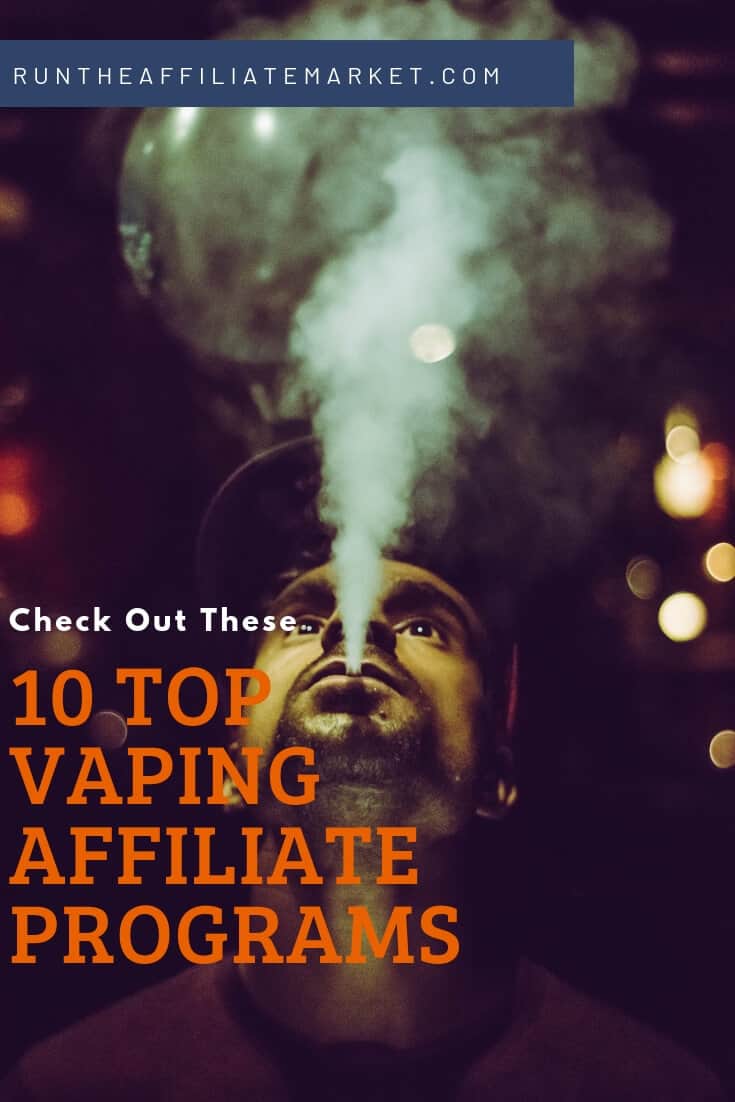 As always Thank you for visiting and Have a Great Day.