This article may contain *affiliate links. Please see our affiliate disclosure for more details
Welcome welcome to our Sqribble eBook Creator review.
We are going to find out if this ebook Creator studio is all that it's hyped up to be. we're going to take a look at a few aspects of this product.
How much does it cost is it worth the price of admission. Are there any glaring red flags that would make you think twice about buying this product?
Who is this product for and Are there too many upsells with it? We are going to tackle this and more in the article ahead so dig in and get ready to find out if Sqribble is something that you should invest in if you are thinking about writing an e-book.
---
What is Sqribble?
Sqribble is a creator studio designed to help you create eBooks quickly and efficiently. They claim to be the world's #1 eBook creator studio.
The idea behind this creator suite is to make creating an eBook as simple as possible. The main reason is to help build the authority and credibility of the author for future online endeavors.
This is a product that is designed to help bloggers and affiliate marketers expand their influence by generating ebook content in addition to their normal content.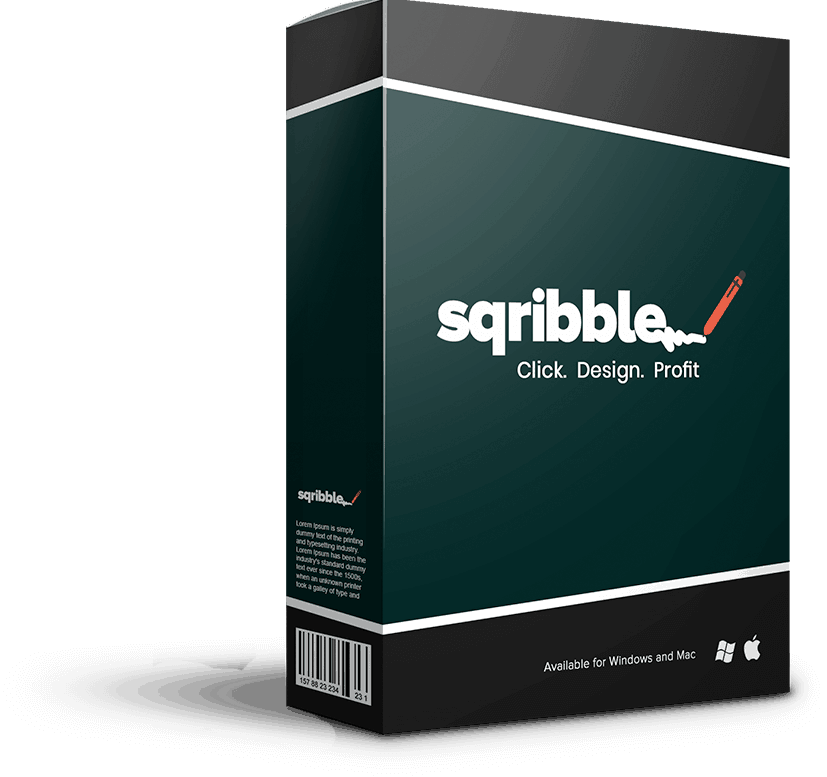 Sqribble Review Summary
Product Name: Sqribble
Price: $47-$67 USD
Owners: Adeel Chowdhry And Ali Chowdhry
Overall Score – 83%
Who is Sqribble Designed For?
The target audience for Sqribble seems to be anyone and everyone that is interested in writing their own ebook.
There's a lot of great information for beginners as well as templates, Some content generation, and other tools that are going to make creating your ebook incredibly simple.
The only people that might not find this very useful as people that are already experienced with creating ebooks as this does tend to simplify the process a little bit too much for people with a lot of experience writing their own ebooks.
Another area that I think beginners will be tripped up a little bit by Sqribble is with the content generation. At some point, you're going to want to sit down and write your own ebooks instead of just pulling from other sources or from previously written material.
But the content generation Suite is a big part of the selling of this product and beginners and people who are just starting out in affiliate marketing or blogging are going to really hone in on that aspect of the program.
---
How Much Does Sqribble Cost
When writing a review I always like to distinguish between the cost of a product and the value of that product. The cost of the product is simply the number of dollars it cost to buy the product.
A product that costs $1 may have absolutely no value in a product that costs $1,000 Maybe one of the most valuable products you ever buy.
But the cost is still important. you still don't want to see a price that is just way out of left field for what you feel the product should cost.
So the cost of the value gets intertwined a little bit but I like to keep them separate in the review and separate in the scorecard of the review.
So the cost of Sqribble is $47 dollars. to notice that the number ends in a 7 which is kind of a marketing trick that a lot of people use because there's a bunch of research that says by putting a 7 has the final number you'll get more sales at Way.
Whether or not that's true I don't know but just about every digital product has a price that ends in a 7.
In addition to the $47 initial fee, there are some upsells for the Sqribble Product. I'm not a big fan of upsells I think that you should just incorporate all the information you have and then charge the price that you think is fair for the entire product.
But upsells are more successful in marketing. You bring people in at a cheaper price and then you start selling them the more expensive parts of the product.
I don't like it but people continue to do it because it works. And you can complain about it all you want but marketers and the people who create these products are going to continue to do what works and what gets in the most sales.
There are four upsells for Sqribble. They are…
Sqribble Pro – 150 Additional eBook Templates
Sqribble Prime – 15 eBook templates a month
Sqribble Fantasia 3d – Add interactive elements to your eBooks
Auto Job Finder – Helps find relevant jobs across freelance websites to give you more writing options
The base package is a solid value and a good price at $47 dollars, whether the addons are worth it for you is going to be an individual decision based on how much you plan on using Sqribble.
---

Value Proposition Of Sqribble
So now we have the base price, $47 dollars. the question is what is the value of the product based on that price.
First and foremost it's a fair price for the information and product that you're buying. You will see a lot of these products cost much more than that for their base price and then still have the upsells on top of it.
So it's good to see a reasonable price at the outset. Another thing that adds to the value of Sqribble is the fact that it has a 30-day money-back guarantee. No questions asked. If you don't like it they'll give you your money back.
There are very few examples of a product that I would buy if they didn't have a free trial or a money-back guarantee. So it's nice to see one with Sqribble.
It adds so much value to the overall product by giving the consumer peace of mind that if the product is not right for them they're not going to be out their initial investment.
It's something that you really need to have to feel comfortable purchasing products especially digital products.
So, in my opinion, the value proposition of Sqribble is very good. The initial cost is low enough that it's accessible to a lot of people and the fact that you can get your money back if you're not satisfied with it makes it at even more valuable proposition.
Features That Add Value To Sqribble:
Automatic table of contents
Automatic headers and footers
Drag and drop design
Add your own media
300+ Google Fonts
50 eBook templates (in 15 different niche categories)
10 different eBook themes
Automatically create content
30-Day Money-Back Guarantee
---
Issues With Sqribble
The only real issue that I have with Sqribble is the upsells. When you add them all together it comes up to Hundreds of dollars extra above and beyond the $47 that you pay for the base product.
But as I mentioned upsells are a part of this marketing business and are completely optional. As long as the base product is worth the price and has a good value attached to it. Whether you buy the upsells or not is completely up to you.
and that is about it I can't find any real red flags for this product there's a good product that reasonable price for the base product anyway. They have an owner in a Creator who's out in front of their product.
so there's really nothing to complain about as far as red flags or issues are concerned. Does that mean that everybody is going to love this product? No of course not. it's not going to be useful for everybody some people are going to try it and have it not work for them.
But that's not a red flag. I see a lot of reviews where people complain about the fact that the product they're using doesn't guarantee them success. It's silly it just shows a lack of understanding of how marketing and general works.
These companies and these products cannot claim that they will work for everybody. They would leave themselves open to a huge amount of liability. So when you see a reviewer prattling on about no guarantee of success you might want to find a new reviewer.
---
The Big Finish
I've done quite a few of these reviews. A lot of times the products are just terrible products. There are a lot of them in the digital marketing space. So it's always nice to see one that actually seems to be a good value and a useful product.
And that is exactly what we have here with Sqribble. if you were looking to write an e-book for yourself there's probably not going to be an easier way to get started then with this product.
If you're an old had it writing ebooks and you probably not going to get much value out of it but if you're new to trying to put together an ebook it can be a daunting task and any amount of help that you can find is going to be incredibly useful.
Even if the worst-case scenario is that Sqribble cuts the time it takes to write an e-book and publish it down 30% that has got to be worth the $47 that you invested in the product, to begin with.
And that's how you should think of these digital marketing products. They are investments to help your business grow. Hopefully, you can find some value in Scribble and I hope to read your ebook very soon.
Thanks for stopping by and have a wonderful day