This article may contain *affiliate links. Please see our affiliate disclosure for more details
You read that right.
Cleaning supplies affiliate programs. Affiliate programs for all manner of cleaning supplies. Not only do they exist, but they are also a great opportunity to add a new layer of monetization to a wide variety of blogging niches.
Have a camping niche website? What are the best green cleaners to use outdoors? A baby-focused website? Cleaning supplies that are safe around children. The list goes on and on.
You can create content around these cleaning supplies partner programs and use it to enhance your niche a fill out your website. All while opening up a new revenue stream for your passive income website.
There Is Just Something About Owning Your Own Business. Being Your Own Boss. Building Something From The Ground Up With Your Own Hands. Especially When It Is This Easy To Get Started.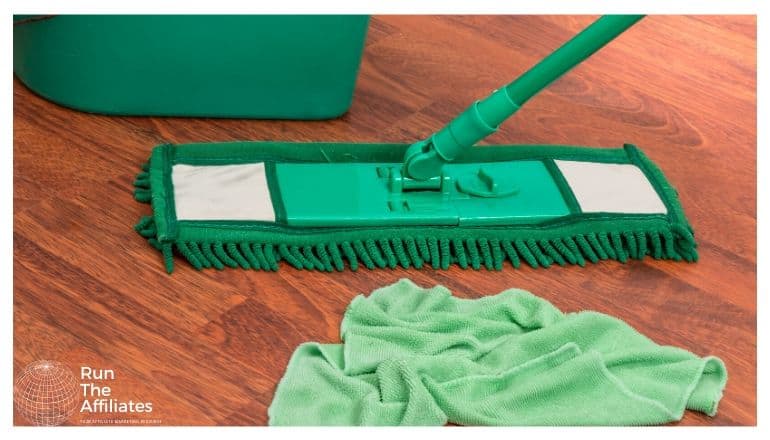 10 Of The Best Cleaning Supplies Affiliate Programs
You can craft content directly around the products from these affiliate programs or you can drop them into articles where they would fit without interfering with the overall feel of the article.
Placing your affiliate links where they will be most effective is a definite skill that needs practice and repetition.
Put These fantastic cleaning supply affiliate to the test and maximize your affiliate earnings with the best affiliate training available.
---
ThreeMain Affiliate Program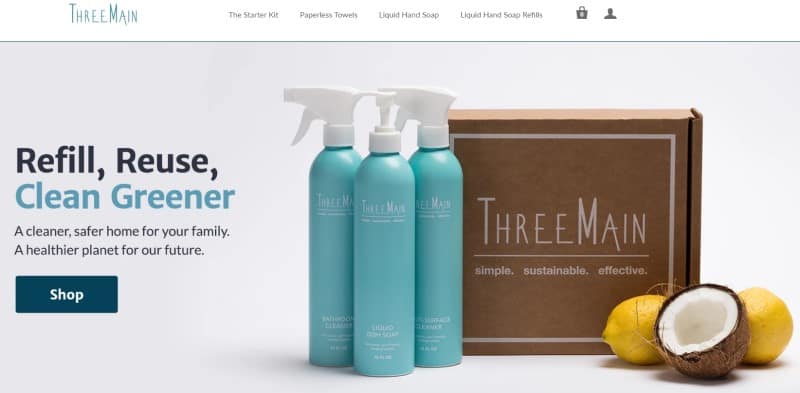 ThreeMain Is a green cleaning product that how to self as being a safer alternative to many of the common cleaning products that people use today. They offer a refill subscription service that makes them pretty unique among the cleaning supply affiliate programs by offering a subscription box service for you to consider for your affiliate strategy.
The tracking cookie for ThreeMain is a standard 30-day cookie. 30 days is plenty of time for these types of products that aren't really high-ticket items and therefore your readers won't need a whole lot of time to consider whether or not they want to purchase them.
The commission is a $20 flat fee for sales through your affiliate link. Given that their main product is a subscription box service for their green cleaning products this commission makes a lot of sense. There are a few products that you can buy that are not part of the subscription box but it's unclear whether the $20 flat fee applies to them or not so you need to ask about the overall commission plan when you get accepted to this affiliate program.
Wrapping Up ThreeMain
The subscription box aspect of ThreeMain is probably the main draw for this Cleaning Supplies Affiliate Program. You always want to have some of these subscription boxes in your affiliate strategy.
Preferably ones that have a percentage-based commission so you can get some recurring income going but even flat fees ones are fine for these types of subscription programs. The products themselves are very nice and should fit well into just about any cleaning supply or green clean product niche website.
---
Ultra Odors Gone Affiliate Program

Ultra Odors Gone offers a few products for odor removal that are sure to fit into any cleaning supply website or home cleaning website. Their biodegradable products come in a few different delivery mechanisms like sprays or solid grease traps.
Another really great thing about this affiliate program is that it offers auto-approval through ShareASale. this means that even new websites can sign up for this affiliate program and put it to use very early in the life cycle of your passive income website.
The affiliate terms for the Ultra Odors Gone affiliate program are truly remarkable. The tracking cookie is a robust 60-day cookie. This is plenty of time to make sure that you make a sale and get the commission during the return day period.
The cookie is great but it is the commission where this Cleaning Supplies Affiliate Program really shines.  They offer a full 20% commission on all qualifying sales through your affiliate links. This is one of the most generous affiliate commissions that you're going to find in the cleaning supply niche.
I always love seeing companies that really seem to appreciate the work that their affiliate Partners put in and then reward them with some very very nice commissions did they can really build a business around.
Why Promote Ultra Odors Gone?
The incredible affiliate terms are probably the biggest reason to consider using this cleaning supply affiliate program for your passive income website.
You can use this program for a wide variety of niches including green product niches as well as cleaning and home care niches. The product is pretty good and they really treat their affiliate Partners well with their fantastic commission and tracking cookie.
If you can fit this affiliate into your passive income website affiliate strategy then it might be a good idea to consider them because they are a really good affiliate program to have on your side.
---
MyCleaningProducts.com Affiliate Program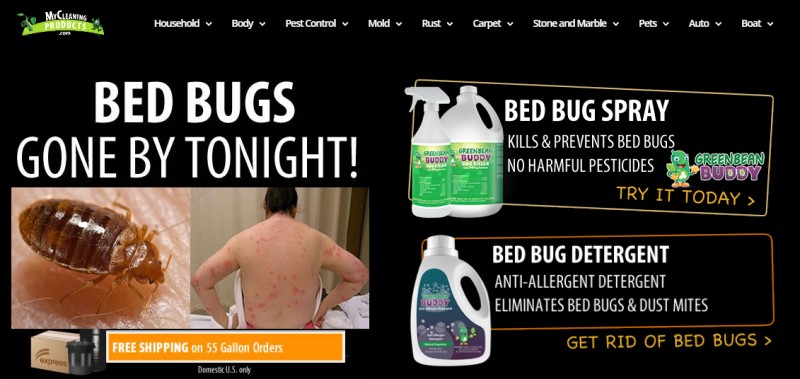 Mycleaningproducts.com has a huge selection of cleaning products for just about any problem you might have. Whether it's cleaning rust or getting rid of bed bugs and dust mites they have a product that you can promote to your readers.
This is a really broad affiliate program that can be used for a huge number of niches. For example, if your niche website is about restoring old bicycles you could use these affiliate programs rust removal products as part of your affiliate strategy for that very Niche website.
And that's just one example you can find hundreds of different micro niches that this partner program can fit into. MyCleaningProducts.com offers a very nice commission that can go up to 30%.  It's always tricky to gauge the criteria for getting the full commission.
When you join this affiliate program make sure to ask about it so you can set yourself on the path to getting that really fantastic 30% commission from this affiliate program.
The tracking cookie is a standard 30-day cookie. There's nothing wrong with this cookie, especially for these lower-priced products. If you had a high-ticket item you would want it to be a little bit longer but as it stands 30 days is perfect for this Cleaning Supplies Affiliate Program.
Wrapping Up mycleaningproducts.com
With the huge range of cleaning supplies, you can fit into any home cleaning or green cleaning Niche website. The affiliate terms make it very tough to ignore this partner and you would do well to consider using it for your passive income website if you can fit it in and it converts with your specific audience.
---
Eartheasy Affiliate Program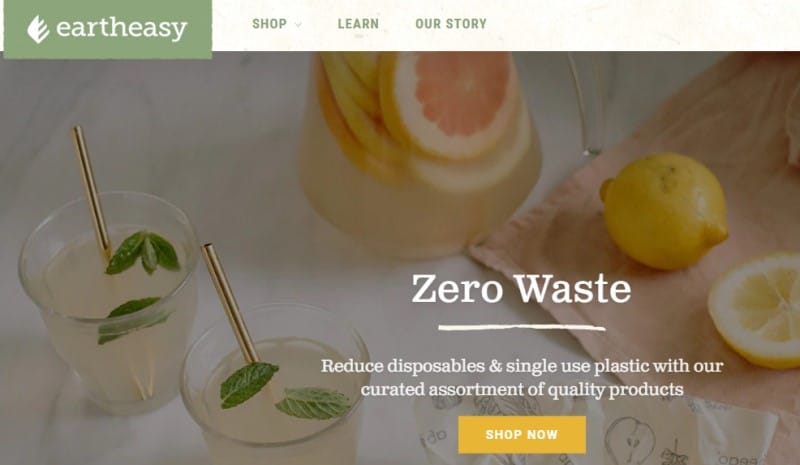 Eartheasy is more than just a cleaning supply website. They have a huge selection of environmentally friendly products from gardening to zero waste products. But it is their wide variety and selection of Natural home cleaning products that we are interested in for the purposes of this list. However, these types of affiliate programs often overlap niches.
Your readers will typically be interested in much more than just their cleaning products once they get to the site and look around. The tracking cookie is a fantastic 90 days. This gives the affiliate 3 months to make a sale after one of your readers clicks your affiliate links. It is a generous duration for any Cleaning Supplies Affiliate Program.
Not to be outdone, the 10% commission is welcome as well. While not as high as some of the others on this list a double-digit commission is always a good thing.
Why Promote Eartheasy?
The breadth of the products they sell is really appealing. While not all of them fit into the cleaning supplies niche they are closely related and your readers will probably find them to be a welcome addition to this partner.
---
The Janitorial Store Affiliate Program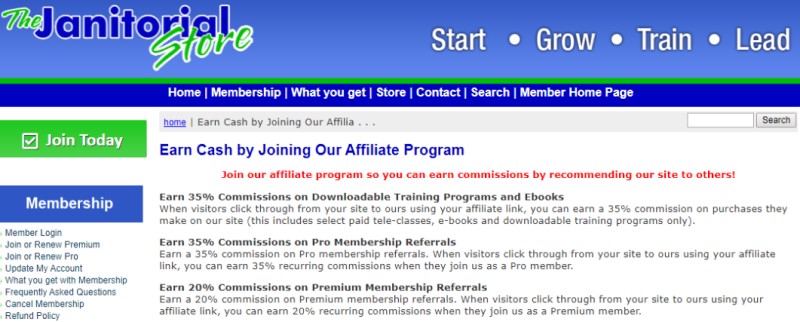 The Janitorial Store is a training service aimed at people who are looking to build their own janitorial or cleaning service. Their products are dedicated to this training. As a result, the appeal of this partner program is going to be pretty limited but if it fits into your niche or strategy it can be very lucrative given the affiliate terms.
The tracking cookie information was not available at the time of publication so be sure to inquire about it once you are accepted into this partner program. The commission, on the other hand, is fantastic. They offer a commission range of 20% to 35%. The low end is great the high end is one of the best Cleaning Supplies Affiliate Programs to consider.
---
Property Perfections Affiliate Program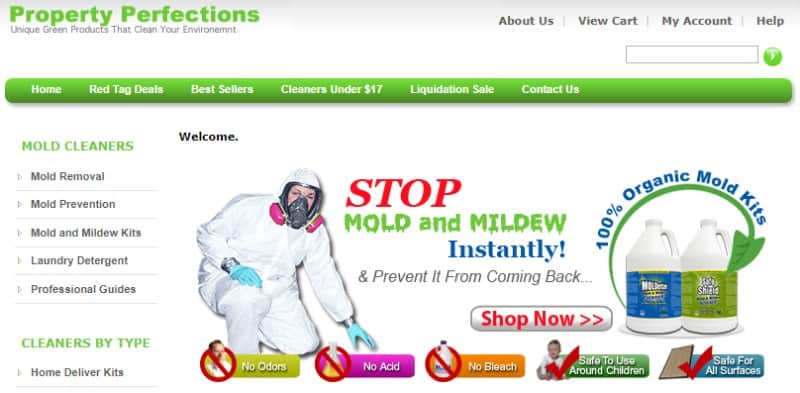 From rust to stain removal Property Perfections has a cleaner for your every need(or just about anyway). They have a huge selection of cleaning products that can be used in a wide variety of niches. If you need even one of the products they sell then it might be worth it to consider Property Perfections for your Cleaning Supplies Affiliate Program arsenal.
The affiliate terms are outstanding. They give you a 120-day tracking cookie duration which is more than enough time to promote their products and get the sale without too much hassle. You also get any return orders during that tracking cookie period.
The commission is impressive as well. Property Perfections gives their affiliate partners a robust 25% commission for qualifying sales through your affiliate links.
Wrapping Up Property Perfections
Everything about this partner program is top-notch. From the remarkable commission and tracking cookie to the wide variety of products, this is one of the best cleaning supply affiliate programs currently available.
---
Force Of Nature Affiliate Program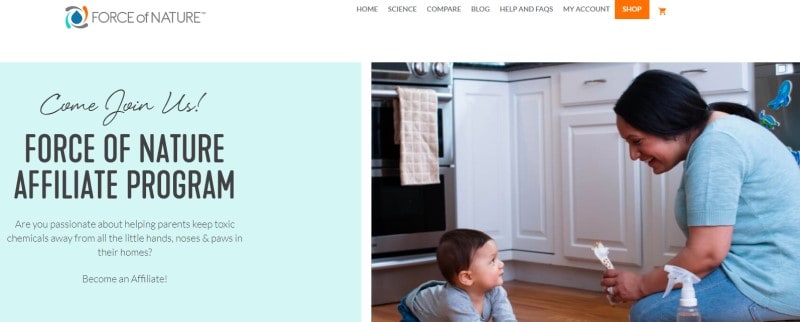 Force of Nature is a single-product affiliate program dedicated to safe and effective cleaning around the house. They have starter kits that use their spray bottles and capsules to deliver their cleaning products.
The commission for Force Of Nature is 33%. A remarkably high number for any blogging niche. The cookie duration is a standard 30 days.
Why Promote Force Of Nature?
The safe, green aspect of the cleaner is going to be a big hit with a lot of the audience in the cleaning product niche. But the real value of this affiliate is for other niches.
Anything in the baby niche or home care niche is going to benefit from the cleaning products this partner has available. It might take a little extra promotion but if you can get a good conversion rate with this partner then it will be a great asset to your passive income website, making it a solid Cleaning Supplies Affiliate Program for you to try.
---
The Clean Collective Affiliate Program
The Clean Collective has a large number of products other than just cleaning supplies. They have soap skincare and a variety of other related products. But the cleaning products are what we want to focus on for this affiliate program list.
They have dozens of eco-cleaning products for every room in your house and when you put them together with the nice affiliate terms this becomes a very appealing option for your Cleaning Supplies Affiliate Program strategy.
Speaking of those terms, the commission ranges from 7%-12%. Even at the low end, the commission is very respectable. The tracking cookie was not listed so be sure and ask about it when you sign up for this partner program.
Closing Thoughts On The Clean Collective
Overall a very useful and versatile affiliate program that offers more than just cleaning supplies. The affiliate terms are above average. It all adds up to a good-looking partner for a wide variety of cleaning and homecare niches.
---
CleanCult Affiliate Program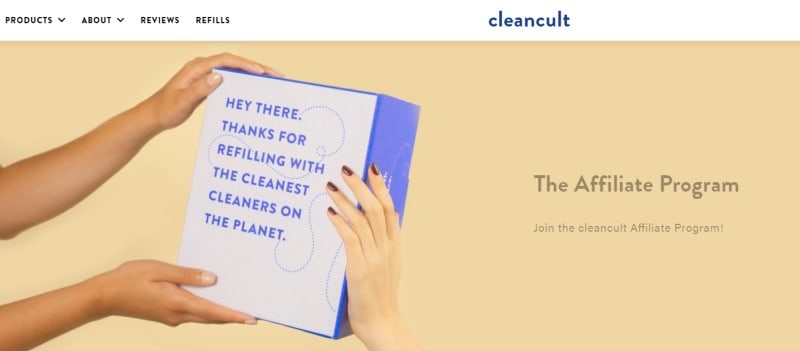 CleanCult is a cleaning supply affiliate program with a decent refill subscription service. It is great to see a couple of subscription box services available for the cleaning supply niche. Be sure to consider using at least one of these types of programs.
The tracking cookie is a standard 30-day tracking cookie. 30 days is really the minimum of what you should look for in a tracking cookie so it's nice to see the standard offered here.
A lot of programs will have less than 30 days and most of the time it's not a problem but trying to find that 30-day cookie is going to be very beneficial for your conversions.
The commission offered by CleanCult is a $16 flat fee. It's not uncommon to see flat fees like this when you are dealing with subscription box service.
It does mean you typically won't see recurring income with flat fees although there are a few exceptions. Be sure to ask about it to make sure with this affiliate program but likely it is a one-time flat fee offer.
Why Promote Clean Cult?
In addition to the interesting cleaning products, the affiliate terms are a very good reason to consider using this subscription box service.
You don't want to have a huge number of these subscription services but one or maybe two are going to be very beneficial for your passive income business long-term. And this one looks like a great Cleaning Supplies Affiliate Program to consider for all of your cleaning product needs.
---
Live Simply Affiliate Program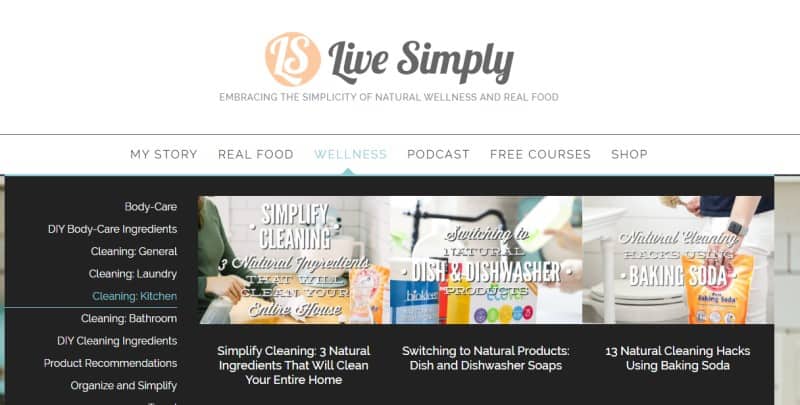 Live Simply offers a variety of tutorials and training products that will help anyone live a simpler cleaner lifestyle from natural cleaning to real food planning and preparation. This partner could be used for a wide variety of niches from cleaning to self-help.
The affiliate terms for this partner are really staggering. A 50% commission is incredible and the 180-day tracking cookie only adds to the appeal of this affiliate.
Why Promote Live Simply?
Live Simply offers something a little different from the other partners on this list. As a result, it can fit in nicely alongside just about any of the other affiliates here. It is certainly going to be a smaller partner program, but one that you can utilize for its training and digital products.
---
Maximize Your Cleaning Supplies Affiliate Programs
Now that you found some great affiliate programs for your cleaning supply needs on your passive income niche website it's time to maximize the potential of those Affiliates by getting the best traffic to your affiliate links.
Getting traffic is really the tricky part of affiliate marketing. You can create all the great content in the world but if you can't get people to read it then you're not going to make any sales through your affiliate link.
It may seem simple on the surface but there's a lot of in-depth training that you're going to need to get it right the first time so you don't waste months or even years trying to perfect it when you could be creating content and earning a passive income.
This A to Z program will give you everything you need to build a passive income blog that will stand the test of time and earn you money for years to come.
That brings us to the end of our look at these 10 fantastic Cleaning Supply affiliate programs. It might seem a little weird that there are so many great options for something as mundane as cleaning supplies but it just goes to show you that any product you can think of probably has an affiliate program dedicated to it.
You can obviously find Cleaning Supplies on Amazon and if you want to use that affiliate program you can probably do very well with it.
But you're going to be getting around 4% Commission on those sales. If you look at our list there are 10, 20, 30% commissions available from these Cleaning Supplies Affiliate Programs.
It might take a little more promotion to convince people to use these websites but the benefits are well worth it and it's well worth your time to consider using these wonderful Cleaning Supplies Affiliate Programs as part of your affiliate strategy for your passive income Niche website.
Don't go it alone. Get the best learning tools and community to help you build your online dream. Check it out here.
That's all I got for you today, thanks for stopping by and have a wonderful day.