This article may contain *affiliate links. Please see our affiliate disclosure for more details
Faith is an incredibly personal topic to blog about. A lot of the time these people won't even bother monetizing their catholic blogs because they just want to get their view or the information out there. It is possible to add a little monetization through catholic affiliate programs
Catholicism is one of the world's foremost faiths and people want to talk about, write about, and give their opinions about it through their blogs and websites. If you choose to monetize some of your catholicism based content then these partners can help you do that.
There is really no right or wrong answer when deciding whether to monetize religious or faith-based content.
There Is Just Something About Owning Your Own Business. Being Your Own Boss. Building Something From The Ground Up With Your Own Hands. Especially When It Is This Easy To Get Started.
---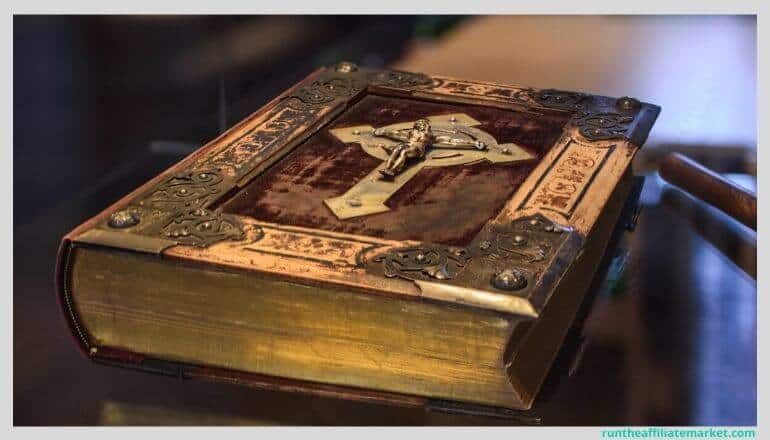 A Look At Catholic Affiliate Programs
Catholic affiliate programs allow content creators in the Catholic or religious niches to help monetize their content by promoting products and services based around Catholic values and the catholic religion as a whole.
Now that you have some great catholic affiliate program ideas you need to create the content and drive traffic to your affiliate links. What you need now is a little affiliate marketing training, you can get started on that today.
---
The Catholic Company Affiliate Program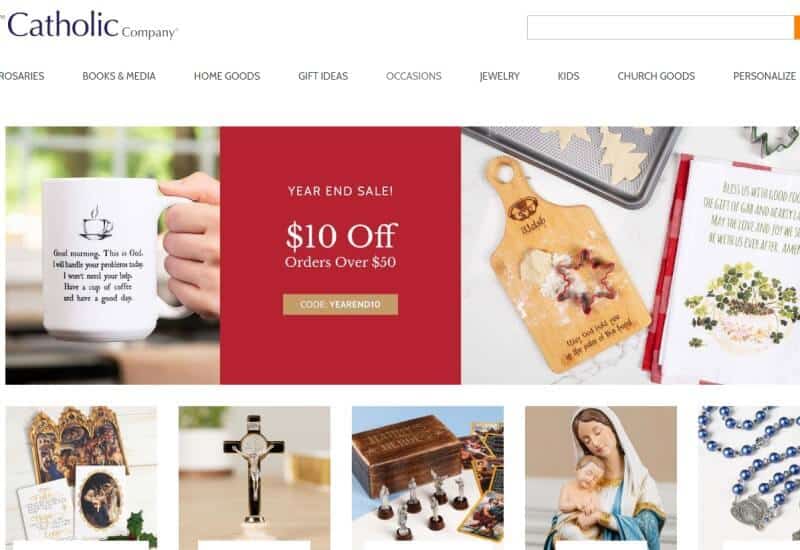 The Catholic Company touts itself as the world's #1 Catholic store. And I no reason to doubt that claim. They have a huge selection of traditional catholic books and gifts as well as rosary jewelry and church Goods.
The church goods are very interesting and they have a really wide selection of them from clergy shirts Investments to mask hits Linens and all types of art like banners and Angels candles and other accessories that you would associate with a church service.
They also have a lot of personal goods that your readers can buy for themselves and not so much the church as a whole. These include jewelry like crosses and crucifixes metals for various Saints and other very popular and very standard Catholic items.
The feeling I got when I was researching this affiliate program is that they are absolutely huge. They have so many products that you could use this Catholic affiliate program by itself and probably never run out of products to review on your website.
Their products are also very popular and you can easily fit them into content without it being obtrusive or obnoxious and still have it be something that the readers of your Catholic blog really want.
Products are always the most important part of an affiliate program but the Commission in the track and cookie are very important to the affiliate marketer themselves.
The good news is that with the great products the Catholic company has a very nice that affiliate terms on offer.
The tracking cookie is a rock-solid 45 days. Typically 30 days is about standard so anything above that is great and given that these aren't real high ticket items you could get a lot of return days with that 45 days initial cookie.
The commission is up to 8%. It's not explicitly clear how the commissions are broken down so be sure to ask how to get the highest commissions on individual products when you sign up for this affiliate program.
All in all, this looks like a Bedrock affiliate program for any type of Catholic blog Or website. They have a lot of the basic items along with good affiliate terms that make it a well-rounded affiliate program to try out.
---
Saint Annes Helper Affiliate Program
Commission: 40%
Tracking Cookie: 180-days
Auto-Approval: No

This is a smaller affiliate program that offers a decent variety of digital products like e-books and audio tutorials for Eucharist, Confirmations, and other items that would fit perfectly into just about any catholic blog.
Typically these digital-only products need a little bit more promotion to get people on board but the commissions go a long way to making it worthwhile to promote them.
Speaking of the commission it is a robust 40%. Digital products typically have a larger commission structure but tend to convert at a lower rate, in general anyway.
The tracking cookie duration is also wonderful. A full 180-day tracking cookie is what is on offer and will give you plenty of time to get those conversion rates where you need them to be.
---
Direct From Lourdes Affiliate Program
Commission: 15%
Tracking Cookie: Lifetime
Auto-Approval: No

Direct From Lourdes is a Catholic-themed gift store that has thousands of products that you can promote to your blog audience.
Some of their categories include
Bracelets
Candles
Books and DVD's
Advent Calendars
Crosses
Easter Gifts
Rosaries
First Communion Gifts
And more. Each category has dozens of individual items for every occasion and special moment in the lives of the Catholic faithful.
The affiliate terms are wonderful for this catholic partner program. The tracking cookie is a lifetime tracking cookie. This is almost unheard of in the retail space.
It is truly remarkable to find a tracking cookie that doesn't expire and shot of your reader deleting their browser cookies you will make a commission if they ever buy a product from Direct From Lourdes.
The commission is just a respectable as the tracking cookie. A full 15% commission rounds out some of the best affiliate terms out of any of the programs on our list.
The affiliate terms give you plenty of incentive to try out this partner, but it will be the products and how your audience responds to them that will determine the overall usefulness of this affiliate partner.
---
Totally Catholic Affiliate Program

Totally Catholic has a very nice selection of catholic related items including, candles, fonts, home and garden accessories, saint themed accessories, oils and incense and much more.
One thing I don't like here is the layout of their website. It is functional but dated and could use an upgrade. It might seem a small thing but some customers take the aesthetics of the website into consideration when making purchases.
On to the affiliate terms then.
The tracking cookie information was not available at the time of publication so be sure to ask about it when you sign up for this partner.
The commission offered by Totally Catholic is a solid 10%. Anything in double-digits is a great commission. Overall this affiliate is good but not spectacular. If it resonates with your audience it will be a nice earner for you, however.
---
Ignatius Press Affiliate Program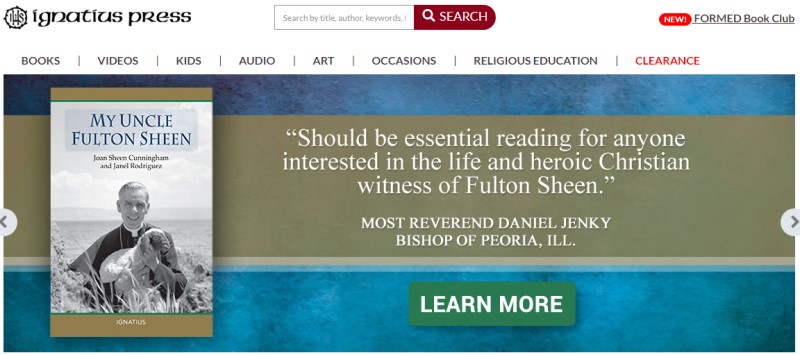 Ignatius Press sells catholic books videos art and audio products for your readers to consider. The product list is extensive and impressive.
They have books or materials on just about every subject related to Catholicism and religion in general. Even books on atheism for that matter.
The result is an affiliate program that can be used for a catholic specific website but one that you can also use to great effect in many other niches.
The aforementioned atheism could benefit from this affiliate partner as could many of the other Christian faiths. Even some current issue blogs could find products here to promote.
The tracking cookie a 45-days giving you plenty of time to promote their products and still receive a commission for all your hard work. They offer a standard 10% commission on all qualifying sales. You can never complain about a double-digit commission these days.
Ignatius Press is part of the CJ.com affiliate network so you will need to be a member of CJ.com in order to sign up for their affiliate program.
---
Catholic Supply Of St. Louis, Inc Affiliate Program
Commission: Not Listed
Tracking Cookie: Not Listed
Auto-Approval: No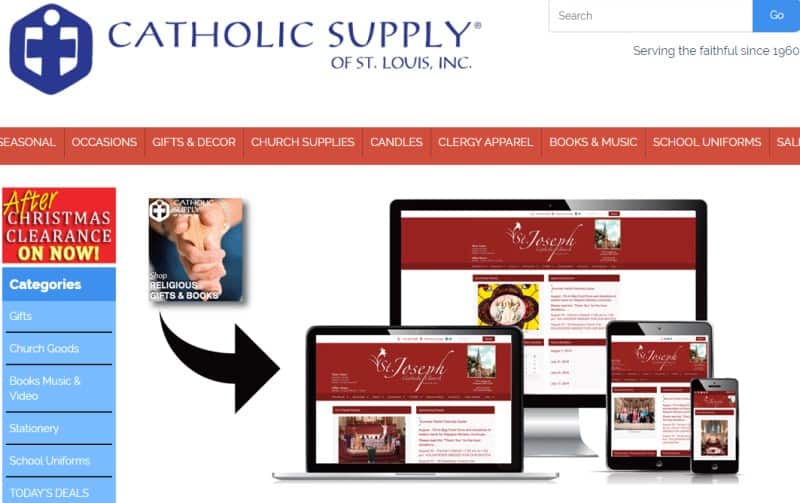 This partner program tackles a wide variety of Catholic products and gifts for your audience. They have candles and books and much as well as church goods and even school uniforms if you need them.
It is a good selection but not as large as others on our list. Still, it looks like a solid affiliate to consider for your catholic blog.
The issue is that the affiliate terms were not available at the time of publication. At least I could not find them when researching this article. You will have to ask about then and see if they are good enough to benefit your blog.
---
CatholicMatch.com Affiliate Program

This catholic affiliate program is probably one that isn't going to be right at the top of the list when people start looking for partners for their Catholic blog.
But Catholics have to date as well and someone was obviously going to make a Catholic Singles dating website. And you can get on the action, no pun intended, by promoting this partner program.
It's not going to be for every Catholic blog. In fact, it's probably only going to be for a small percentage of the overall Catholic blogosphere.
But if you are comfortable with a dating service on your Catholic Blog then this is going to be the one that you want to use.
It's one of the biggest and most popular Catholic Singles dating websites online. And it has some of the best affiliate terms that you're ever going to find for any program.
Take a look at those affiliate turn right now to see just how good they are.
I will start off with the cookie. It's a 45-day tracking cookie. This means it gives you plenty of time to promote this matching service and get a good conversion rate because the cookie is a decent duration.
But it is the commission that is going to be the Talk of the Town. Catholicmatch.com offers a 75% Commission on New subscriptions.
That's about all the information that you have on the Philip program from their affiliate program page. the way it's phrased makes me believe that it is a one-time fee for new subscribers and not a recurring Commission.
Basically if one of your readers signs up for a month and you would get 75% of that first-month fee. If they were to sign up for a 6-month subscription than you would get 75% of that six-month subscription.
That is how I understand it but you will need to ask when you sign up to make sure that this is how it's going to work and that you understand what type of commission you are getting with this program.
With all that said this is definitely something that you want to take a look at if you are in the dating Niche or the Catholic blog niche and there are probably plenty of other niches that it would fit into pretty well as well.
Catholicmatch.com's affiliate program is hosted on the CJ.com affiliate network.
---
Bibles.com Affiliate Program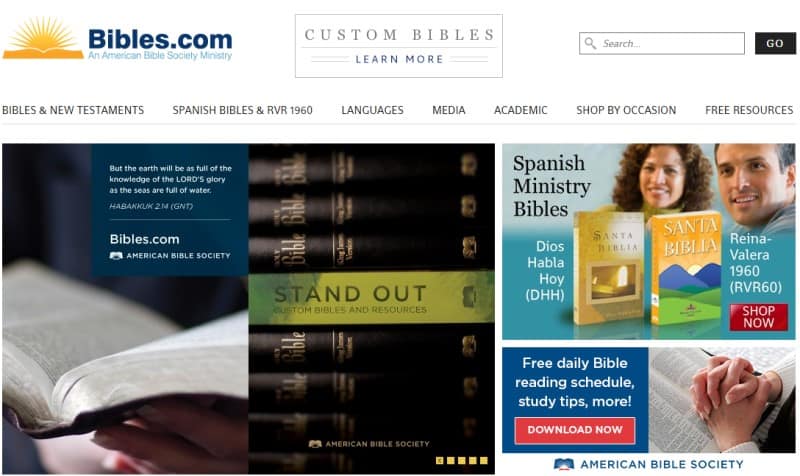 Bibles.com is pretty much exactly what it sounds like. You can get the bible in just about any language or format or version that you need. It is not a Catholic specific affiliate but it will fit seamlessly into your Catholic blog.
The tracking cookie is outstanding, weighing in at a robust 60-days. The commission percentage is equally good at 10%.
Some great affiliate terms for a program that will fit just about any religious or Catholic website or blog.
Another great thing about the Bibles.com affiliate program is that they have auto-approval for some countries.
This means that even new websites can get approved if they are in a qualifying country. It gives people just starting out a chance to earn a little bit of coin early on.
---
CatholicQuiz.com Affiliate Program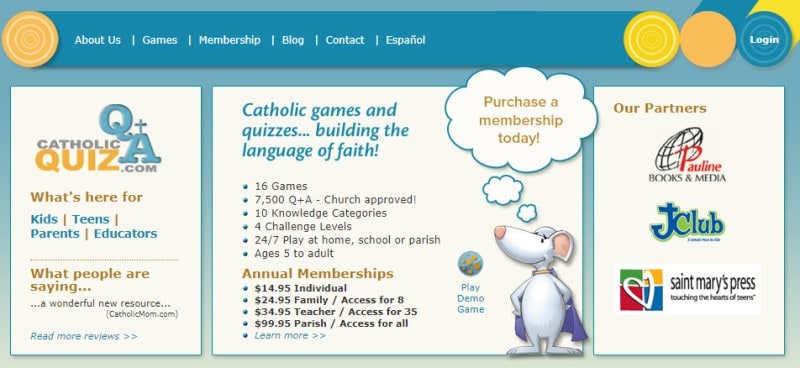 This is a small fun little affiliate program that will probably have only a limited appeal for most catholic blogs. They have a variety of Catholic-themed games and quizzes as well as membership to their services.
The cookie information was not available. Ask about the specifics when you sign up for this partner program. The commission is a robust 20%. If you can get this converting at a reasonable rate it could be a nice earner for your catholic website.
Give it a try and see how well it works for you.
---
FaithBox Affiliate Program

I thought we would end this list with a subscription box service for Catholic and Christian blogs. This is not a Catholic specific affiliate program but it will fit nicely into your overall Philly at strategy.
Faithbox is a subscription service that offers a monthly curated box of various religious and faith-based items. I always like to include a subscription affiliate program in any blog niche time looking to get into.
In this case, the commission is a $10 flat fee and not a recurring commission but it's still nice to get these types of Affiliates into your affiliate rotation.
The tracking cookie is 90-days so you have plenty of time to make a sale and still reap the rewards of your promotional work.
All things considered, this is a great affiliate program for just about any Christian-based blog or website and even Catholic specific websites will benefit greatly from the subscription boxes dead Faithbox offers.
---
Final Thoughts On Catholic Affiliate Programs
That brings us to the end of our look at these wonderful Catholic affiliate programs. There may be some reluctance on many Catholic bloggers' parts to monetize their content but if it's done in a tasteful and respectful way I don't think there's any problem with it.
And these affiliate programs certainly fall into the tasteful and respectful part as they are very much steeped in the Catholic faith and offer products that are going to be interesting to the people of the faith.
Hopefully, you found something here that you can use on your website or blog to really start earning at least a little bit of passive income. Even if it's just enough to pay for the web hosting and domain registration on your Catholic website.
But it certainly can be much more than that. These affiliate programs can be the Bedrock for your passive income online business based around the Catholic faith.
I wish you the best of luck in building your Catholic blogger website and hope that you found something useful in our article.
If you do choose to monetize your Catholic website with one of these affiliate programs you were going to need to continue to drive traffic to your content that you've monetized.
And get the conversions at a rate that is going to create the passive income that you need to keep the site running and continuing to create more great content. Finding affiliate programs is just the first part of the puzzle.
Don't go it alone. Get the best learning tools and community to help you build your online dream. Check it out here.
Thank you for stopping by and as always have a wonderful day.