This article may contain *affiliate links. Please see our affiliate disclosure for more details
Hello everyone and welcome to the site. Today we are going to be taking a look at the Incfile affiliate program.
Incfile helps people start their own corporation or LLC and is a great addition to any business-related niche site out there. The perfect affiliate for anyone trying to help others get their own business started.
Any business related niche is going to be competetive and incorporation based content is no exception.
But if you can get the traffic and the conversions then an affiliate program like Incfile can be the centerpiece of your affiliate marketing business with some great services and the affiliate terms to match.
So let us take a look at the commission and the tracking cookie duration. As well as what to expect from this affiliate program and the best niche to deploy the Incfile affiliate program in.
As the big boss of your own online empire choosing the right affiliate programs to partner up with is going to go a long way in determining the overall success of your online business.
There Is Just Something About Owning Your Own Business. Being Your Own Boss. Building Something From The Ground Up With Your Own Hands. Especially When It Is This Easy To Get Started.
---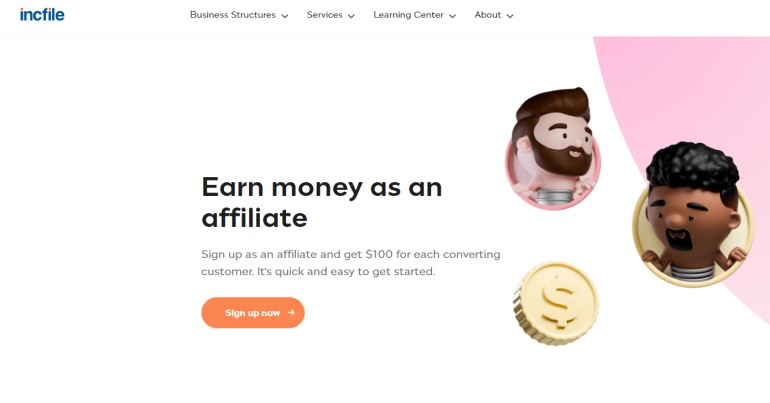 ---
What Is The Incfile Affiliate Program?
Affiliate Commission: $100 Flat Fee
Tracking Cookie Duration: 30-days
Auto-Approval?: No
Affiliate Niche: Business Incorporation
The Incfile affiliate program is a referral program designed to allow content creators to monetize their business-related content with links to Incfile's services.
When someone uses your Incfile affiliate link and makes a purchase you receive a commission for your work.
Affiliate marketing is one of the best ways to start a business online as it can be very lucrative and has a relatively low bar for entry in terms of upfront costs.
---
The $100 Flat Fee Commission
Let's talk about the Incfile commission. It is a whopping $100 flat fee for a qualified converting customer of one of their services.
This is a massive commission and one that you can build your entire business around if you can get just one or 2 sales a day.
Getting the traffic and the sales are, of course, the hard part but with this large of a commission you know your efforts will be rewarded.
I tend to favor a percentage commission for many of my affiliate programs but you cannot beat a $100 flat fee for this type of service.
The 30-day Tracking Cookie Duration
The tracking cookie duration is pretty standard. Incfile offers its affiliate partners a 30-day tracking window.
This duration works well for most affiliate programs but I think it should be a bit longer for something like this.
The reason being is that this type of expenditure is a pretty big one and you want to give your audience as much time as possible to make a decision and still get credit for the referral.
Typically these types of services have variable costs depending on the type of service you choose and the region where you are looking to Incorporate or make an LLC etc.
Still, it should be a reasonable cookie length that shouldn't have too much of a negative impact on your overall conversion rate.
---
What To Expect From Incfile?
I find that this type of affiliate program is one of the more difficult to promote. It is basically a service designed to help build start their own business by incorporating that business.
So right off the bat, the traffic is going to be limited to people looking for that type of service, which is going to be much less than someone looking to buy a toaster or dog collar.
The flip side is that these types of affiliates tend to be some of the most lucrative out there. It is an interesting balance.
You won't get the type of traffic that you would with a more mainstream niche, like pets or beauty, but you are typically able to make more or more money than most other niches on quite a bit less traffic.
If you have high-quality and helpful content you can expect to make a good amount of money on just a few sales a week.
If you pair it with other business-related affiliates you can build a full-time income around just Incfile and a couple of other affiliate partners.
Here is a look at some of their vital 30-day statistic from their ShareASale profile…
Average Sale: $280
Average Commission: ~$100
Conversion Rate: 5%
Keep in mind that these stats are just a snapshot of a 30-day period at the time of publication and may move around a bit. But it gives you a decent idea of what to expect from this affiliate partner goin forward.
According to their ShareASale profile they do not offer an auto-approval process for this affiliate program. This simply means that you will need to have your website set up and have traffic flowing through with good content onsite.
Each affiliate partner has their own criteria but sign-up is free and the worst they can do is deny you. You can always try and apply later once you build your site up a little more.
Incfile is also at number #4 on ShareASale's power ranking at the time of publication. This means that it has a history of solid performance for its affiliates. Just one more check box for this outstanding affiliate partner.
---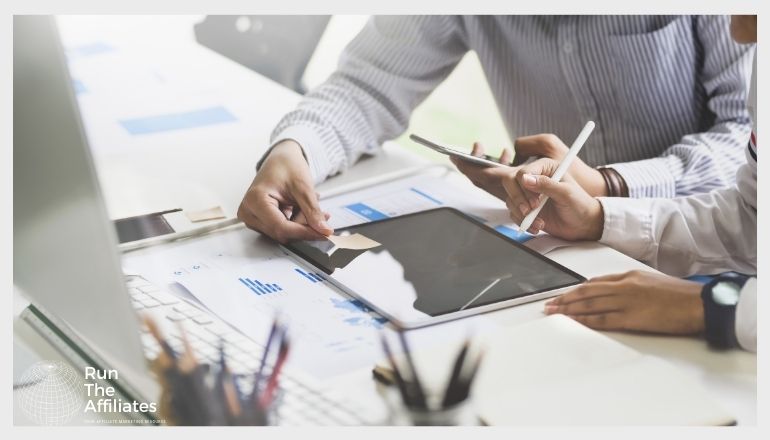 Best Niches For Incfile
There is really no two ways about it, you really need to be in a business-related niche to have a chance at real success with this affiliate partner.
Ideally, you want to have a niche site dedicated to building your own business with a good amount of content dedicated to incorporating that business in a variety of regions.
You can then leverage that content to send people to Incfile and then your business is off and running.
The content is the key. You have to have informational and compelling content that is going to be relevant to anyone looking to incorporate their own business.
In short there are very few niches with a realistic prospect of success outside the core business niches where Incfile with thrive.
---
Closing Thoughts
Affiliate Commission: $100 Flat Fee
Tracking Cookie Duration: 30-days
Auto-Approval?: No
Affiliate Niche: Business Incorporation
That brings us to the end of our look at these affiliate program. From top to bottom this is one of the best business-related affiliate programs out there.
If you have content that is dedicated to helping people incorporate their business then you definitely want to have Incfile or a similar type of affiliate program in your affiliate strategy.
Everything about this affiliate program is very good. From the $100 commission and the 30-day tracking cookie all the way to the right products and services they provide for your audience.
The only negative with affiliate program is the niche itself. It is very competitive and it's going to take a lot of good content to start to build a foothold in these types of business-related niches
Expect just to spend a considerable amount of time building up your Authority and generating that traffic that you need to make this type of Phillip program work for you.
But once you put in the hard work you can really start to generate a nice income for yourself with your business niche site
Don't go it alone. Get the best learning tools and community to help you build your online dream. Check it out here.
Thank you for visiting and have a wonderful day.