This article may contain *affiliate links. Please see our affiliate disclosure for more details
Hello everyone, welcome back. Today I want to take a moment to talk about Wealthy Affiliate. You see a lot of articles about the incredible successes of the members or conversely about how 87% percent of Wealthy Affiliate sites are invisible on Google and fail.
The truth as it often does lies in the middle. Some people fail using Wealthy Affiliate as a tool and some people succeed. And that is the point, Wealthy Affiliate is simply a tool to aid your business. Nothing more nothing less. It won't do the work for you. It won't magically rank your website on Google.
It is just a set of tools. Pretty good web hosting and some decent training to get you started in the world of affiliate marketing. Along with a pretty active and helpful community
But here is the absolute truth. None of it matters, not the success rates touted by many articles or the failures that others point to with glee. It simply doesn't matter.
When I start a new website it never occurs for me to ask what someone else in a different niche using the Wealthy Affiliate, or any of the other fine affiliate training methods out there, has been successful or not.
It simply doesn't matter. Because your success will be determined by your actions in large part. Sure there will be outside forces that affect your business. Amazon dropping commissions or an algorithm update, but for the most part, you will determine your own success.
There Is Just Something About Owning Your Own Business. Being Your Own Boss. Building Something From The Ground Up With Your Own Hands. Especially When It Is This Easy To Get Started.
---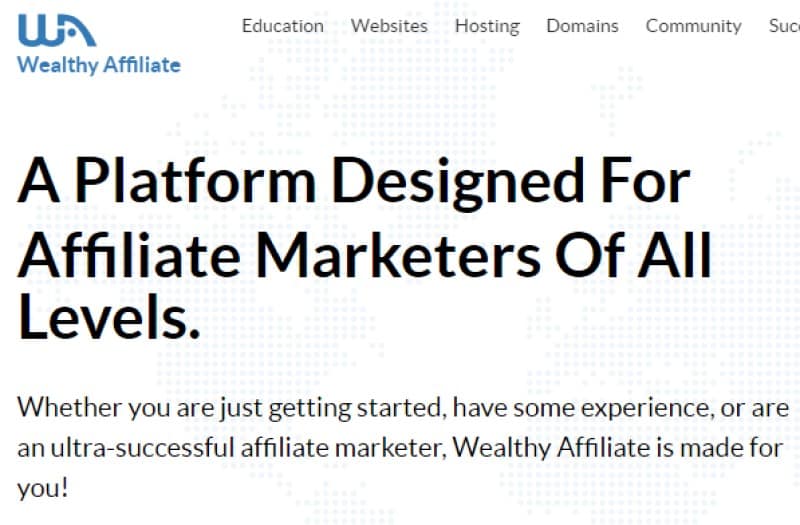 The Wealthy Affiliate Success Rate Really A Thing
You Can Find More Information About Wealthy Affiliate Here
---
What You Consider A Success Is All That Matters
Since I don't know what your criteria for success are I will simply lay out mine when starting a new website or blog.
My criteria for success in any affiliate marketing blog venture is that the website pays for itself and earns at least $100 dollars a month in passive income in addition to being self-sustained.
It is a pretty low barrier for success but you have to look at it like this. For $100 dollars a year or so in web hosting fees and domain fees you get a 10X return on investment. Spend $100 bucks and earn $1000 or so passively over the course of a year.
So while it may not seem like a huge amount of income, you have to view it through the prism of cost and time put into the business venture.
So using my criteria, all of my Wealthy Affiliate websites have been successful. Now, many other people might look at that and say those are not successes because they have different criteria for success.
That is fine. And that is one of the biggest reasons why no one can really tell you the success rate of Wealthy Affiliate as a whole or even the successes of individual Wealthy Affiliate members.
If you consider making 12k a year a success from your niche site but you spend 15k on buying articles and themes and upsells on marketing training, is that really a success?
Believe me, in my time as an affiliate marketer I have seen plenty of "successes" where the person lost money just to make a point about being successful. It's sad to see because they were always measuring success as an absolute bottom line and not as a real measure of how well their business was doing.
Yes, you have made more money than some of my websites but in the long run, you lost money just trying to reach what you might consider a success.
If I have 10 of my little successes over the course of a year then I would be well ahead of that one site bringing in 12k while spending a fraction of money out of pocket.
What I am trying to say is that success with any affiliate marketing is going to be mostly determined by what you consider to be a success. My $100 a month success criteria is a good one for me when considering my websites that are a year old or newer.
For my older sites, the success criteria change dramatically. $3000 a month would be a successful niche site for me if the site is 2 or 3 years old or so and I have been consistently adding content and improvements. It is a matter of perspective really.
Failure Builds Character
Another reason that you should not worry about the Wealthy Affiliate success rate if you are thinking of joining is becasue failure is the greatest teacher you will ever have.
You learn far more from your failures than your successes. The great thing about building a passive income website is that you can adjust for failures on the fly.
If you write 20 articles and none of them rank on Google, then you improve your research and find new keywords and topics and try again with another 20 articles. You can adjust your business focus online is short order and make changes that will make you successful in the long run.
So don't be afraid to fail. Don't look at other successes and try to emulate them. Build your own unique journey to a sustainable passive income online.
Can Wealthy Affiliate help with that? Maybe, that's a personal question you have to answer for yourself and no amount of articles about the success stories is going to change that fact.
Personally I found it to be a useful tool in building my business, but not an absolute necessity. Opinions may vary, of course.
Wrapping Things up
You are going to find success and failure in just about every aspect of a business, whether it is a brick and mortar store or an online affiliate marketing business.
Success stories abound at Wealthy Affiliate, there are plenty of Income School success stories and successes from every other affiliate training module out there. But there are failures as well.
And by far the biggest reasons for those failures are people giving up far too soon or more frequently someone not taking action and starting at all.
The point that I want to leave you with is this. The success rate of Wealthy Affiliate doesn't matter. It has no bearing on you or your business.
Wealthy Affiliate won't be the reason you fail and it won't be the reason you succeed. It is simply a tool. How you use it and your ability to get the work done will determine your success as a blogger and affiliate marketer.
So just ignore it. The good and the bad and decide the best way for your business to move forward. Take inspiration from the successes and caution from the failure and incorporate them individually into your business journey along with all your personal triumphs and failures and don't worry what the success rate of Wealthy Affiliate, or Savage Affiliates, Or Project 24 is.
Build your own legacy and your own success rate. That's the only one that matters.
Thanks for stopping by and have a wonderful day…